Latest Updates
30 Best Cyber Monday Gaming Chairs in 2023
5,688 Views
Cyber Monday is often the best time to get the best deals on technology and technology accessories. 
Gaming isn't just about the virtual world, but it is an experience that extends right from your gaming chair to killing the opponents in the digital world. Gaming furniture and accessories cost a lot but let's be honest; they are important in making the whole experience better and worthwhile.
The importance of the right gaming computer chair is huge especially considering the rise in back pain and posture issues because of the improper chair and excessive sitting. Cyber Monday gaming chair deals are your perfect time to score if you are also thinking about getting a gaming chair recently. The Cyber Monday gaming chair deals will make all gaming chairs affordable and fall right under your price range.
As price is the major factor, and when we talk about an office chair vs. a gaming chair, we know which one will cost a lot more; hence, this article will cover everything you need to know about the Cyber Monday gaming chair deals.
One of the best tech accessories you can get for yourself is an excellent gaming chair. There are so many Cyber Monday gaming chair deals that you are sure to find the best one possible!
Top Cyber Monday Gaming Chairs Deals For You
1.  The Autonomous ErgoChair Pro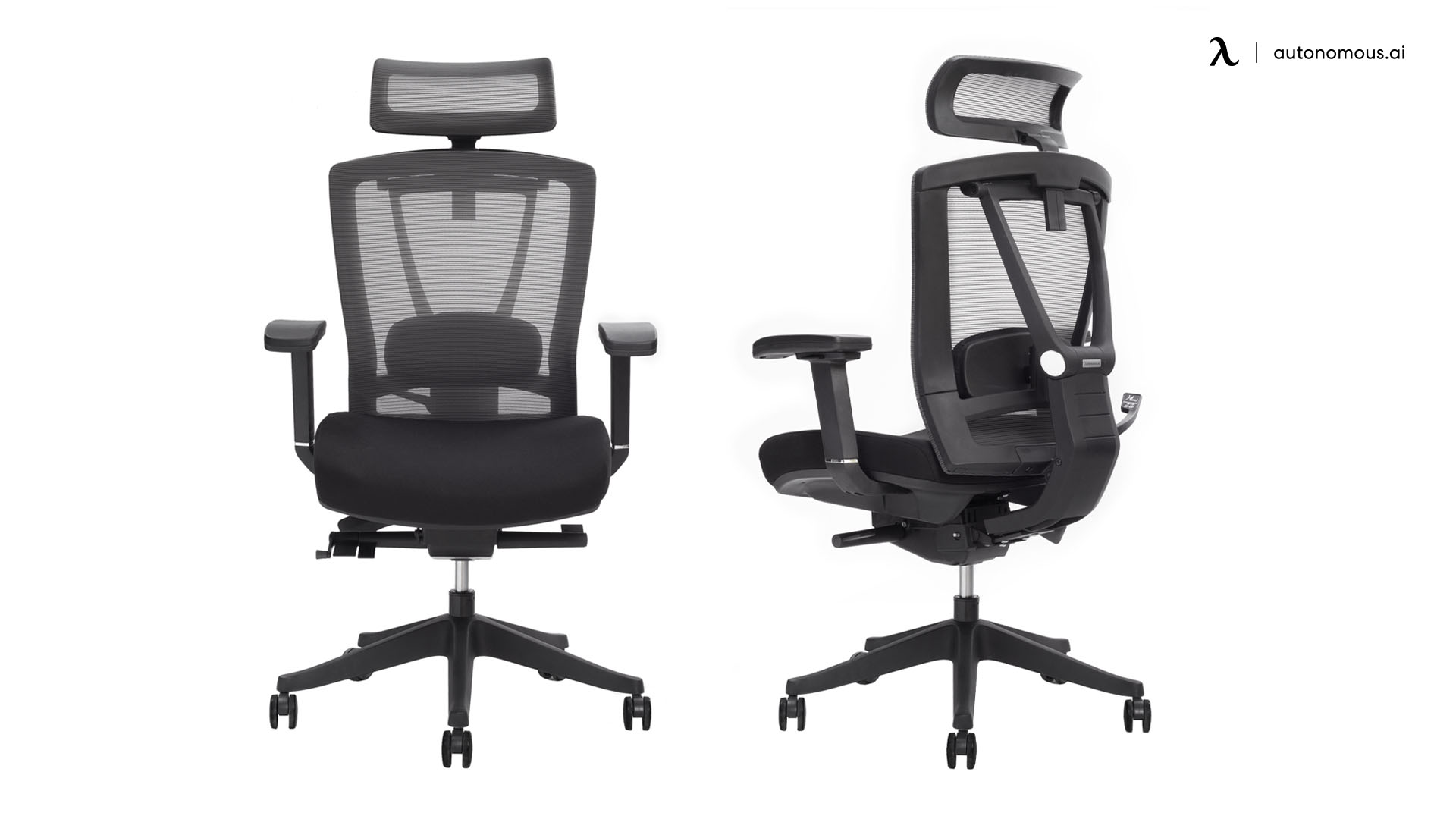 The ErgoChair Pro from Autonomous is a customizable ergonomic Cyber Monday gaming chair for your office designed to help prevent back pain, provide support for your back and even help improve your posture while sitting.
It features ultra-flexible support to your whole body no matter what position you sit in and even has a mesh back that provides airflow so you can maintain ultimate comfort during any part of the day!
It has a range of colors to choose from, a built-in headrest, and multiple adjustable parts for ultimate comfort!
2.  The Autonomous ErgoChair Plus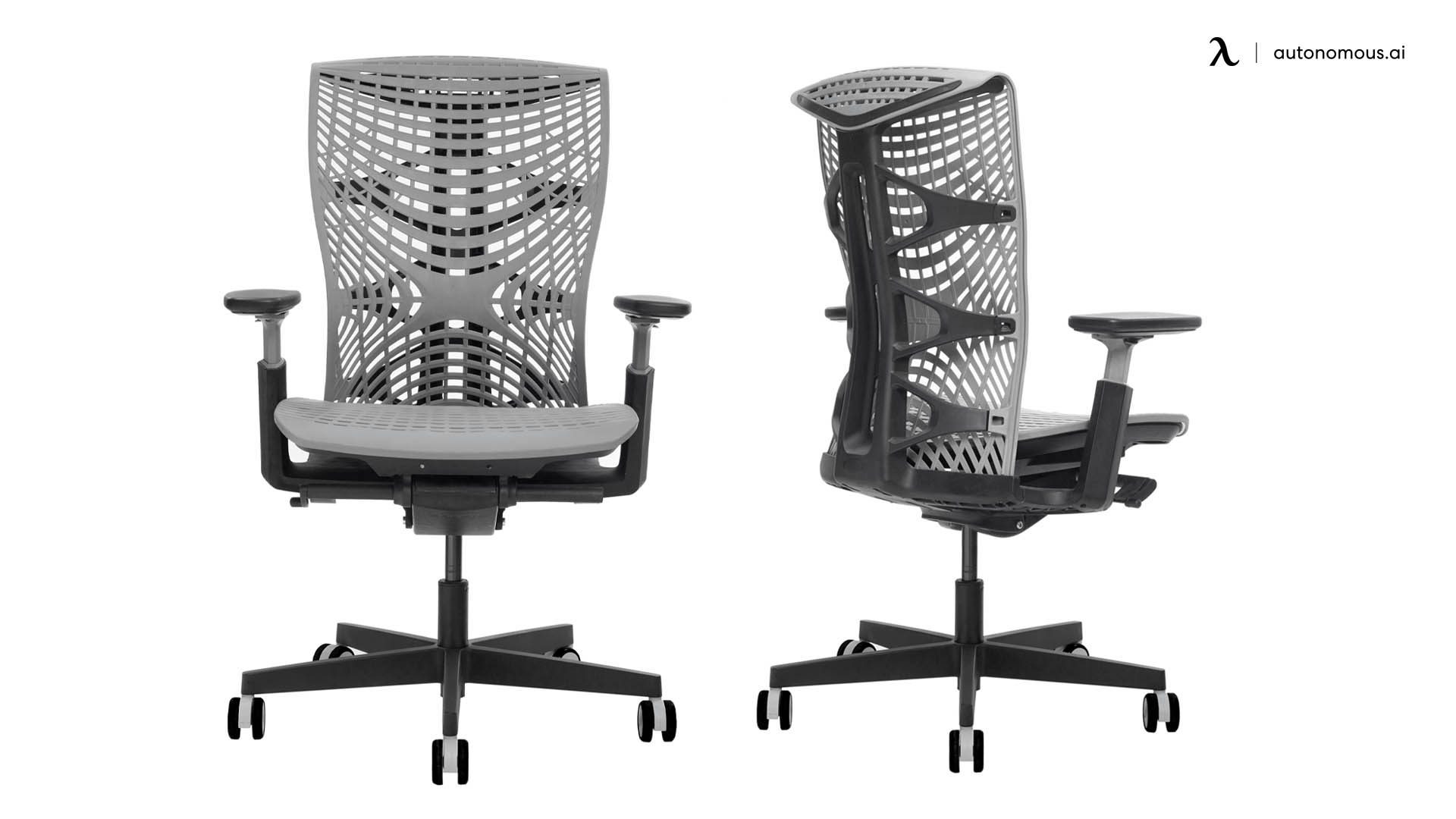 The ErgoChair Plus from Autonomous is one of the best chairs for treating your back and spine with the utmost care and attention.
The ErgoChair Plus gently nudges you into a better posture as you sit and provide incredible support to your back.
It has a unique design that resembles a fishbone, comes in multiple colors, and has thermoplastic elastomers in its makeup to keep you cool and comfortable while you sit.
3. Autonomous ErgoChair Recline
4. Autonomous AvoChair
5. Techni Mobili High Back Racer Style PC Gaming Chair
You ought to fall in love with this gaming chair, especially with the best gaming chair Cyber Monday discounts that drop the price to very affordable on this smart product. One of the new and most reliable gaming chair brands in the market, the Techni Mobili gaming chair is designed with synthetic material and construction.
The chair has high-quality upholstery that looks regal but feels comfortable against the skin. The height-adjustable memory foam remembers your perfect ergonomic posture and always ensures you sink in at the most comfortable angle. It also has the perfect reclining mechanism, which goes back to 150 degrees, and the chair comes with a steel base for long-term strength.
6. Vertagear Gaming Chair SL5000
After RGB gaming desks and setup, RGB gaming chairs are great. This PC gaming chair Cyber Monday deal from Autonomous will transform your gaming setup for good. Get your hands on the Vertagear SL5000 if you are looking for a modern ergonomic solution to your gaming needs. The chair has multiple color options with an Optimal RGB built-in lighting kid. It has adjustable tilt tension, a recline feature, an adjustable seat, height, and armrests. It has a load capacity of 260 pounds and comes with a 2-year warranty.
7. Karnox Suede Gaming Chair
When you buy a gaming chair, looking for the right levels of comfort is important. This is because gaming ergonomics not only impacts your efficiency but also greatly affects your health. This Karnox Suede leather gaming chair combines PU leather and suede fabric. The gaming chair comes with a head and lumbar pillow, so you will not be worried about buying separate pillows for gaming chairs.  
The chair offers a recline up to 155 degrees; it operates with a class 4 gas piston; hence the height adjustability is effortless and straightforward. The chair also has a 2-year warranty for the seat and the back. You will enjoy the lifetime warranty for the frame, although the steel frame is the epitome of strength.
8. Vertagear Gaming Chair SL4000
Get your hands on this great gaming chair for posture, discounted as a part of Cyber Monday gaming chair deals. You will find the SL4000 Vertagear gaming chair with removable neck and lumbar support pads to be a game changer for your long gaming hours. The Vertagear gaming chair has an adjustable tilt tension with a lock system for maximum support. The chair operates with an industrial-grade class 4 gas lift system.
It has an integrated steel skeleton frame and an aluminum base. These two features make the chair lightweight and durable for years to come. The chair offers a height range of 5 inches, which is less than others. It is smartly planned to meet diverse needs. Moreover, it also offers a higher load capacity of 330 pounds.
9. Boulies Chair Elite Series
The ELITE series gaming chair stands out from other gaming seats thanks to ergonomics and an eccentric-elegant design. The unique construction of its backrest guarantees that it follows the spine's natural curve, helping to distribute your body weight evenly. The Boulies gaming chair is renowned for its breathable, comfortable, yet sturdy chair covering in addition to its appearance.
The PU Leather that has been perforated and mixed with microfiber suede adds maximum breathability and comfort during the warmer months. The armrests of this chair can be adjusted in eight ways to reduce the risk of carpal tunnel syndrome and maintain proper elbow and wrist alignment. In addition to fully reclining, this chair allows you to rock comfortably without strain on your back.
10. Northread Gaming Chair
With additional lumbar support and maximum cushioning, the Northread gaming chair transforms your gaming setup into high comfort.  The chair has a foam cushion seat designed with the body's natural curvature. It has retractable footrests and a seat tilt that reclines back. The chair also has movable armrests in all directions and helps you find the right posture thanks to its multiple adjustment points. The chair has a separate lumbar pad, so no more aching backs while gaming. This special lumbar feature makes the chair suitable not only for gaming but also for work.
11. Karnox Assassin Ghost Edition Gaming Chair
With a 10-year warranty, the Karnox Assassin Ghost Edition Gaming Chair is a comfortable option for gamers. It is simple, straightforward, and has a modern design. The suede fabric feels soft against the skin and sturdy enough to provide support. The exclusive color makes this chair a unique pick. It has a recline of up to 155 degrees, and the chair is adjustable at all points.
12. Eureka GE300 Ergonomic Gaming Chair
The ergonomic design of the Eureka GE300 provides full support. The chair has armor-like padding that adds comfort and style to the chair. It has a breathable mesh design and competes with a modern look. The chair is fully adjustable and hence can be customized to individual needs. It also has a 5-year warranty and keeps you cool with the mesh back during hotter months.
13. Karnox Legend Gray Blue Edition
Check out this Cyber Monday gaming chair deal on one of our favorite-looking and luxurious gaming chairs. This Karnox gaming chair comes in a bluish-gray edition and meets all the standards set by gamers for comfort and aesthetics. Among the big and tall office chairs, the Karnox gaming chair suffices both for work and gaming. It is made up of PU leather and has 4D armrests and an aluminum base.
The gaming chair is adjustable in height, seat tilt, and armrests which can be moved in all directions to attain the natural posture while sitting. It also has a high-density mold-shaping foam; hence you will feel your body conformed to the chair at all times. The gaming chair has a 10-year warranty and a recline feature to go back to 150 degrees.
14. Eureka Ergonomic GX5 Gaming Chair
The Eureka Ergonomic GX5 Gaming chair is one comfy gaming chair for long hours of gaming. You can find this chair at a decent price thanks to the Cyber Monday deals gaming chair. Despite being already affordable, the chair meets all the standards of finesse and comfort desired by gamers. It has a class 4 gas lift system allowing easy and seamless height adjustment. The chair reclines to 180 degrees and has 3D armrests for maximum comfort.
Not only does the ergonomics of this chair reach our expectations, but we love the design too. It has a diamond pattern seat with a leatherette design. The chair has adjustable seat height and a 5-year long warranty to survive the test of time.
15. Bosmiller Ergonomic Desk Chair
PC gamers can breathe a sigh of relief once they see this gorgeous leather desk chair and all the features it has to keep them comfortable and happy while they play.
The leather beauty includes lumbar support, super thick padding on the back, armrests, seat, fully adjustable height and tilt features, and full 360-degree swivel capabilities.
In addition, the initial setup out of the box is easy and comes with detailed instructions.
16. The Respawn 900
The Respawn 900 is part of a line of excellent gaming chairs, and with all of its features and comfort, it's easy to see why it belongs there.
This racing-style Cyber Monday gaming chair is luxurious and comfortable at every turn, featuring a segmented padded design for contoured support where it is most needed and a fully extendable footrest to put your feet up. Also included are lumbar and head and neck support pillows that can be adjusted to accommodate any height.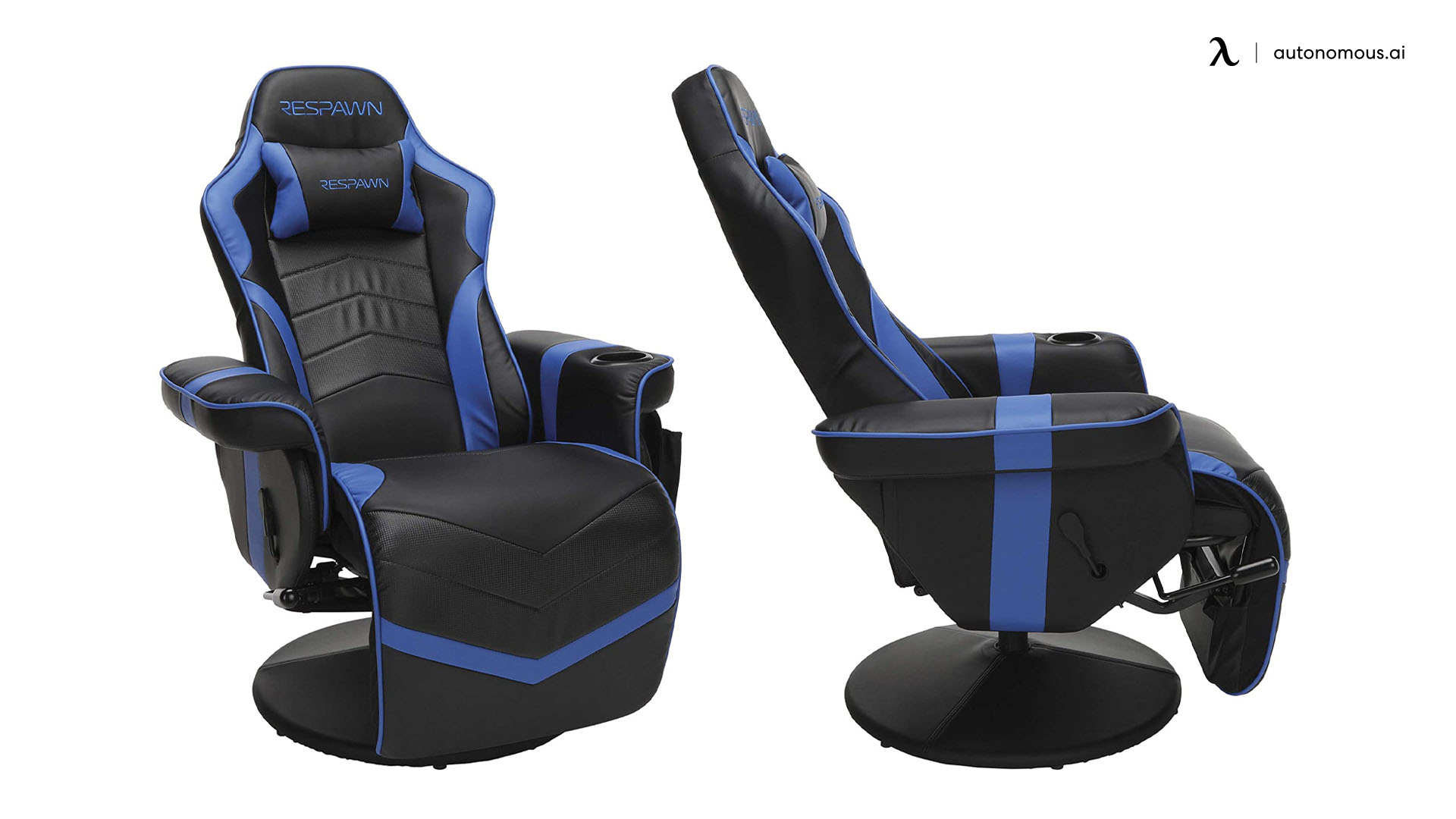 17. The Polar Aurora Gaming Chair
If smooth and quiet movement is a priority on your list of desired Cyber Monday gaming chair features, the Polar Aurora is the chair for you.
It not only has 360-degree swivel capabilities, but it also includes caster wheels that are multi-directional and designed for smoothness and silence on any floor.
The lumbar and neck pillows and recline function also make this super quiet chair super comfortable. The recline feature can also be locked into position if you want the chair in a permanently reclined position with no extra effort.
18. Arozzi Gaming Chair
Incredible comfort and sleek design have come together to create this chair.
Since comfort and support are always important, this chair includes high-quality materials to keep you in total comfort along with a lumbar pillow for your back and full swivel and tilt range of motion to make sure you get the best support you 
possibly can from your Cyber Monday gaming chair.
In addition to all of this is the futuristic look of the Cyber Monday gaming chair that might make you the envy of anyone who sees you sitting in it.
19. Akracing Core Series SX Gaming Chair
This PU, upholstered chair, is an innovation in comfort and support. The high-density foam is more comfortable than a memory foam mattress, which might make you never want to get up. It's not just ridiculously comfortable, though. It is also highly adjustable in order for it to be as supportive as you need, all with the pull of a single lever.
With its metal frame designed for durability, this can be the Cyber Monday gaming chair you own in comfort and support for years to come.
20. Gamdias Achilles E1 Gaming Chair
This Cyber Monday gaming chair was designed with you in mind! This stunning leather gaming chair was built for both style and comfort during long gaming sessions.
This chair has built-in lumbar features that you can adjust to your liking and a neck and head support pillow that you can either remove or adjust depending on what feels right for you.
It also features fully adjustable height features, adjustable armrests, and customizable swivel and tilt features. It is also strongly aesthetically pleasing and is sure to add a touch of class and flair to your gaming desk setup.
21. Killabee Massage Gaming Chair
This is the ultimate gaming chair Cyber Monday for staying comfortable for long stretches of time for gamers in need.
Not only does it have all the features that are vital to ultimate comfort, like an extendable footrest, head support, tilt and swivel features that you can adjust to your heart's content, and thick padding on the seat and armrests, but the lumbar pillow is even a USB powered massage pillow for the most amazing comfort and pain relief.
22. GT Racing Chair
If you like a fully immersive gaming experience, you should also be able to extend this to the chair you sit in while you play.
This racing-style chair comes in an array of different colors to work with anyone's current game setup, and each one features Bluetooth speakers that connect to your gaming system to lock you into the game by immersing you in the sound experience you were always meant to have.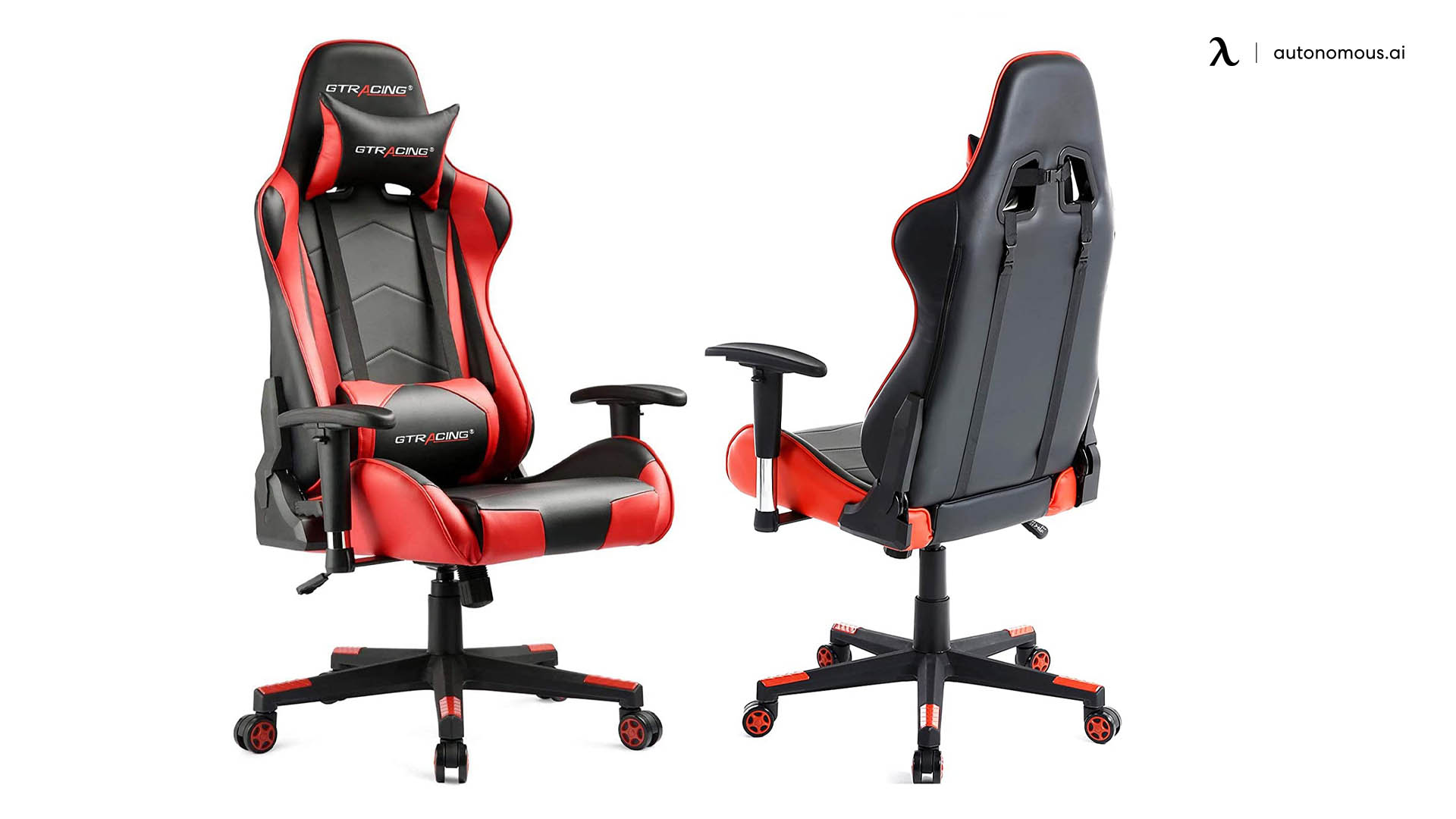 23. The X-Rocker Pro - Cyber Monday Gaming Chair Deal
Forget everything you know about rocker chairs for gaming. This isn't just some run-of-the-mill metal frame with some fabric and padding. This is a state-of-the-art gaming chair that everyone should experience at least once in their life.
It comes equipped with adjustable arms, which most rockers don't have, as well as four built-in speakers that are compatible with any gaming system you might have.
With the X-Rocker, you get to experience total comfort and sound immersion!'
24. The Furgle Gaming Chair
This ergonomic gaming chair was made with two things in mind; comfort and support.
The Furgle Gaming chair is built with reclining features and stability so you can recline without worrying about tipping over.
With 360 degrees of rotation ability, this best gaming chair Cyber Monday can be positioned to the most comfortable angle without you ever having to worry about your view of the screen.
25. The Killabee Big and Tall Massage Gaming Chair
Most gaming chairs are made with a person of average height and build in mind, but some of those just don't work for taller gamers, and taller gamers deserve luxury in the gaming chairs too!
Killabee has taken that idea to heart with its Big and Tall Massage gaming chair. This PC gaming chair Cyber Monday is similar to the aforementioned Killabee Massage Gaming Chair but designed with the above-average gamer in mind.
All of the features are intended for the comfort that the average gamer can get but take a step further for other gamers that need luxury too. It even includes a massaging lumbar pillow!
26. Nokaxus Gaming Chair
Built for reclining, this chair is a combination of all the best features most gaming chairs have to offer.
It reclines to a full 180 degrees with an extendable footrest for what the brand refers to as 'sleeping mode.' This chair was built for so much for than just gaming. With its included massaging lumbar pillow, this chair was designed for total comfort no matter what you plan on using it for.
Ideal for working long days or long nights gaming, this PC gaming chair Cyber Monday was designed with comfort, style, and its customers in mind.
27. Devoko Ergonomic Gaming Chair
If ergonomic is the keyword in your search for a gaming chair, this is definitely a model to take a closer look at.
Complete with a back you can adjust the height of, and lumbar and neck pillows that are also fully adjustable; this chair can be fully customized to all of your height and comfort needs; even the armrests adjust to whichever position works best for you!
Complete with a warranty available by request, you can make your purchase with confidence.
28. The Edwell Gaming Chair
Another chair made for absolute comfort and enjoyment of sitting; the Edwell is sure to be your next new favorite seat in the house!
Equipped with the ability to recline back to 170 degrees with an extendable footrest, this chair not only supports you while you are working or playing but also when you need a quick rest to recharge. The massaging lumbar support is also there to help you relax after a tough day at work while you play some games to blow off steam.
If you want a PC gaming chair Cyber Monday that is as much a luxury to sit in as it is supportive while you work or play, the Edwell is the chair for you.
29. The Vnewone Computer Gaming Chair
This is an excessively comfortable chair for long sitting hour and is completely ideal for sitting for long stretches of time. It is racing-styled and sleek, but also professional enough for any office enviornment.
It includes fully adjustable arms and height features as well as an adjustable neck pillow and a lumbar support pillow with built-in USB powered massagers to help alleviate stress and pain, all while you sit.
Back pain and lack of support, while you sit, are sure to be a thing of the past once you try the Vnewone computer gaming chair and see for yourself just how much a chair can support you!
30. The SecretLab Titan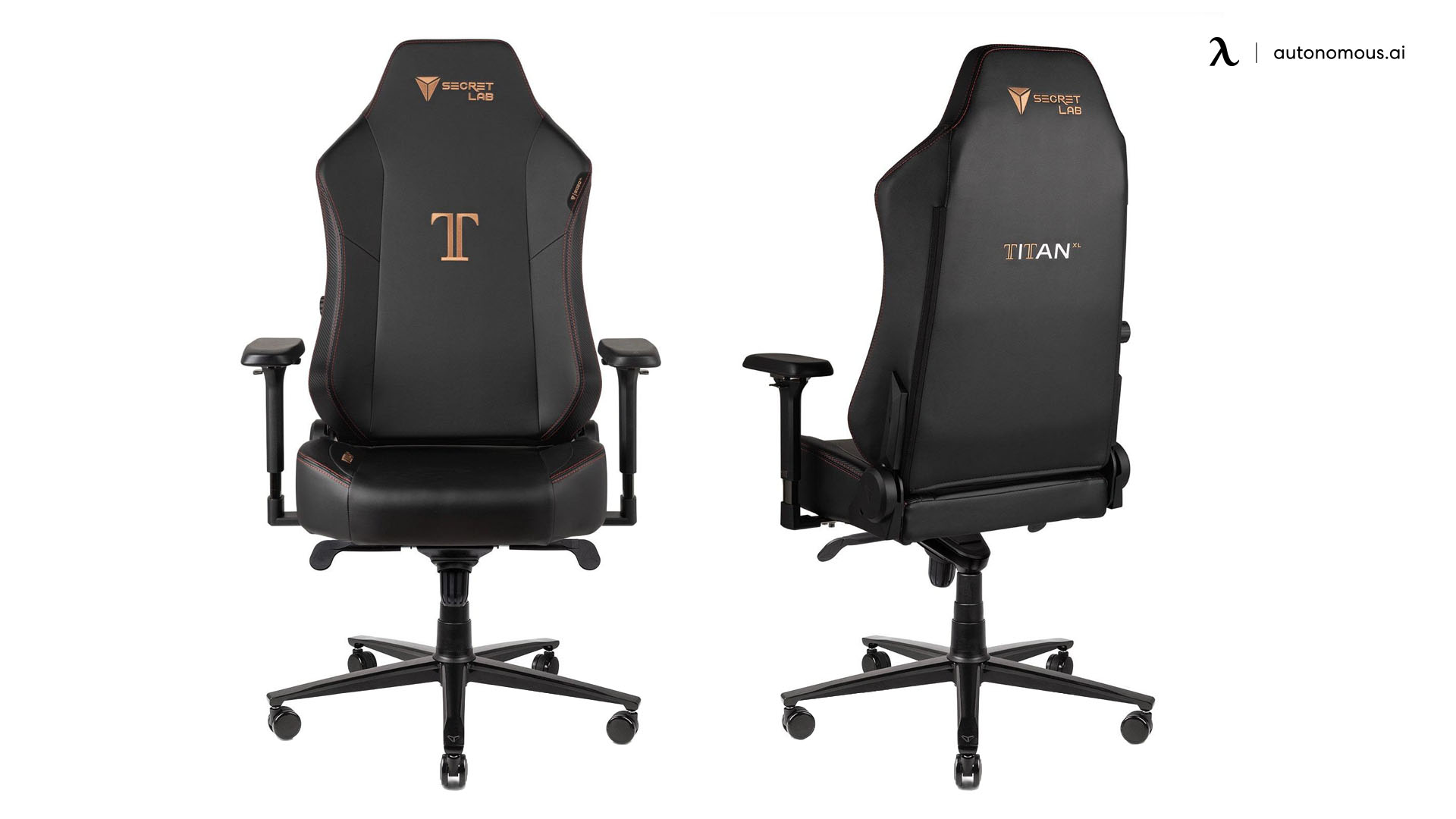 This is possibly one of the absolute best chairs on the market.
It has dozens of features, all backed by a five-year warranty to provide you with peace of mind while it provides comfort and support at the same time.
This award-winning chair is ideal for both working and gaming and is sure to be a perfect addition to any home office or gaming setup.
It features fully adjustable lumbar support that doesn't even need built-in massagers to be perfect for cradling your lower back. This lumbar support is surrounded by memory foam integrated with cooling gel, so you don't have to suffer getting overheated just to have the benefit of memory foam.
When Will the Best Cyber Monday Gaming Chair Deals Begin?
This year's Cyber Monday is November 25, although sales may begin as early as the Saturday after Black Friday and run through the rest of the workweek. We wouldn't be shocked if some gaming chair deals lingered until Thursday or Friday, but the greatest prices will almost certainly be available on the day, so don't wait if you see anything you want for less.
And since the world is more about online shopping now, you can expect the deals to last until some of the stock runs out. Manufacturers want their products to sell as much as they can.
Where to Find the Best Cyber Monday Gaming Chair Deals?
Gaming chairs are a popular pick, and people from all ages and backgrounds love putting their money on a gaming setup. Hence you can be sure gaming chairs are going to be an area of interest for most people. This also means there are going to be lots of choices to pick from. Make sure you go for brands that have a reputable name and are authentic. Here are some famous names when it comes to ergonomic gaming chairs.
Autonomous
Autonomous is a home office or even professional workplace furniture provider. Autonomous has engineered ergonomics products that are researched for proper posture and improved health. At autonomous, you can get a load of ergonomic chairs ranging from meshed chairs to cushioned seats. Autonomous also has chairs for juniors.
Amazon
Amazon is a place where we can get everything, so why gaming chairs would be an exception. Moreover, Amazon is also known for its killer deals on special days like Black Friday and Cyber Monday. You can get many products from amazon, especially all types of gaming chairs, this Cyber Monday.
Walmart
Walmart also has a pretty decent sale on gaming chairs, and you might want to check it out. From chairs that double as gaming and work chairs too, Walmart could be your place this Cyber Monday.
Target
Target has a big discount coming up this Cyber Monday. You can get gaming chairs as well as reclining chairs for programmers from the target. Target will also put a huge deal on massaging chairs and other accessories.
How To Choose A Gaming Chair On Cyber Monday Deals?
If you are interested in buying a gaming chair but still worried about making the right choice, then here is your know-it-all. Gaming chairs are expensive; hence we recommend you buy them with the wonderful Cyber Monday deals. Cyber Monday deals on gaming chairs are extensive, which could be a reason why you are overwhelmed about the right choice. Hence here is your go-to gaming chair buying guide for Cyber Monday.
Types of Gaming Chair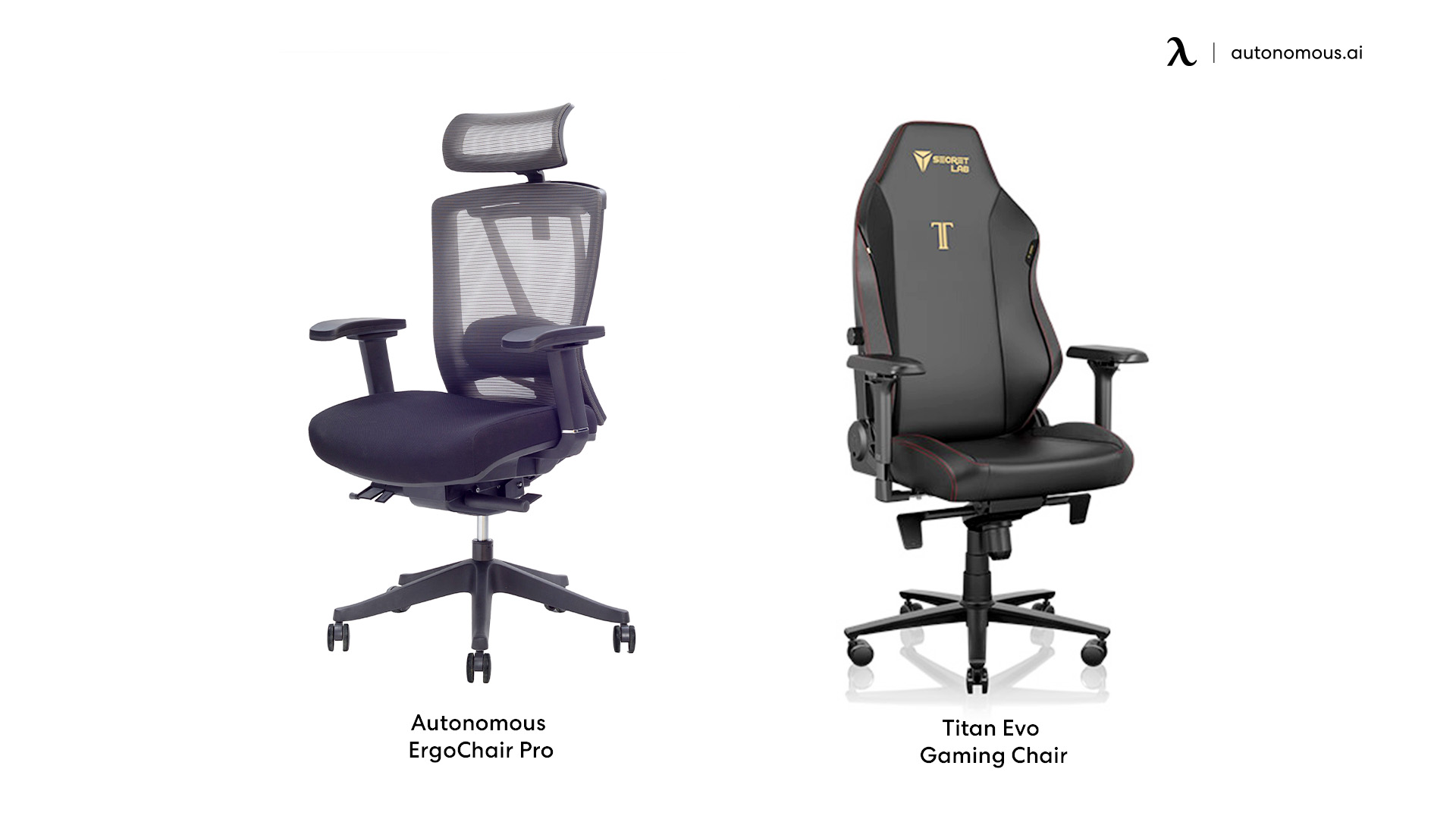 There are different types of gaming chairs, each one giving a unique experience to you. It is better to choose the gaming chair that fits your gaming setup as then you will be more comfortable and have fun while gaming. The four most common gaming chairs are PC gaming chairs, Console Gaming Chairs, Bean bags, and Racing Simulator seats.
A gaming computer chair or PC gaming chair is ideal for behind desks gaming setups. The great thing about such chairs is that you can use them as your work chair too. So if you already own an ergonomic work chair, you don't need to spend on a gaming chair separately. And if you own a black office gaming chair, the product will be your double during the day for work and gaming by night.
Console gaming chairs are modern and ideal for consoling setups. These gaming chairs have a curved shape for maximum body comfort and come with specifications for your consoles. These chairs are ideal for an Xbox Desk setup or even a PlayStation gaming setup.
Price
Even though you are buying via Cyber Monday gaming chair deals, it is important to note your price for the product. As there will be multiple retailers on Cyber Monday deals, make sure to compare and contrast the price for a product you like. You can then opt from the store with the lowest price and maximum credibility.
Quality
Build quality is highly linked to the price; hence make sure you choose something that gives you desired quality but also isn't too heavy on the pocket. Choosing a gaming chair with high-quality strong frames is a good choice as you can rely on the strength of the product.
Manufacturer
No matter how steep the price has gone, if the buyer isn't renowned or has negative reviews, don't buy it. Indicators like positive reviews, warranty, and buyer's trust are all the things you must check when placing an order. Don't go for products that have negative or zero to none reviews, no matter how low the price seems to be.
Should You Shop From Gaming Chair Cyber Monday Deals?
While Cyber Monday gaming chair bargains can be good, you're best off getting a new gaming chair on Friday, when the deals are usually more frequent and extensive online, especially if you've had your eye on the more expensive brands. But in case you cannot find anything worthwhile during the black Friday deals, there is no better opportunity than purchasing on Cyber Monday.
Conclusion
Autonomous makes some of the best ergonomic chairs available to make your gaming experience as excellent as possible, but they can also help provide you with other gaming accessories to bring your gameplay into the 21st Century.
Cyber Monday is a great time to take advantage of lots of sales and deals on the things you really want or wish to get as gifts for other people, and gaming chairs are no exception! Check out these Cyber Monday gaming chair deals now and see just how good of a deal you can get on the best chair for all your needs!
Keep up with Autonomous news
Stay informed, stay inspired with our new blogs.
WRITTEN BYAutonomous
We build office products to help you work smarter.