A desk mat is the best way to protect your desktop. It improves your productivity with a surface that enhances the movement of your keyboard and mouse. 
There are many high-quality desk mats available on the market that also complement a variety of aesthetics.  
This article includes 20 best desk mat selections for a more organized workspace. 
List of 20 Best Desk Mats You Can Buy
1.  Autonomous Microfiber Vegan Leather Desk Pad
This super-smooth and soft vegan leather desk pad safeguards your desk and promotes superior mouse performance. It uses non-woven technology to create a collagen structure of leather from ultrafine nylon threads. These are 20 times thinner and softer. 
| | |
| --- | --- |
| Dimensions | 31.5"L x 15.7"W x 0.08"H |
| Materials | Microfiber vegan leather |
| Colors | Black, Brown |
| Warranty | 1 year |
2.  DeltaHub Desk Pad: Minimalistic & Anti-Slip
Nothing is more annoying than a desk pad that moves around. The DeltaHub Deskpad is designed with a slip-resistant base to keep it in place on your office desk. It is soft to the touch and edges off with anti-fray sewing.
Dimensions
Large: 31.5" L x 17.7" W
Medium: 35.4" L x 11.8" W
Small: 24.8" L x 11" W
Materials
Anti-slip, anti-fray edges
Colors
Black
3.  Autonomous Sustainable Cork Desk Pad
This is another best desk mat for you. The Autonomous Cork Desk Pad provides a high-quality desk cover that enhances mouse functionality and movement. 
Although the manufacturer uses oak cork tree shavings to produce this desk cover mat, it ethically sources the material. This is a guarantee that no tree gets harmed by cork harvesting.
| | |
| --- | --- |
| Dimensions | 31.5"L x 15.7"W x 0.1"H |
| Materials | Natural cork - 100% recycled materials |
| Warranty | 6 months |
4.  Burotic Leather Desk Pad: Handmade in Canada
After an earlier version of this product, mouse pad users begged for a larger version due to its excellence. This Burotic Desk Pad is a large, premium leather office desk pad that is handmade for durability and comfort.
| | |
| --- | --- |
| Dimensions | 35.4"L x 11.8"W |
| Materials | Authentic leather |
| Colors | Black |
| Warranty | 1 year |
5.  Deskr Topographic Deskpad
The Deskr mouse pad is made from polyester and environmentally-friendly rubber. This creates a comfortable working and gaming environment with a stylish designer touch. It has an anti-slip rubber base that keeps it in place while shielding your desk surface. 
Dimensions
35.43'' L x 15.75'' W x 0.15'' H
Colors
Black, White
Materials
Polyester top
Eco-friendly rubber bottom
Warranty
No
6.  Function 101 Desk Mat Pro
Desk Mat Pro is for both home and business use. It safeguards your desk in style with a faux suede bottom Pebble Leather. The inner layer of this best desk mat is infused with metal and connects to magnetic cable attachments. This allows you to organize your wires on any surface without unsightly adhesives. 
7.  Graphic Image Two-Sided Leather Laptop Desk Mat
The Graphic Image Two-Sided Leather Laptop Desk Mat adds warmth and style to your workspace. This best desk mat is made by hand from silky Italian leather with colors on both sides to match your decor. 
8.  Graphic Image Two-Sided Leather Desk Blotter
This is one of the best desk pads in the market. Add this Italian leather desk blotter to your workspace to give it warmth and beauty. The mat protects your desk surface and enhances your mouse movement. 
9.  SATECHI Eco-Leather Deskmate
This faux leather desk mat's design features exquisitely sewn edges. It is available in three traditional colors that look good in any office setting. The desk cover mat is simple to clean and shields your desk from spills, crumbs, and stains. 
10.  YSAGI Multifunctional Office Desk Pad
This product is excellent if you're searching for affordable office desk mats with exciting color combinations.  
The PU leather shields your desktop from dings or mishaps, and the color on both sides means you can start over when one side becomes worn out. It has three desk mat sizes to give you room for all your office necessities.
11.  GROVESMADE Leather Desk Pad
This is the best desk pad for those who cherish the appearance and feel of genuine leather. It is pricey but feels polished and professional.  
The leather desk pad's material is soft and distinctive, making it compatible with optical mice and suitable as a writing surface. There are five sizes available, so you can select one that fits your needs. 
12.  OAKYWOOD Felt & Cork Desk Mat
Oakywood uses Merino wool felt to make this desk mat. This is why it is soft on your wrists and hands while typing or writing.  
Additionally, Merino wool is inherently anti-microbial, making this desk cover mat immune to problems from sweaty hands. It is available in two sizes, two colors, and both gray and black, so it will fit different types of workstations.  
The anti-slip cork grip beneath the felt keeps it from moving on your desktop.
13.  ORBITKEY Desk Mat
This desk cover mat has a toolbar for pens and other tiny tools, including a document hideaway spot where you may save notes and other loose papers. It has a magnetic cable holder to help organize wires from your devices. The water-repellent vegan leather surface simplifies cleaning up spills or moisture. 
14.  LEATHEROLOGY Extra Long Modern Desk Pad
Leatherology's gorgeous leather desk pad is available in three sizes, including extra-long for huge desktops and four traditional Italian leather hues. It is light and easy to roll up because of its soft shell and microsuede bottom.  
Several users claim it makes a fantastic present because it doesn't just look stylish on any desk but allows customization. You can add the owner's initials in various sizes and fonts to give it a personal touch.
15.  AWNOUR Clear Desk Pad
This office desk mat is a terrific option for students or creatives because you can put notes, pictures, or calendars below the desk mat to beautify your space.  
Additionally, the desk cover has rounded edges, including a clean, smooth writing surface. The surface probably won't allow you to use your mouse even though the company provides you with a free mousepad with your purchase. 
16.  KEYSMART TaskPad
This all-black office desk mat is both practical and stylish. When your battery needs a boost, you only have to set your smartphone or AirPods down on the mat to start charging them wirelessly.  
According to Keysmart, the desk mat's PU leather surface is water-resistant, anti-scratch, and stain-proof, so you no longer need to pile coasters on your desk. The substance is also perfect for precisely monitoring mouse movement.  
Even though it's not a feature everyone needs, a wireless charging desk pad keeps things organized, removing the need for extra chargers and cables in your workspace.
17.  RAZER Goliathus Extended Chroma Desk Mat Gaming Edition
This best desk mat was designed with gamers in mind, whether you are one yourself or know one.  
According to the brand, the product's soft, micro-textured fabric makes it the perfect material for ensuring precise motions when you're playing a fast-paced game that calls for speed and control.  
Even with rapid mouse movements, the mat won't slide thanks to its non-slip rubber bottom. However, the Razer Chroma has a color synchronization feature, which lets you coordinate the desk mat's surrounding lights with the game you're playing.   
This combines with your smart lighting setup, keyboard, and other Chroma-enabled devices to create a colorful display. 
18.  Aothia Leather Desk Pad
Any task, including computer use and design work, can be completed with this desk mat. You can use it as a placemat, heat insulation pad, non-slip mat, table mat, and other things per your desire.  
It is large enough to accommodate your laptop, mouse, keyboard, and coffee cup. This reduces desk scuffing and gives some color to your workspace.
19.  Mosen Desk Pad Felt
A desk cover mat is the primary component of a desktop designed with efficiency and purpose. It's more than simply a foundation for your desk and office accessories. The product helps enhance precision in your mouse movement and injects colorful aesthetics into your workspace interior decor. 
Mosen Desk Pad Felt is an essential addition to your professional workspace. You can use it independently or together with other system components, such as our Mausu Mouse Pad and Raku Wrist Rest, all of which have felt bases for easy attachment to the desk pad. 
20.  BUProducts Handmade Cork Leather Desk Mat
The BU cork leather desk mat comes from natural elements. This creates color variations in color, markings, and texture that makes the product unique. These components improve the mat's beauty and essence.
Factors to Consider When Buying a Desk Mat
Type of Material
Different materials, including felt, leather, and more, are used to make desk cover mats.  
If you want a more reasonably priced desk pad that is stain and spill-resistant, use a desk pad made from synthetic materials. These materials, such as PU or plastic, give the product a smooth surface that is water-resistant. 
Consider investing in a higher-quality desk pad made of genuine leather or felt if you prefer a desk pad with a cushion or softer feel. 
Size of Mat
The size of your desk cover will determine the number of things you can put on it.  
Some people prefer one that can hold their keyboard alone. However, others want a desk pad that is also a mouse and writing pad. 
Most desk pad types come in various sizes to help you pick one that fits your work surface best.
Mat Design
Don't cut corners on the design of your desk pad because you'll be using it and gazing at it for several hours each day.  
When getting a desk pad, you should ensure the color complements your style and workspace decor. This sets the tone of your working environment and can help improve your productivity.
Get a product with a deeper hue if you want spills and stains to blend in, and it can be a white desk mat or other brighter ones if you're not bothered.  
You also decide whether you prefer a desk pad with straight or rounded borders. The design follows your preference. 
Extra Features
Desk pads vary in their level of bells and whistles.  
Some desk pads offer built-in wireless chargers for your gadgets or customization options like embossed initials and have anti-slip bottoms to prevent your desk pad from slipping.  
There are also desk pads with integrated lights that connect to your gaming system.
Price
Price is always a factor when buying a product. Your budget should guide the kind of desk mat you can afford.  
Ensure you buy one that balances features with affordability. 
Why Should You Get a Desk Mat?
Eliminates the Need for a Mouse Pad
Your desk pad for keyboard and mouse movement completely covers the surface of your desk. This eliminates the need for a different mouse pad. 
A felt or cotton desk pad, which provides a smoother surface for your mouse to glide over, enhances mouse tracking.  
Additionally, a desk pad is significantly larger than a mousepad, so you can move your mouse wherever you like.
Additional Comfort
It should come as no surprise that soft things are enjoyable to touch. A soft desk pad is always better than a hard surface for your palms and improves the comfort of your workspace.  
Consequently, you can continue to be productive when working diligently at your computer or while simply surfing the web.
To Reduce Visual Clutter
Most people tend to pile random items on their desks, which can result in a lot of clutter over time.  
Keeping your desk clean and organized is simpler when you have a designated space for your keyboard, mouse, and other peripherals. 
Protection for Your Desk Surface
The things we frequently keep on our desks can scratch the surface or cause dents. Your smartphone or other devices on a hard surface is also not advisable. 
A desk pad helps to protect your desk, including all the electronics, gadgets, coffee mugs, and other items you wish to set up on it. It's a fantastic technique to stop spills on your desk. 
Improve the Aesthetics of the Workspace
The aesthetic appeal of your desk setup may be why you require a desk pad.  
Desk mats can be vital components of your interior decor depending on their design and color. 
A dull or classic color with no design complements a minimalist interior. You can also use a mat with a collage of patterns and colors for a more vibrant environment. 
Ensure you have the perfect finishing touch for your setup completes the image.
Conclusion
A desk mat can help keep your desk clean and tidy. Your workspace will be clutter-free because it gives your laptop, mouse, keyboard, and any loose papers or notebooks a designated space.  
It also adds a colorful element to your desk and helps protect it from spills, stains, and wear and tear. Many desk mats eliminate the need for a mouse pad, and most have an anti-slip grip to keep everything on your work surface where they belong.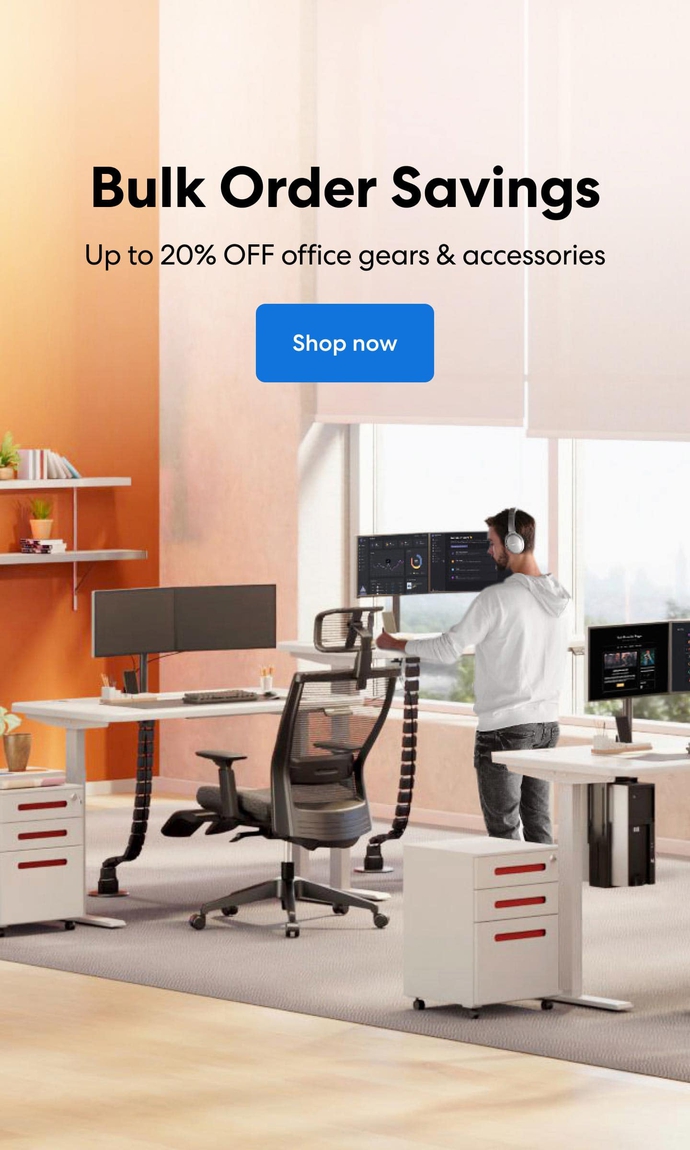 Subcribe newsletter and get $100 OFF.
Receive product updates, special offers, ergo tips, and inspiration form our team.