The greatest office chairs transform your workstation in an instant, allowing you to stay comfy and (hopefully) productive throughout the day.   
Switching to a standing desk, purchasing a Wi-Fi extender to improve connectivity, or investing in noise-canceling headphones are all viable options for increasing productivity. However, your investment should also include purchasing an ergonomic computer chair to make your hours spent staring at a screen a little more bearable. 
Even if you're working from home full-time or returning to the office, purchasing a good and comfortable desk chair will instantly improve your workstation, allowing you to be comfy and productive all through the day. In addition to being inconvenient, poorly constructed choices can lead to bigger problems like back pain since your posture isn't better supported. The finest green office chairs are ergonomically built to keep you extra relaxed when sitting for long periods.
The big features of ergonomically designed office chairs are accommodating, highly adaptable, and pleasant. Your seat must ideally be flexible in various ways, enabling you to modify it to match both your physique and your workstation. Look for a green desk chair with customizable arms and elevation, along with neck and lumbar support, at the absolute least. The more options you have, the better.
The following are the best eco-friendly office chairs for increasing productivity, irrespective of your spending plan, with all of these considerations in mind. Here are our top selections for the best green office chairs online right now based on a variety of factors. Continue reading to learn more about which chair is the best for you.
List of 30 Best Green Office Chairs For You
The effectiveness of our working environment directly impacts our efficiency and health. However, our work furnishing selections impact more than just our bodies. The environment pays the price as well. Therefore opting for environmentally-friendly office equipment is the way to go. Our top picks for sustainable and environmentally friendly and green office chairs are listed below. Details about sustainability methods, design fit, and delivery alternatives may be found here.
1. ErgoChair Pro
This green ergonomic office chair is a completely customizable office chair that improves your sitting posture by providing back support. 
The ErgoChair's high-quality, new Italian-designed tilt mechanism has several levers that allow you to customize the ErgoChair's support and resistance to your specific needs. This is the type of ergonomic chair that every workplace requires. 
Autonomous ErgoChair Pro gives you complete control over how much lumbar support your ergonomic chair provides. The revolutionary adjustable lumbar system employs a simple handle to help you keep a comfortable posture by unlocking the correct amount of pressure. 
2. AvoChair
The AvoChair ergonomic office chair is a significant upgrade over traditional office chairs. It has a beautiful appearance, and it is an eco-friendly office chair. It's uncommon to find class, style, eco-friendliness, and affordability all in one piece. AvoChair, on the other hand, has done it. 
Look no further than the AvoChair for the best olive-green ergonomic office chair that is also strong, innovative in style, and extremely comfortable.
3. Modway Ripple Mid Back Office Chair
This is yet another Modway product. The main difference between this chair and the one before it is that this one is made of leather and has a ripple style. Modway Ripple's comfort, sleek form, and originality compensate for the lack of armrests. It may be a small sage green office chair, but it has a lot of useful features: 
A small-space-friendly minimalist design

Height and tilt are adjustable

Available in four different colors, a high-style ripple design is available

The sturdy chrome-plated metal foundation can last a long time

 
4. Embody Chair
Until you see the Embody Chair by Herman Miller, a green desk chair may seem like a horrible decision. Its health-friendly design, created by Bill Stumpf, encourages better blood circulation and makes sitting more comfortable. It is gentle on the spine and back, making lengthy periods of sitting more bearable. 
Embody chair has won multiple awards, including the Silver award and Best of Tech award from NeonCon, demonstrating its popularity and precision. The sage green office chair is highly likable. 
5. Langria Modern High-Back Mesh Executive Chair
Langria's green office chair stands out for its high back, headrest, and beautiful white armrests. Everything about the Langria Modern High-Back is adjustable, including position and tilt. The headrest and high back both provide excellent support. This is. without a doubt, one of the most ergonomically friendly chairs on the market. The following features are included as standard with this green office chair: 
Ergonomic design includes a headrest to help

improve sitting posture.

Height and tilt can be adjusted.

For a contemporary look, combine a white frame with a sleek green mesh.

Mesh that is both cool and sturdy. 
6. Mid-Back Green Mesh Swivel Task Chair with Chrome Base
This Mid-Back Green Mesh Swivel Chair can give your workspace a classic office chair appearance with a burst of green. The green office chair performs admirably. Looking for a solid, all-around green desk chair with lumbar support and height adjustment? This is the chair for you. The following are some of the benefits of this green office chair: 
It offers a mesh that is both cool and sturdy for a comfortable sitting experience

Seat cushion for maximum comfort

Tilt and height can be adjusted

There are over 10 distinct color styles to choose from 
7. Giantex PU Leather Executive Bucket Seat
Do you want a plush racing seat for your gaming or business chair? Giantex is a well-known producer of office seats with a racing theme. This should make you feel like you're sitting in a bucket seat of a high-end sports car. Plus, if you're seeking for a subtle tint of green, this chair's predominant color is black. This stylish dark green desk chair is a great option for the following reasons: 
Cool, breathable leather

Designed with a high back and an ergonomic structure

Designed to provide you with the best posture support possible

Height and tilt are each adjustable 
8. AmazonBasics Low-Back Computer Chair
AmazonBasics creates simple, high-quality goods for the home and office. You may rest assured that this green computer chair with a low back should get the job done. It isn't equipped with armrests, but it is solid and comfortable. Finally, it offers a ventilated mesh back and adjustable height. This bare-bones light green office chair may be lacking some features, but it has the following to offer: 
Excellent price-to-value ratio

Fits in a tiny office or work environment

Height can be adjusted

Mesh is durable, and the frame is surprisingly strong 
9. Modway Modern Contemporary Office Chair
Jive is the result of chair designers who set out to create a chair that just works. Its robust ribbed vinyl back provides natural posture support, making it a delight to sit on. The seat cushion and arms are padded, and the armrests were designed with a 90-degree wrist angling in mind for typing. This is a green desk chair designed for the modern office, and it's a welcoming symbol of growth and commitment. 
10. Flash Furniture H-2376-F-GN-GG Task Chair
A good, professional chair is usually made by Flash Furniture. This Mid-Back option is comparable to the AmazonBasics green office chair listed above, except it is a brighter shade. A beautiful chrome base, 360 swivel rotation, and an adjustable height are just a few of the features. 
11. VIVA Mid-Back Mesh Office Chair
Another green office chair that's been around for a long time. The VIVA Mid-Back Mesh Office Chair offers exceptional lumbar support at an affordable price. Looking for an office chair that resembles a Toyota Camry? The VIVA is a sturdy, reliable option for your home office setup. It also offers an adjustable height and ventilated, durable mesh on the back. The following are some of the features of this green computer chair: 
The base is stylish and durable with a chrome finish

Design of the lumbar support

Mesh that breathes to keep you cool while you're sitting

Height and tilt can be adjusted

 
12. Steelcase Gesture
Steelcase is another market monster to be reckoned with. It has a killer design that includes smart features like moveable armrests that the user may position to their liking. The chair is also available in a variety of colors, and a purchaser is likely to find a green office seat in this collection. 
If the buyer requires a base seat with spinal support adjustments, they should mention and request it. Customers should also try the chair to see if the manual spinal adjustment is needed. Steelcase, on the other hand, is built to automatically adjust the lumbar support to the user's weight and body. 
13. Giantex PU Leather Racing Style Office Chair
Another Giantex has been added to the list. The previous Giantex is identical to the PU Leather Executive Racing Style Green Office Chair. Its look and pattern are the most noticeable differences. This Giantex light green office chair also has a somewhat different armchair style. Here are some of the features that make this particular green office chair worth considering: 
Hybrid of mesh and leather with a high-quality PVC frame

Adjustable height and tilt

The design is simple and modern, with an ergonomic design that promotes

good posture at work
14. RH New Logic 220 High Back Forest Green Office Chair
The RH New Logic 220 dark green office chair is designed to help ambitious, energetic office and homeworkers improve their sitting posture. This dark green desk chair model features a wide seat depth, beautifully soft yet supportive padding, and an easy-to-reach lockable movement mechanism that allows you to work as vigorously as you like - so you may move while you work without even realizing it. 
Its exceptionally tall and supportive backrest has a slight curve to hold the back straight, moving the arms and shoulders for enhanced comfort in any position, while the incredibly comfortable seat has a curved waterfall edge to relieve pressure on the thighs. 
15. Offex Mid-Back Apple Green Mesh Padded Chair
The chair has a mid-back design that helps support your mid-to-upper back. Mesh upholstery covers the swivel seat and back, which are padded with 2" of foam. The pneumatic seat height adjustment lever is conveniently located under the seat and may be used to raise and lower the seat. It's easy to roll across the floor thanks to a heavy-duty chrome base with dual-wheel casters. 
16. LexMod Veer Mesh Office Chair
Veer has a form-fitting breathable mesh back and a padded waterfall mesh seat that keeps your back and thighs in perfect alignment. Its padded armrests can be easily flipped up and away when not in use, thanks to the chair's unique 90-degree turning feature. With a user-friendly seat tilt and tension control knob, you can firmly lock your back in place while adjusting the chair to match your body weight. 
17. Flash Furniture Mid-Back Chair with Triple Paddle Control
This triple paddle green task chair is a good choice if you're looking for an easy-to-adjust office chair. The vibrantly cushioned mesh upholstery can brighten up your space while also keeping you comfortable while working. Mesh office chairs, with their comfort and vented design, can help you be more productive throughout the day. Support for the mid-to-upper back is also provided by this mid-back design. 
18. LexMod Articulate Mesh Office Chair
With this ergonomic mesh office chair, you may mark a turning point in your workplace tasks. Allow the fabric cushion seat and ventilated backrest to serve as a convenient addition to your daily work routine. The back height and seat depth may both be adjusted to meet your height and size, and the height of two robust armrests can be adjusted to help you maintain a vertical seat posture. 
19. Delacora FF-WA-3074 21.5"W Fabric Swivel Task Chair
This chair is perfect for a green home office that supports you in your dorm, office, and home when you're working long hours to get work done. No matter how intense the pressure gets, the translucent mesh back lets air circulate, keeping you cool. Green mesh upholstery covers the swivel seat, which is padded with 2" of foam. 
20. Modway Articulate Office Chair
Modway produces high-quality office chairs. This green desk chair is made of high-quality materials, swivels 360 degrees, and has a breathable mesh fabric. If you want to brighten up your office while also getting a wonderful desk chair, the Modway could be the chair for you. The below are some of the advantages of this green olive green chair:
Tilt and height can be adjusted, and a tilt locking mechanism is included

Armrests that can be adjusted

Mesh back provides ergonomic support that is cool and sturdy

The seat has a padded cushion for enhanced comfort
21. Office Chair by Steelcase
The Think-Armchair is an olive green desk chair that is one of the brand's most inventive and famous office chair models. The design is available in various styles, some with mesh and others with suede. Some have armrests, headrests, and coat racks, while others don't. The green office chair features live lumbar functionality, which flexes in response to your movements to provide customized support. Dynamic bolstering is given via a variable chair edge, enabling the seat to hold you securely so you wouldn't slide off when moving.
22. HumanScale Office Chair
This ergonomically designed sage green office chair promotes movement that provides comfortable seating, ensuring that your body doesn't grow tight after a few workdays. The brand's production philosophy is to have a positive effect on the planet and minimize it. They employ reusable and recyclable resources to save the earth. Humanscale regularly evaluates its pollution, waste collection, distribution network, and labor standards to ensure that it remains a sustainable business.
23. Chairs by Herman Miller
The Aeron chair is a green color office chair that remains the much more recognizable ergonomic office chair in the company's collection. However, the firm has produced many seats. The company's office chairs are made with porous mesh, requiring fewer resources. They built the Aeron chair out of polypropylene fiber, steel, and aluminum, with 50 percent of it being recycled. The brand manufactures its products in a greenhouse fueled by sustainable power and offers access to nature.
24. Fully Green-Guard Office Chair
Fully is dedicated to offering environmentally friendly office furniture without sacrificing style. Office chairs, stools, kneeling chairs, and a light green office chair are all available at this brand. It fully seems to have its range of eco-friendly desks and office seats. However, its website also provides identical products from many other companies. The brand uses Green-Guard-certified plus low-VOC-emitting products. It also makes use of recycled vehicle bumper plastic in its chairs.
25. Office chairs by Keilhauer
The executive, work, and meeting chair designs are the three main desk chair collections offered by the company. Every one of those sets includes designs with multiple models. The brand makes use of reusable or recyclable materials as well as sustainable energy. The company uses a closed-loop manufacturing technology that produces no waste. The ecological brand is open and honest, and each of their chairs come with a thorough environmental impact assessment.
26. BestOffice Ergonomic Office Chair
Mesh office chairs have become quite prominent in the latest era. It is because they're meant to improve the airflow throughout your body, allowing you to keep your body as fresh as possible while you're working.
This olive green desk chair is available at a reasonable price and has a simple but ergonomic design that will help you keep your body supported and comfortable during your work sessions.
As an extra note, it is quite easy to assemble and includes a 360-degree swivel. You can adjust the height from 18" to 23". If you evaluate all the elements this chair has to offer, you'll see that it is an excellent deal that will accompany you for several years.
27. Belleze Modern Velvet Green Office Chair
If you'd like something more elegant for your workstation, perhaps this modern velvet dark green office chair can be the right option for you. It is available at a good price, too.
This green office chair includes a high, curved back that provides you with improved lower back support. Plus, the shiny gold base enhances the overall aesthetic of the chair. It has a total weight capacity of 330lbs. It has an integrated swivel, which you can use at your convenience.
Although it lacks certain ergonomic features, you will be able to adjust the height of the chair to whatever fits you better. This green office chair is a good option for people of diverse sizes and heights. The main disadvantage is that the velvet can be hard to maintain in the long term. 
28. Euro Style Bradley Bungie Office Chair
This green office chair has been designed to provide you with as much ventilation as possible. Plus, the minimalist design makes it the right fit for different modern office setups.
The seat is made of bungee cords along with nylon fittings. Hence, you can be sure it will continue doing its job perfectly throughout its lifetime. It's also worth noting that this chair includes a tilt mechanism with two locking positions, like a reclining ergonomic chair.
The adjustable height and swivel will also help you find the best way to use this chair based on your unique body proportions.
29. Riley Office Chair with Black Mesh by Office Star Products
This computer ergonomic chair is another light green office chair that can help you be as comfortable as possible throughout the day.
The Riley Office Chair is stylish and functional. You will be able to enhance the aesthetics of your workstation while also enjoying the comfortable and breathable mesh fabric throughout the duration of your work sessions. Additionally, the built-in lumbar support will help you keep your body as supported as possible while you're sitting.
You will be able to adjust the seat height, making this green office chair the ideal option for all types of users out there.
30. Vandue Corporation Modern Home Ripple Mid-Back Office Task Chair
If you want a green desk chair, this chair can be what you need to add to your workstation. It is an affordable midback office chair that is available in lime green. The steel base with solid wheels will help you move around the room while you're working when needed. Plus, it'll be possible for you to adjust the height to whatever you find most convenient, between 20.5 inches and 24.5 inches.
The Green Color in the Office – What Does it Mean?
It's important to take into account the office color scheme if you want to set up the right atmosphere while you're working. The concept of color psychology was first mentioned in the 70s by Angela Wright. She explained the relationship there is between colors and human behavior and mood.
Of course, there are certain factors that need to be considered as well, such as the context, age, and even gender. However, it is a fact that certain colors can trigger certain feelings and sensations in our minds and bodies.
When it comes to the color green in the office, it is often associated with balance and harmony. Obviously, nature isn't out of the question. It is often included in office environments to promote balance within the person's mind and body. It may also help the person relieve anxiety. It can be the right color to use in individual environments as it is supposed to promote calmness. However, it may not be the best colorful office idea if the area where you'll use it has a constant flow of people.
You can also learn more about what a color that promotes productivity is if you'd like to get accurate information regarding this topic.
Why Should You Choose the Color Green for an Office?
According to the Feng Shui principle, even the tiniest elements matter when creating a workplace. The colors you want to have in the office, whether through fabrics, decorations, or paint, impact the company environment, brand recognition, and customer satisfaction. 
With an increased understanding of biophilic design, and feng shui office colors, the belief that humans have an inherent relationship with nature, today's companies place a high value on incorporating natural elements into the office. Adding green colors has also been shown to boost worker satisfaction.
Green is indeed an energy color. It is also known as the color of tranquility and growth, and it has been closely associated with nature's restorative powers. Adding a touch of greens to your office is said to help with stress relief and long-term focus.
Painting the walls green or incorporating green furniture in your office color schemes can boost organization in the same way that was going blue may (and hence, performance). Because we can see multiple hues of green more than any other shade, it promotes less sleepiness and fatigue, allowing us to focus and pay more attention effectively.

FAQs
Question: Which color is best for an office chair?
Answer: Black is indeed a popular choice for chairs and some other workplace furnishings. However, you are not only restricted to black and white. Explore other colors such as green and liven up your spaces.
Question: What is the most productive color for an office?
Answer: There isn't such a thing as "the most productive color for an office." Again, color psychology has to do more with how the mind processes certain colors. Including a certain color in an environment will not automatically have that effect, but it will slightly stimulate that person's mind toward a specific reaction. For instance, a light blue can make you feel calmer and may improve your concentration.
Question: What colors are best for productivity?
Answer: As mentioned, some of the best colors for an office include light blue due to its effect on concentration. However, you can also take into account other options like off-white, gray, and even teal. A combination of these colors can also help you "enhance" the desired effect.
Question: What is an ergonomic chair?
Answer: An ergonomic chair is a chair equipped with different elements that are meant to keep your body supported and comfortable while you're sitting. For instance, some of the common features include lumbar support, seat and armrest height, and swivel, among many others.
Question: What type of chair is best for the office?
Answer: The right kind of chair is the one that has been designed considering ergonomic features. It helps you feel relaxed.
Question: What is the difference between a task chair and an office chair?
Answer: Basic office seats will include basic adjustability capabilities like height functionality, back inclination, and rotation base, but they'll be set in design otherwise. While, entire customization, including variable lumbar support, swivel, and tilting functions, are all features of a task chair.
Question: What type of chair is best for long hours?
Answer: A chair designed like the ErgoChair Pro is ideal for working longer hours since it provides exceptional lumbar support.
Conclusion
Now that you know everything about finding the right chair for you, make sure to go for a product that best caters to your needs!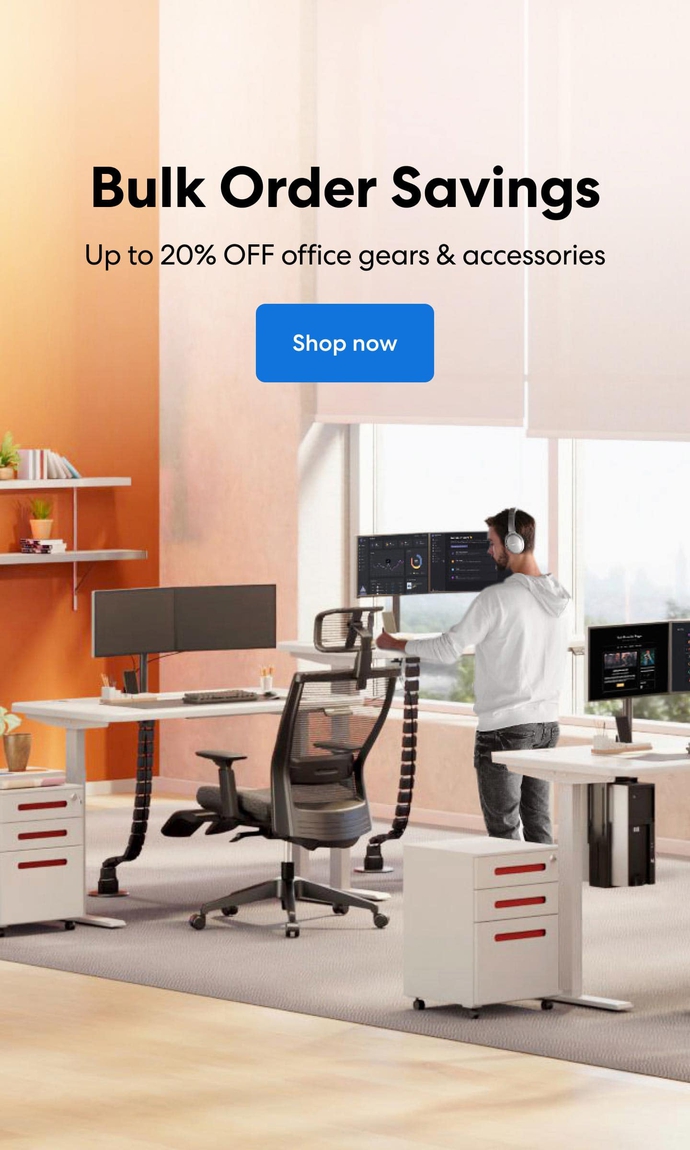 Subcribe newsletter and get $100 OFF.
Receive product updates, special offers, ergo tips, and inspiration form our team.