Smart Products
The 20 Best Grey Desk Chairs with Arms (Updated Reviews)

Autonomous
|
Dec 18, 2021
1,644 Views
It's an absolute must to own an ergonomic chair if you are working remotely or attempting to set up your home office. Making sure that you are set up comfortably at your workspace has become even more critical since the COVID-19 pandemic arrived. More people are working from home than ever before, driving the demand for ergonomic office equipment. 
A sofa or kitchen chair does not provide the sort of support you require to get your work done ergonomically. If you have spent long hours sitting in one place hunched over a laptop or computer, you already know how much pain you can feel at the end of the day. It is detrimental to your health and can lead to other ergonomic ailments later in life. 
Trust us; if you want better back health and posture, it is better to invest in something for the long run. People who plan to remain working from home for the foreseeable future may require an office chair with armrests or even a standing desk to complement it. 
Which Brand of Office Chair Is Best?
There are many brands across online retailers and furniture stores, so if you are looking for a grey ergonomic office chair, it should be available almost anywhere. Ultimately, it comes down to your budget and your remote or traditional office style.  
If you are looking to invest in a chair that can last you a lifetime, it may be best to go for something that has a sturdy build and ergonomic qualities. Remember, it doesn't have to cost an arm and a leg for a quality product; you just need to know where to look for one.  
Autonomous is a company that produces meticulously designed ergonomic equipment used by large tech firms and remote office workers worldwide. Any ergonomic chair that comes out of the Autonomous factory comes with a five-year warranty and is manufactured to last forever. One great thing about the company's products is that they are grey office chairs with arms, precisely what you are looking for. 
The 20 Best Grey Desk Chairs with Arms
Without further ado, let's get on with our list of the 20 best grey ergonomic office chairs with arms for 2022. 
1. Autonomous ErgoChair Core
The ErgoChair Core is an entry-level model from the Autonomous range and is perfect for someone looking for ergonomic comfort and adjustability. Furthermore, the seat includes soft cushioning, which shapes your pelvic region and supports the lower back with uncontested mold ability. 
Its design is manufactured from 100% earth-friendly material, making it great for individuals who are more environmentally conscious and want an ergonomic seating arrangement. Setting up this grey desk chair with arms is easy and can be done by one person within a matter of minutes. 
By choosing this grey ergonomic chair from Autonomous, you are guaranteed the epitome of ergonomic excellence and comfort. 
2. Autonomous ErgoChair Pro
This chair upgrades the model above and features more flexible options to sit in comfort when working for long periods. With the ErgoChair Pro, it becomes pleasant to shift around the office because the chair is designed to adapt to your movement. 
The lumbar support system can be locked in your desired position, or you can let it automatically mold to your spinal column. This feature has made this grey desk chair with arms one of the most sought-after ergonomic chairs on the market.  
Each model is carefully manufactured and tested before it leaves the factory floor so that you are receiving a quality piece of ergonomic equipment. 
3. Autonomous ErgoChair Plus
The ErgoChair Plus is one of the best grey office chairs with an armrest that you can find online. It is made from 100% eco-friendly materials that are durable and aesthetic. We wanted to manufacture something that could appeal to everyone while still providing ergonomic support and adjustability. 
No matter where this grey desk chair with arms is placed, it fits in perfectly due to the contoured mesh backrest that makes it breathable and molds perfectly to the lumbar region. When you purchase this chair from Autonomous, it comes with a five-year warranty and can be paid for over a monthly installment. 
4. Comhoma
This grey desk chair with arms is for someone on a budget looking for a grey desk chair with ergonomic elements to support them throughout the day. What is excellent about this grey office chair with arm is that it comes with an armrest that can be shifted out of the way for easy storage under a desk. 
Choose the Comhoma if you have a small office space and are looking for something affordable yet elegant. 
5. Herman Miller Setu
Herman Miller is a name synonymous with quality and comfort, so you shouldn't expect anything less from the Setu. The chair uses Kinematic Spine technology and has elastomeric fabric that bends with the user contouring their spine in the process. 
It is one of the pricer chairs on this grey office chair with armrests list, but it is worth every penny. If you have the cash to splurge, this is a great ergonomic grey desk chair with arms to invest in. 
6. Flexi Chair
The Flexi grey ergonomic chair is most widely used with a standing desk but can fit a more conventional office space. It is designed to provide users with a comfortable sitting experience with customizable ergonomic capabilities.  
A W-shaped seat molds your buttocks and helps reduce pressure on your lower back and spinal region. The grey desk chair with arms is made from a breathable material, and the fabric is stain plus odor resistant. 
What's great about the grey office chair with armrests is that it's perfectly priced so that it can fit anybody's budget. 
7. Humanscale Diffrient World
This Humanscale grey desk chair with arms was manufactured by industrial designer Neil Diffrient and put support plus comfort at the forefront of its design. It can support up to 300 lbs making it perfect for large adults looking for a comfortable office chair. 
A weight-sensitive recline mechanism adapts to your spinal column and provides a sufficient amount of support to the lumbar region. You can easily adjust the seat height, armrest, and backrest at the press of a button. It's the perfect chair for someone who wants comfort and adjustability in one package. 
8. HAG SOFI 7300
This grey desk chair with arms has a sleek and straightforward design that turns heads plus offers comfort at a great price. It is made from highly durable plastic and steel, which can last you for years. The SOFI is similar in design to the Herman Miller models and contains a unique Balance technology that allows you to move around quickly while seated.  
It has a flexible backrest that's got your natural spine curvature, plus a recline feature so that you can stretch back while taking a break. 
9. UMI Office Chair
The UMI sells for under $200 and is an excellent high back office chair that can make a world of difference to your seating arrangement. It is made by Amazon and comes with ergonomic features and adjustability options. 
You can adjust the seat height, backrest, headrest, and armrest within a few seconds so that you can remain comfortable when spending a long day in the office. 
No matter the size of your office space, the UMI grey office chair with arms can fit in perfectly and provide you with relief from back plus neck pain. 
10. Habitat Office Chair
This is an affordable office chair that ticks all the ergonomic boxes. It can completely transform your remote office from uncomfortable to comfortable in under 10 minutes.  
There is a pneumatic seat height adjustment which makes it easy to position the grey desk chair with arms no matter the size of your desk or workspace. It's the perfect seating option for someone looking for an affordable chair with ergonomic elements. 
11. Humanscale Liberty
The Humanscale Liberty focuses on lumbar support and is an excellent investment for someone looking for a chair that can last them a lifetime. What's great about this chair is that the reclining system is mechanism-free, meaning it adapts to your seating and body position to provide the correct amount of support where you need it most.  
It is a breathable grey mesh office chair, which helps to keep you cool on those hot summer days.  
12. HBADA Office Chair
If you are sitting on a sofa right now, it may be time to upgrade to a chair to suit your office environment better. The HBADA office chair has an S-shaped backrest, which naturally supports your posture because of its curved design.  
It has a breathable backrest that can keep you cool all year round and this adjustable armrest chair stored under the desk if you wish to do so. The base has a 360-degree swivel that is perfect for people who move around the office often. 
13. Songmics Office Chair
This affordable grey office chair with arm can compete with more well-known brands, such as Herman Miller or Humanscale. The Songmics office chair has plenty of ergonomic features to satisfy even the pickiest sitter. 
What's fantastic about this chair is that it comes pre-assembled and takes under a minute to set up, which essentially saves your time plus money. 
14. Teknik Office Chair
People with smaller office spaces are going to love this chair from Teknik. It's made to fit any workspace, but it especially suits more confined areas and more miniature adults or children. This chair is an excellent investment if you look for something that offers you all-day support and comfort with ergonomic factors. 
15. Yaheetech Office Chair
The Yaheetech is an excellent chair that sells for around $100, making it cost-efficient for someone on a budget. Its backrest is densely knitted but breathable at the same time, meaning that you are going to remain as cool as a cucumber. 
There is a 360-degree swivel function that operates smoothly due to the well-lubricated support column and high-speed bearings. It is easy to assemble yet comfortable, supportive, and stylish, meaning it can fit into any remote or traditional office. 
16. 17 Stories Office Chair
This light grey office chair with arm from 17 Stories combines a standard office chair and an ergonomic masterpiece. It sells for a little over $200 but is worth every dollar and more.  
The grey ergonomic chair provides complete adjustability elements, such as back angle adjustment, center-tilt, and tilt lock for your convenience. Unfortunately, it doesn't have all the design elements of a Herman Miller, but it is still a fantastic grey ergonomic chair, nevertheless. 
17. IKEA Ergonomic Office Chair
This chair is built to last and is one of the best things since sliced bread. It has sewn details and curved lines that look stylish and help support the lumbar region when working long days in the office. 
All other ergonomic elements an office worker looks for, such as adjustable backrest, seat, and armrests, are included. 
18. Pago Office Chair
This chair is easy to assemble and can be put together in under six minutes! It is an excellent medium-sized ergonomic office chair that improves circulation and comfort. An independent seat cradles your pelvic region, and an adjustable backrest can float freely or be positioned in a fixed place.  
If you are looking for a comfortable, affordable office chair with an armrest, the Pago is for you. 
19. Varier Office Chair
Varier has been manufacturing furniture since 1979, and its designs remain iconic until today. The advanced office chair comes with an adjustable backrest and is a unique reclining ergonomic office chair that can lean back up to 60 degrees. 
It can even be rocked to relax your muscles, ideal for extended video call sessions. 
20. Andaseat Gaming Chair
Even though this is a gaming chair, it still makes this list due to its ergonomic capabilities and adjustable armrests. It is a highly comfortable chair that can perfectly mold your spine and promotes healthy posture. 
The seat of this grey office chair with armrests is made from an ultra-comfy memory foam which molds to your lower back and supports the lumbar region. If you want an affordable and ergonomic chair, the Andaseat gaming chair may be the perfect fit. 
Conclusion
Grey is a color that can fit anywhere it is placed, and the same goes for a grey desk chair with arms. Finding the right ergonomic grey office chair with armrests can be challenging, but we hope this list clarifies some things for you. 
Before choosing your preferred chair, make sure to consider your height and weight. It's time to take control of your future and get the comfort you deserve.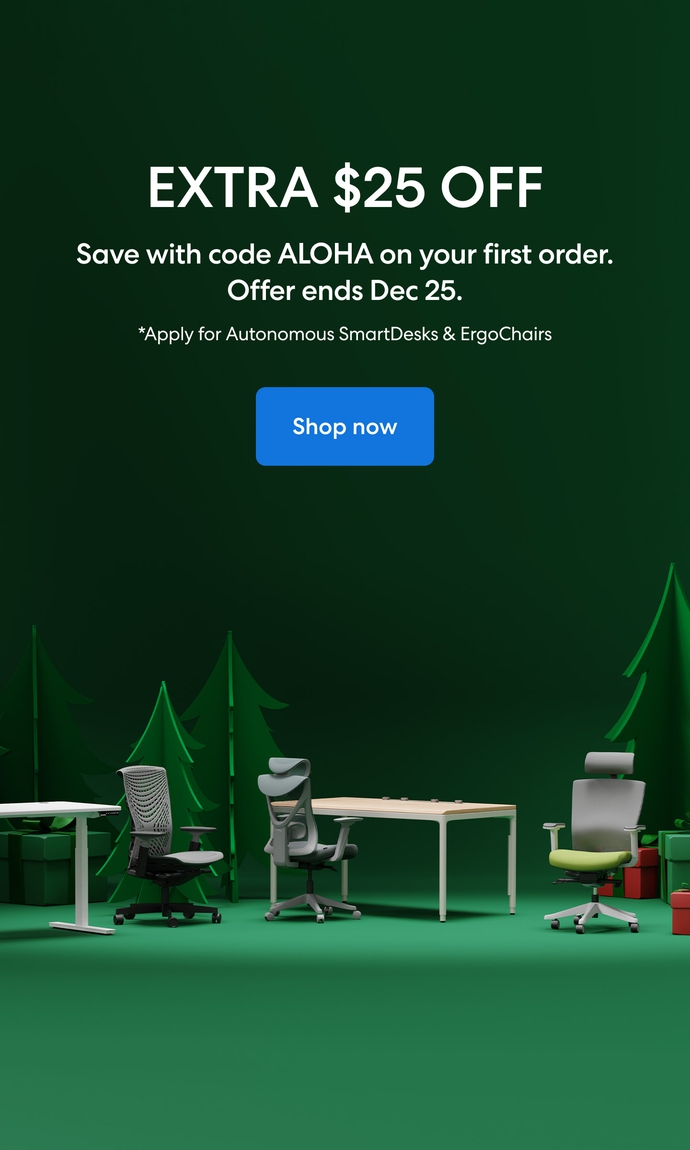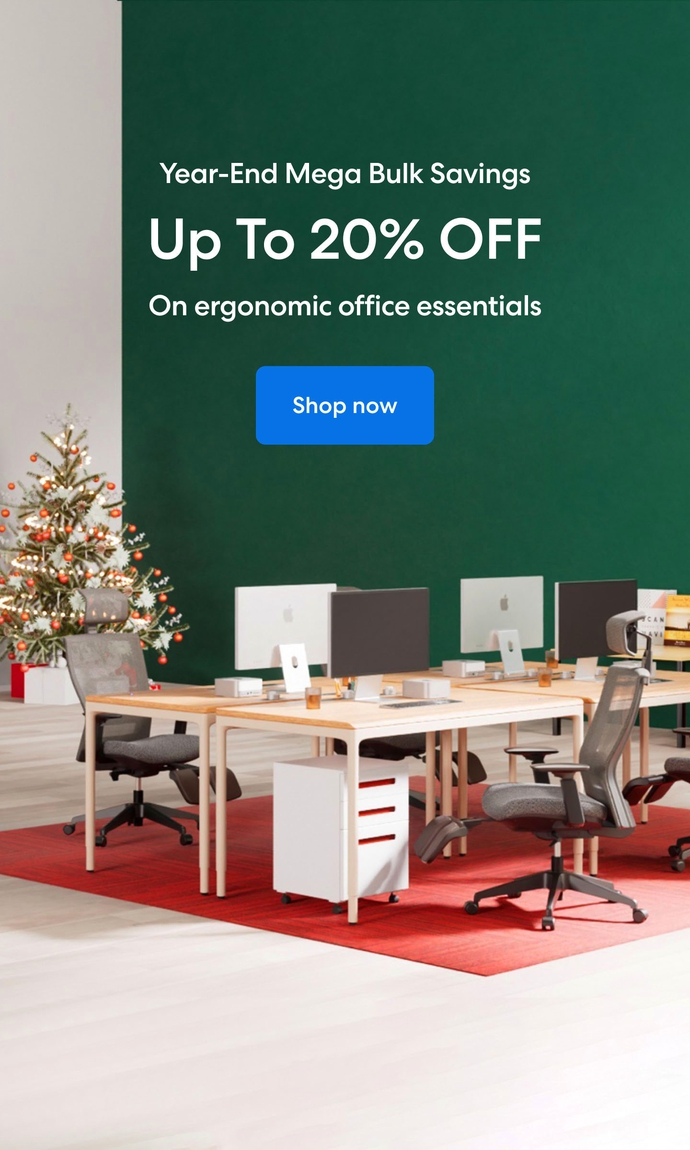 Subcribe newsletter and get $100 OFF.
Receive product updates, special offers, ergo tips, and inspiration form our team.