Working from home has become the new norm, and rightfully so as the pandemic has ravaged the world for nearly two years.
While working from home, you must be comfortable. Things like a suitable desk and home office chair are required, so you have a great experience working.
There are many options to choose from, but today we review some of the best home office chairs in the UK.
You find all kinds of seating on this list, from leather office chairs, task chairs and ergonomic chairs in the UK.
A leather desk chair is ideal for someone who is looking for superior comfort and an executive feel.
Task chairs are suitable for typists as the design helps keep weight off the shoulders and the back straight.
An ergonomic chair can be the perfect combination of both a leather and a task chair. It provides full adjustability and support of the lumbar region in a way that other chairs cannot.
So, without further ado, let's find out what the best home office chair in the UK is.
1. Autonomous ErgoChair Core
Made from 100% earth-friendly materials, this chair from Autonomous is an excellent chair for anyone looking for an ergonomic office chair.
It has a smooth recline feature and five lockable positions so that you can find your sweet spot. It has full adjustability from the armrest, backrest, and seat tilt allows you to get comfortable in any seated position.
This ergonomic chair in the UK can support up to 300 lb and offers flexible lumbar support that cradles your spine.
A woven back mesh provides optimal airflow to keep you cool when spending a long time sitting.
The ErgoChair Core comes with a two-year warranty, and you can even pay it off if you like. Invest in an ergonomic chair in the UK from Autonomous and feel the difference.
2. Autonomous ErgoChair Pro+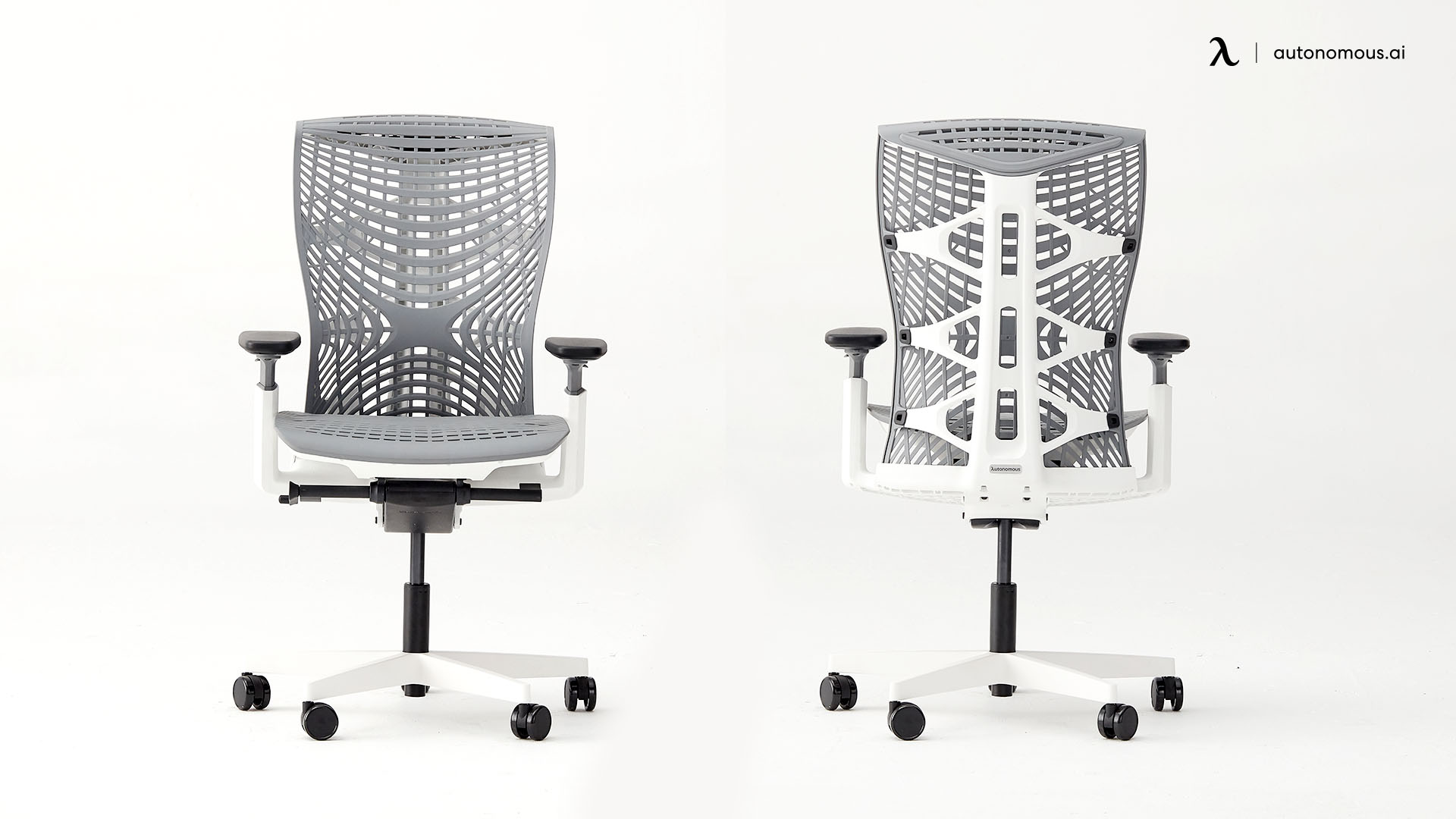 All ergonomic chairs that come out of the Autonomous factory are meticulously designed. The ErgoChair Pro+ is no exception with its design inspired by movement.
Its frameless construction allows for unhindered movement, and the chair supports up to 300 lbs.
The breathable back mesh allows you to work for long hours while remaining cool all day. These computer chairs in the UK for home office also go well with a standing desk from Autonomous.
There is a stunning five-year warranty included with this earth-friendly ergonomic chair in the UK. By investing in an ergonomic chair, you are going to improve your health and well-being.
3. Autonomous ErgoChair Pro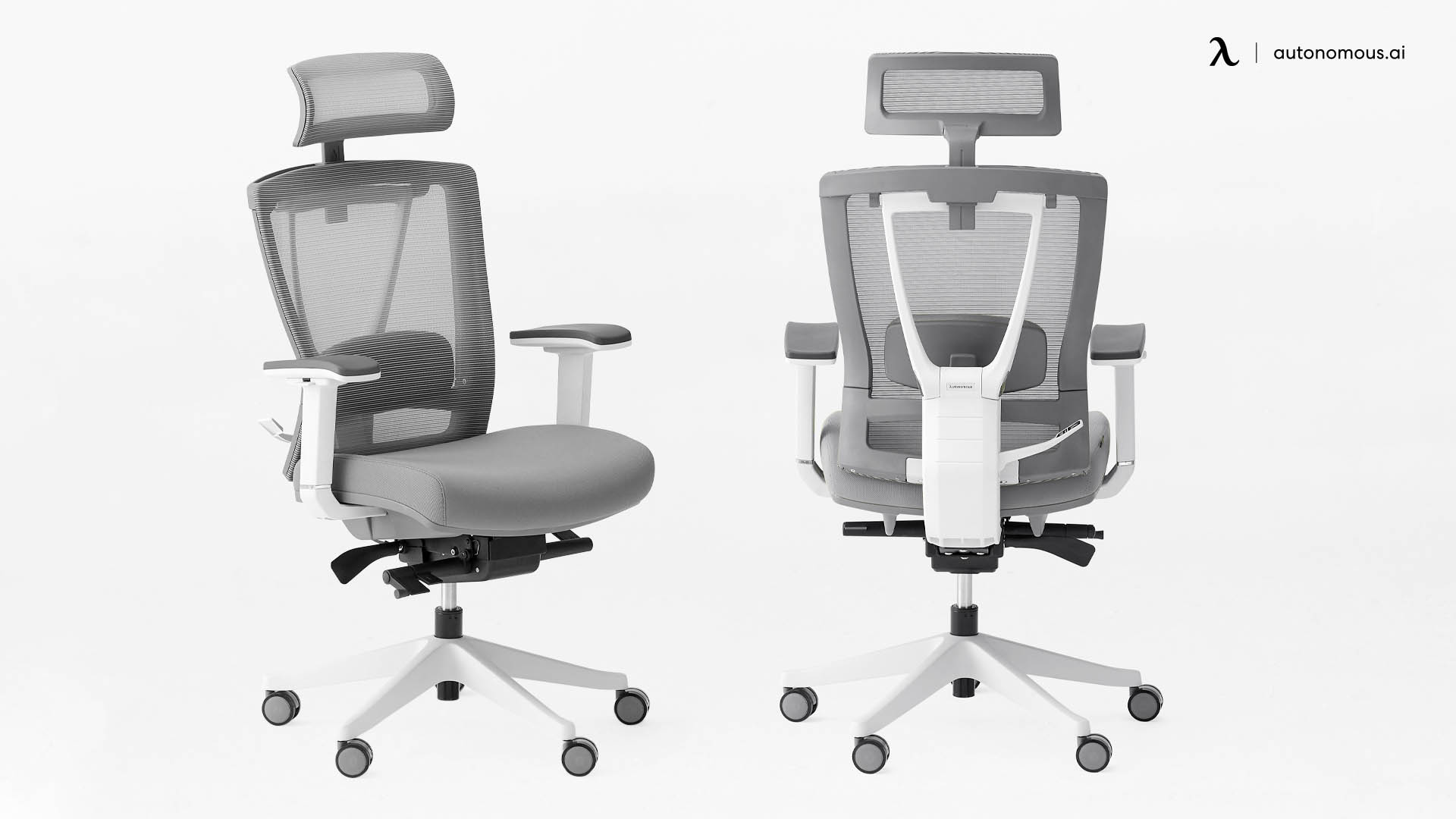 The ErgoChair Pro is great for anyone looking to buy an ergonomic chair that has proper back support. It is one of the best office chairs in the UK.
It's fully adjustable and offers a smooth recline that can be locked in one of five positions. The flexible lumbar support is great no matter what position you are in.
The woven back mesh allows the user to remain sweat-free when working for long periods.
It supports up to 300 lbs making this an excellent chair for significantly heavier adults.
4. Autonomous AvoChair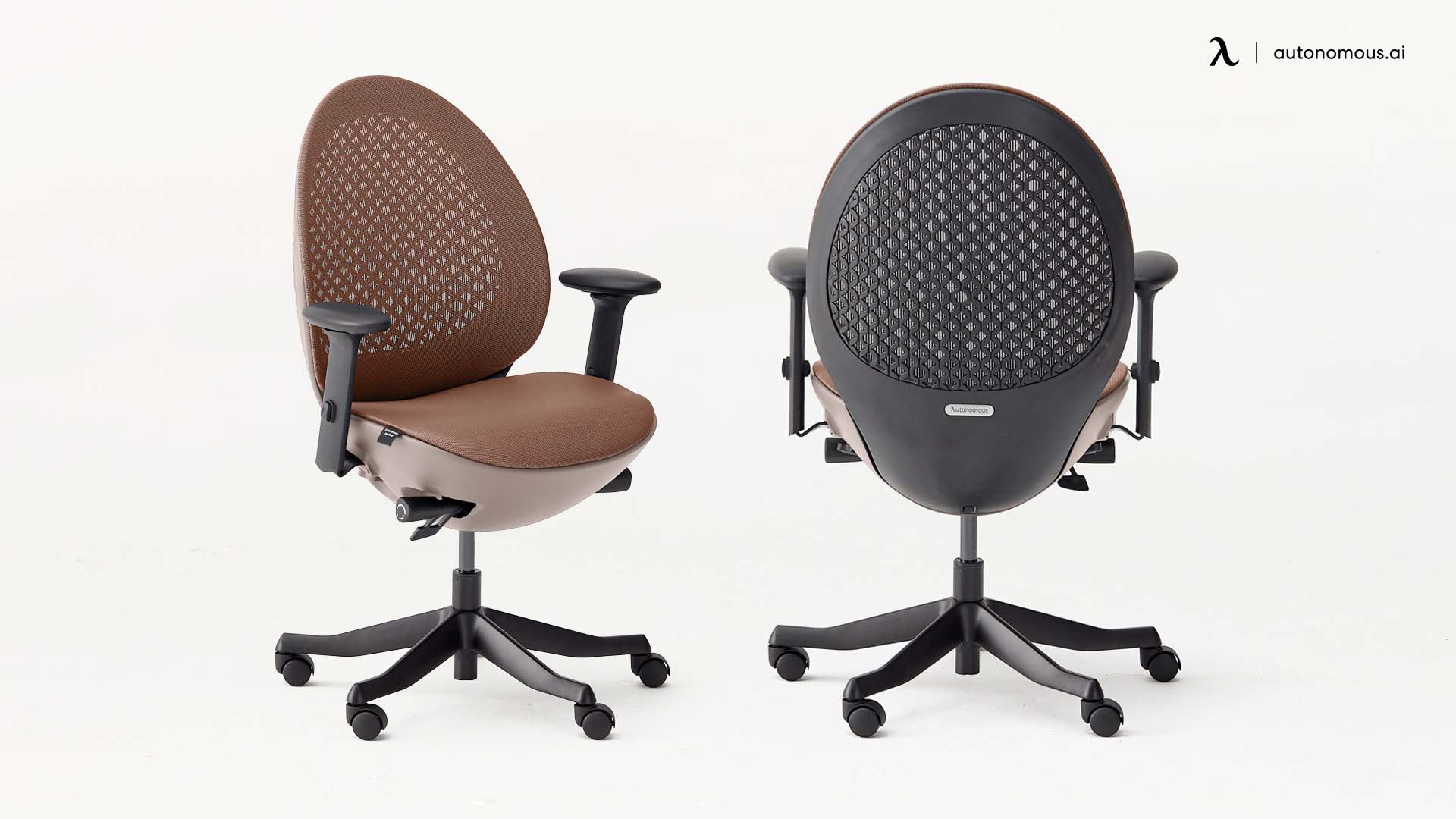 The AvoChair from Autonomous is an excellent minimalist ergonomic chair that is great for shorter people.
This eco-friendly office chair is perfect for those who are environmentally conscious. It has an adjustable height, armrest, and back tilt so that you can find the comfort you deserve.
This computer chair in the UK for home office supports your lower back perfectly and provides stability to the spine.
5. Sihoo M18 Ergonomic Office Chair
Here is another best office chair in the UK. It is an incredibly priced chair that has an impressive curved backrest made from a breathable mesh fabric.
The home office chair in the UK is fully adjustable and features armrests, lumbar support, and a back-tilt function.
As a bonus, there is an adjustable headrest included, which provides excellent support to the neck.
If you are looking for a home office chair in the UK, this is excellent value for money and even ships with a footrest.
6. Orangebox Do Task Chair
The Orangebox is a great home office chair in the UK for those who spend a lot of time at the desk. It is highly versatile and comes at a great price.
The arms and chair seat depth can be adjusted manually, and it has a unique weight-balancing tilt mechanism.
This mechanism responds to movement when the chair is in use. It automatically adapts to your posture making this chair great for someone who moves around a lot.
At a great price and the comfort it provides, you can't go wrong with this home desk chair in the UK.
7. Herman Miller Aeron
Herman Miller is synonymous with creating high-quality and expensive home office chairs in the UK. The company's chairs are iconic and can be found in office spaces around the world.
The Aeron is the best office chair in the UK made from a robust and durable material that is set to last a lifetime.
Its seat is probably one of the most comfortable seats of any office chair.
There is a breathable back mesh and advanced ergonomic support that can be adjusted via the tension knobs on the side of the chair.
The tilt mechanism is ridiculously smooth and helps you get into the correct position with no problems.
Taller people might not like this chair as it does not have a headrest, but it still provides ultimate comfort and support.
8. HumanScale Liberty Office Chair
This home desk chair in the UK is a brilliant-looking reclining desk chair with an impressive range of ergonomic settings.
With an automatic, weight-sensitive recline that adapts to its users' weight, the tri-panel backrest is made from mesh and offers continual lumbar support.
It doesn't matter which position you sit in, this chair is exceptionally supportive. The style is minimalistic, and it comes in a range of contemporary colors.
9. Elite Loreto
UK manufacturer, Elite, produced this chair and many other excellent quality affordable products.
The home desk chair in the UK provides excellent adjustability and has a breathable back mesh to keep you cool during long work hours.
You have the option to buy it with or without adjustable arms, and there is a large selection of colors for you to choose from.
It is modern and stylish and fits right in any home office or workspace.
There is also an excellent five-year warranty included with this home office chair in the UK for peace of mind.
10. Herman Miller Sayl
The Herman Miller Sayl is a lightweight, ergonomically designed, and highly customizable chair that is great for home office use.
Its back webbing is designed to prevent sweating, and it also conforms to the contours of your body.
The adjustability and office chair lumbar support are excellent, and there are hinge points that allow you to flex the pelvis. These same hinge points also provide support to the pelvic region.
This chair is recommended by the British School of Osteopathy and can have you seated comfortably for hours on end.
11. Life Carver Mid Back Office Chair
It is a simple chair with a minimalistic design that is perfect for anyone on a budget. The Life Carver is going to have you seated comfortably all day long.
The mesh back is beautifully shaped, easy to adjust, and suits shorter adults. The small size of the chair makes it easy to move around and store out the way when not in use.
As one of the cheapest computer chairs in the UK for home offices on this list, it is an excellent investment for people who work from home.
12. Symple Stuff High Back Office Chair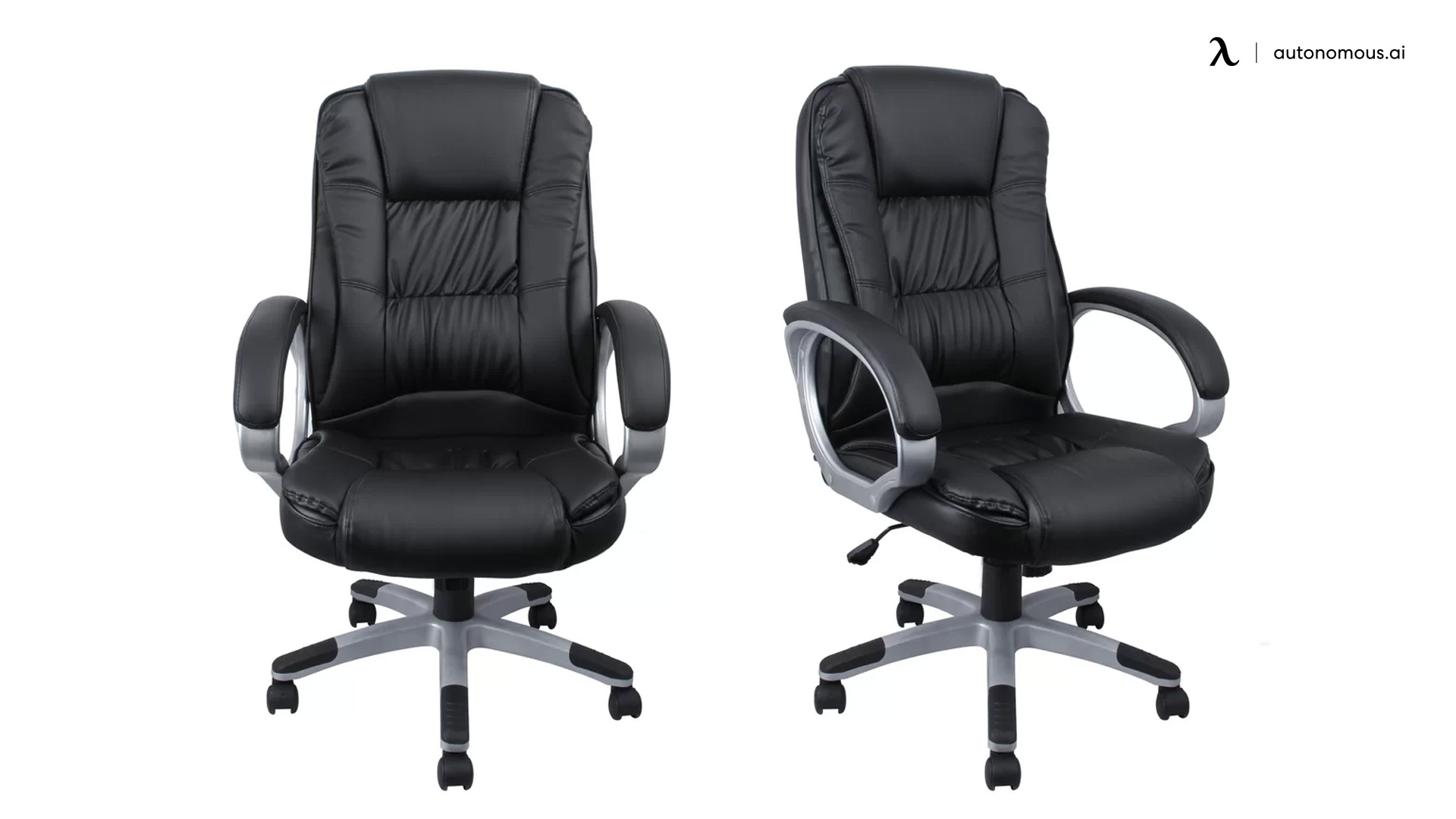 A well-priced ergonomic chair in the UK that is great for taller people, the Symple Stuff high back chair is known for its quality and reliability.
It has simple adjustability, such as seat height and back angle tilt, but don't let that put you off this good ergonomic chair.
The armrests are fixed, making it uncomfortable for people with longer arms, so keep that in mind if you consider this chair.
13. IKEA Markus
It is a great budget option from IKEA and is a firm favorite among people who want decent support and comfort.
The seat is covered in PU leather and has a high back, ideal for taller people. Its tilt function is excellent, and you can adjust the height and angle of this chair.
The high mesh back is perfect for those summer months when you work for long periods on the computer.
14. Yaheetech Office Chair
This cheap minimalist chair offers excellent back support for shorter people who work from home in the UK. It is also one of the best office chairs in the UK.
The assembling process is a little complicated, so if you have a smaller office, it's recommended to build it in a bigger room before putting it in the office.
It has a soft seat cushion and a breathable back mesh that can recline when you want to have a stretch.
15. Cherry Tree Executive Office Chair
This leather home desk chair in the UK is affordable and easy to put together, making it a favorite amongst people working from home.
You can sink back into the chair and work for hours as the backrest engulfs your lumbar region and provides optimal support.
There is not much in the form of adjustability besides height adjustment, but you can't expect to get much at its price.
16. Herman Miller Myra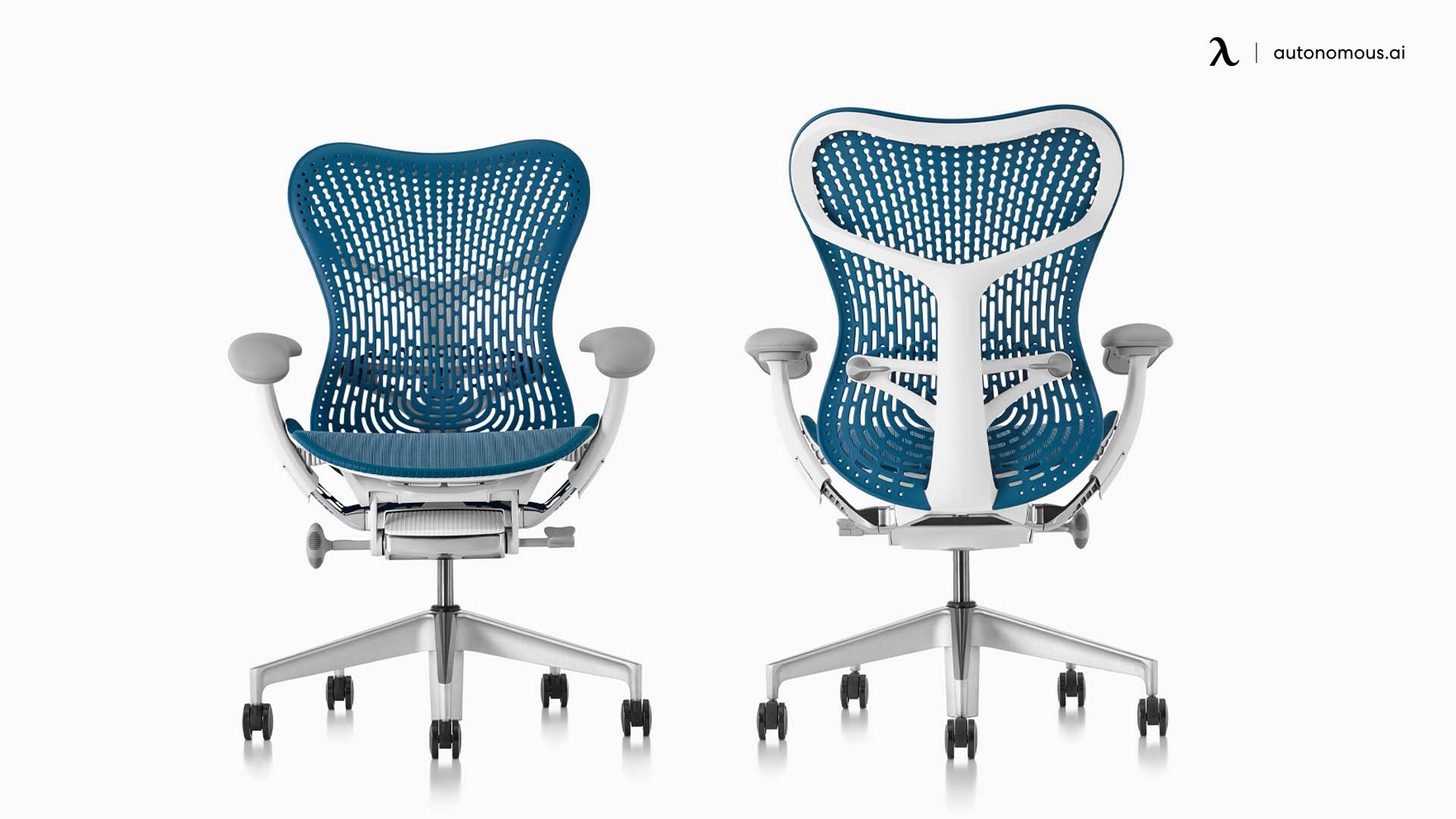 Another entry from Herman Miller is this ergonomic chair in the UK suitable for people who suffer from back pain.
It looks great and is built rock-solid, but it does come at quite a high price.
The Myra is dog, child, and life-proof, meaning this chair is going to last for years to come.
17. HAG Capisco Task Chair
This odd-looking task chair offers excellent comfort and is designed to help correct your sitting posture.
It is suitable for home office use because it has plenty of adjustability options to suit anyone's taste.
It is another home desk chair in the UK for people who care about the environment as it is made from recycled car bumpers and plastic packaging.
18. Umi Office Chair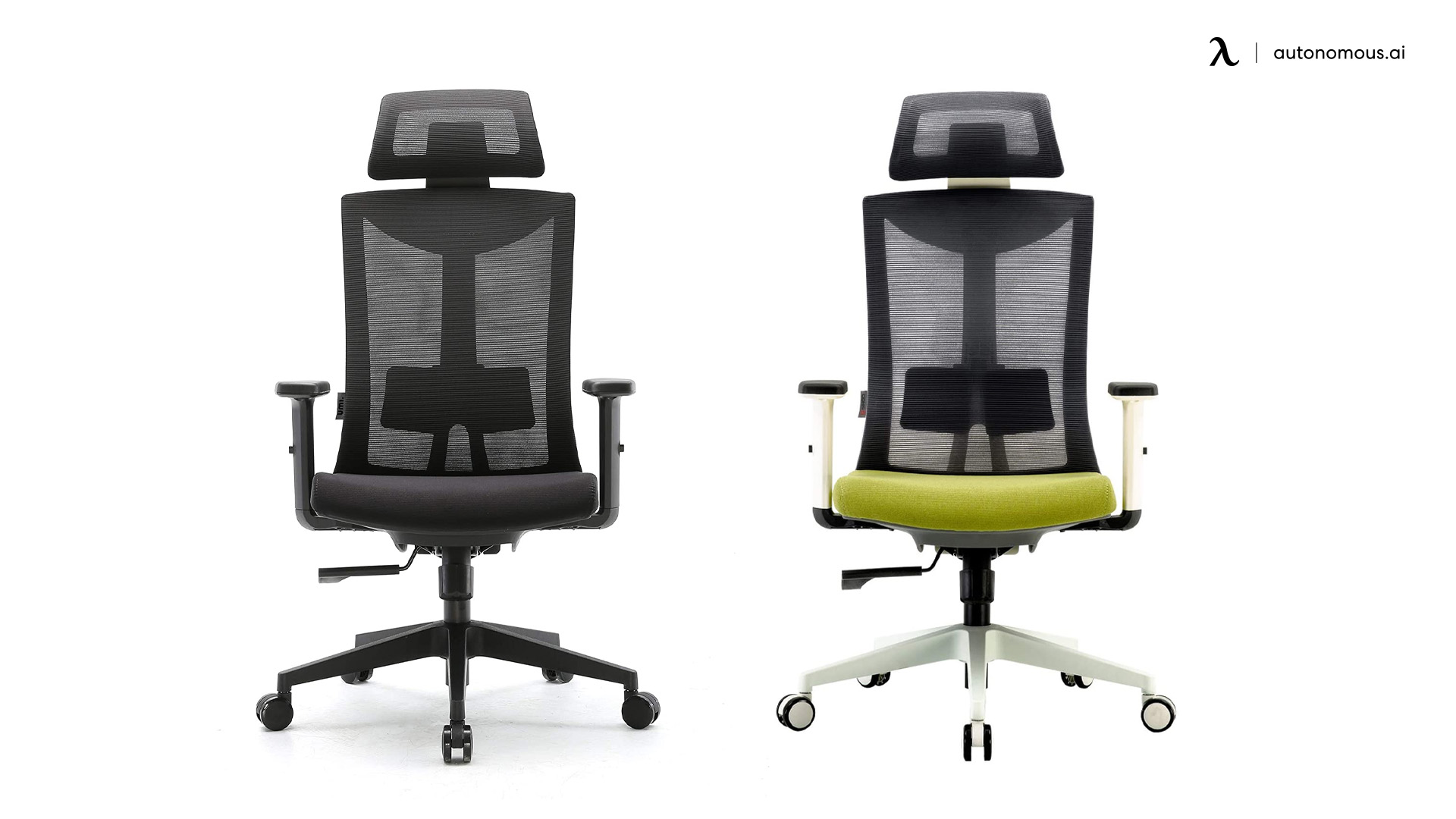 This Amazon-branded chair is averagely priced and provides excellent back support in the home office. It is rated as one of the best home office chairs in the UK.
It has adjustable lumbar support, so you can adjust the chair to meet your seating requirements.
The mesh back is flexible and gives you room to lean back when you need to have a stretch. It has a headrest that was created to assist the curvature of the spine.
The seating cushion is soft and provides lower back support. Some thought has gone into making this ergonomic chair in the UK as ergonomically stable as possible.
19. GTPLAYER Office Chair
As the name suggests, this is a chair that was designed for gamers. It is a rather comfy chair, and you can spend many hours in it working or playing games.
It reclines up to 15- degrees and has a 360-degree swivel for those times when you need to move around the office.
This home desk chair in the UK might not be the best chair to blend into your home office environment, but it is a great chair nevertheless.
20. Whistler Office Chair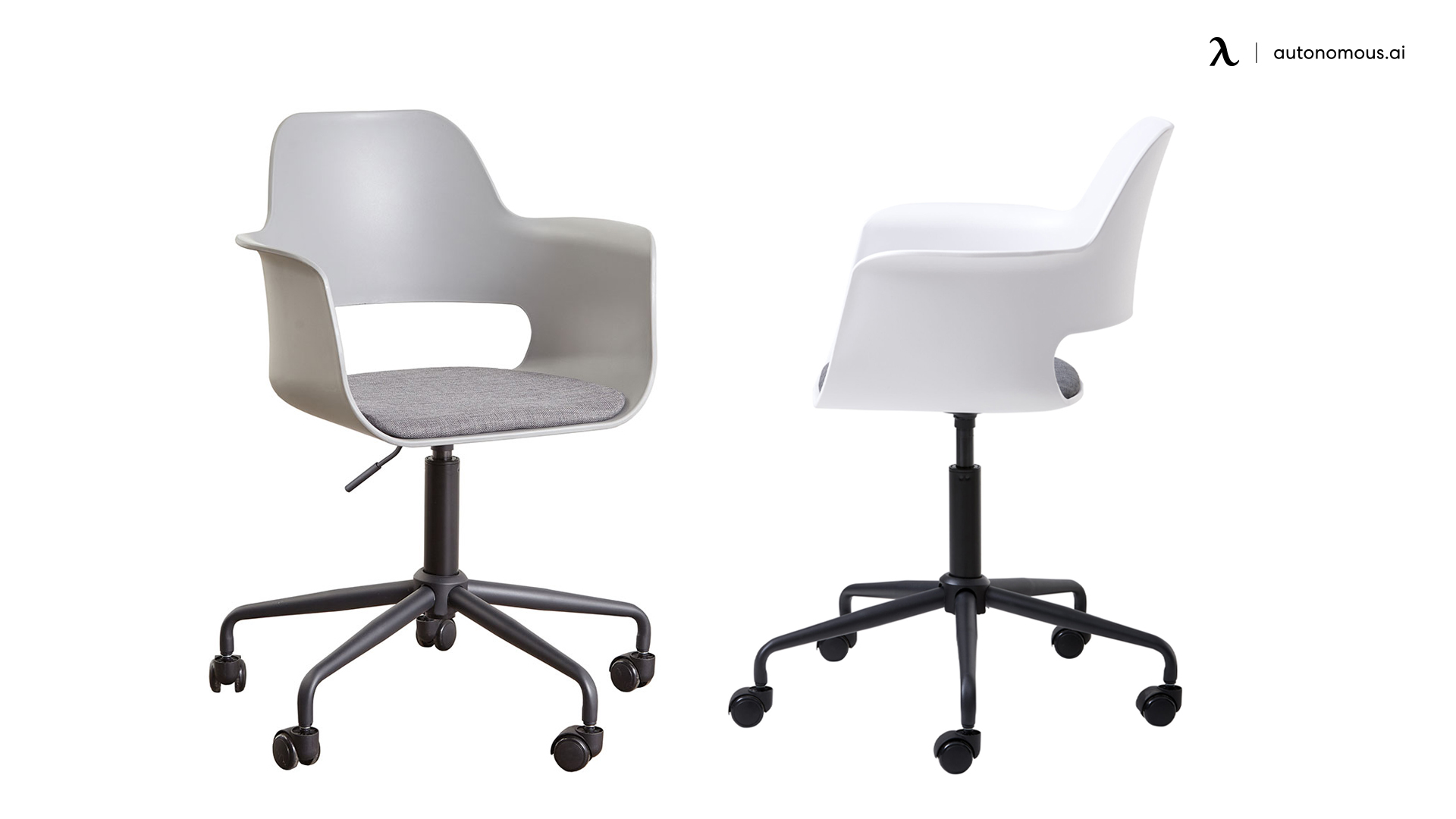 A simplistic chair that is lightweight and small in size. The Whistler office chair stands out no matter where you use it in the house.
The design is minimalistic, and there is only a height adjustment option.
An essential feature of this chair is that it contains caster wheels that are floor safe. It comes in two colors which are mustard and grey.
You are going to want the mustard one as it's beautifully eye-catching.
Overall this mid-back chair is excellent for shorter people on a budget looking for a home office chair in the UK.
Final Thoughts
So, whether you are looking for a reclining office chair with a footrest in the UK or an ergonomic masterpiece, you can be sure to find the one you want on this list.
Keep in mind your height, weight, ergonomic requirements when choosing your desk chair.
If you are looking for the best ergonomic office chair in the UK, it is good to consider the Autonomous Range. The brand is known for its highly ethical manufacturing process and outstanding after-sales service.
If you are a more budget-conscious person, there is something on this list for you too. Whatever office chair you decide on, make sure that it suits your office environment.
At the end of the day, if you are spending most of your time in your home office, it makes sense to invest in a good chair.
Thank you for reading, and I hope you enjoyed our review of the 20 best home office chairs in the UK.
Get exclusive rewards
for your first Autonomous blog subscription.

WRITTEN BYAutonomous
We build office products to help you work smarter.
Coming at You Live from Autonomous' Social Media!
Please fill the information below.
Thank you!