Smart Products
List of Best Lights for Office Desk (Top 20 Options)

Autonomous
|
Dec 22, 2021
2,561 Views
Answering emails, reading crucial documents, taking notes, and other tasks require task lighting, which is provided by office desk lamps. While it's easy to prioritize aesthetics when buying a desk lamp, several other criteria, such as lighting type, brightness, light temperature, and range of movement, have an impact on a light's functionality. 
We spoke with ergonomists, health experts, and engineers to narrow down our search to 20 top-rated lights for office desks in order to identify the best LED desk lamp.
List of 20 Best Lights for Office Desks
1. Autonomous LED Lamp
Brighter Light: Compared to other similar items on the market, this 31.5" LED light bar for the desk provides 200 percent more light coverage. The Autonomous hyper wide led desk lamp has the power to light up your entire desk. 
This desk light's flexible gooseneck mechanism can bend to any angle, making it ideal for any LED light desk setup. Not only that, but with a 360-degree rotating head, you'll be able to find the optimal illumination position for any task. The wide LED desk lamp can illuminate stuff at just about any angle, whether you're glancing over crucial documents, sketching out ideas, or typing out reports. This is also a perfect accessory for an Autonomous standing desk. 
2. BenQ e-Reading LED Swing-Arm Desk Lamp
This is one of the best LED desk lights on the market. The BenQ e-Reading light for the office desk is substantially larger than any of the other desk lamps we evaluated, extending vertically up to 30 inches. This is what makes it stand out. The head of the lamp is attached to a ball joint, allowing it to pivot in any direction, and the arm on the base also pivots 360 degrees, making this work desk lamp incredibly adaptable. Despite its relatively complicated appearance, the computer desk light is really simple to put together. 
3. AmazonBasics Dual Head LED Desk Lamp
This work desk lamp is compact and functional, with a split-head design. The head delivers brilliant, targeted lighting when positioned together, but you may break the two components apart for more dispersed lighting that covers a greater area. The dual-head design is also positioned on a flexible gooseneck that can be rotated almost 360 degrees and brought closer to your work surface. 
The AmazonBasics Lamp is equipped with 48 energy-saving LED bulbs. Moreover, the base has a button that allows you to choose between three different color modes: natural, white, and yellow light. By keeping your finger on the power button, you can adjust the brightness level. Because the sensor isn't sensitive enough, we found it difficult to get the brightness exactly where we wanted it.
4. Dyson Lightcycle Morph
This Energy Star-certified smart light for office desks adjusts its heat and brightness based on your precise location throughout the day. During testing, we were impressed to discover that the lamp adjusted its settings to fit the surroundings. Every 60 seconds, it makes near-constant micro-adjustments. You must, however, provide the Dyson Link app permission to view your location for the lamp to do so. 
We were startled by the weight of the Dyson Lightcycle Morph, which has the sleek modern style you can expect from this company. The lamp's vertical stem rotates 360 degrees, and the upper half of its horizontal arm may be twisted to direct the light sideways or upward for ambient illumination. When the arm is repositioned over the lamp's base, the stem is illuminated, generating a soft ambient light that reduces blue light. 
5. Lumicharge II
The Lumicharge LED lamp with speakers includes an adjustable arm with a wide range of motion and requires no setup. Additionally, the arm may be tilted 120 degrees up or 90 degrees side to side, and the stem can rotate 145 degrees. Finally, the computer desk light features LED bulbs that are protected by a plastic diffuser, which helps to soften the light. 
This Lumicharge LED lamp with charger contains a "charging dial" in the base that you can rotate to access three different types of chargers: micro-USB, lightning, and USB-C chargers. You may also use the wireless charging pad to charge your smartphone. 
6. TaoTronics LED Desk Lamp
This is another best LED desk light for you. Despite its modest cost, the TaoTronics LED light for office desks performed admirably. It didn't take any setup other than plugging it in and is portable. The work desk lamp is one of the tiniest we tested, and its small size and built-in nightlight make it ideal for dorm rooms. 
A touch-activated bar on the lamp's base allows you to adjust the brightness level. The "M" button controls five different color options. There's also a wireless charging ring for Samsung and Apple phones. 
7. Pablo Pixo Plus
With its slim form and wide selection of color options, the Pablo Pixo Plus has a striking modern design and is clearly the most aesthetically appealing desk light we examined. However, in terms of functionality, it left plenty to be desired. The stem may rotate 180 degrees; however, it simply travels side to side, comparable to a windshield wiper. 
Although the lamp's head can rotate 360 degrees, we found it difficult to get it into a comfortable working position without laying it sideways on the desk. Furthermore, while the 325-lumen light for office desks can be dimmed, the control mechanism is difficult to use. It entails placing your finger over a little sensor on the lamp's head, and it never stopped at the intended brightness. Even yet, if a sleek design and wireless charging are important to you, this lamp is a good option. 
8. Possini Euro Magnum LED Desk Lamp
According to our panelists, this desk lamp is one of the most durable and appealing lamps we tested. This slim lamp has a minimalistic, architectural impression thanks to its neat lines and distinctive bronze metal finish. 
The lamp has a substantial weight to it, and the arm adjusts to various heights and angles without feeling flimsy or prone to tipping. Its base, on the other hand, is slim, so it doesn't take up too much room on your desk. 
9. TaoTronics LED Desk Lamp with Wireless Charger
This is rated as one of the best LED desk lights you should have. This TaoTronics LED Desk Lamp is similar to our previous LED desk light pick, but it also has a USB-A charging connector and quick wireless charging. It's the most flexible desk lamp we've tested in other ways, with five brightness settings, a night-light mode, five color-temperature modes, and a one-hour timer, and it's the most versatile lamp we've tested in other ways (to remind you to stop working in the evening). 
10. IKEA Forså
With three lamp arm hinges, a lamp head that revolves 360 degrees, and a tall spring-loaded arm that rotates 180 degrees, the IKEA Fors is the most physically adjustable lamp we tested. In order to prevent tipping, the metal lamp features a hefty base. 
The vintage/industrial aesthetic of the Fors was favored by most of our judges, who also praised its simplicity. There's no complex touch interface to tap or move your fingers around, unlike many other work desk lamps we examined; instead, there's an on/off button on the wire next to the base. 
11. Franklin Iron Works Bronze Turnbuckle LED Desk Lamp
This LED light for office desks combines old and new, with an industrial, rustic look and modern features like built-in LED lighting and a USB charging connector. The office desk lamp has an oil-rubbed bronze finish and is the heaviest type we evaluated, inspired by classic hand-forged ironwork. 
12. TaoTronics Stylish Metal
It's stylish, smooth, intelligent, and sturdy. The light for office desks stands tall on the table. It is, nevertheless, nicely balanced, with a tiny head, narrow-body, and substantial base, unlike many other badly built lamps. Wherever you put it, it is stable and durable. 
However, there is more to it than meets the eye. This work desk lamp emits high-quality light. Bright, non-flickery, crisp, and fully customizable. 
Touch the symbols on the base to modify the color modes, which range from 2700K (warm yellowish-white light) to 6500K (bluish white light). 
13. Lumiy Lightblade
This office desk lamp, unlike its larger counterparts, the BenQ and TaoTronics, is not designed for excessive bending or twisting. 
In order to pivot the light where you need it, you can bend its neck and rotate the lamp head, but the angles aren't too wide. Not that this is a disadvantage: its lower size makes it easier to move around, at least around your desk. 
Despite its small size, the lamp is powerful enough to light up your entire desk. It provides 1100 lux of light, which isn't the brightest on the market but is enough and outstanding for its size. 
14. Stella Lamp
The distance is roughly 12" when the neck is completely extended and bent for computer desk light on the table, making this lamp a true "task" lamp. However, because of its remarkable versatility, this light is ideal for any intricate hobby work. It does not emit heat because it is LED. 
However, it's the different color choices that set the Stella GO Portable LED lamp from other LED task lights now on the market. Choosing the right color for artistic work is critical, and that's where this light excels (pardon the pun). In natural lighting, quickly go from cool to warm to a blend of both with the touch of a finger. 
15. OTUS Motion Sensor
The silver and black metal and plastic pieces are skillfully blended to enhance the lamp's artistic appeal. 
Now for the coolest function: it can be controlled using hand motions! With the sensitive movement sensor, you may turn on and off the light with a wave of your hand. It even remembers your previous light mode and switches to it as soon as the light is switched on. You don't have to do anything. 
Touch sensors positioned along the arm can be used to modify the brightness and color temperature. There are 12 different light intensity levels and three different color modes to choose from. 
Adjust the lamp's height to achieve the ideal light area and intensity by bending or stretching its flexi arm. 
16. WILIT U2
This light for office desks is designed to fit into the tiniest of areas, measuring just 3.5 x 2.5 x 19.5 inches in size. 
It's worth noting that, while slim, it's taller than your laptop, and it doesn't block your vision. However, its neck can be folded at a 150-degree angle if you want to modify the light angle. 
Despite its diminutive size, the computer desk light performs admirably. It has a CRI of 80 and a brightness output of 200, resulting in crisp, clear light. 
It's not the type to light up an entire room with 25 LED bulbs, but it provides more than enough light for you to complete basic office work at your desk. 
17. Brightech Lightview Pro
Brightech's Lightview Pro is extremely bright. It comprises 56 small LED bulbs arranged in a circle, each with a 100,000-hour lifespan. This set of bulbs produces 650 lumens of light, which is more than enough to illuminate every last detail of whatever you're working on. 
A lens with a diameter of 5 inches sits in the center of the circle of LEDs. The lens of this office desk lamp has a magnification power of 2.25 and is composed of clear high-quality glass. 
18. Alena Desk Lamp
Its matte black drum shade and elegant brass base create a dramatic aesthetic that can elevate your work from home situations. We also like how the on/off switch is conspicuously displayed at the base rather than tucked away on a cable. Nickel is also an option for this black desk lamp. 
19. Maskor Table Lamp
The concentric rings surrounding the core of this table lamp force light to radiate inward and outward, which is a unique design characteristic. What is the result? A diffused, mellow light that shines in and out. 
20. LED Metal Swing Arm Desk Lamp
This LED light for office desks does the job admirably - it firmly clamps to your desk and has an adjustable arm that allows you to direct light precisely where you need it. It offers ten brightness settings and three-color modes, as well as ample overhead illumination. 
Bottom Line
Whether you're looking for something to brighten up your desk a bit or truly enhance your working experience, make sure you go for something that can accommodate your needs!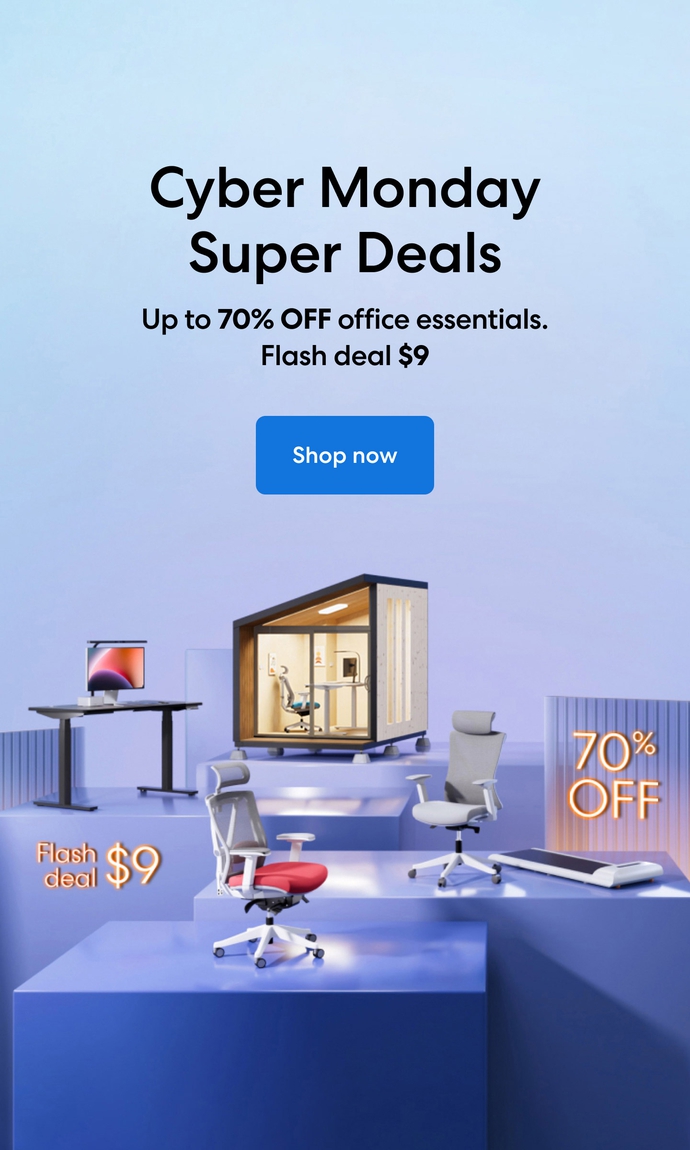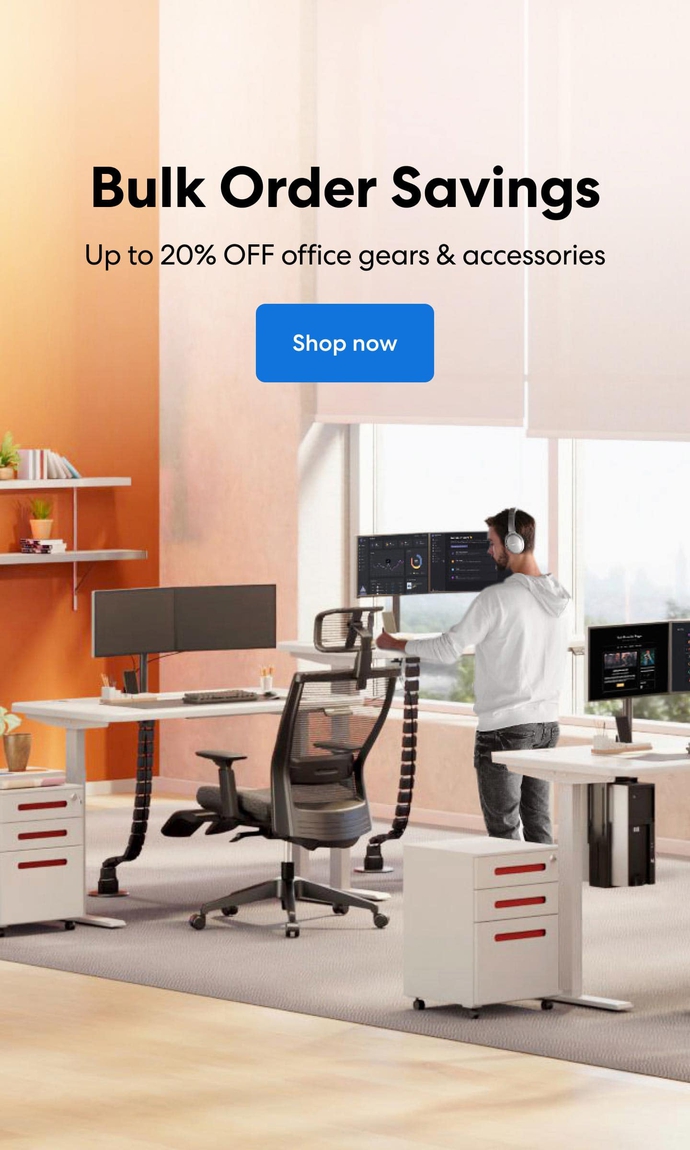 Subcribe newsletter and get $100 OFF.
Receive product updates, special offers, ergo tips, and inspiration form our team.