One of the best things about working from a home office is the freedom you can have to choose your own furniture and supplies. When you work from home, you can generally choose your own desk, chair, computer, and more. You can find the best home office desk for you and your lifestyle without needing to conform to the design of your office or worry about what your colleagues like.
Trendy office desks are worlds apart from the kinds of desks people used to use. Now, office desks can be adjusted for height and come with a range of features to help you stay organized and on top of your work. Some desks can even be used standing up, which is fantastic if you have a sedentary job or lifestyle!
If you're looking for a new desk for your home office, this article should help you make your decision. In addition to providing some guidance on what to look for in a new desk and discussing the benefits of standing desks, we've compiled a list of 20 of our favorite desks for home office use.
What Should I Look for in a New Desk?
When you're buying a new desk, it's important to consider which features and style would be best for you. For example, if you don't have a lot of space in your office, you might like to find a L-shaped electric standing desk or a desk that can be partially folded up for easy storage.
It's also important to consider the other features you might need, and how big you'd like your desk to be. Some people need more space on their desktop than others. If you tend to use a lot of equipment while you work or often need to spread out, then you should look for a bigger desk. On the other hand, if you mostly use your desk for computer work, then you can try to find a smaller contemporary home office desk.
Is Standing Desk Height-adjustable?
One of the most important ergonomic features of a desk is whether or not you can adjust the height. Having a desk that is too tall or too short can result in you craning your neck unnaturally. Doing so over longer periods can mean that you strain your body and neck, and this places excess pressure on your muscles.
Sitting in such a way too much can cause chronic pain and stiffness. This is why maintaining good posture whenever you can is so important. It's easy to forget but working with the best posture that you can is crucial for your overall well-being, especially as you get older.
Other Ergonomic and Wellness Features
In addition to being able to adjust the height on your desk, you might be able to find a desk that has other features like a cable tray or attachment for a light fitting. All of these features can turn trendy office desks into a tool for providing you with the best health and well-being possible.
Are Standing Desks Worth it?
Standing desks have become something of a trend in recent years, but not everybody is sold on the idea of standing all day while you work. This is fair enough. In a world where everyone is used to sitting down all day, why would anybody choose to stand up? To some, standing and working seems tiring, distracting, and a waste of productive energy.
Things are not always as they seem, though. In fact, standing and working has been found to increase productivity. It's also a great way to substantially reduce your risk of developing certain lifestyle illnesses as a result of a sedentary lifestyle, like heart disease or diabetes. Still, working at a standing desk doesn't mean you have to constantly stand. You can choose to alternate between sitting and standing to improve your productivity while limiting the impact of standing on your body as you adjust.
Adjusting to a Standing Desk
Working at an office desk isn't always easy to begin with. If you aren't used to using a standing desk, it can take some time to adjust. You may like to invest in accessories for your standing desk to make it more comfortable to use at first. For example, a pad to stand on can reduce pain in the feet.
You may also like to try alternating between sitting and standing. Planning sit-stand sessions is the perfect way for you to train your body to work standing up. You can try standing for one hour and sitting for the next or modify a sit-stand schedule until you find a balance that works for you. Then, you can slowly cut back on the time you spend sitting throughout the day until you have completely adjusted.
When is Standing Better?
It's important to acknowledge that standing isn't always better. Many trendy office desks now can be used standing, but that doesn't mean that everyone can benefit from working at a standing desk. For example, if you have a lower-body injury or back condition, it might be especially taxing for you to work standing up. You should consult with a medical professional before working at a standing desk if this applies to you.
If you don't feel that standing would be best for you, there are other ways to make your workspace more ergonomic and supportive to your posture and wellbeing. For example, you can try working with an ergonomic chair. Combining a quality ergonomic chair with a modern home office desk is a great way for you to maintain good posture even while sitting down. 
Our 20 Best Modern Home Office Desks in 2022
We've listed 20 of our favorite modern home office desks below. If you want to work with excellent posture and reap the benefits of leading ergonomic features, then keep reading. Maybe your next office desk is on this list!
1. SmartDesk Core
If you're aiming to boost your productivity and performance with a modern home office desk, then the SmartDesk Core should be your first choice. When it comes to standing desks that are easy to use and adjust, the SmartDesk Core is the leader of the pack. The control panel makes raising or lowering the desk effortless and quick. You can also customize both the size and color of the desktop.
Featuring a sleek and minimal design, the SmartDesk Core is a great choice if you'd like your best home office desk to be free of clutter and inspire productivity. Self-assembly is quick and simple, and you can return the desk within 30 days for a refund if you aren't completely satisfied. What's not to like?
2. The SmartDesk Corner
Working from home sometimes means you have less space than would be optimal. Fortunately, you can save space easily with an L-shaped desk. The SmartDesk Corner by Autonomous is perfect to use in the corner of your office or workspace. You can spread out along the desktop while ensuring that you have plenty of room in the rest of your office.
In addition to being an excellent modern home office desk, the SmartDesk Corner might be the best option if you're looking for a standing desk that you can use to maximize the space in your office. Like the SmartDesk Core, the SmartDesk Corner comes with a control panel for easy adjustment, making it highly ergonomic.
3. The SmartDesk Pro
Is design your priority? Then you should look for a contemporary home office desk that is elegant and sleek. The SmartDesk Pro is just that. It's a curved standing desk, which makes it great as a feature of your office space. In addition, it comes with all the functionality that you would expect from a leading standing desk. You can adjust the height or use a range of desk accessories to make working at the Art Desk an ergonomic dream!
4. The Topsky Computer Desk
The Topsky is the perfect desk if you need plenty of space to spread out and would prefer not to break the bank on your new desk. It has an enormous desktop made of sturdy particle board, and its reinforced steel means you can depend on this desk to last and last. Also, this home computer desk has a great ergonomic feature. You can adjust the feet, which makes the Topsky a great asset to have if your floor is uneven. Users also mention that self-assembly with the Topsky is quick and simple.
5. The HOMFA Bamboo Laptop Desk
If you need a modern home office desk that offers the best adjustability and flexibility, then you might like to consider a laptop desk. You can use this by itself or set it up on top of another home computer desk, giving you excellent freedom of choice. It's also made from bamboo, which is a sustainable and light material, perfect for portability. You also refer to some reviews for choosing bamboo standing desks.
6. The Andover Mills Daniel Corner Desk
Sometimes, even an L-shaped home computer desk is too big. If you don't need much desktop space and have a truly tiny office, then this corner desk might be perfect for you. It's a fantastic choice if you need a surface to work on, and the build quality is impressive. The desk also features a drawer for storage.
7. The Latitude Run Sauve Floating Desk
Another great choice if you really need to maximize your office space is a floating desk. A floating desk gives you the opportunity to store furniture or other possessions under the desk while working on the desktop. This floating desk by Latitude Run is a great way to save space. However, some users have mentioned that assembly is complex or challenging.
8. The Elle Décor Dani Writing Desk
If you don't want a lot of desk space, then using a writing desk might be the best choice for you. Finding a modern home office desk in a writing desk style isn't too challenging, and The Dani is a great example. It's well-built and sturdy, and it gives you space to work on your laptop or read. If you don't need anything more than that, then this might be the best modern home office desk for you.
9. The Walker Edison Modern L-shaped Glass Computer Desk
This desk was initially designed as a gaming desk, but its excellent design makes it a great choice as a contemporary home office desk, too. It's elegant and gives you a large desktop area with ample space underneath for storage.
10. The Red Barrel Studio Hillsdale L-shape Desk
Combining beautiful laminate wood and a smart L-shape design, the Hillsdale should be your first choice if you're looking for an L-shape desk to work at sitting down.
11. The Phoenix Rustic Wood Work Table
Sometimes, modern desks for home office are especially suited to a particular kind of work or lifestyle. If you use your home computer desk to draw or design, then you might benefit most from a work table like the Rustic Work Table.
12. The Flexispot Standing Desk
Here's an affordable standing desk which is quiet and sleek. It's easy to set up and features a great, minimal design.
13. The IKEA Pahl Desk
IKEA is perhaps best-known for budget options, and the Pahl is no exception, retailing at less than $100.
14. The Coavas Folding Desk
If you're looking for a modern home office desk that is smart and simple, choose the Coavas. It's easy to put together, cheap, and relatively sturdy.
15. The Ailith Standing Desk by Joss & Main
This is truly a modern desk for home office. It's easy to adjust, beautiful, and very dependable.
16. The Hassen Adjustable Standing Desk by Symple Stuff
If you're looking for a light standing desk that you can easily adjust, then consider the Hassen!
17. The Angelpreet L-shaped Desk by Latitude Run
We've already raved about how much we love L-shaped desks. Here's another great example, this time by Latitude Run.
18. The Orman Desk by Williston Forge
If you'd like a desk that is minimalistic and elegant, then you should consider the Orman by Williston Forge.
19. The Apatria Desk by Ebern Designs
Storage space is ample with this beautiful and unique desk by Ebern Designs.
20. The Edgerton Desk by Greyleigh
Simple, elegant, sleek. Based on design alone, this is truly the best modern home office desk.
Standing Home Office Desk vs a Regular Desk
It is a desk that allows you to stand while you work comfortably, also called a standing desk or stand-up desk. Updated versions of the modern home office desk are commonly adjustable, so it is possible to alternate between sitting and standing and change the desk's height. Desks that can be raised or lowered are the best home office desk because they are height-adjustable desks. Standing desks appear to benefit health, even though research is still in its infancy. The benefits of the contemporary home office desk may even extend to productivity. It can partially offset the negative effects of sitting too much by using such a desk.
The risk of early mortality is lower at sitting desks. In order to avoid spinal damage, standing at your home computer desk should be preferred over sitting for extended periods. You can develop muscle contracture in the abdominal muscles and hamstrings by sitting all day. Your back may become imbalanced as a result. So, here's the main difference between a standing vs sitting desk.
Even for part of the day, using standing trendy office desks or a sit-stand desk can minimize this imbalance and maintain better spinal alignment and muscle symmetry. An alternative to a sitting desk is the modern desks for home office, which is a smart option for improving posture and reducing eye strain. Stand-up desks boost core strength and improve posture.
When you remain seated at a desk for long periods, your spine forms a harmful "C" shape due to your neck craning toward your monitor. Standing at work allows you to elongate your spine and restore the natural "S" shape.
You feel better, longer, if you use a standing desk, as your blood flows freely and oxygen is delivered to your muscles. When you stand, you feel more energetic. This relieves pressure on your internal organs, so everything functions better when you stand up. Due to the increased energy you'll have from standing up, you will probably be able to focus on each task longer.
Why Do We Suggest Standing Desks?
Standing at your desk a common way to update your social media? Would it be possible to read a piece of news you are interested in right now while you are still standing? Therefore, ergonomic standing desks and working at them will likely become increasingly popular shortly. The best way to stand smartly is to invest in a standing stable that is ergonomic. But what does that really mean? A parallel chin, evenly spaced shoulders, evenly spaced hips, and a neutral spine are important technical requirements.
Fewer headaches
Most desk job workers experience headaches after sitting for too long and working at a monitor. It is because when you slouch forward, round the shoulders, and push your head forward, it causes your neck to compress, your muscles to tighten, and your core to weaken, causing frequent headaches and joint pain. A standing home office corner desk enables you to move around while working, stretch your muscles, and keep your blood flowing. The better the flow of blood throughout your body, the higher the oxygen throughout - giving you more energy.
You'll feel more confident as a result
When working, having a good posture is essential. Physical health and strength are linked to good posture. Our body posture affects neither how others perceive us nor how we perceive ourselves. Those who have better posture are perceived as more competent.
Reduced lower back pain
Workers who sit for long periods complain of back pain. In order to determine whether standing desks could be beneficial to employees with chronic back pain, several studies were conducted.
Short or tall people will find this option to be great
It is not a great idea for people to create DIY standing desks, as they place monitors and laptops at greater risk of falling. People can now match their ideal working position to their height using adjustable standing desks.
Features You Should Check When Buying a Modern Home Office Desk
Apparently, you are fed up with sitting down and have decided to use a standing desk instead. However, what should you consider, what price should it range, and should it be built sustainably?
Budget
Our priority is placing health and wellness over budget because standing desks are a good investment for the long term. Just buying an adjustable-height desk or an ergonomic stool could be pricey. Budget-conscious individuals may consider a retrofitted standing desk converter if none of these options suit their needs.
Weight
Some standing desks can't accommodate laptops and desktop computers. Remember to check the maximum weight your standing desk can support if your standing desk is expected to perform heavy lifting.
User-friendliness
Depending on the type of standing desk, one-time installation can be simple, while more complicated mounting can be required. In the alternative, a retrofitted standing desk that can collapse and be stowed away is a great option when it comes to hot-desking or space-saving. Pick a standing desk that will offer you the greatest degree of flexibility according to your needs.
Worksurface
Check the available work surface of the standing desk if you are the messy coworker that the entire office knows about or need multiple screens.
Warranty
Cheap standing desk alternatives without a warranty should not be purchased. A good standing desk comes with a minimum of three years' warranty; a five-year warranty will back a high-quality desk.
Versatility
Additionally, some modern home office desks include built-in speakers in addition to their core functions. You need to make sure the standing desk can be adjusted in height to suit your ergonomic needs.
Durability
Stand-alone desks have different warranty periods based on the number of intricate parts and the material used to construct the desk. The lifetime of inexpensive plastic items is shorter than those made of metal or wood. You wouldn't put your expensive computer on a desk that is structurally unsound. Choosing a sustainable wood product would be the best use of your money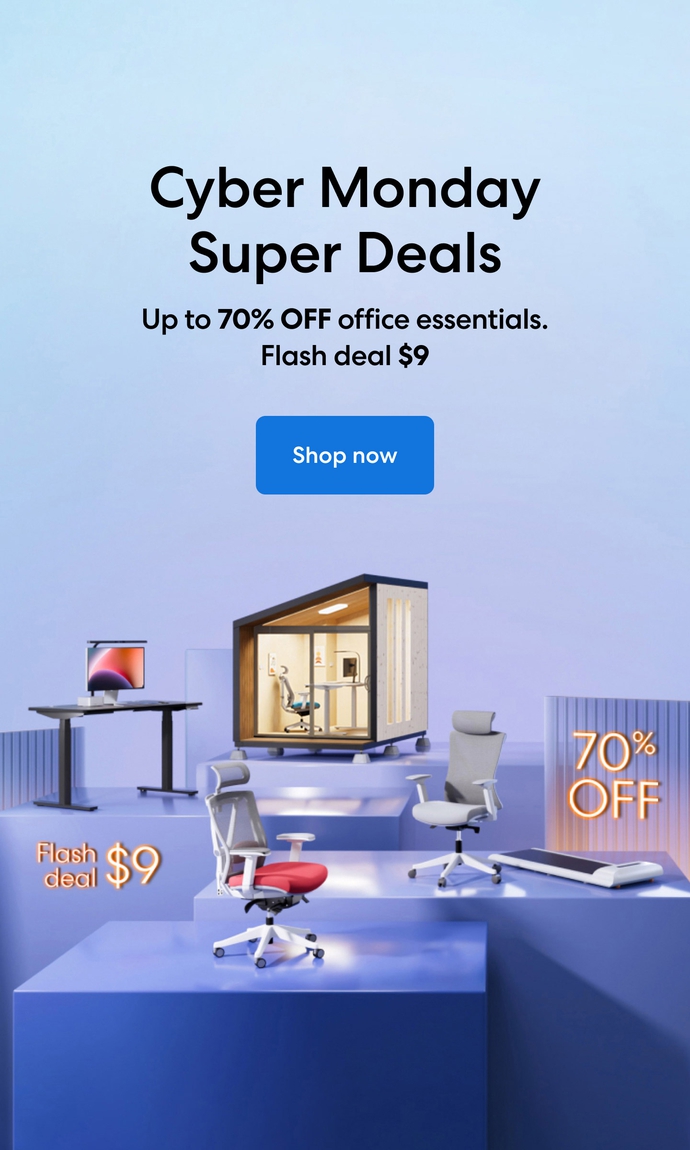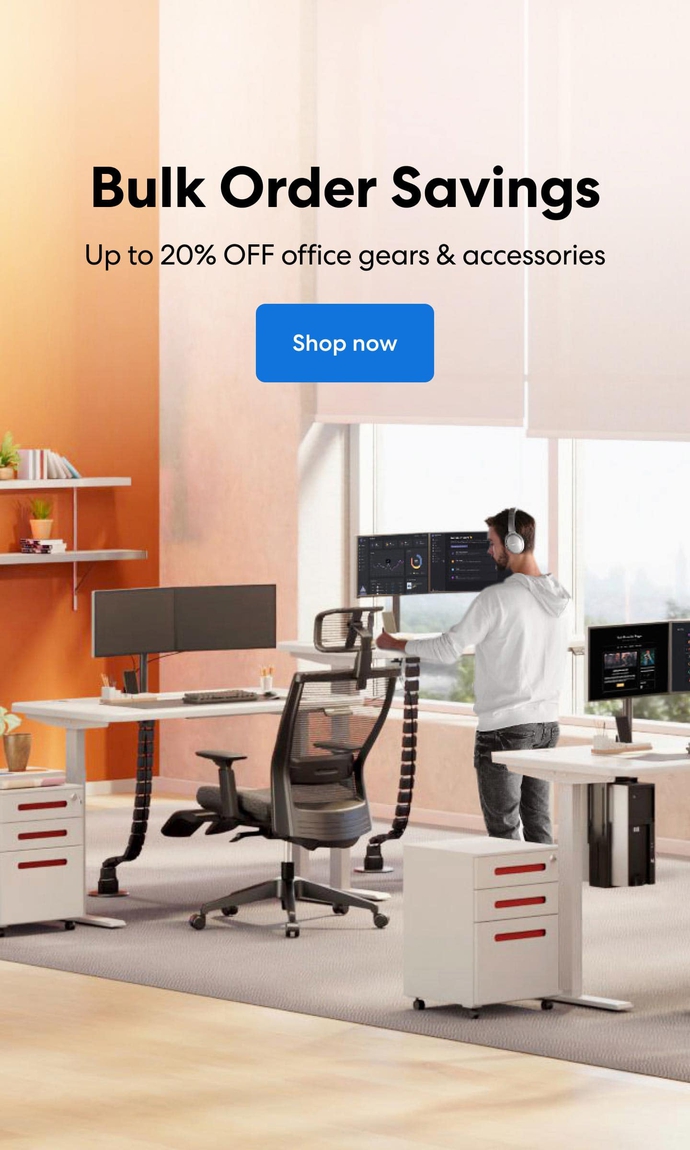 Subcribe newsletter and get $100 OFF.
Receive product updates, special offers, ergo tips, and inspiration form our team.