One of the best things about working from a home office is the freedom you can have to choose your own furniture and supplies. When you work from home, you can generally choose your own desk, chair, computer, and more. You can find the best modern office desk for you and your lifestyle without needing to conform to the design of your office or worry about what your colleagues like.
Contemporary office desks are worlds apart from the kinds of desks people used to use. Now, office desks can be adjusted for height and come with a range of features to help you stay organized and on top of your work. Some desks can even be used standing up, which is fantastic if you have a sedentary job or lifestyle!
If you're looking for a new desk for your home office, this article should help you make your decision. In addition to providing some guidance on what to look for in a new desk and discussing the benefits of standing desks, we've compiled a list of 20 of our favorite desks for home office use.
What Should I Look for in a New Desk?
When you're buying a new desk, it's important to consider which features and style would be best for you. For example, if you don't have a lot of space in your office, you might like to find a L-shaped electric standing desk or a desk that can be partially folded up for easy storage.
It's also important to consider the other features you might need, and how big you'd like your desk to be. Some people need more space on their desktop than others. If you tend to use a lot of equipment while you work or often need to spread out, then you should look for a bigger desk. On the other hand, if you mostly use your desk for computer work, then you can try to find a smaller modern working desk.
Is Standing Desk Height-adjustable?
One of the most important ergonomic features of a desk is whether or not you can adjust the height. Having a desk that is too tall or too short can result in you craning your neck unnaturally. Doing so over longer periods can mean that you strain your body and neck, and this places excess pressure on your muscles.
Sitting in such a way too much can cause chronic pain and stiffness. This is why maintaining good posture whenever you can is so important. It's easy to forget but working with the best posture that you can is crucial for your overall well-being, especially as you get older.
Other Ergonomic and Wellness Features
In addition to being able to adjust the height on your desk, you might be able to find a desk that has other features like a cable tray or attachment for a light fitting. All of these features can turn contemporary office desks into a tool for providing you with the best health and well-being possible.
Are Standing Desks Worth it?
Standing desks have become something of a trend in recent years, but not everybody is sold on the idea of standing all day while you work. This is fair enough. In a world where everyone is used to sitting down all day, why would anybody choose to stand up? To some, standing and working seems tiring, distracting, and a waste of productive energy.
Things are not always as they seem, though. In fact, standing and working has been found to increase productivity. It's also a great way to substantially reduce your risk of developing certain lifestyle illnesses as a result of a sedentary lifestyle, like heart disease or diabetes. Still, working at a standing desk doesn't mean you have to constantly stand. You can choose to alternate between sitting and standing to improve your productivity while limiting the impact of standing on your body as you adjust.
Adjusting to a Standing Desk
Working at an office desk isn't always easy to begin with. If you aren't used to using a standing desk, it can take some time to adjust. You may like to invest in accessories for your standing desk to make it more comfortable to use at first. For example, a pad to stand on can reduce pain in the feet.
You may also like to try alternating between sitting and standing. Planning sit-stand sessions is the perfect way for you to train your body to work standing up. You can try standing for one hour and sitting for the next or modify a sit-stand schedule until you find a balance that works for you. Then, you can slowly cut back on the time you spend sitting throughout the day until you have completely adjusted.
When is Standing Better?
It's important to acknowledge that standing isn't always better. Many contemporary office desks now can be used standing, but that doesn't mean that everyone can benefit from working at a standing desk. For example, if you have a lower-body injury or back condition, it might be especially taxing for you to work standing up. You should consult with a medical professional before working at a standing desk if this applies to you.
If you don't feel that standing would be best for you, there are other ways to make your workspace more ergonomic and supportive to your posture and wellbeing. For example, you can try working with an ergonomic chair. Combining a quality ergonomic chair with a modern office desk is a great way for you to maintain good posture even while sitting down.
Our 20 Best Modern Home Office Desks in 2021
We've listed 20 of our favorite modern home office desks below. If you want to work with excellent posture and reap the benefits of leading ergonomic features, then keep reading. Maybe your next office desk is on this list!
1. SmartDesk 2 – Home Office
If you're aiming to boost your productivity and performance with a modern office desk, then the SmartDesk 2 should be your first choice. When it comes to standing desks that are easy to use and adjust, the SmartDesk 2 is the leader of the pack. The control panel makes raising or lowering the desk effortless and quick. You can also customize both the size and color of the desktop.
Featuring a sleek and minimal design, the SmartDesk 2 is a great choice if you'd like your desk to be free of clutter and inspire productivity. Self-assembly is quick and simple, and you can return the desk within 30 days for a refund if you aren't completely satisfied. What's not to like?
2. The L-shaped Smart Desk
Working from home sometimes means you have less space than would be optimal. Fortunately, you can save space easily with an L-shaped desk. The L-shaped Smart Desk by Autonomous is perfect to use in the corner of your office or workspace. You can spread out along the desktop while ensuring that you have plenty of room in the rest of your office.
In addition to being an excellent modern office desk, the L-shaped Smart Desk might be the best option if you're looking for a standing desk that you can use to maximize the space in your office. Like the SmartDesk 2, the L-shaped Smart Desk comes with a control panel for easy adjustment, making it highly ergonomic.
3. The SmartDesk – Art Desk
Is design your priority? Then you should look for a modern working desk that is elegant and sleek. The Art Desk is just that. It's a curved standing desk, which makes it great as a feature of your office space. In addition, it comes with all the functionality that you would expect from a leading standing desk. You can adjust the height or use a range of desk accessories to make working at the Art Desk an ergonomic dream!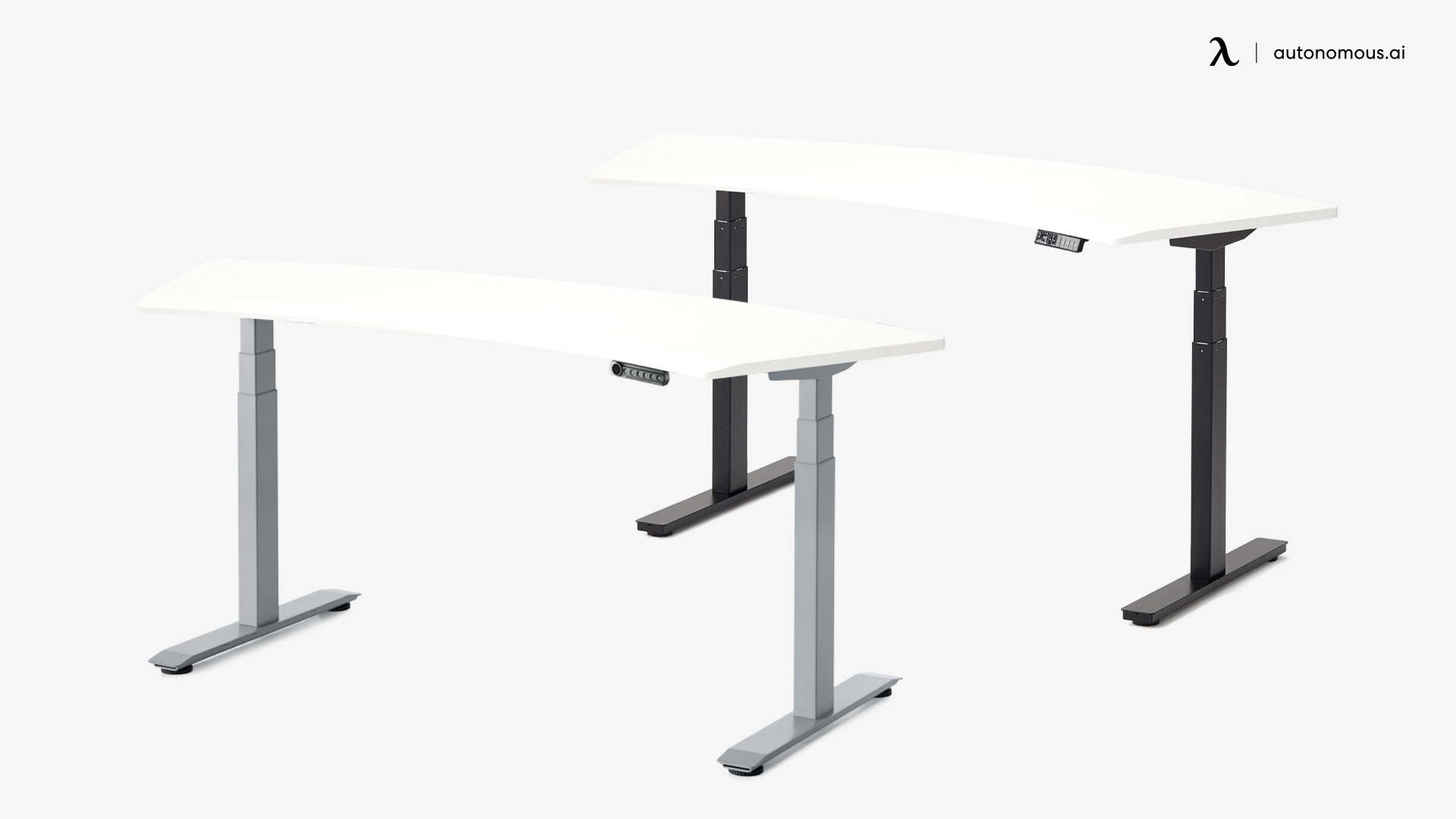 4. The Topsky Computer Desk
The Topsky is the perfect desk if you need plenty of space to spread out and would prefer not to break the bank on your new desk. It has an enormous desktop made of sturdy particle board, and its reinforced steel means you can depend on this desk to last and last. Also, this desk has a great ergonomic feature. You can adjust the feet, which makes the Topsky a great asset to have if your floor is uneven. Users also mention that self-assembly with the Topsky is quick and simple.
5. The HOMFA Bamboo Laptop Desk
If you need a modern office desk that offers the best adjustability and flexibility, then you might like to consider a laptop desk. You can use this by itself or set it up on top of another desk, giving you excellent freedom of choice. It's also made from bamboo, which is a sustainable and light material, perfect for portability. You also refer to some reviews for choosing bamboo standing desks.
6. The Andover Mills Daniel Corner Desk
Sometimes, even an l-shaped desk is too big. If you don't need much desktop space and have a truly tiny office, then this corner desk might be perfect for you. It's a fantastic choice if you need a surface to work on, and the build quality is impressive. The desk also features a drawer for storage.
7. The Latitude Run Sauve Floating Desk
Another great choice if you really need to maximize your office space is a floating desk. A floating desk gives you the opportunity to store furniture or other possessions under the desk while working on the desktop. This floating desk by Latitude Run is a great way to save space. However, some users have mentioned that assembly is complex or challenging.
8. The Elle Décor Dani Writing Desk
If you don't want a lot of desk space, then using a writing desk might be the best choice for you. Finding a modern office desk in a writing desk style isn't too challenging, and The Dani is a great example. It's well-built and sturdy, and it gives you space to work on your laptop or read. If you don't need anything more than that, then this might be the best modern office desk for you.
9. The Walker Edison Modern L-shaped Glass Computer Desk
This desk was initially designed as a gaming desk, but its excellent design makes it a great choice as a modern working desk, too. It's elegant and gives you a large desktop area with ample space underneath for storage.
10. The Red Barrel Studio Hillsdale L-shape Desk
Combining beautiful laminate wood and a smart l-shape design, the Hillsdale should be your first choice if you're looking for an l-shape desk to work at sitting down.
11. The Phoenix Rustic Wood Work Table
Sometimes, contemporary office desks are especially suited to a particular kind of work or lifestyle. If you use your desk to draw or design, then you might benefit most from a work table like the Rustic Work Table.
12. The Flexispot Standing Desk
Here's an affordable standing desk which is quiet and sleek. It's easy to set up and features a great, minimal design.
13. The IKEA Pahl Desk
IKEA is perhaps best-known for budget options, and the Pahl is no exception, retailing at less than $100.
14. The Coavas Folding Desk
If you're looking for a modern office desk that is smart and simple, choose the Coavas. It's easy to put together, cheap, and relatively sturdy.
15. The Ailith Standing Desk by Joss & Main
This is truly a modern working desk. It's easy to adjust, beautiful, and very dependable.
16. The Hassen Adjustable Standing Desk by Symple Stuff
If you're looking for a light standing desk that you can easily adjust, then consider the Hassen!
17. The Angelpreet L-shaped Desk by Latitude Run
We've already raved about how much we love l-shaped desks. Here's another great example, this time by Latitude Run.
18. The Orman Desk by Williston Forge
If you'd like a desk that is minimalistic and elegant, then you should consider the Orman by Williston Forge.
19. The Apatria Desk by Ebern Designs
Storage space is ample with this beautiful and unique desk by Ebern Designs.
20. The Edgerton Desk by Greyleigh
Simple, elegant, sleek. Based on design alone, this is truly the best modern office desk.
Get exclusive rewards
for your first Autonomous blog subscription.

WRITTEN BYAutonomous
We build office products to help you work smarter.
Coming at You Live from Autonomous' Social Media!
Please fill the information below.
Thank you!