Working from home means that you have more flexibility and can spend less time commuting, but it also means you need the right office equipment. It's important to find the best office chair under $400, which ensures that you're comfortable throughout the day without spending too much money. 
Pair it with a standing desk to go from sitting to standing and continue working. With an ergonomic chair under $400, you can still buy an adjustable standing desk without overspending. 
1. ErgoChair Recline (MyoChair) from Autonomous - Top Choice Under $400
If you're interested in a mesh office chair under $400, then this ergonomic computer chair - the ErgoChair Recline from Autonomous might be the one you want. The entire back and headrest are made of mesh material to be breathable and more comfortable throughout the day. 
We think this could be one of the best office chairs because of the many features. You can tilt and move the headrest, and the armrests go up and down, too. There's also a leg rest, which is retractable. That way, you can put your feet up and relax during the workday. 
Those who want to lean back while sitting can change the backrest position and lock it into place to stay there comfortably. When you're done, just give it a little bounce, and you're back to sitting up straight. 
2. AvoChair from Autonomous
If you're interested in the best office chair under $400, then the AvoChair from Autonomous might be the one. It's minimal and features clean lines inspired by nature. We like that it comes in various colors and is a smaller chair. 
Still, if you want a mesh office chair under $400, then this is the one you need. It features adjustable armrests that move forward, backward, up, and down. You can also change the seat height easily. 
There's a back-tilt tension adjustment, which allows you to relax while sitting. It goes a full 25 degrees backward and locks into place so that you stay in the position until you're ready to change.
3. ErgoStool from Autonomous
When most people think of an adjustable office chair under $400, they don't imagine the ErgoStool from Autonomous. This ergonomic stool is quite possibly the best one because it's so unique. While you're only working from home and no one else is going to see you, it's still fun to have something different.
The base is black, but the stool cover can be black, gray, yellow, or navy blue. That way, you can coordinate colors to match your office décor. To raise the stool up, you press an inconspicuous button on the side, making it look like magic. You can rest the legs while still remaining in a standing position or sit fully on the stool to help work the posture muscles. 
4. Branch Task Chair
Those who want an adjustable ergonomic chair may prefer the Branch Task Chair. While it isn't the cheapest on the market, it has everything you could want in an ergonomic chair. Plus, you are sure to appreciate the adjustable lumbar support and arms, wide mesh back, and the slim lines it presents. We like that there are five wheels at the base, making it more even for weight distribution. 
5. Embody Chair – Herman Miller
Everyone seems to like the Embody Chair by Herman Miller. This ergonomic chair under $400 was designed with the goal of promoting blood circulation. If you must sit for long periods of time each day, it's going to be easier on the spine and back with this chair. 
In fact, engineers and doctors were consulted when the chair was being designed. We like the uniqueness of the exposed 'exoskeleton' on the chair's back that mimics the human spine. It actually helps with lumbar support, but it also looks interesting. 
The chair's back moves with you as you do, making sure that the spine stays in alignment. and the lower back is fully supported. You don't have to make specific adjustments for this to happen. 
6. Steelcase Gesture Chair
Upon searching for a cheap ergonomic office chair, you might be surprised at what you can get. The Steelcase Gesture Chair used to be much more expensive, but now it's more affordable. This revolutionary office chair can accommodate various sizes and natural body positions. Therefore, it's more comfortable on you while still supporting your neck and back and protecting them from injury. 
The "LiveBack" technology automatically adjusts to the body and mimics the natural movements of your neck and spine. We also like that the armrests can move and change to meet various posture requirements.
7. Herman Miller Aeron Chair
The Aeron Chair from Herman Miller is also a popular choice when you need an afforadble ergonomic chair. It's actually one of the first on the market designed for ergonomics. In fact, it was the first chair from the brand to feature no foam cushions with a woven back and seat. 
It focuses on the biomorphic principles of your body to provide ultimate comfort. Plus, as you sit in it, you reduce lower back pain because of the head cushion and high back it presents. You can rest the head and still stay in the correct posture. We also like that it comes in different sizes to provide you the most comfortable experience and various ways to adjust it. 
8. Haworth Zody Chair
If you're searching for the best office chair under $400, the Haworth Zody Chair could be the right choice. It actually received an endorsement from the APTA (American Physical Therapy Association). Though it's not unattractive, the main goal is functionality. 
When you need a cheap office chair, this one is going to be beneficial. It uses an asymmetrical adjustment system to target your specific problem areas, such as the low back. Therefore, the chair actually conforms to your body. This chair also offers more pelvic support to help maintain the right spinal alignment. 
9. Steelcase Leap Fabric Chair
We know that some people can't spend that much, so if you want an ergonomic chair, the Steelcase Leap Fabric Chair might be ideal. It features the LiveBack technology as the others from the brand, so it conforms to your back's shape. This gives you more support and helps you stay comfortable for long periods. We like that it's sustainably produced, with 30 percent of the materials being recycled and over 90 percent of the chair being recyclable when you're done. 
10. Herman Miller Sayl Chair
If you need an adjustable office chair under $400, the Sayl Chair from Herman Miller might be ideal. It's actually got a unique design, called 'life unframed,' which means it uses ArcSpan and Y-Tower technology. The first option gives shape to the back while the latter is the backbone for the chair. In fact, the fabric stretches to meet your needs and offers full-on support of the back and neck. 
11. Serta Mid-Back Office Chair
Did you know that the top mattress brand also offers an affordable ergonomic office chair? Serta offers a reasonably priced chair with a focus on ergonomics. It's made with eco-friendly leather and has the Back-In-Motion active lumbar system, which pivots while you move to give continuous support to the region. We like that the armrests are padded and adjustable, and the posture-correcting tilt technology is something to marvel about. 
12. Alera Elusion Swivel Chair
If you want the best office chair with an affordable price, the Alera Elusion might be suitable. You're going to like the contoured seat with the waterfall edge to keep your legs comfortable. Plus, this mesh office chair under $400 ensures that the back stays cool all day long. However, it does lack some adjustment features that other similarly-priced chairs offer. Still, you can adjust the arm, seat, and tilt tension on it. 
13. Flash Furniture Mid-Back Mesh Chair
Those who want a mesh ergonomic chair might like the Flash Furniture brand. It looks like any other office chair, but the contoured back helps support you throughout the day. Plus, we are happy that it works well for those who are 6 feet tall and over, which is almost impossible to find in this price range. Still, there are fewer adjustment options, and there's no neck support. 
14. GM Seating Ergonomic Genuine Leather Chair
This might not be the best adjustable office chair because it does cost a bit more. However, we liked its unique style and the genuine leather. This fully-adjustable chair allows for angle, headrest height, tilt tension, and seat slide adjustments, so if you suffer from neck pain, it's the best option. We like the 3D armrest that can be moved forward/backward to match your sitting style. 
15. Eurotech Ergohuman Chair
If you want a unique mesh office chair under $400, the Ergohuman might be ideal. There are eight different adjustment options to keep the back and neck aligned throughout the day. You can adjust the seat depth/height, tilt tension, arm height, and so much more. Plus, you can lock the tilt preference in place to stay comfortable. We like that it comes in various colors and has a dedicated neck rest. 
16. Balt Butterfly Executive Chair
Everyone wants something unique, and this mesh ergonomic chair has you covered. The Balt Butterfly has two sections for the back, plus the seat and neck rest. You can angle and tilt the back of the chair to meet your specific needs. Plus, the perfect contours mean that your lumbar area is supported, and your back feels great throughout the day. Though it only comes in black, this is an excellent option for those who often suffer from back/neck pain. 
17. Viva Office High-Back Chair
Do you need an adjustable office chair? If so, Viva has the perfect features you need. The mesh back means that moisture doesn't build up while sitting. Plus, there are pneumatic armrest and height adjustment options. You can also adjust the headrest to lean back and rest your neck and head while working. This is also a great office chair for tall people which are 6 feet tall and has a maximum weight capacity of 250 pounds. 
18. The Walker Adjustable Office Chair
Everyone wants a mesh office chair under $400 because it keeps the back cool and moisture-free. The one from Walker offers full swivel motions and has a five-wheel base for more stability. Plus, you can recline the chair by flipping the lever. 
This chair focuses on neck support to reduce neck strain. Plus, you can adjust the lumbar support, height, and armrests, as well. 
19. AmazonBasics Mid-Back Chair
Just because you're on a budget doesn't mean you can't have the best. AmazonBasics offers an adjustable office chair under $400, and we think it's an excellent find. You can adjust the seat's height easily, but you're sure to like the padding and leather. While mesh is often the most sought-after fabric, we can't beat a leather chair for this price. However, the arms aren't adjustable. Still, it provides comfort all day and can be ideal for those who don't sweat that much. Those who want the executive look for their home office are sure to be impressed. 
Conclusion
With so many ergonomic chair options for the home office, it's tough to pick the right one. We've listed 19 different products and believe that the best office chair under $400 is the ErgoChair Recline from Autonomous. Every piece of it is adjustable, and it holds up to 350 pounds. We also like the mesh back and headrest, which is breathable and suitable for anyone.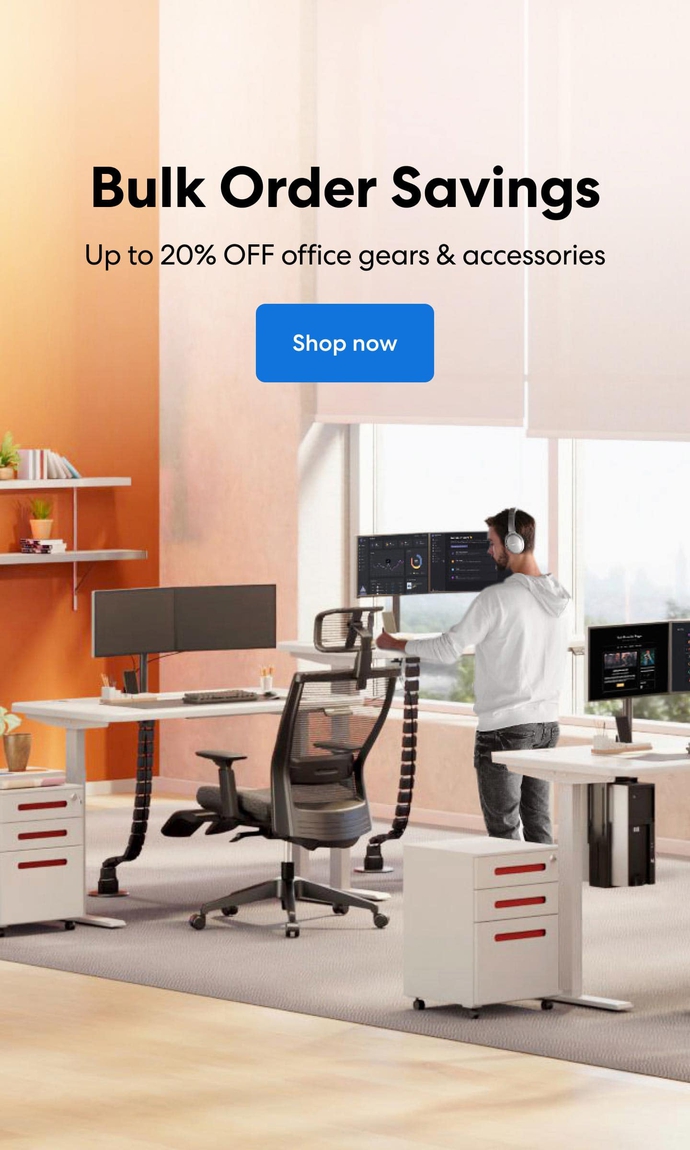 Subcribe newsletter and get $100 OFF.
Receive product updates, special offers, ergo tips, and inspiration form our team.