Many businesses and work-from-home employees have come to terms with the new way of the working world since the introduction of COVID. Adjusting to the changes has been something of a rollercoaster ride, especially when it comes to creating a serene and comfortable work office space. You may have heard and even invested in a sit-to-stand desk and are probably wondering which standing desk chair to pair it with. 
If you want to buy an ergonomic office chair, below is a list of specially picked ergonomic chairs that pair well with most sit-to-stand desks. These ergonomic chairs for standing desks are crafted to better suit the natural curve of the human body, more specifically the spine. They help to alleviate some of the pressure that occurs as a result because most other chairs lack the proper support. You can even throw in a standing desk stool for added comfort. Let's find out some recommendations for your standing desk chair and stool in 2022!
List of Best Standing Desk Chairs of 2022
1. ErgoChair Recline
If you are looking for an ergonomic chair for standing desk that is easy on the eyes and provides comfort, look no further than the ErgoChair Recline. It comes in two colors, black and cool gray. There is a headrest and an extendable leg rest offered as optional add-ons. One can adjust the height of the seat according to their needs, and the armrest and seat tilt can be adjusted as well. 
The seat is made up of supporting foam that helps to alleviate lower back pain. The lumbar system can be adjusted to fit the curvature of one's spine. The chair is durable enough to support about 200 lbs, and one can enjoy the 18-degree recline that is controllable using body weight. 
2. ErgoChair Pro
This is a modern ergonomic chair that is available in six different colors. If you are an individual who prefers to stretch and get as comfortable as possible, you can rest assured that the ErgoChair Pro's 22-degree recline can make that happen. The recline is controlled by bodyweight, which maxes out at 300 lbs. It also has a seat tilt of 10 degrees for workers who desire that extra mobility.
3. ErgoChair Plus
True to its name, the ErgoChair Plus offers users an experience that one can never tire of. The standing desk chair is available in six different colors for users to choose from. Individuals can use their body weight to adjust the recline to no more than 26 degrees. 
There are 11 lockable recline and seat positions that fit just about anyone. The max weight hold for the chair is 300 lbs. The chair's frameless back allows workers to stretch however they choose while occupying the chair. The lumbar support system molds to the natural back shape of every individual. 
4. Embody Chair by Herman Miller
This carefully crafted standing desk chair is described as the best ergonomic computer chair. It is designed with the user in mind that might work for long hours at any given time. Individuals have the chance to choose from 12 available color options. The chair's armrests are adjustable as well. Those who purchase this ergonomic chair for standing desk can easily roll out underneath the work space desk once work is complete. 
5. Respawning Reclining Office Chair with Footrest
This aesthetically pleasing office chair for adjustable desks gives individuals the recline allowance of 90 degrees to 155 degrees. The Respawning Reclining Office Chair comes equipped with extra padding that adds to the user's total comfort. The footrest is adjustable and can extend to the desired length and height of the individual. 
6. Bossin Reclining Office Chair with Footrest
Looking for extra cushioning? Check out the Bossin Reclining Office Chair complete with an adjustable footrest. Its large cushions are enough to support the entire back of an individual and aids in relieving back aches and pain. The person's body weight can easily adjust the recline of the chair, which tops out at 155 degrees. 
7. Killabee Reclining Office Chair with Footrest
The Killabee Reclining Office Chair has a recline of up to 155 degrees. Like the Respawning Reclining Office Chair, the Killabee has added padding for the comfort and support of an individual. The headrest supports the neck and shoulders while preventing unnecessary aches. Another unique aspect of this reclining ergonomic chair is its massaging feature that helps to relieve workers of tiredness. 
8. Duramount Reclining Office Chair with Footrest
The Duramount Reclining Office Chair with Footrest is an excellent ergonomic chair for back pain. The soft padding aids in relieving physical stress and pain from the back. The chair has a lumbar system that offers support for the back, and the footrest is adjustable according to the user's desire. This particular office chair for adjustable desks was crafted with the user in mind who works for long periods of time. 
9. Gabrylly Ergonomic Mesh Office Chair
This standing desk chair was designed to make long work hours comfortable. The adjustable headrest allows users to gain support for the neck and shoulders. The armrest is adjustable according to individual needs, and the lumbar support helps workers to keep a proper posture. If needed, the seat can be adjusted to fit different heights. 
10. Flash Furniture Reclining Office Chair with Footrest
The ergonomic office chair for an adjustable desk is made up of a soft, leather type material that is easy on the body and comfortable. This extra padding reduces lower backaches and pain. This ergonomic chair for standing desk has an adjustable headrest. When used properly, pressure is released from the neck and shoulders of the individual. Users have the freedom to adjust the footrest to their liking as well. 
11. PULUOMIS Reclining Ergonomic Home Office Chair with Footrest
This reclining ergonomic chair is the ideal office chair for adjustable desks. It was manufactured with comfort in mind, as it helps provide added support for those working long hours. The extra pads relieve hip and back pain and pressure. 
The backing of the chair contains lumbar support that supports the spine and the back. The PULUOMIS home office chair comes with a headrest that can be adjusted and allows for neck and shoulder support. 
12. Office Star Deluxe Breathable Armless Ergonomic Office Chair
This ergonomic office chair is optimal and flawless in that it can be used in small spaces and still hold its aesthetics well. For many who budget, this is the chair you want to invest in. The Office Star Deluxe ergonomic standing desk chair relieves workers of potential backaches and pains as well. 
13. Homall PU Leather Reclining Office Chair with Footrest
Who does not like leather furniture? The Homall Reclining Office Chair gives users the experience of reclining anywhere from 90 degrees to 180 degrees. The chair swivels at 360 degrees, which is great for those workers who feel they must remain as mobile as possible to work productively. The lumbar cushion supports the user's back and can be adjusted depending on the worker's needs. 
14. Humanscale Freedom Office Chair a Try
Built with customers in mind, the Humanscale Freedom Office Chair provides workers with long work hours added support and comfort. Users control the chair's recline feature by utilizing their weight to access the desired position. 
It has a curved design that easily molds to the shape of the individual's back for spinal support. This standing desk chair helps to alleviate pressure and tension from one's lower back as well. 
15. Cherry Tree Furniture Office Chair with Footrest
The name of this standing desk chair makes it seem that much more desirable. No, this chair is not edible. It is, however, a worker-friendly ergonomic reclining chair that allows individuals to adjust the height of the back to their needs. The chair is durable and can support a weight of up to 300 lbs. 
There is a recline of 170 degrees using body weight. The chair is capable of locking in the position individuals desire. 
What Other Seating Options are There?
You can see above that there are a lot of options to choose from when deciding what ergonomic chair fits your work space and desk best. If you choose, you can buy an ergonomic chair online at any time. Now, there is another type of seating that is made available for anyone interested. 
The standing desk chair and stool was designed to aid in correcting the posture of many workers. It was also designed to not only correct but alleviate the pressure that can normally be felt in any chair after some time of sitting. 
The standing desk saddle chair is one of those optimized seats that come in an array of brands and styles. Some of those saddle chairs and stools are described below. 
16. ErgoStool
Investing in an ErgoStool means that you take your physical and mental well-being seriously. This standing desk stool is crafted to suit the needs of many workers. It helps to improve posture while also relieving pressure from the back. Increased movement leads to an increase in energy levels for many workers and that leads to better productivity. The ErgoStool is height adjustable.
17. Fully ILOA Saddle Chair
The ILOA Saddle Chair is designed to improve a healthy posture for workers all around. The goal is to get the spine aligned for back strength. One's knees sink a bit lower than the hips to create a perfect and unstrained balance while sitting on the chair. The entire lower body is supported using the ergonomic saddle chair. It is currently available in nine different colors. 
18. Nifty Crescent Saddle Stool by UPLIFT Desk
The Crescent Saddle Stool is currently available in three different colors. Like the ErgoStool, this standing desk stool allows users to adjust the height according to their needs. If a worker wishes to rest their legs and feet, they may do so by raising the seat high enough to relax. 
This particular stool by UPLIFT Desk has a sway and tilt feature of this standing desk saddle chair that enables users to move at a ten-degree angle in either direction. The seat is durable and can support a max weight of 220 lbs, and the seat has a 360-degree swivel for mobility. 
19. Split Seat Ergonomic Saddle Chair for Any Professional
This is a truly customizable seat to fit any individual. The seat width can be adjusted according to the needs that a worker has. It is expandable in this way. The Split Seat Ergonomic Saddle Chair's design is made to improve the posture of workers and individuals alike. Proper use of the this standing desk saddle chair seat reduces neck, shoulder, and back stress that can be experienced on standard stools. 
20. Humanscale Freedom Saddle Seat
The Humanscale Freedom Saddle Seat allows individuals to sit in a saddle-like manner. The design of the seat causes the thighs to lower while the hips open for added lower body support. This standing desk stool reduces the pain exerted on pressure points that can be experienced from extended periods of sedentary work. 
Conclusion
When deciding what chair to purchase for your work space and desk, consider the amount of space you have and determine what your exact needs are. Small spaces require smaller chairs that can fit just right, otherwise, workers feel cramped and uncomfortable. If you want mobility and freedom, opt for one of the standing desk chairs and stools from the list above.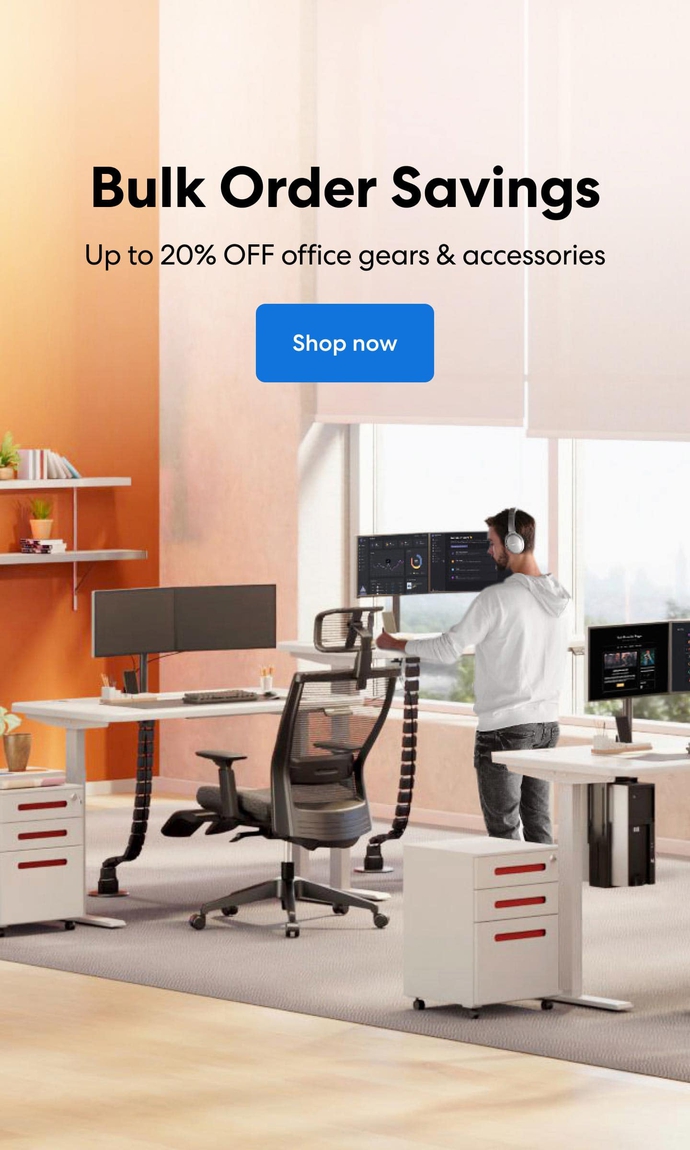 Subcribe newsletter and get $100 OFF.
Receive product updates, special offers, ergo tips, and inspiration form our team.