Latest Updates
20 Best Standing Desk Stool for Your Home Office 2023
3,488 Views
Seating is a big part of setting up your remote workspace, and there are a couple of factors to consider before opting for an active sitting method, as opposed to the normal passive one, such as an office chair. If you do want to go that route, finding an office standing desk stool for your standing desk should be a cakewalk with the extensive list below.
Standing Desk Stool Pros and Cons
As is the case with almost any piece of office equipment, a standing desk stool brings a list of potential benefits and drawbacks to your remote office. Are you interested in being one of the many who have discovered the "magic" of a standing desk stool? While there is a more exhaustive list of positives, here are some of the most notable ones.
Standing Desk Stool Pros and Cons
Allowing you to remain active, which mitigates the downsides of a sedentary lifestyle
Seated muscle engagement that even includes your core
Influences getting up and moving around as you work
A perfect and seamless addition to your existing setup
Low space requirement
Lots of stool options
The standing desk stool isn't designed to help you maintain proper posture
The balancing effect means that sitting on a standing desk stool can get uncomfortable
Top 20 Standing Desk Stools
1. Autonomous ErgoStool
The Autonomous ErgoStool may very well be the best standing desk stool with its precise detail to both aesthetic and functional requirements. The stool features an extensive height adjustment range, and the process to switch heights is very straightforward. It uses an innovative height lock mechanism that keeps you in place until you wish to move.
The standing desk stool has an impressive ergonomic design, which features 38-degree movement and 360-degree rotation. Both these measurements feed into one of the most effective active sitting options on the market.
The design materials are durable, and the base protects your floor while gripping it tightly enough to keep you in place.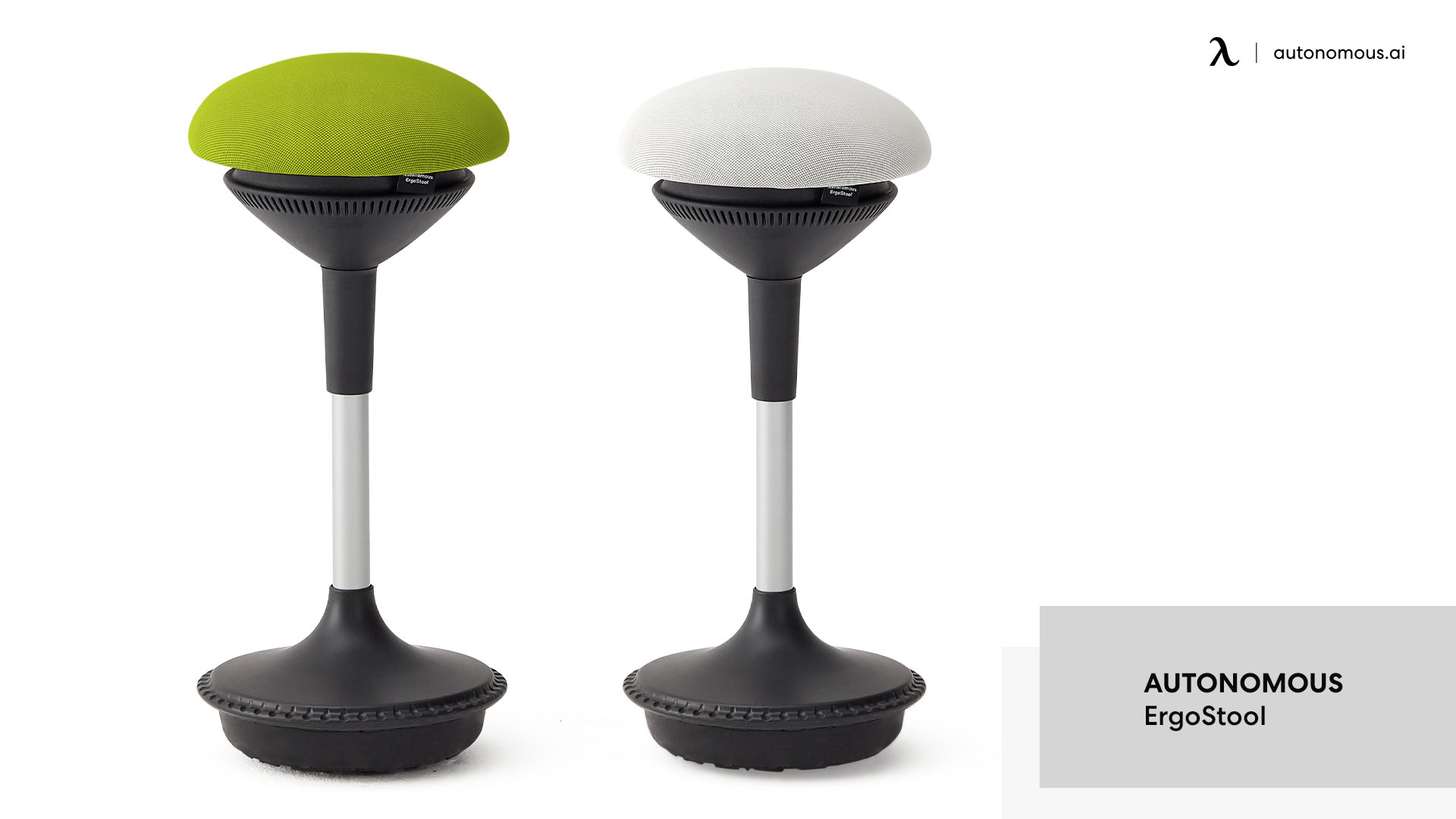 2. Learniture Adjustable-height Active Learning Stool
Here lies one of the most common adjustable standing desk stool options that you can get your hands on. It has a balanced combination of price, reasonable comfort, and sound design. The stool has a lightweight composition, which means that moving it around shouldn't feel like a chore.
There's a foam base with a curve that allows you to move back and forth as you work, which fosters the exercise-like functionality of a desk stool. Are you a fan of variety? If so, you should love the five different colors available.
3. Kore Office Wobble Chair
Not every standing desk stool needs to have a striking look, and this option from Kore Office is all about functionality with a minimalistic design. As you can imagine, the stool stays true to the use of the word "wobble" in its name by allowing you to move around to keep active while seated.
Thanks to the rubberized coating at the base, you don't need to worry about your remote workspace's floor getting scratched and disfigured. The unit boasts good durability, which means you should have it for a long time to come.
4. Stand Up Desk Store Active Sitting Chair
This standing desk leaning stool is another one that doesn't feature an over the top aesthetic. Even so, it does its job well by keeping you engaged during your seated work periods. The leaning functionality is well-implemented, and it fosters slight leaning, more aggressive rocking, and full-on leaning while you work.
The seating area boasts three inches of padding, which means that you should be able to achieve a respectable level of comfort as you work. One of the best things is that even a total beginner can assemble it with minimal effort.
5. Songomcs Swivel Ergonomic Standing Stool
Though this standing desk stool has a simple design, it stands out among many of its contemporaries. How does the leaning mechanism here work? Well, you get a pair of handles to help move it, which double as a great place for arm resting. Additionally, when you rock, the counterbalance system returns the stool to its initial position.
You get a 360-degree swivel and an eight-degree tilt, along with a button that you can use to adjust the seat's height to your preference. Note that this stool is not the best item for those under 5'11.
6. Varier Move Tilting Saddle Stool
This adjustable desk stool has a unique aesthetic that is bound to cause people to look at it twice. What's with all the curvature? As indicated above, the standing desk stool experience is not the most comfortable one. Therefore, manufacturers try to compensate for this with various design choices.
In this case, the 1985-inspired design follows the contours of your body for a more pleasurable experience as you sit and move around. Note that this is also an adjustable design, which means you can be as high or as low as you want.
7. Ergo Impact Standing Desk Chair
Wait! Is this a treadmill? You may be concerned with the unique look initially, but what you get here is an efficient combination of sitting area and a mat in one unit. Why do you need a standing mat? Though there are health benefits to implementing standing as a part of your work routine, it can get agonizingly achy. The mat provides a layer of comfort and support.
The seat features ergonomic design principles that can be set to three positions known as perch, lean, and sit. The idea is to allow you reasonable control over your core and leg weight distribution.
8. Aeris Muvman Sit-stand Stool
For those who like to have standing desk stool options, this design comes in two builds, which are the standard seat and the high seat. The inclusion of the pneumatic lift means that you can effortlessly tilt it forward. Therefore, you can achieve a series of dynamic positions to maximize your comfort and efficiency as you work.
Additionally, the base is rubber-coated, which means that it's not going to slip, nor can it damage your floor. The design lends itself to tremendous durability too, but you should note that it's not the most affordable option.
9. Varichair Pro
Varidesk is a very popular brand in the standing desk arena, so it's no surprise that you can get your hands on a few seating options from the same manufacturer. Unlike some of the other options on the list, this stool's low back contributes to helping you maintain proper posture.
Do you want a stool with the ability to rock back and forth too? Varidesk has you covered with this model. The base ends on a pedestal, and you can adjust the height of your stool up or down as you see fit.
10. HomCom Hydraulic Adjustable Rolling Massage
Here is yet another adjustable stool with the curvature to keep you on the comfortable side as you work. The hydraulic lift design lends itself to an impressive level of adjustability, and the lever is reachable from anywhere.
One of the most amazing things about the saddle chair office design is that it promotes pressure reduction to your legs and spine, and it also ensures that you sit in the correct position.
The five-legged based is sturdy, and it features wheels for greater mobility. Note that this stool is best suited to those who are shorter than average.
11. AmazonBasics Drafting Stool
This standing desk stool could be the posture child for simplicity with its unassuming aesthetic. However, it boasts several ergonomic features, such as an adjustable seat and a 360-degree swivel. Additionally, you can move around quickly thanks to the arched base and great wheel casters.
Though the stool has a minimalistic design, the cushioned seat lends itself to a great sense of comfort during use. Compared to some of the other options, this unit is surprisingly easy to assemble, and its neutral color should complement any office space its placed in.
12. AmazonBasics Drafting Stool with Footrest
The basic version of the standing desk stool gets the job done very efficiently, but AmazonBasics has another model for those who want a couple more bells and whistles to go with the design. The five-legged chrome base, comfort, and excellent maneuverability all make a return here.
However, you now get some additional pros, such as a curved back cushion to provide spinal support and a ring at the base, which can be used to incredible effect as a footrest. If you want a minimalistic design, the back is detachable. 
13. The Master Massage Ergonomic Swivel Saddle
The saddle-type standing desk tool makes yet another appearance here. This one, however, best suits people who work on others for long periods, such as hairdressers and dentists. Be that as it may, it still works well as an office stool for your standing desk.
The hydraulic range is very impressive, as it has a lower minimum height and a higher maximum height than many of its competitors. The only somewhat strange design choice is the rear position of the adjustment lever. As you can imagine, using it isn't going to feel natural for some time.
14. The Wobble Stool 
Hearing the name of this stool may cause you to think that the base is not very sturdy, but that would be a gravely incorrect assumption. The reality is that you can lean around to your heart's content, which allows you to get in some significant activity during your seated working period.
One feature that seems to attract many people is the stool's small footprint. Space is essential in your home office, and this item doesn't use much of it.
Thanks to a molded foam cushion, you can enjoy the benefit of active seating with immense comfort.
15. Gaiam Adjustable Balance Ball Stool
If there were ever a standing desk stool that tried hard to do it all, this would be the one. You get a stool, a swivel chair, and a balance ball in one compact product. Have you ever used a balance ball before? If you have, you know how much it can contribute to an incredible core workout.
The stool has a lightweight design, and its caster wheels can be locked in place for immense stability. Your seat is the top half of a balance ball, so prepare to work out and work!
16. Focal Upright Active Learning Seat
This Focal Upright model is another excellent option that comes equipped with an anti-fatigue, standing mat. While you may sit on other chairs in a straight position, the idea behind this one is to keep you in a 130 to 135-degree leaning position. Therefore, you get the standing benefit, but you don't need to worry about any undue pressure on your spine.
The mat does a fantastic job of helping you to maintain your comfort, and it's durable enough to stand up to some punishment.
17. Aeris GmbH Swopper Chair
Aeris standing desk stool designed a stool that features a unique design that looks much like a spring with a cushion on top. The spring is more than just an aesthetic tough as you can bounce around as you sit, which adds another exciting layer to your active sitting routine.
The seat size is universal, as is the height range. Apart from being accommodating, the seat also feels as comfortable as it looks, which is a welcome prospect to any desk worker, if not, let find the reasons why the stool is so uncomfortable.
18. Winsome Spectrum ABS Stool
Those who suffer from knee pain from sitting for long periods are generally in the market for seating alternatives that can alleviate the problem. Do you fall into this category? If so, this may be the perfect desk stool for your needs. The ABS Airlift technology lends itself to easy adjustment, and the unit is a testament to durability.
Additionally, the stool sits on a sturdy base, and it uses an open-loop design to mitigate the potential danger of breakage.
19. Perch Sit-stand Chair
The Perch Sit-Stand chair is a stellar option for those who want a reliable, adjustable desk stool that provides solid support at both its seated and standing positions. Additionally, the movement involved in the height transition is seamless.
The seat is slightly angled forward to the user, which provides a sense of support to the user. One of the most significant advantages that comes from this is how the stool mitigates back pain, even when used for a long time.
20. Alera AdaptiveErgo Perch Stool
Alera not only designed a stool that sits on ergonomic principles, but it also created a versatile standing desk stool alternative. The pivoting mechanism is fantastic, and it allows you to freely move forward and laterally, which brings some variety in your active sitting.
Even if you get off the seat in its forwardmost position, it re-centers itself immediately. Regardless of which angle you sit at, you can feel a sense of support as you work. The height range is quite inclusive, and the design lends itself to a straightforward assembly experience.
Subcribe newsletter and get $100 OFF.
Receive product updates, special offers, ergo tips, and inspiration form our team.
WRITTEN BYAutonomous
We build office products to help you work smarter.