Smart Products
Buy 20 Black Writing Desks with Minimalist Design 2023

Autonomous
|
Jun 27, 2022
1,436 Views
Writing on a regular desk is not the same as writing on one that is made for you to do it, and there are many writing desks available for office workers. You don't need a complex design for a desk to be good for your office, so you are good to go with a minimalist black writing desk. 
Why a black desk and not another color? Because black can fit any color in your office, it's easier for you to start looking for black alternatives. Here, you can find 20 of the best desks with a minimalist design you can find in 2022. Read on if you need a black writing table!  
Types of Black Desks for Writing
Not all desks are the same, and you can find different types of products when looking for a black wood writing desk. You must know what each type of black writing table has to offer to pick the right one for your office, so these are the most popular ones:  
Ergonomic Writing Desks
Ergonomic desks are the best option for office workers regardless of what you need them for. The reason for that is these desks are designed to make your work in the ideal position for your body to avoid back or neck pain.  
Therefore, ergonomic desks allow you to adjust them whenever you want, so you can work while standing or sitting if you have them. Go for a black standing desk if you need to work for long periods to keep yourself from developing any physical pain in the future. 
L-Shaped Desks
L-shaped desks can also be standing desks, but they feature a different design since, as their name suggests, they are L-shaped, so they are longer than average options. People also call them L-shaped corner desks, and you can go for them if you need a desk that offers you a lot of space for your working equipment.  
Standard Office Desks
Standard office desks are perfect for employees working on a budget since they are more affordable than most ergonomic alternatives. The reason for that is that standard desks don't offer you any special features other than the desk itself and sometimes a few drawers.  
What Are the Best 20 Black Writing Desks with Minimalist Design?
It's essential to choose the best black modern writing desk you can if you want to enjoy all the benefits these products have to offer you, so here are the 20 best writing desks with a minimalist design in 2022:  
1. Autonomous SmartDesk Core
The first desk on this list is the Autonomous SmartDesk Core, and apart from being an excellent desk for writing, it's one of the best ones out there regarding ergonomics. Since it's an ergonomic desk, it's a height-adjustable one, so you can switch from sitting to standing anytime you want.  
While this desk is not affordable, office workers can get special discounts and promotions if they access the Autonomous Employee Purchase Program (EPP). Thanks to that, buying this option is ideal if you want a top-notch ergonomic solution but also need funds for other products.
2. The Office Oasis Small Computer Desk
Following up with another product that enjoys the benefits of the Autonomous EPP, we have The Office Oasis Small Computer Desk. People looking for a black writing desk with the most minimalist design they can find can go for this alternative blindfolded and enjoy their purchase like no other.  
Despite having a minimalist design, this black wood writing desk has some useful features, such as its cable tray for you to organize all your cables with no problem. Apart from that, it's made of durable anti-scratch materials that are also waterproof. This desk is also optimized for writing.   
3. Aesthic CompactDesk: Touchscreen and Wireless Charger
As you could see in the last two products, having a minimalist design doesn't mean not having features, and the Aesthic CompactDesk with Wireless Charger proves that. Needless to say, this desk includes two AC power ports and a hidden wireless charger for you to forget about charging your smartphone.  
People looking forward to getting a full black desk setup can find several benefits in getting this black modern writing table since it meets all the needs office workers could have while working. Additionally, you can quietly switch from sitting to standing in a matter of seconds.
4. GreenForest Folding Desk
The GreenForest Folding Desk is the first product on this list you can't find on the Autonomous website, but that doesn't mean it's a bad small black desk since it still offers you the comfort of writing on a stylish black wood writing desk. This option is perfect for boosting your office aesthetics since it has a built-in shelf for decorations.   
You can take this desk anywhere you want or store it in any place thanks to its foldable features, so it's also an ideal option for saving space. This desk is not a big black writing desk with drawers, which means you should only go for it if you don't need that much space.  
5. Costway Rolling Computer Desk
Costway is popular for always offering cost-effective alternatives that are stylish and have enough features for all workers working on a budget. The Costway Rolling Computer Desk is not an exception to that since it gives you an excellent black writing table for a decent price.  
Besides its minimalist design, the best thing this desk has to offer you is the caster wheels that make it easier for you to move the desk to any place you want in your office. Be careful if you have hardwood floors, though.  
6. Costway Gaming Desk
Getting to another Costway product, this is the Costway Gaming Desk Computer Table. Gamers often buy the same products as office workers since they often seek the same features on furniture as them. The reason for that is gamers and office workers need to sit for a long time without developing back pain, so ergonomic features are perfect for the matter.  
Gaming desks often have flashy designs, so it's difficult to get one for your office if you want a minimalist black modern writing desk. However, the Costway Gaming Desk has a simple minimalist design that fits with your office without looking unprofessional.  
7. EUREKA Ergonomic Home Office Computer Desk
The last thing you want when buying a black writing desk is to get one that deteriorates over time, so you should get one that is sturdy enough to last year. If that's what you want, consider getting the EUREKA Ergonomic Home Office Computer Desk.  
8. Hbada Gaming Desk
This Hbada release is also a gaming desk, and you can also enjoy excellent ergonomic features when you buy it. Firstly, it has a wide surface for you to place all your office equipment with no problem. Additionally, the black writing desk's ergonomic design features a headphone hook and a cup holder.   
9. SIDUCAL Mobile Stand-Up Desk
Having a minimalist design doesn't mean looking like any other desk on the market nor offering the same features as them, and you can see that in the SIDUCAL Mobile Stand-Up Desk. This black writing table is optimized to be a computer desk, and its design shows that, but you can also use it for writing instead of for a laptop or PC.  
10. EUREKA Ergonomic Small Home Office Desk
EUREKA products are simple and minimalist, but they give you everything you need if you are an office worker. Get this alternative if you want a smaller EUREKA product that gives you similar features to the other EUREKA one on this list.  
11. ApexDesk Flex Series Standing Desk
Technological developments help ergonomic products have better and more modern features, and you can see how the developers of the ApexDesk Flex Series Standing Desk took advantage of that by adding a memory preset controller to their black writing desk.  
12. Motionwise Electric Standing Desk
You don't want to lose time while working, so it's best to preset all the settings you need your chair to have before getting to your office. Desks such as the Motionwise Electric Standing Desk are perfect for that due to their programmable pad that allows you to set all the settings you want for your black modern writing desk before starting to use it.  
13. Atlantic Crank Adjustable Desk
People often want a black writing desk with drawers to store all their office equipment, and while that's not a bad thing, not many minimalist designs include drawers or shelves. Regardless of that, the Atlantic Crank Adjustable Desk has small storage space for you to place a few work gadgets.  
14. ZINUS Jennifer Black Frame Desk
Do you need a black wood writing table that doesn't take that much space from you? The ZINUS Jennifer Black Frame Desk is the one from you. On top of all, its minimalist design makes it easier for workers to use it regardless of their office looks.  
15. Cubiker Computer Desk
Cubiker may not be as popular as other brands or companies on this list, but it still offers you a black modern writing desk that allows you to store some of your belongings thanks to its storage bag. 
16. Flash Furniture Electric Standing Desk
Although Flash Furniture mostly focuses on ergonomic chairs, this black writing table proves that it can also excel when developing office desks. Forget about back or neck pain when using this black writing desk since it allows you to work in the ideal position for workers, which is the standing one. 
17. Coleshome Computer Desk
The Coleshome Computer Desk is one of the most resistant and durable options on the list thanks to its thick metal frames. Assembling it is not difficult, so you don't have to worry about spending all day setting up your new desk.  
18. HOMEKOKON Non-Foldable Writing Computer Desk
While the HOMEKOKO Non-Foldable Writing Computer Desk is an excellent black writing desk for people who need an affordable product for their office, not being able to fold it makes it difficult for people who want to save space in their offices. Regardless of that, this black writing table has a safe and stable design.  
19. UP&DOWN Designs Electric Standing Desk
Being on the last spots on this list doesn't mean being a bad product, and the UP&DOWN Designs Electric Standing Desk proves that by offering you an electric height adjustment mechanism that allows you to customize your desk without spending a lot of time on it.  
Durability is also not an issue for this desk due to its steel legs that make it stable at all times. However, you can always use its five-year warranty if you ever have problems with the desk, so there's no need to worry about making a bad investment when buying it.  
20. Egresel Ergonomic Electric Desk
The Egresel Ergonomic Electric Desk is the last product on the list, and it's also one of the most comfortable ones since it's the only black writing desk on the list that has a massage ball and an anti-fatigue mat with it. Apart from all those things, the desk has a modern memory control panel that works with its electric motor.  
Bottom Line
Office working can be stressful at times, but using the right products for it makes everything easier at the end of the day. You need to be mindful of health issues such as back or neck pain, and the best way to prevent them from happening is by getting the right desk for your workplace.  
All the desks on this list are excellent options if you want a black desk for writing that doesn't have a flashy or too complex design.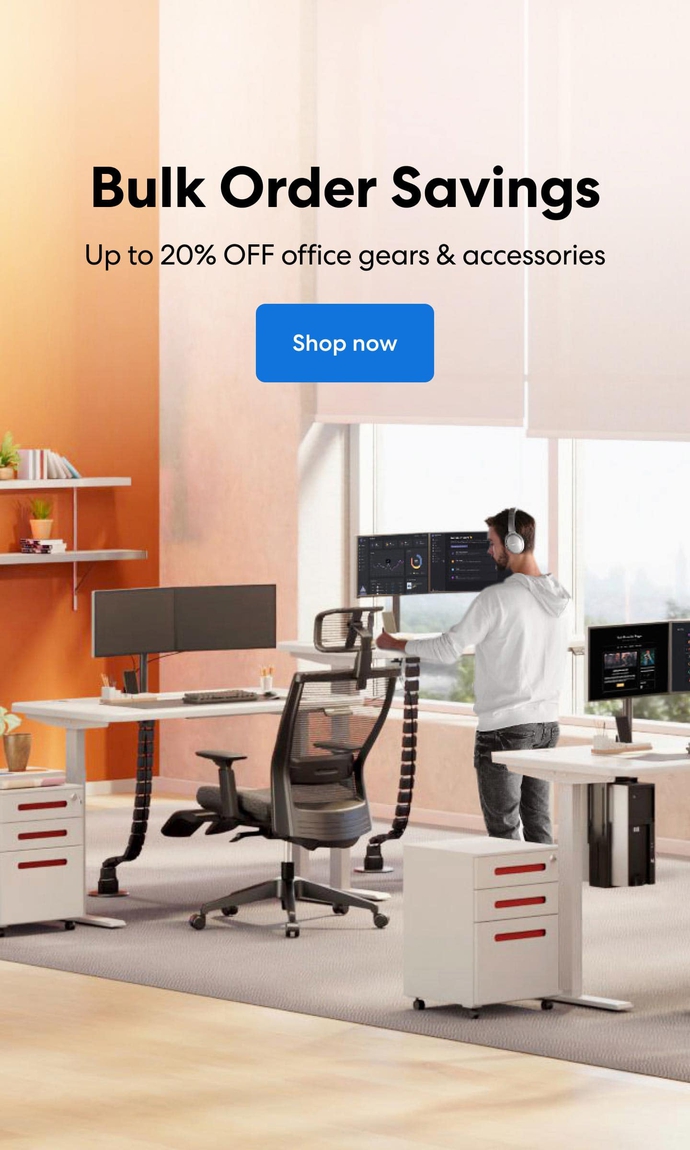 Subcribe newsletter and get $100 OFF.
Receive product updates, special offers, ergo tips, and inspiration form our team.