A compact computer desk can be the ideal piece of furniture you're looking for if you have a small office, especially if you want to decorate it and make sure that it works for you and allows you to organize your supplies. This guide offers you the best 20 options you could buy in 2022, including each model's features, benefits, and more.
20 Compact Computer Desks for Productive Workspace
1. SmartDesk Core by Autonomous
Finding the ideal small computer desk is often a challenge until you get to know Autonomous' SmartDesk Core. This adjustable desk is compact, sturdy, trustworthy, and one of the best options on the market.  
The SmartDesk Core is a compact standing desk with different adjustable features, which makes it the perfect piece of furniture if you want something that you can personalize. Since it's made of sturdy materials, it can last years by your side.  
2. Happen's Pillar Desk
To make sure your workspace is the perfect place for you to work during long hours, you need the perfect combination of convenience, functionality, and durability. Fortunately, this no-tools standing desk by Happen offers all three. 
Happen's Pillar computer desk for small space is one of the best alternatives you could choose if you want something quick and easy to assemble. Once you get this space-saving computer desk, you can put it together in two minutes without needing any tools. 
The Pillar desk is made of high-quality materials, including premium wood. It has a beautiful finish and fantastic ergonomic features, so it's definitely an option you should keep in mind. 
3. Wistoph Small Standing Desk
When you have a small office, you need a beautiful and functional piece of furniture that can support your computer and all your technological devices, all while providing you with the best ergonomic features. 
With Wistopht's small standing desk, you get a minimalistic design that's sturdy enough to support all the items you have. Even though it doesn't offer storage space, its size fits so well in small spaces that you might not need it, especially if you find a good way to organize your office supplies on the table's top. 
4. Timotion's Compact Desk
Another fantastic option you should keep in mind is the small, sturdy, and convenient desk by Timotion. Investing in your office can become one of the best experiences of your life if you get a table like this one – it's a two-stage frame, compact, adjustable desk. 
Buying Timotion's compact desk means that you get a small standing desk with adjustable height, a solid frame that supports up to 270 pounds, and five years of warranty in case you have any issues. 
Since you can adjust its height, this compact computer desk is many people's favorite because its size perfectly fits almost any office space. Thus, its characteristics are convenient, functional, and most importantly, long-lasting – this is a table that can last for years! 
5. Corner L-shaped Desk by Walker Edison Furniture
You might want a narrow computer desk that adds a different touch to your surroundings, especially if you're aiming for a beautiful small desk setup. However, you also need to guarantee that the table you purchase has top features depending on your needs. 
People who require a little more space could benefit from Walker Edison Furniture's corner desk because it's slightly bigger than your regular space-saving computer desk and you can put it in a corner, which can help you guarantee you have even more space to work with. 
Even so, keep in mind that you need to assemble this desk once you get it, and since it has different parts, it might take a while. 
6. Ameriwood Home's Dakota L-shaped Desk
Maximizing your workspace might be one of the most important goals to achieve if you want to organize all your items. Fortunately, with the Dakota L-shaped desk, everything can change – it includes impressive bookshelves, a sturdy frame, and much more. 
Some workers enjoy completing their to-do lists while they're surrounded by their office supplies and all the documents they need. If you feel identified with this, then getting a desk with some shelves might be a fantastic idea, even if you need to save some space. 
7. Home Office Desk by HBean
HBean also gives you an alternative you should consider – in this case, the computer desk for small space is elegant, sleek, graceful, sturdy, and it offers high-quality characteristics as well. 
Purchasing this desk means that you get the perfect piece of furniture for a small space. Once you arrive at your office, you might feel like it's welcoming you to sit down and get your work done. 
Additionally, HBean's option is also convenient if you want something sturdy. It's a piece of furniture that can last a lot of years because of the strong materials it's made of. 
8. Multi-purpose Home Table Shelf
Feeling motivated while you're working is essential, which is one of the reasons why getting a high-quality desk to support your office supplies is so important. Without a sturdy piece of furniture, you might not have a place to organize your items, and that can hinder your productivity and affect your mood. 
If you're at home and you don't have much space available, you might feel unmotivated already. However, there is no reason to – you can get the Multi-purpose Home Table Shelf, for example, which is both functional and beautiful. 
An elegant compact computer desk can completely change your working experience. Thus, this one has a sophisticated top where you can organize all your items, and it's sturdy enough for you to place different office supplies at once without worrying about weight.
9. Simple Computer Desk by CDTO
Being an office worker means you probably want to customize your surroundings as much as you can. In many cases, employees enjoy giving their workspaces a modern look, and that's something you can achieve with CDTO's computer desk for small space. 
This desk is scratch-resistant, waterproof, and immensely sturdy. CDTO's option also guarantees that your workspace can look better since its modern design can enhance the appeal of any small space. 
10. Home Computer Desk by Furinno
Regardless of whether you work at home or in a different office space, you probably don't like being disorganized. On the contrary, if you're reading this guide, it means you're looking for a piece of modern office furniture that helps you with that. 
Furinno offers you a space-saving computer desk that has a few shelves for you to place your office supplies, and it's strong and spacious enough, so you can organize your computer and other items above it to create a beautiful workstation. 
If you're in an organized workspace, you can think clearer, feel more motivated, and even brainstorm more ideas. Thus, Furinno's small computer desk might be the best one for you! 
11. Computer Desk by Foxemart
Office workers like you often aim for high productivity, even if they're good at their jobs. Just because you're already efficient doesn't mean you can't be better, and with Foxemart's desk, you can quickly improve. 
Foxemart gives you a small computer desk made of sturdy materials, which make the table strong enough to last years by your side. Furthermore, it's very versatile, so you can adapt it to your needs. 
12. Fitueyes' Mobile Computer Desk
As an office worker, you need to make sure that your surroundings are both appealing and functional. Fitueyes' option is ideal because it's strong but also beautiful, which is why many employees even buy it if they want to set up a home office in their bedrooms. 
This desk has a unique design and sturdy legs, and its structure is ideal if you want to maximize your workspace.
13. Sogesfurniture Computer Desk
Rewarding yourself with the best office desk to work with is a fantastic idea, particularly if you want a brand-new ergonomic piece of furniture. 
Buying Sogefurniture's compact computer desk means you have a new table that allows you to organize your belongings, and it's strong, long-lasting, and immensely useful. 
14. Folding Small Desk by YJHome
Even though YJHome is not as well-known as Autonomous or other popular brands, it offers you a small computer desk that might be the ideal alternative for you – it's foldable, lightweight, and has a beautiful design! 
With a strong frame that can suit all your needs, YJHome's option is certainly one of the best narrow computer desk alternatives you can buy. Is it the right one for you? Think it through before making your purchase! 
15. Computer Desk by Vasagle
If you can decide how to decorate your office and you love vintage aesthetics, then Vasagle's desk might catch your attention. This wonderful model is sturdy and its color resembles an old wooden table, which might spark your inner Hemingway and inspire you while you're writing or completing your daily to-dos. 
Vasagle's computer desk is ideal if you have a small space and you want to go for something different. Instead of buying the regular black tables, get this one and amaze everyone around you with its beautiful design! 
16. HomCom's Computer Desk
Whether you have a long list of to-dos to complete or two simple tasks to get done for the day, you need a desk that lifts your spirit, motivates you, and even boosts your mood.  
HomCom's option might not be the most famous one out there, but it's definitely a strong alternative. This compact computer desk is suitable for any workspace – it's small enough to fit, and its thick surface makes it very sturdy. 
17. Electric Standing Desk by Vivo
Add sophistication to your workspace with Vivo's small computer desk. Although finding a compact computer desk with adjustable features is rare, you can change some aspects about this alternative, such as its height. 
Vivo's narrow computer desk makes your workdays easier by being immensely versatile. Since you can change some of its characteristics, you get to choose if you want to work standing up or sitting down. 
18. Novii's Standing Workstation
A standing workstation might be the ideal option for many people, and if the one you choose is a space-saving computer desk, then everything might be even better for you. 
With Novii's option, you can enjoy your work while standing up, and when you get tired, you can sit down for a while and rest your legs. It features a strong frame, a beautiful and unique design, and wheels so you can easily move it around. 
19. Writing Computer Desk by Fitueyes
Comfort, elegance, and functionality are combined in Fitueyes' desk – with this model, you can efficiently complete your tasks. 
The back of this compact computer desk features a storage area that you can use to either place some of your office supplies or protect your computer monitor. Additionally, since the table has a waterproof surface, you can easily clean it. 
20. Foldable Computer Desk by Origami
The last compact computer desk on this list is Origami's option. As the brand's name suggests, you can easily fold this table and tuck it away when you don't need it, which is why it can be a delightful piece of furniture for your small space.
Origami's Foldable Desk has a spacious table top, but you can remove it at any time. Furthermore, the table comes ready for you to use – you don't need to assemble anything, you simply have to take it out of the box and start enjoying its features. 
This compact computer desk model also has impressive lock mechanisms, which allow you to use it with confidence, fold it, store it, and then take it back out whenever you need to. It's an ultimate top-tier alternative for workers looking to enhance their productivity and maximize the space they have available. 
Keynote Takeaways
Small desks might be what you require to make your workspace function for you, especially if you don't have much space to work with. 
Just because your office is small, doesn't mean you can't enjoy decorating it and buying furniture pieces that perfectly fit. The best options are available to you, so now the decision is yours – get your compact desk as soon as you can!
Video ads for product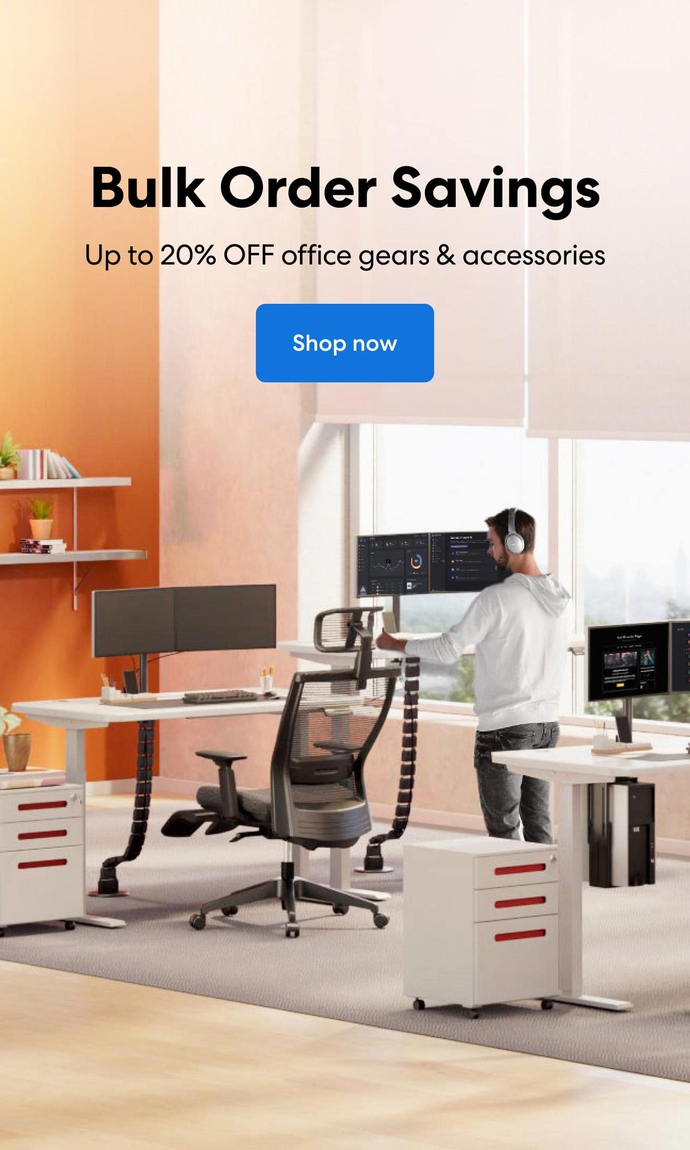 Subcribe newsletter and get $100 OFF.
Receive product updates, special offers, ergo tips, and inspiration form our team.