We don't blame you for being confused about what to do this New Year, so don't worry about not having a New Year's Eve party arranged yet. However, the holiday will be here before you know it, so you'll need more inspiration than merely painting the house in the colors of the new year. If you need some assistance with the preparation, we have the most fantastic New Year's Eve activities and decorations to make this event the best one ever. 
You don't have to worry about boring your guests, as the following list is sure to provide the best ideas to deliver a fantastic New Year Party. We also have all the great elements you'll need to set everything up. Keep reading to learn more about it.
Top Fun New Year Party Ideas for New Year's Eve
1. Do A Fun Craft Activity with Your Guests
Host a personalized T-shirt party to have fun with your guests and send them home with a souvenir they can wear all year. Size-appropriate plain white cotton t-shirts, fabric markers, and puffy paint should be provided. A selection of humorous or uplifting New Year's quotations, such as "This is my party outfit," "Hello, 2023!" or "Happy New Beers," might be a great addition. Encourage visitors to decorate their shirts creatively, then have everyone wear them in a group picture. 
2. Throw a Costumes Party
The start of a New Year is the ideal moment to alter yourself, so host a masquerade New Year party to help your guests do just that. Invite visitors to dress up and wear a mask of their choice for the masquerade. It can be painted on to look stupid or even lovely. (You should also keep a few extras on hand for pals who tend to forget.) If you're feeling risky, encourage visitors to take off their masks after the customary kiss on New Year's Eve at midnight. 
3. Celebrate at a Kids-friendly Party
Many people don't feel like partying till after midnight, including young children, the elderly, those who have to work the next day, and others who genuinely love their sleep. Therefore, postpone the New Year party celebration till noon rather than midnight. Play games, eat snacks, and countdown with loud cheers. If you want a non-alcoholic toast, pop up a little bottle of sparkling apple cider and watch one of these New Year's Eve movies instead of watching the ball drop. 
4. Don't Leave Your Pajamas
Host a New Year party in your pajamas and enjoy yourself while being snug and comfortable! Inform visitors to bring a cushion or use some of your own, and ask them to dress in their favorite pajamas and slippers. Pillow fights, movie or storytelling marathons, and breakfast buffet snacks are all available. You could also provide colorful fuzzy socks. The nicest part is that you can go right to bed after midnight when everyone has gone home. 
5. Say Goodbye to Bad Moments
With a celebration centered on erasing the negative and introducing positive things into their life, you may help your loved ones begin this new year with a clean slate. Invite people to bring a letter, photo, or another item that makes them reflect on a terrible experience. After that, enjoy destroying it. Whatever feels wonderful and encourages them to let go! Burn, paint, crush, or rip it to bits! After reading these encouraging statements, raise a glass to a brighter year ahead while putting the past behind you. Give out short gratitude diaries as New Year party gifts so that guests may concentrate on the bright side of things in the next year. 
6. Research Other Countries' Traditions
Around the world, New Year's Eve traditions vary per nation. Attempt to cram as many of them into one evening! Serve snacks from many cultures and decorate with a garland of flags from across the world. In Denmark, breaking dishes is customary to ring in the new year with joyous mayhem. Bring an old, cracked dish from each visitor, then take turns shattering it! In order to represent money and the 12 months of the year, it is customary in the Philippines to serve 12 grapes during New Year's. Have a scavenger quest to discover the fruits by hiding them in your home. It's a wonderful way to start the new year by acknowledging the entire planet, as long as the celebration is courteous. 
7. You Can't Go Wrong with Black Gold and Glitter
The New Year party themes and colors are glittery, gold, and black. They are entertaining yet chic and refined. Decorate with metallic foil drapes, gold plastic plates, glitter balloons, and tiaras or crowns to indulge your love of shiny things. Inform visitors to dress in plenty of black, gold, or sequins. Raise your voices and sing "Auld Lang Syne" at the stroke of midnight. 
8. Create a Homemade Rave
Illuminating the seasonal gloom is ideal during the long winter evenings. When visitors come, give them glow sticks, body paint, and temporary tattoos and ask them to wear neon-colored attire. Watch everyone shine in a room set up with black lighting. Create your tiny rave by playing some entertaining techno or electronic music. Post some beautiful photos online with these New Year's decorations and tags. 
9. 70s Throwback Disco
Bring out your bell bottoms and play your favorite '70s music! If your guests are old enough, this entertaining New Year party idea will have them reminiscing, laughing, and dancing in no time. Get your groove on by playing the Saturday Night Fever movie soundtrack and sprinkling disco balloons about the dance floor. Use the disco ball to create your own ball-drop countdown at midnight. 
10. Temperature Play with Ice and Fire
Having a New Year party idea in the heat and cold is theatrical. Make the snow a part of the festivities if you're fortunate enough to spend New Year's Eve in a snowy location. Install some sparkling lights in your backyard. Start with snowball battles, snow angels, and sledding. Invite everyone to get together around a bonfire to toast marshmallows and cuddle when the temperature drops. Warm up with hot cider, hot toddies, and a hot tub if you have one! Make sure your guests feel at ease by reading up on what considerate hosts do when they organize a party. 
11. Spice It up with Margaritas
Here is one of the interesting New Year party supplies. Host a fiesta with tacos and salsa music to celebrate the south of the border. With this entertaining champagne margarita drink, spice up the customary New Year's Eve toast: Combine three ounces of champagne, one ounce each of tequila, and triple sec. A lime slice on a festive toothpick can be used as a garnish after adding an ounce of fresh lime juice. 
12. What Happens in Vegas Stays in Vegas
New Year's is a lucky occasion, and the topic of luck is a fun one to use. Create your own gaming tables and set them up with your favorite casino games, such as poker, blackjack, craps, and roulette. Give guests poker chips when they come so they may play games and win fictitious money. Don't forget to instruct them on the customs of each game, such as blowing on the dice for luck. When customers are hungry, provide a buffet in a casino style. Then, turn down the lights, crank up some Elvis, and throw the dice! 
13. Blow Bubbles into the New Year
Host a joyful, upbeat event that is full of merriment. Use streamers and balloons that are iridescent to decorate. You can also use crystal tableware to serve meals. Have a bubble machine running at the door; just make sure to angle it away from the walkway to prevent slipping. Serve bubbly champagne, bubbly water, and bubble tea. Give out gum and hold a bubble-blowing competition. You could even provide them with bubble wrap to jump on your ergonomic desk chair. Another New Year party idea is to give away bubbly bath bombs. 
14. Color and Confetti Party
Confetti is the ultimate "Happy New Year!" expression. That's why you can add glitter to your decorations, fill a confetti cannon, and distribute confetti poppers. Your kids can also make confetti slime. Include confetti cake or cupcakes in a dessert buffet along with other festive party fares such as cotton candy, pop rocks, and confetti ice cream. Drop balloons loaded with confetti from the ceiling at midnight. 
15. It's Time to Play Some Board Games
Invite your family and friends to play board games for a more laid-back evening on your adjustable desk. They are welcome to bring one of their favorites, and you are welcome to have some games available. This is the ideal time to introduce a more involved strategy game in New Year party, such as Risk or Settlers of Catan. Try a party game such as Apples to Apples, Jackbox, or Cards Against Humanity for more interaction and hilarity. 
16. Play Some Fun Bunko Bash
Host a bunco tournament if your audience enjoys friendly rivalry. The dice game is quick-moving, simple to learn, straightforward to set up, and suitable for big parties. Although it is a popular game to play all year long, incorporating personalized scorecards, seating cards, and tally sheets can enhance the New Year's Eve party atmosphere. Even better, make bunco night a regular monthly event. After all, one of the finest New Year's resolutions is to spend more time with your loved ones. 
17. Shake the Old Year Off
Host a lively dance party to have a good time and get a jump start on your fitness goals. You may set up Dance Revolution or Just Dance on a game console and hold tournaments. Additionally, you can invite a professional—such as a belly dancer—to come and provide a class, encourage visitors to freestyle, or have them learn a line dance on YouTube. Offer healthful finger snacks, protein shakes, and fruit smoothies. Instruct visitors to dress comfortably, or for added enjoyment, have them wear silly dancing costumes. 
18. Keep It White and Classy
White is the ideal color for New Year party decorations since it denotes new beginnings, serenity, new beginnings, and, of course, winter. Invite guests with white-on-white stationery, then deck the halls with glistening white lights and fresh, uncluttered décor. Invite visitors to wear all white. Serve alcoholic beverages and foods with a winter theme, such as white Russians and a creamy soup in shot glasses.
19. Do It in New York's Style
One of the most popular New Year's Eve traditions is seeing the ball drop in Times Square. Bring New York City to you if you are unable to get there. Make the most of this occasion by broadcasting the events live on television. Send out a famous "I Heart NYC" T-shirt along with the invites. Serve New York-style pizza, hot dogs, and warm pretzels from a food cart. Add decorations such as Broadway lights, street signs, and city background. Play the board game Ticket to Ride New York. Watch the ball drop as it approaches midnight, then join the crowd in New York City in cheering and celebrating. Light your own fireworks in your driveway, as long as it's legal in your city and state. 
20. The Final Countdown
Counting down the previous year's last hours, minutes, and, ultimately, seconds is fun for children and adults. Make it a celebration by assembling countdown activity packages. Each paper bag should be marked to be opened separately before midnight. Collect four to 10 bags. Put a suitable activity in each bag for your guests. Bubbles, tiny toys, confetti poppers, and slime components are all fun gift exchange ideas for kids. 
On the other hand, card games, speakers, Polaroid cameras, desk lamps, movie tickets, desk accessories, or cocktail components could appeal to adults. The final countdown to midnight should begin with the last bag. Fill it with Hershey's kisses so that everyone will receive one at midnight. 
Bottom Line
After reading this handy list, you're 100% ready to throw the best New Year's party ever. However, please keep in mind your guest's preferences and styles so everyone can have fun. Moreover, don't forget to check out our store and see all the fantastic cubicle decor and fun office decor deals we have for you, such as our amazing L-shaped standing desks.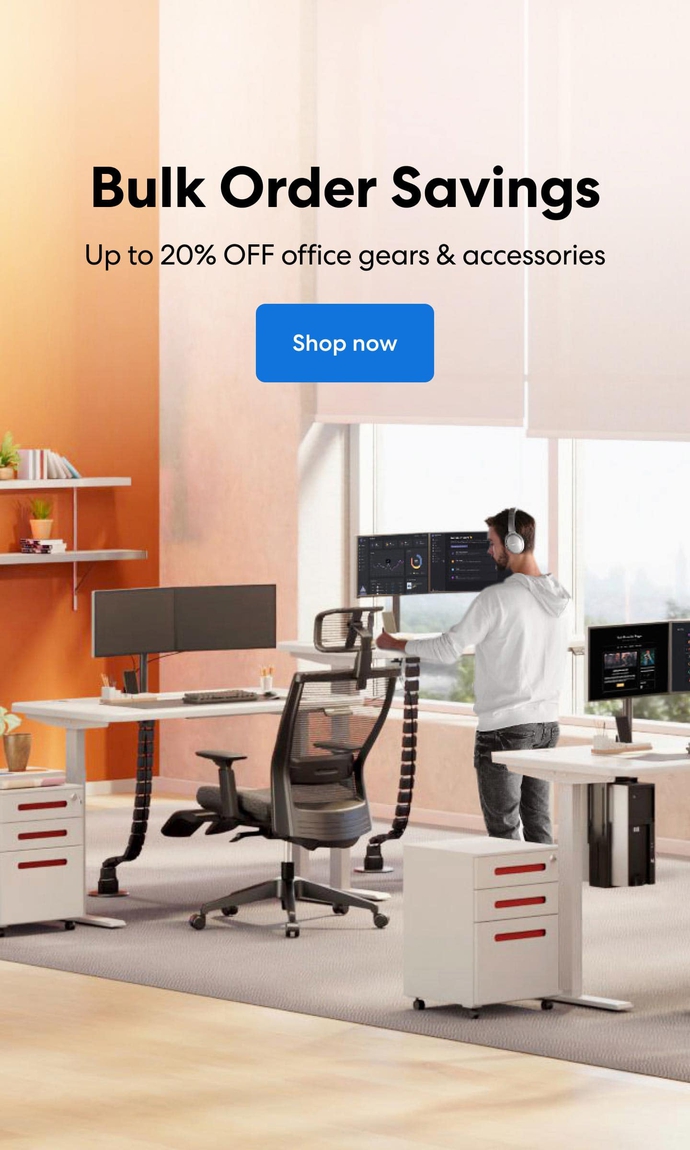 Subcribe newsletter and get $100 OFF.
Receive product updates, special offers, ergo tips, and inspiration form our team.