Smart Products
20 Large Adjustable Desks for Big Size Office of 2023

Autonomous
|
Feb 18, 2022
1,306 Views
Having a large adjustable desk is the best thing for any office worker who cares about having an ergonomic posture throughout the day and taking care of their health and well-being. 
These large standing desks help keep people active as they can switch from standing to sitting every couple of minutes. Therefore, they avoid feeling strains in their knees and joints. 
That's why we created this fantastic guide of the best large adjustable desks of 2022. Please keep reading if you wish to get a new wide standing desk for your home office or gaming setup.
20 Large Adjustable Desks for Big Offices
1. Autonomous SmartDesk Pro
The Autonomous SmartDesk Pro is one of our best wide standing desks, as it is engineered to optimize your comfort and learn all your habits to provide the best working experiences. 
It comes in many colors and patterns you can pick from to match your office or bedroom. Some of its fantastic features are its adjustable height that locks at four programmable settings, a solid steel frame, and a dual motor that prevents it from making irritating noises while changing positions. 
2. Autonomous SmartDesk Corner
The Autonomous SmartDesk Corner has all the space you need for ultra-comfort and creativity during your working and gaming hours. In addition, you have everything you need at an arm's reach. 
This fantastic corner standing desk has a weight capacity of outstanding 400 pounds and has a triple motor to eliminate all the possible noises it can make when adjusting its height. Its solid steel frame and modular segments allow it to fit in any corner of any room you can think of. 
3. Uplift V2
The Uplift V2 is a motorized ergonomic standing desk that prides itself on its stability. Most standing desks tend to wobble around, which can be very annoying during working hours. On the other hand, this desk is so sturdy you can even hang a hammock under it and comfortably sleep during your free time. 
You can find it in several colors and patterns. Some of its fantastic features are an anti-collision sensor and high-tech stability braces, which make this a tremendous wide standing desk if you're looking for a durable option. 
4. Vari Electric Standing Desk
The Vari Electric Standing Desk comes in several sizes, so buyers can choose the one that adapts the most to their spaces. In addition, it is effortless to assemble, as you only have to attach its legs for it to be ready to be used. 
This large standing desk is super sturdy, as it can hold up several monitors and heavy gaming setups, and it includes a handy cable management tray to keep all your cables in place. 
5. Flexispot EG1
The Flexispot EG1 is a fantastic desk if you're looking for a more budget-friendly option for a large home office desk. In addition, it's entirely height and width adjustable, which makes it ideal for people of all sizes and all types of setups. It is available in several colors and patterns that blend nicely in any room. 
You can assemble this desk in less than one hour, so you don't have to worry about learning complicated manuals. However, it doesn't have any predetermined buttons you can use to program your desired height, so you are going to need to remember your size presets. 
6. ApexDesk Elite
The ApexDesk Elite offers a wide variety of settings for a reasonable price. It gives you the needed space for all the monitors you want and other gadgets you might add to your setup. 
In addition, its lifting mechanism gives you a slow and smooth lift that you can set at your desired height, and it is fantastic to avoid loud motor noises while changing positions. This doesn't compromise its durability, as it is verified to last over time. 
7. Branch Standing Desk
The Branch Standing Desk can reach heights that no other desk can, as it is suitable for people up to six feet and eight inches tall. Moreover, its surface is amazing for rather clumsy people who tend to spill their coffee, as it is stain and impact-resistant. 
This large adjustable desk also offers four programmable presets to access your favorite standing position by just pressing a button. Moreover, it has several cable management features that help keep your working area as decluttered as possible. 
It has quite an affordable price, and you are also going to get a 10-year warranty after you buy it. 
8. Fully Jarvis Bamboo
The Fully Jarvis Bamboo is the best option if you want to be more environmentally friendly and sustainable. Its wooden material is grown without pesticides and can be recycled once its lifetime has expired. 
In addition, it has fantastic settings, such as programmable presets, a simple control panel for adjustments, and a smooth slide motion that can be used to shift positions with ease and reduce all mechanical noises. 
However, due to its beautiful design and high-end technology, this large adjustable desk is on the pricier side of the scale. 
9. FlexiSpot EF
The FlexiSpot EF is a cheaper option with plenty of cool features to enhance your working experience. It has three programmable presets, a quiet motor lift, and a cool alarm that lets you know when to switch from a sitting to a standing position or vice-versa. 
However, it is only completely sturdy at its lower levels. Once it is elevated, it starts to wobble. Nonetheless, this isn't anything that stabilizers can't fix. 
It may not be the best large standing desk on this list in terms of quality or features, but it is a fantastic deal for a low price. 
10. Flomotion Standing Desk
The Flomotion Standing Desk is an incredible desk from a UK-based company that offers quite a great number of features. Some of these features are an anti-collision sensor that avoids any unnecessary bumps and scratches and a nifty control panel with Bluetooth connectivity that can be used to switch the position of the table. 
In addition, it has a high-quality large adjustable desk frame that can endure even the heaviest of setups. It is called Skyflo, and it can be individually purchased if you want to upgrade your current desk. 
11. Ergotron WorkFit-D
The Ergotron WorkFit-D is an excellent option if you're looking for a manual standing desk, as you only need to push and pull a lever for it to rise and fall. This handy equipment makes it much faster than its electric counterparts. 
It also features a set of bolts that can be adjusted to endure more or less weight depending on the equipment you want to place on top. In addition, its woody design makes it ideal for the most elegant and classic offices. 
12. Allcam ED20
The Allcam ED20 is the ideal desk for small spaces that want a high-tech working solution. This large adjustable desk allows you to switch from sitting to standing with just one click. Additionally, its L-shaped legs provide a more sturdy and stable finish that endures up to 110 pounds of weight. 
It also has optimal memory presets and a robust steel frame, making it an ideal table for those who wish to invest in long-lasting furniture. Moreover, it features fast-charging USB ports for all your electric needs. 
13. Evodesk Gaming Desk
The Evodesk Gaming Desk is especially aimed at gamers, but anyone who enjoys a comfortable browsing experience can benefit from it. Its tabletop surface is mouse pad textured, which allows your mouse to never leave the monitor. 
You can use it in more than 250 height positions, which is a fantastic range that suits people of all sizes. However, one of the best parts is the built-in speakers it features, as they allow you to enjoy an outstanding sound quality. 
14. Steelcase Solo
The Steelcase Solo is a pretty decent large adjustable desk for remote workers, as it is sturdy enough to endure all types of heavy setups, and it can be adjusted to suit the height of several people. 
This company prioritizes simplicity, which means you aren't going to see any fancy designs or desk decor. It is just a desk that does its job. 
However, it lacks many features that help get the most out of your working experience. Therefore, you might be better off with any of the other oversized adjustable desks on this list. 
15. Flexispot E7
The Flexispot E7 is quite a cool 70-inch desk. It is made of scratch-resistant MDF, which makes it a very durable desk but also a hefty one. Therefore, you must be aware you are most likely going to need help when assembling it. 
It has a powerful motor, which delivers a smooth shift of positions. Nonetheless, it has some drawbacks, such as the lack of drawers and cable management. 
16. NewHeights Elegante XT Standing Desk
The NewHeights Elegante XT is one of the best large adjustable desks on this list but also one of the most expensive. It features large aluminum columns with German gears and motors, as well as a wire management system that helps you keep your space as tidy as possible. 
In addition, it has one of the most long-lasting warranties you're going to find, which makes it perfect for saving some money if it gets damaged. 
17. VertDesk V3 Sit Stand Desk
The VertDesk V3 Sit Stand Desk is famous for its stability. Its cross support and strong motors allow it to slide up and down with ease. Moreover, it is made with sturdy steel columns, which force it to stand straight at all times and eliminate the wobbling that's usually seen in desks like these. 
This is one of the fastest and best large adjustable desks on the list, and it endures up to 275 pounds of weight. However, it isn't easy to assemble, and the height range isn't as wide as other oversized adjustable desks we reviewed. 
18. IKEA Idasen Adjustable Standing Desk
The IKEA Idasen is a great and affordable standing desk option. Although it can be pretty tricky to assemble, it makes up for it by being incredibly sturdy and enduring up to 165 pounds of weight. 
However, it has significant speed drops once you reach the weight mark of 100 pounds, making it unsuitable for heavier setups and multiple monitors. 
It also only features a standard sitting and standing position, which ignores the ergonomic needs of short and tall people. 
19. Herman Miller Motia Sit Stand Desk
The Herman Miller Motia is designed to last for years and encourage people to keep being active at their workplace. It gives you various optional features, such as screens, cable management options, etc. 
This desk can be switched from a sitting to a standing position with just the push of a button and offers enough storage to keep all your working elements and paperwork. 
When you buy this large sit-stand desk, you are going to enjoy a 12-year warranty, which is more than enough for you to feel completely safe and taken care of. 
20. iMovR Ensign's Standing Desk
The iMovR Ensign is a nautically themed, limited edition standing desk. It has an incredible design that's perfect for all aesthetics and is sure to catch some compliments from your guests. 
In addition, it offers quite a lot of storage space, and the ergonomics are wonderfully comfortable for all your joints and muscles. The assembly process is relatively straightforward, as it is only meant to take you around eight minutes. 
You can even join the desk-treadmill club, as it offers enough space for you to set up your own and jog while you get your job done. 
Bottom Line
We've finally come to the end of this list. After going through all these incredible home office desk ideas, you're more than ready to choose your new favorite furniture. 
Make sure to pick one that has all the features you need but also has amazing aesthetics and adjusts to your budget. This way, you're going to make sure you get the right desk for you. 
Nonetheless, if you want to check out the rest of the tools and gadgets we have for you, don't hesitate to check out our store.
Video ads for product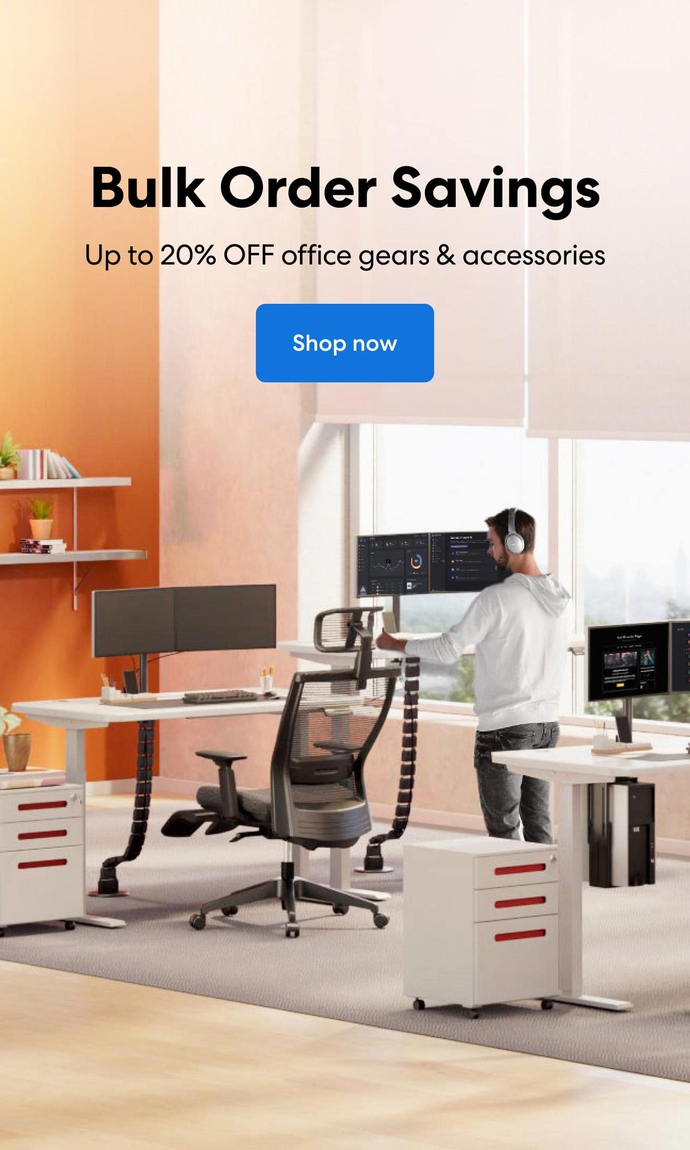 Subcribe newsletter and get $100 OFF.
Receive product updates, special offers, ergo tips, and inspiration form our team.