Smart Products
20 Oak Desks for Office (Solid Wood, Oak Veneer) in 2023

Autonomous
|
Jun 20, 2022
1,729 Views
Oak desks are popular due to their hardwood nature and strength. They're also known for their durability and stability. If you take care of your oak desk, it can last a lifetime. There are two types of oak desks you can go for, namely red and white oak, on the market. 
Moreover, you can choose between white and brown colors to match the aesthetics of the office. It has excellent finish properties and high loading capabilities. Due to its strength, you can easily add books, streaming microphones, a monitor, and an entire workstation. 
What Makes Oak Desks Unique?
Oak desks have similar qualities to other wooden desks. Understanding how an oak computer desk is unique can certainly help you make the right decision when it comes to what type of oak furniture is right for you. Let's look at qualities that make oak work tables unique without further ado.

Durable Wood
As a hardwood, an oak work table offers natural longevity and strength compared to other wooden desks. It is exceptionally hard-wearing and would take the most knocks plus extend wear and tear but still maintain its appearance. This makes oak a number one choice for office furniture. 
Appearance
What will instantly draw you in at first glance is its distinctive appearance. Since an oak computer desk has been used for a long time, it gives you a comforting familiarity with many office workers. Moreover, it complements modern ergonomic styles with its smooth edges and subtle grain. 
Longevity
Due to its durable qualities, an oak work desk will rarely require replacement, a reason why it continues to be popular. This unique quality has enabled people to use oak furniture in the office setting. Let's get started on the best oak desk in 2022. 
Best Oak Desk for Office (Wood Solid, Oak Veneer) in 2022
1. SmartDesk Chucky Oak
Upgrade your office with SmartDesk Chunky oak for a premium feel and satisfaction. This is an affordable oak work desk option for people who love cutting-edge heavy-duty firm wood. It has warp-proof MDF that's wrapped in exquisite oak veneer. 
Moreover, the tapered edge adds a touch of contemporary design to any office space, giving you that ergonomic forearm comfort. The desk offers comfort and convenience with just a push of a button. You can easily save up to four custom heights or somewhere in between. 
It comes with a rounded square hole that offers easy cable management, allowing you to have a clear working space. Additionally, this oak work table comes with grommets that match the oak veneer. Buying from our Autonomous online shop has its perks, from the employee purchase program to other incredible deals. Are you ready to buy any office furniture in bulk? Check our Autonomous EPP for guidance.
2. Sauder Oak Office Desk
The Sauder oak work table is another great option to go for. It comes with unique drawers and a spacious surface with herringbone patterns, providing you with much-needed room for office work essentials.  
Moreover, the drawers feature extension slides that enable you to keep other office essentials to avoid clutter, with the lower drawer accommodating large-sized hanging files.  
3. Wistopht Compact Desk
This is yet another oak computer desk to go for, especially if you want an adjustable standing desk. It features a beautiful oak finish with digital capabilities. The oak standing desk has an electric motor to easily adjust your desk height, giving you two sitting and standing options while you work. Another unique feature of this oak standing desk is its foldable and compact spaces. 
4. AuAug L-Shaped Desk
The L-shaped oak wood office desk has a spacious desktop, giving plenty of space to work on. Its L-shaped corner design is modern and simple, giving you a stylish and minimalist design at the same time. The oak computer desk will give your office a contemporary feel. AuAug L-shaped oak work table is sturdy and anti-scratch; it holds a load of 440Ibs, enough to meet your needs. 
5. FlexiSpot Oak Desk for Office
This perfect oak standing desk allows remote workers to stay healthy and active. It features a cozy oak wood desk top about 48 inches long and 24 inches wide to give you a spacious workstation. The oak computer desk has an adjustable electrical mechanism that ensures smooth height adjustment. It can hold about 158 Ibs, enough to hold a complete workstation. 
6. Oakland Furnitureland Copenhagen Natural Solid Oak Desk
The golden brown oak color desk gives storage a priority. It features six compartments of sizeable drawers and cupboard space with state-of-the-art craftsmanship and timeless design. This modern wood desk is not overshadowed by its distracting wood handles, making it a better choice. 
7. Baumhaus Mobel Solid Oak Twin Pedestal Computer Desk
Here, the oak work table will help you create a stylish and practical office for remote workers working from home. It has a contemporary touch, featuring brushed steel knobs, a satin lacquer finish, and paneled sides to accentuate the wood grain. The oak desk is made from solid oak with no ounces of veneer. 
8. Lavinia Dark Oak Furniture Desk
If you're thinking of having an office at home, then going for this oak computer desk is a great option. This regal executive computer desk will create luxury and a sophisticated atmosphere in the office space. It has numerous drawers and shelves to keep your workstation neat and organized. 
9. Devaise Oak Computer Desk with Drawers
The uniquely designed oak color desk table has a spacious workstation that can easily fit a computer, laptop, books, and desk accessories. It prioritizes storage by having two desk drawers and one filing drawer for all your workstation essentials. You can easily adjust the filing storage from right to left according to your needs. Moreover, it's durable and easy to assemble. 
10. Opus Solid Oak Large Computer Desk
This oak desk is made from high-quality standard solid oak, featuring two drawers with one filing cupboard and an additional sliding drawer for your laptop and keyboard. The light wood office desk provides a contemporary look with a satin lacquer finish, improving your office aesthetics. 
11. Haugen Solid Oak 51 Inch Pedestals Computer Desk with Finish Options
This heirloom pedestal computer desk offers seven drawers, a spacious desktop workstation, and a myriad of oak finishes to choose from, including autumn, sun glow, or chestnut finishes depending on the style of your office setup. Its dimensions are 51.5-inch in length, 22-inch in width, and 30-inch height. However, it's on the pricey end of the spectrum. 
12. French Chateau Rustic Solid Oak Computer Desk
Overall, this oak work table can easily spruce up your work environment, providing functionality and aesthetics. It offers a place to work while providing a beautiful backdrop for guests to see. The gorgeous frame offers two cabinet sections with adjustable drawers. Moreover, it has an existing hole for cable management. 
13. Stirling Oak Computer Desk
Stirling Oak is traditionally designed to meet modern-day elegance requirements with a touch of vintage styling and a rustic look to add value to a home or work office setup. Each piece on the desk is handcrafted from dovetail joined together with dowel peg detail to give users charm and character. The desk is durable and can last a lifetime if maintained properly. It features a heavy-duty desktop work area, paneled sides, and heavy side posts. 
14. Zelah Oak Large Work Table
The double oak desk provides a neat area to work with, plus an excellent storage boot. It has storage drawers on the left side, with a cupboard on the varying side. This Zelah oak work table has good depths, providing a spacious workstation to cater to your needs.  
Moreover, it's a handmade oak desk with round edges that gives off a country look. You can easily complement your workspace area with other rustic items to improve aesthetics. 
15. Crescent Solid Oak Small Computer Desk
The crescent oak color desk is sleek and practical for a small office setup and consists of a single tower cupboard, a sliding keyboard drawer, plus a hole for cable management. This signature crescent design boasts inbuilt curved features plus groove handles, ideal for people that don't have enough office space. 
16. Cohen Curve Computer Desk with a Milk White Glass Top
Here, the small oak desk is suitable for a nice home office setup. It provides a combination of modern and traditional looks to offer next-level aesthetics. The desktop is spacious enough to put up all the work essentials. What's more, the table features a raised glass shelf where you can put up your monitor.  
This ensures that the distance between the eye and the screen is proper, enhancing excellent working posture. Moreover, it has a pull-out keyboard tray where you can store your keyboard. Cohen curve is definitely the best oak table when you desire to create a small office setup at home. 
17. Z Oak Solid Large Computer Desk
It's part of the Z Oak Solid Large collection, which is characterized by its vast style and sophistication. This is another excellent option for remote workers working from home. The Z oak solid table can spruce your home office into a modern contemporary work area. Plus, it doesn't require assembly. You'll be assured of getting a lot of work done on this table because it provides maximum comfort. 
18. OneSpace Computer Desk- Classic Oak
If you're looking for an oak color desk that'll provide an excellent focal point for your office, then the OneSpace computer desk is a good option to go for. It supports a complete workstation as the desk offers a spacious desktop that's about 43.25 inches. What's more, the computer desk provides versatile two-way cabinetry where you can store your peripherals, books, and other home office essentials. 
The hutch comes with a decree gapping essential for routing your cables. You get a pull-out keyboard tray with this table, which frees up space on the main desktop. The MDF construction, melamine, and classic finish ooze a stylish look to compliment your office space. It also provides a durable finish, making it a great addition to a home office layout. 
19. Walden Solid Oak L-Shaped Desk
Another excellent oak work table is the Walden Solid Oak computer desk. It offers a spacious desktop fit to handle your computer, filing documents, and other office work essentials. The desk is pictured with the right return ensuring it meets your needs. You can store all your file documents and other work supplies in the full extension drawers. 
Additionally, the desk is adorned and stained with raised paneling, ensuring the entire setup is exquisite. The whole desk frame is finished with a multi-step catalyzed with varnish for protection. 
20. OD-O-T699 - Traditional Oak 57 Inch Computer Desk with CPU Area
This is another versatile oak desk to go for. It provides a spacious desktop area of about 57.5 W X 21 D X 30 H that gives you enough space to put all work essentials - plus, it comes with a pull-out tray where you can store your keyboard, freeing up space for other work essentials on the desktop. 
The traditional oak desk prioritizes storage by providing dovetailed drawers with full extension glides. It comes fully assembled and comes in a variety of finishes. The desk also comes with a CPU area where you can keep your CPU. It's, however, on the pricey end of the spectrum. 
Final Thoughts
Finding a suitable oak desk for your office space can become challenging due to the many available options and designs. It's, therefore, imperative to consider a few factors that'll put you in the best position to find the right oak work table for your needs. However, after reading through the above list of oak desks, you're one step ahead in finding the right office desk. You can also check out the rest of the Autonomous catalog to learn about suitable deals.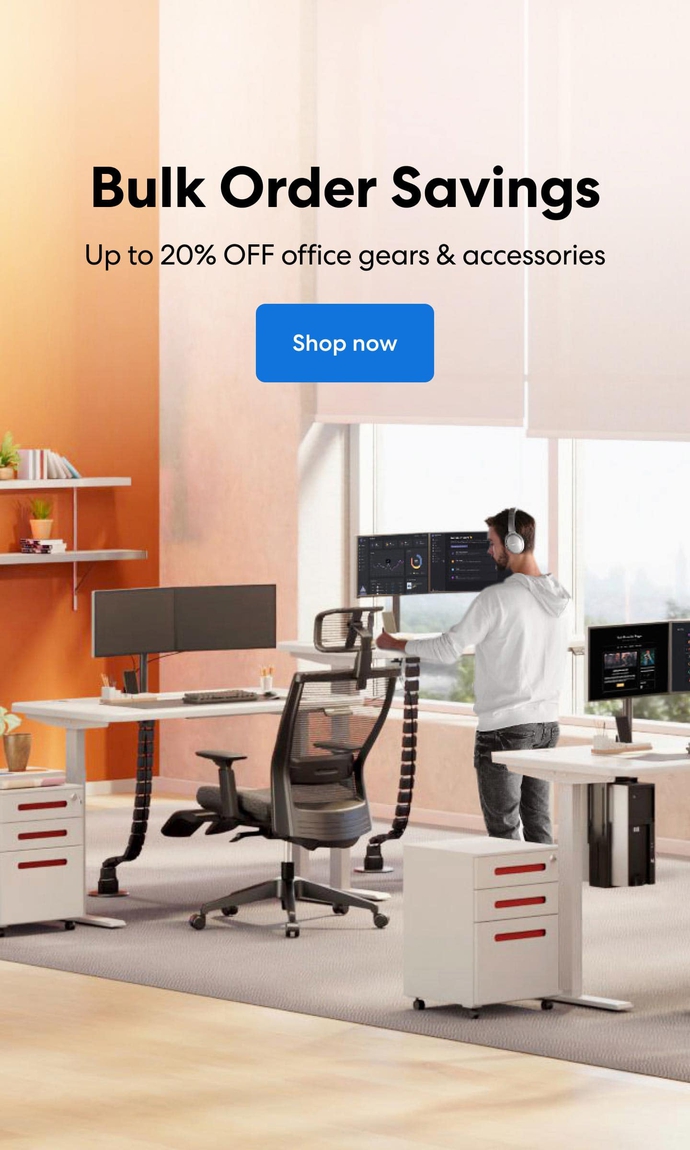 Subcribe newsletter and get $100 OFF.
Receive product updates, special offers, ergo tips, and inspiration form our team.