What makes an adjustable tall desk so special? Well, its ability to always stand at the perfect height is up there on the list. The dangers of consistent sitting are well documented, and having a tall computer desk allows you to stand while working, which negates the strains, pains, and chronic issues that many office workers face. 
Tall Desks That Adjust Vs. Static Desks
You may be wondering why not have a standing desk that doesn't adjust since you can save some money that way. Well, don't be so quick to throw sitting away. Too much of it is very unhealthy, but none of it can be just as bad. 
The human body is also not made to stand consistently. The best way to use an adjustable tall office desk is to take advantage of sit-stand sessions. Below is a high-level review of the 20 best options on the market.
20 Best Tall Desks with Adjustment Features
1. Autonomous SmartDesk Core
The Autonomous SmartDesk Core is the gold standard for remote workspace options. A slew of high-quality MDF wood designs translates to an unparalleled sense of durability. The dual-motor adjustment system of this home office standing desk is designed to combine power and quietness in your office space. 
The typical desktop has a more than satisfying surface area, yet this tall desk has an extra-large surface option if you are so inclined. Your weight capacity here is more than enough, and memory presets mean being able to enjoy your favorite heights effortlessly. 
2. Autonomous SmartDesk Pro
What if you took the home office smart desk above and improved on some of the features to make it a standout in the traditional office space? That's what Autonomous did here to get the SmartDesk Pro. Imagine all the features mentioned above with an even better design. 
For example, the height adjustment range is incredibly welcoming to both short and quite tall persons in the office that may need a standing desk to use. 
3. SHW Electric Adjustable Desk
The list starts with an affordable, yet functional option. Not every electric standing desk needs to have a host of features to be viable. It's impressive to see a full unit with a price tag akin to that of a standing desk converter. 
The wooden desktop of this tall computer desk is quite aesthetically pleasing, and it even has memory presets to help you return to heights you want easily. Impressively enough, the motor is also no slouch, which means this desk adjusts in a pinch. 
4. IKEA Isaden
You already know what you're getting when you see the IKEA brand. It's always going to be functional at a low price. Naturally, this isn't the most visually stunning model in the world, but it gets the job done exactly as it's supposed to. 
It features a high-quality, double gear system for adjustment, and there is an impressive 10-year warranty for you to take advantage of. Note however that the tall narrow desk does not have the greatest weight capacity in the world, so you want to ensure that your load is reasonable. 
5. Flexispot Height-adjustable Standing Desk Converter
You may be wondering why a converter is on a tall computer desk list that sounds like it should be exclusively for full-on standing desks. Well, on top of the right unit, you achieve the same height levels as a standing desk for a tall person. 
It also feels like a tremendous value since its price is so low, and it even uses a double shelf system to accommodate your screens and your peripherals on separate surfaces. 
6. Readydesk 2 Adjustable Standing Desk Converter
As far as a home office tall desk converter goes, this is a tremendously affordable model. One of its standard features is the ease with which you can set it up. The unit is just about ready to go in no more than five minutes after coming out of its box. 
Though you may not necessarily be planning to store it away, if the need should arise, you can get it out of the way remarkably quickly and conveniently. This tall narrow desk only weighs 15 pounds too, which means the level of inconvenience it could present is nonexistent. 
Props must be given to the manufacturers for such a sturdy unit that includes cable management functionality at such a low price. 
7. Fezibo Electric Standing Desk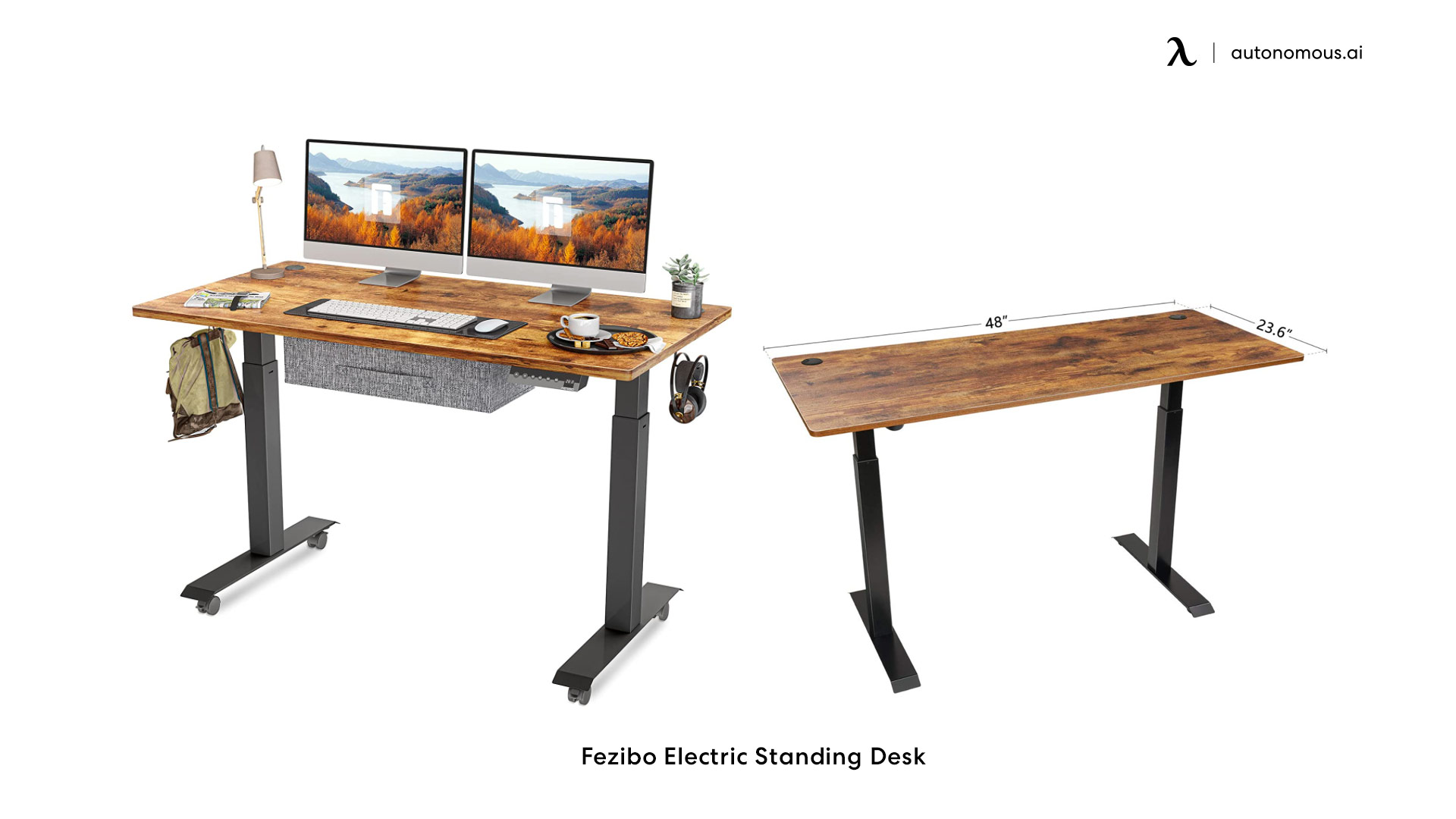 If you want a tall desk with storage, this may be one of the best models you can get your hands on. Its surface area is quite large, so much so that you can fit two screens, peripherals, a laptop, a printer, and still have what looks like a minimalist desk setup. 
It hits high, low, and standard desk height options incredibly easily. The height adjustment of this tall computer desk is barely an inconvenience as far as speed and sound are concerned too! Additionally, no one can forget the inclusion of a convenient and spacious drawer to store whatever office supplies you may need. 
8. Herman Miller Motia Sit Stand Desk
Here is a design from Herman Miller, which is well known for its seating options. After years of development, several of its models could be considered for the best big and tall office chair on the market.
You can tell that the tall desk niche is not necessarily the manufacturer's strong suit, but that doesn't mean the model is not something for you to pay attention to. 
It's incredibly affordable but only just reaches heights of the lower end of the spectrum of tall persons. Additionally, the assembly process is not straightforward, which means the standard DIY workflow is not present here. 
9. Fully Jarvis L-desk
Those who want to optimally capitalize on their corner space are typically interested in having a tall L-shaped desk. The fully Jarvis L-Desk is here for that reason, and it features a respectable variety of desktop options. 
The inclusion of stabilizing bars on its frame contributes to a sturdy design that's able to stand up to your tasks. Unfortunately, these bars can be a bit low for some, which may interfere with your seating comfort, depending on your position. 
10. Herman Miller Renew Standing Desk
Herman Miller makes a return here with a slightly stronger design. Unfortunately, it's also going to require some tools and professional expertise to get set up. It's pricier than the Motia Sit Stand desk, thanks to the level of productivity it yields and some more thought-out design choices. 
The adjustment option of this tall narrow desk is very convenient to use, and you can tell that it's made from a slew of high-quality components. it is intended for corporate use after all. 
11. Fully Jarvis
The fully Jarvis is a statement of value, as it combines functionality with a respectable aesthetic. Its adjustment range is incredibly convenient, and it can lift about 350 pounds, which is well beyond the weight that office equipment is traditionally going to carry. 
The frame and electronics come with a 15-year warranty, which is a testament to the kind of confidence that the manufacturer has in its design. Unfortunately, over time, you may notice some grease buildup on the legs and slight stability issues. 
12. VariDesk ProDesk
This tall desk is most appreciated for its incredibly quick and straightforward assembly process. It accommodates taller persons quite well with a tremendous height adjustment range. There is a stability bar to keep things on the sturdier side of the spectrum, and it's particularly noticeable at any height below 45 inches. 
You also get a programmable switch, which allows you to easily return to any height that you enjoy. The consensus is that while the unit is not a bad product, the price point seems to be a bit high. 
13. Fezibo Height-adjustable Two-tier Electric Standing Desk
If you thought the previous Fezibo tall computer desk was the poster child for desktop real estate, then you may want to take a step back and have a look at this two-tier model. 
The double-decker standing desk provides even greater desktop real estate with a double drawer design. What more could you ask for in a tall desk with storage? 
You are getting a 55-inch workspace here, and the frame extends as high as 6 feet, 6 inches. How tall should a standing desk be? This model answers that question by ensuring it accommodates just about anyone who could be using it in an office context. 
14. Seville Classics Electric Standing Desk
Everyone knows that a tempered glass top immediately gives a standout look and feel. There is an undeniable premium aesthetic here, and the functionality is quite solid too. The height adjustment is incredibly respectable, and the inclusion of memory presets is a welcome addition. 
Of course, cleaning up a glass top of the tall desks is remarkably easy, and you can even take notes on it as some users do. The motor configuration is the epitome of reliability, so expect the best for a long time to come. 
15. Uplift V2 Commercial Standing Desk
Here is a manufacturer with a name that is almost made for this kind of industry. Note that this is the commercial version of the tall desk. There is a home office alternative if you want something a little cheaper for your remote workspace. 
This is more for the office, however, and it includes some very notable features. The adjustment range is quite accommodating, there's a 15-year warranty on the entire desk, an overload protection system is built in, and thanks to a six-way accelerometer collision avoidance system, there should be no accidents.  
One of the only complaints about this tall office desk is that the gear design is not the most modern in the world. 
16. VertDesk V3 Sit Stand Desk
This is one of the few tall office desk options that can boast tremendous stability up to its maximum height. The inclusion of German gears and motors makes for one of the best adjustment systems on the market, and you get a full lifetime warranty on the whole desk. 
Its max height only just reaches the tall person range, and you're not going to get the widest selection of desktop material options here. 
17. NewHeights Elegante
While this isn't the most aesthetically flashy model, it's incredibly respectable from a feature standpoint. The extendable aluminum columns are very durable, and the inclusion of a premium German motor and gear system provides continuous performance. 
Gyrosense collision avoidance is used to prevent accidents, and you're also getting overload protection, which should help you to preserve your tall office desk for a long time to come. The manufacturers give a lifetime warranty, and the broad adjustment range is very welcome. 
18. ApexDesk Elite Series Standing Desk
This tall desk model is known for being one of the ergonomic standing desks on the market. It has a great look, and there are two sizes available depending on the amount of desktop real estate you may need. You get a simple yet elegant design, and its adjustment mechanism and range are both very attractive. 
Thanks to the curved design of this tall office desk, there is more comfortable positioning, and you can sit closer to the desk than normal. 
19. Branch Adjustable Standing Desk
Branch brings an all-around solid design here, with a wide surface area to accommodate all the equipment you may have. The tall desk is also known for its smooth ascent and descent, thanks to a well-designed adjustment model. 
It treads the price line carefully, managing to not be too expensive while not being on the cheap side either. It's almost the perfect place to sit for a desk that does so much so well. 
20. iMovR Ensign's Standing Desk
You can almost immediately see why people refer to this electric tall office desk as a piece of designer furniture. It is simple, but it is nothing short of stunning at the same time. It's one of several limited edition, nautically themed, Baltic designs from the manufacturer. 
There is an optional flight deck, which translates to additional storage and greater ergonomics. 95% of the assembly is taken care of by the factory, which means you don't even need a toolbox to get started. The craftsmanship is next-level, and the gears and motor are top-notch. You can even connect this tall desk to a smartphone app to monitor your health.
Final Remarks
Now you know the 20 best tall desk options you have available. Which one are you going to choose to complete your office layout?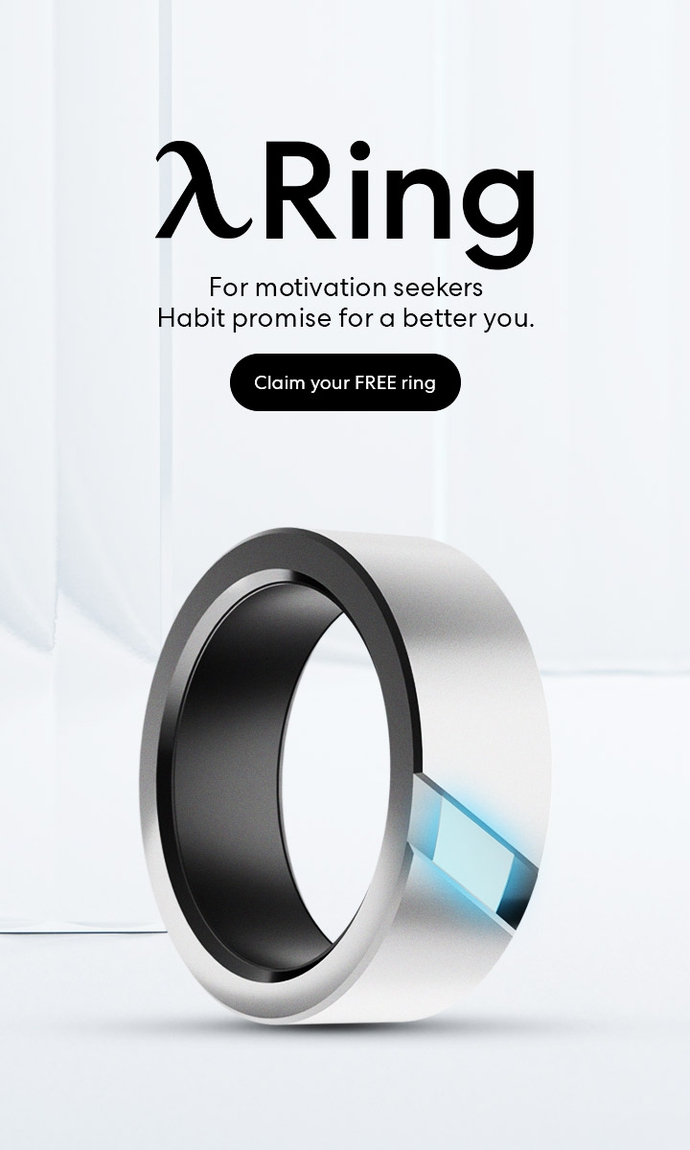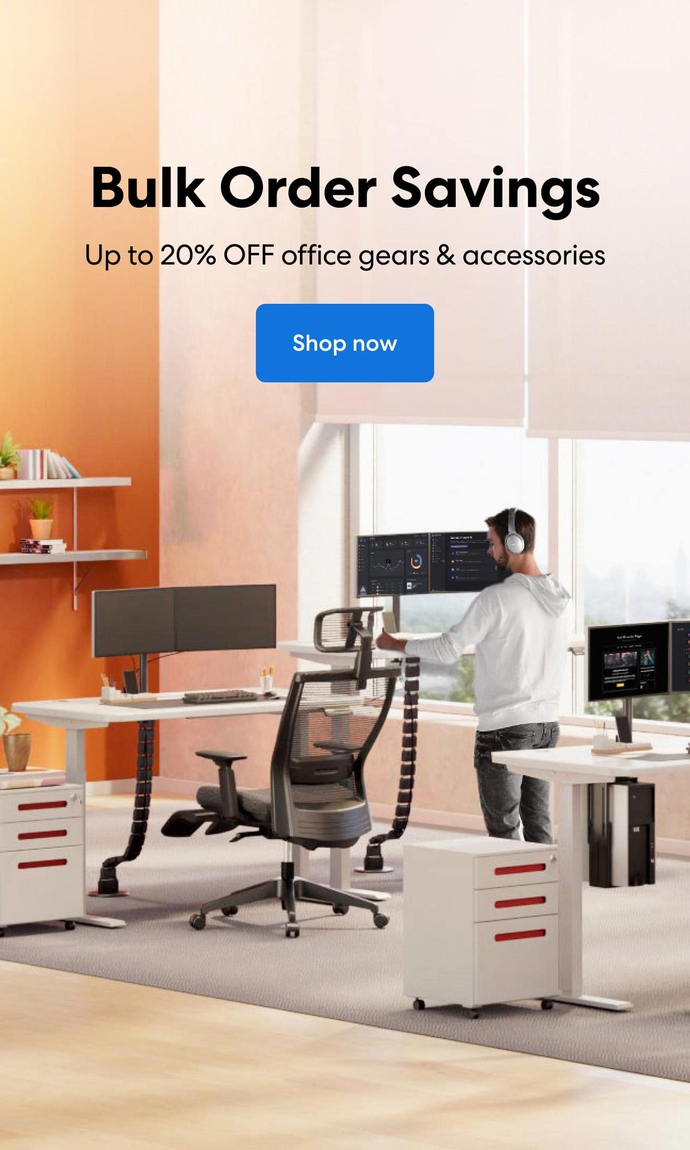 Subcribe newsletter and get $100 OFF.
Receive product updates, special offers, ergo tips, and inspiration form our team.