Have you been thinking about sprucing up your office or workspace in 2023? If so, oak L-shaped desks might be the perfect new furniture. Investing in good office furniture is like building a strong foundation for your work. It provides comfort and support for daily tasks.
Having quality office furniture gives several advantages. Not only does it boost well-being, but it also creates a pleasant environment, which boosts productivity. A good office desk is essential to optimize a workspace. 
When you purchase a desk, you want one that is of the finest quality, will get the job done, and will last a long time. Oak desks are some of the best furniture to buy. 
Review of the 20 Best Oak L-shaped Desks
If you want a mix of durability, space, and functionality, oak L-shaped desks are a great option. There are many types and designs to choose from, such as an oak L-shaped desk with drawers, an oak L-shaped desk with a hutch, a solid oak L-shaped desk, and a light oak L-shaped desk.
Oak is among the best types of wood for desk making because of its resilience, versatility, and beauty. Listed are some of the best oak L-shaped desks you can buy to maximize your workspace. 
1. EUREKA ERGONOMIC L60 L-shaped Standing Desk with a Keyboard tray
If you're looking for a quality L-shaped standing desk, this model is worth the buy. By choosing the electric height-adjustable desk, you can provide your body with the healthiest way to work. With a simple adjustment, you can ease any back strain by working in a standing position. Plus, it has an ergonomic keyboard tray. 
This wide desk makes the best of your corner space. It's durable, and the dual motors have about an eight-year lifespan. You don't have to worry about how much equipment and accessories you want to add because the desk can hold up to 220 pounds.
2. Skyline Decor Dark Grey and Oak Finished Wood Desk with Shelves
If you prefer small oak desks for your space, try the Skyline Decor. It's stylish enough to enhance your smaller office. Constructed from engineered wood, it has a two-tone finish of dark gray and oak for a contemporary, sophisticated look. 
The addition of the four shelves at the side makes it functional, providing ample storage space for electronics, supplies, and decor. Keep your workspace modern and organized with this sleek desk. 
3. FM FURNITURE Raleigh L-shaped Desk
This oak L-shaped desk with drawers is designed with ample storage for all your documents, laptop, or gaming consoles. It has a hefty load capacity and a thick panel for sturdiness. The solid oak L-shaped desk is constructed for convenience and comfort, providing enough room for you to stretch and relax your legs. 
Moreover, it features an open shelf to keep your CPU protected and an additional sliding shelf for the keyboard, allowing you to hide it without taking up space on the main surface.
4. FM FURNITURE Dallas L-shaped Home Office Desk
This Dallas office desk has a corner-friendly design that is ideal for optimizing space in your home office. It is one of the more uniquely designed oak L-shaped desks. 
The main desk provides ample room for all of your work tasks, while the perpendicular desk provides an additional top surface, two open shelves, and a spacious storage cabinet. The combination of these two pieces creates an efficient workspace. 
5. Trio Supply House Moore L-shape Desk with 3-Tier Shelves
If you want a compact desk with enough shelves for your equipment and accessories, a 3-tier computer desk is an ideal option. This is one of the oak L-shaped desks that offer both style and plenty of storage space. 
The stylish, clean-lined design and sleek finish make it a great addition to any office space. It features three open shelves and a reversible corner shelf, giving you plenty of room to organize and store your items. Plus, its modern appeal seamlessly integrates into every decor. 
6. Trio Supply House Moore L-Shape Desk with 5-Tier Shelves
This desk is a step up from the 3-tier design. It's perfect for someone with a small office or workspace who needs optimal storage. The Trio Supply House Moore is one of the oak L-shaped desks that saves space and adds a touch of modernness to a room. 
7. AuAg Modern L-Shaped Desk
The AuAg home office desk is made with engineered wood. With a contemporary design, it fits into any space, including an office, living room, bedroom, or dorm room. This computer desk features an L-shaped corner design, providing plenty of surface space for writing, gaming, or other home office activities. 
Its wide desktop is highly space-saving, allowing you to maximize your workspace. The frame is sturdy enough to handle up to 440 pounds.
8. Progressive L-shaped Standing Desk
A stand-up desk is ergonomically designed to protect your health. These desks are adjustable, so you can go between sitting and standing to avoid staying in one position for too long. 
The Progressive desk is one of the best oak L-shaped desks because it can be used for office work and gaming. It has triple motors that make adjusting between heights swift and quiet, and it can facilitate 330 pounds. 
9. FEZIBO 63-inch L-shaped Standing Desk with Shelves
This is a perfect L-shaped gaming desk because it's spacious enough to hold multiple monitors with its ability to hold 330 pounds. The upper shelf provides a comfortable viewing height and improved control of your device screen's angle and distance from your eyes. The under-shelf allows for the storage of gaming consoles, accessories, or office supplies. 
FEZIBO also boasts a memory preset for sit-standing, and it's equipped with anti-collision technology.
10. Unikito L-shaped Desk with USB Ports and Power Outlets
This is one of the oak L-shaped desks that isn't just office furniture but also an electronic workstation desk. 
The computer desk features four integrated power outlets and two USB charging ports, allowing you to easily charge your phone, wireless headset, tablet, power bank, gaming equipment, and more. It's the perfect desk for comfortable work or gaming sessions. With fast charging, you'll never have to worry about your devices running out of power again. 
11. Bestier L-shaped Desk with Shelves
Light oak L-shaped desks give your workspace a pleasing aesthetic. This one is perfect for any home, office, or game room, as it boasts ample space and features two monitors on one side and other desk accessories on the other.
Its three cable holes facilitate a neat and organized workspace, while the additional storage space ensures your office essentials are all kept in a convenient and easy-to-access location. With this desk, you can easily set up a functional workspace with minimal effort.
12. Sauder Palladia Contemporary Wood L-shaped Desk
Designing your ideal workspace is now easier with this vintage solid oak L-shaped desk. It offers a large drawer with a pull-down panel for your laptop or computer peripherals, a file drawer to contain letter or legal-size hanging folders, and three additional storage drawers. 
There is a large space behind the door suitable for holding a vertical CPU tower, as well as an adjustable shelf. With all these features, you can create a productive and stylish environment at home or in the office.
13. Casaottima Gaming Desk
If you've been thinking about L-shaped desk setup ideas, you might want to consider this desk as a part of your unit. This multifunctional gray oak L-shaped desk comes with a monitor stand and an iron hook, providing plenty of space for studying, working, and gaming. Enjoy the extra workspace and make multitasking easier with this desk. 
14. Teraves Modern L-Shaped Desk
Black oak L-shaped desks add a simple and modern appeal to the workspace. This desk makes an ideal choice for your study room, bedroom, or office space. It can be used as a computer desk, office workstation, study table, writing desk, or gaming base. It is the perfect desk to help you stay organized and productive.
15. Tbfit L-shaped Desk with Shelves
This desk has a reversible corner, so it can work in any space. It is equipped with a power strip containing four outlets and two USB ports, allowing for the easy charging of your gaming devices, tablets, and smartphones. The desk also includes two grommets for neatly organizing all of your cables and cords, keeping the desk tidy. 
16. Cyclysio L-shaped Desk with LED Light
If you're thinking about versatile reversible corner oak L-shaped desks, the Cyclysio is a great option. You can get it in white or black oak, which are both appealing in any workspace. This corner desk is equipped with two USB ports and three extra outlets. 
Additionally, the monitor stand included with the corner desk has a built-in LED strip beneath it that will create an incredible atmosphere when gaming.
17. SHW L-shaped Corner Desk with Oak Wood Top
This corner desk is simply designed to save space in your work area, whether it is a dorm room, game room, or home office. It's equipped with open shelves, so you have extra storage space for your gaming accessories or work supplies. There are also two grommets on the desk's top to keep your cords organized.   
18. Soges L-shaped Gaming Desk
Those who need a lot of space, oak L-shaped desks with large dimensions are the suitable option. This computer desk provides a roomy platform for working, gaming, handcrafting, writing, and more. The extra wide top is also scratch and friction resistant.
19. Somerset 72W Sit-stand L- shaped Desk
This is a light oak L-shaped desk with hutch and drawers for optimal space. You can position this desk to sit or stand. It's the perfect solution if you are looking for a functional but stylish, ergonomic workspace. 
20. Coronado L-Shaped Desk
The last desk on the list is pricey. However, this solid oak L-shaped desk is worth its value. The desk is offered in both left and right returns, giving you options for personalizing your workspace. 
This desk features a beveled edge and plenty of storage, including drawers and a pullout writing board. With so many convenient features and a classic design, it will enhance any room and boost productivity.
What Is the Appearance of Oak Wood?
Oak wood is a type of hardwood that is typically used for making furniture and construction materials because of its durable and attractive qualities. It varies in color but usually has a golden or honey hue and gets darker with age. 
This natural material is also known for its resistance to rot and decay. The grain of the wood is usually wavy and textured, and it can be polished to a high sheen. If you run your fingers along oak pieces, you will feel how strong and sturdy it is. With its strength and good looks, this wood is commonly used in cabinets, flooring, furniture, and buildings.
How Strong Is Oak Wood Furniture?
Oak wood furniture is robust and durable. This type of wood is prized for its ability to withstand heavy use while keeping its shape and color over time, making it a great choice for many home furniture pieces, such as tables, chairs, dressers, and more. 
It is often used in the construction of buildings due to its strength and resistance to warping, cracking, and wear. Additionally, oak is naturally fire, water, and pest-resistant, making it suitable for all sorts of environments. 
An office desk made with this material is an investment piece that won't just add to the aesthetic of your workspace, but will also be incredibly functional and long-lasting. Oak desks are worth their value because their strength and sturdiness ensure they will stand the test of time.
Considerations for Buying an Oak L-Shaped Desk
Following are some considerations for buying an L-Shaped desk made out of Oakwood :
Size and Space: Measure your available space to ensure a comfortable fit without overcrowding.
Design and Style: Choose a desk that complements your workspace decor and matches your preferred style.
Storage Options: Assess your storage needs and opt for desks with ample drawers or shelves.
Durability and Quality: Look for solid oak or high-quality oak veneer construction for lasting durability.
Cable Management: Check for built-in cable management features to tidy your workspace.
Assembly: Consider your assembly skills or availability of professional assistance.
Warranty and Support: Look for desks with reasonable warranties and reliable customer support.
Final Thoughts
Oak is quality hardwood, which makes it ideal for making furniture. Using oak L-shaped desks has advantages. They are durable, versatile in looks, and easy to maintain. It's the perfect type of desk to spruce up your workspace and create a comfortable environment. 
There are tons of oak desks on the market, but to make it easier for you to choose, check out our list of some of the best L-shaped oak desks for gaming or working.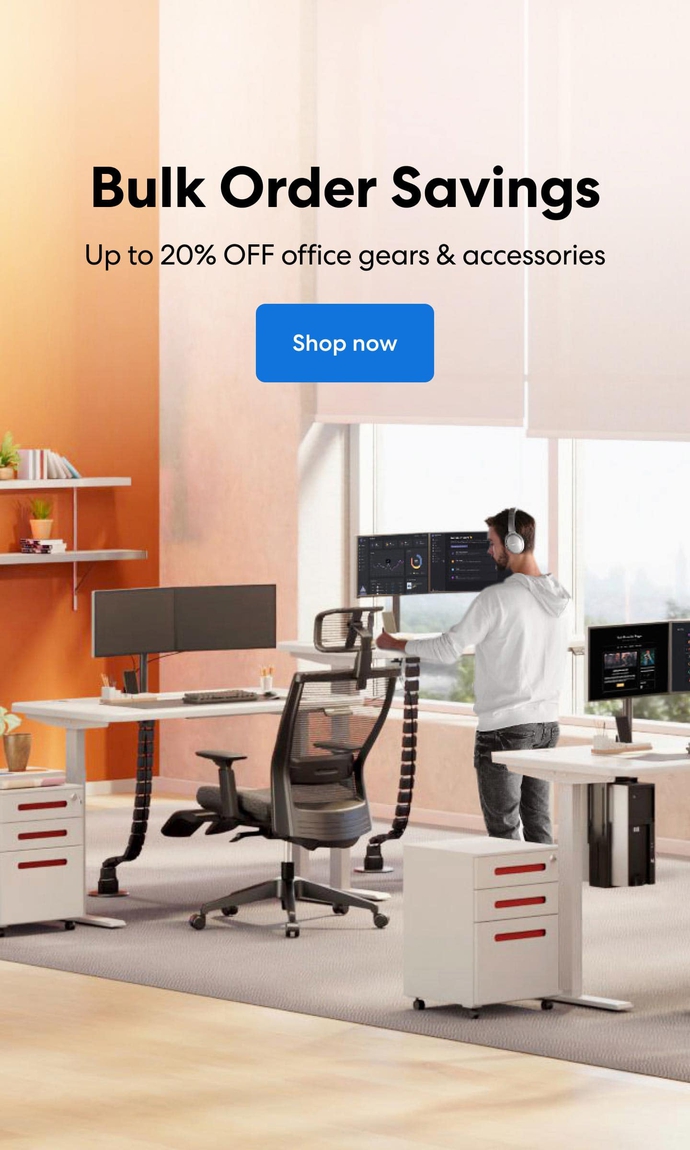 Subcribe newsletter and get $100 OFF.
Receive product updates, special offers, ergo tips, and inspiration form our team.