Smart Products
20 Top Rated Large Standing Desks for Office Workers

Autonomous
|
Jul 18, 2022
3,605 Views
Standing desks have changed the way office workers view their work environment. It has offset a sedentary lifestyle and promoted a healthy work environment. Moreover, it offers more space flexibility than the traditional office desk. 
We're not meant to sit for long hours all day; however, most office workers find themselves hunkered down at an office, which can create physical problems like back pain. Getting a large standing desk is a step in the right direction as it allows office workers to take breaks, keep muscles moving, and stay active.  
Furthermore, a long standing desk allows users to alternate between sitting and standing. Before we look at some of the best top-rated large stand up desks, let's look at factors to consider when buying a large sit-stand desk. 
Five Things to Consider Before Buying a Large Standing Desk
Before you settle on a particular large stand up desk, there are certain factors you need to consider. It'll help office workers find the perfect desk that'll meet their needs. Here's a list of things to consider before buying a large sit-stand desk: 
How long will you be sitting and standing on your desk? Aim to go for at least two hours standing or moving around in the office. Going for a large adjustable desk will do the trick, as you can switch back and forth easily.

Read reviews to find out how a particular model works. Does the sit stand up desk you want to buy make noisy sounds? Is the large standing desk wobbly or shaking? Reviews can help you answer these questions and find more information about a particular desk.

Will it fit your space? You must measure your space as part of your research. This will help you know which model you'll go for, and which type you'll rule out. Go for a

motorized height adjustable desk that's able to fit in all the tight spaces.

Which advanced features do you need? Every seller offers a variety of add-ons, including cable management options, locking casters to make the desk mobile, keyboard trays, and drawers, among others. Don't purchase any more than you need. Now, let's look at the best large standing desk for 2022. 
The Best Large Standing Desks for 2022
To help you take that leap to a healthier work-life, here are some of the best large stand-up desks you can go for in 2022. 
1. Autonomous SmartDesk Pro
This is the best stand-up desk to go from the list hands down. It's engineered to optimize comfort, plus learn all your habits to offer the best working experience. The SmartDesk Pro comes with an adjustment desk height with the lowest and tallest from 26 to 52 inches. Therefore, it'll cater to extra tall and short people adequately. It comes with a variety of programmable settings, plus upgraded dual motors. 
The SmartDesk Pro has a 300-pound weight capacity. You can easily fit three computers on the desk, plus the natural woodwork at the desktop compliments the ambiance of the office workspace. This 78-inch standing desk is definitely the best option to opt for in 2022.
2. Autonomous SmartDesk Corner
Overall, the SmartDesk corner desk is another ergonomic standing desk you can opt for to spruce up your workspace area. It meets the standard ergonomic desk dimension and is a fantastic L-shaped standing desk for office workers who want a versatile and customizable office desk. The desk is engineered to fit easily into any corner space. 
One unique thing you'll notice from the jump is its robust system with various features. The large adjustable standing desk combines a structured steel frame with a high-performing motor. You'll be able to easily adjust from a sitting position to a standing position, thereby improving efficiency. It provides adequate workspace, as it's designed with a better double workspace than the traditional standing desk. You'll certainly do more work and fit all your work essentials on this corner standing desk..
3. Autonomous SmartDesk Core
If you're looking for a modern desk area, then the SmartDesk Core is one to keep an eye on. It has more than eight desktop options, giving you various choices. You'll be able to match the frame with three colors. Moreover, the frame is sturdy enough and can hold a load capacity of 270 pounds. 
The long standing desk has an adjustable height control where users can adjust the system's height from 25 to 45 inches. It also works with keypad control, making it the most user-friendly desk on this list. The large stand up desk comes with a five-year warranty.
4. Standing Desk by Mount-It! - Sustainable Melamine
This sit-stand desk allows remote workers to shift from standing to sitting without interrupting the workflow. It's characterized by a long workspace that'll not take up all your office space, but it's big enough to spread out and incorporate all work essentials. The large adjustable height will memorize your favorite height position due to the preset memory features. 
Moreover, the dual motors are swift and quiet, ensuring you easily shift positions. Plus, it has an adjustable height of 29.7 inches to an all-time high of 49.4 inches.
5. Vari Electric Standing Desk
The large sit stand desk offers a wide work surface that'll suit your home office. Its assembly is quite easy, thanks to its two Allen wrenches. You'll notice its t-style legs that have a motor, ensuring users raise their desk to 50.5 inches and lower it up to 25 inches. 
In addition to this, it offers five finishes and supports up to 200IBS, allowing users to put multiple monitors on the desk. The large standing desk also comes with a keypad, making height adjustability quick and easy. There's also a memory preset where you can store your most preferred sitting and standing height. 
6. Uplift V2 Large Adjustable Desk
If you're looking for a desk with a quality build combined with stability, then Uplift V2 is the best option. The large adjustable desk has inbuilt braces that ensures strength and stability. It comes with a dual motor that makes height adjustability easy and swift. Moreover, it has various mounting points for work accessories. However, the desk is quite wobbly, especially when raised to extended higher heights. 
7. Flexispot E7 Standing Desk
This is yet another affordable home standing desk with a decent height, which makes the Flexispot E7 standing desk a suitable option. The desktop is made from an MDF surface with an anti-scratch finish. Moreover, the desk is quiet on the heavier side, making its assembly challenging. 
Even so, once you set up everything, it'll work fine from anti-collision plus sensitivity. The long standing desk comes with a powerful motor, which is slightly noisy. It also doesn't have cable management options. Overall, it's an excellent addition to your home office.
8. ApexDesk Elite Standing Desk
A good port of call desk that has a large surface area to put multiple monitors and other peripherals is the ApexDesk Elite. It's certainly a good option when you're going for value for money. The desk has two size options: the 60-inch and 71-inch desk which offer enough workspace for all your work peripherals. Moreover, it has an incredibly superb dual-motor system that features a lifting mechanism and a controller that offers four preset abilities. 
It has a great weight capacity to ensure users hold the heaviest of items. Plus, it's quite stable even without a crossbar underneath.
9. Husky Adjustable Height Standing Desk
The husky desk is perfect for a nice setup of a few monitors, speakers, and other work essentials. It comes with the option of adding drawer configurations. Additionally, its desktop is made of solid wood, which makes it durable. Moreover, you can adjust its height manually with the hand crank.
10. Jarvis Bamboo Standing Desk
Another excellent desk is the Jarvis Bamboo standing desk on wheels. You can easily adjust the desk efficiently when you want to shift from a sitting position to a standing position. Its maximum adjustment height is 51 inches, allowing taller people to use the desk without struggling. You'll have options of choosing the best frame color that compliments your workspace from the six color options. The large adjustable desks can either feature no grommet on the desktop surface or two grommets. Overall, it's suitable for a home office. 
11. Fezibo Height Adjustable Electric Standing Desk with Double Drawers
It's quite uncommon to find a long-standing desk with drawers since the variable height and moving system make it hard to incorporate drawers underneath the desktop. However, this large stand up desk solves this problem by adding storage space on top of the desktop. Other features include; a motorized control, programmable memory presets, and a height range of 27.6 inches to 47.3 inches tall, among other features.
12. Branch Standing Desk
The desk has a desktop size of 48 inches to 30 inches and provides a work surface area for people as tall as six foot eight inches. It's both stain and impact resistant, plus, the lifting system is nicely smooth and easy. Apart from the dual motors, it has a three-stage column system for stability, programmable presets, cable management features, and many more. 
13. Flomation Standing Desk
This long standing desk offers a wide variety of desktop woodwork that'll easily complement your workspace. It moves swiftly without noise, thanks to its dual motors. The desk has anti-collision detection, a nifty control panel for Bluetooth connectivity, and an app to control height movement, making it a smart desk.
14. Ergotron WorkFit-D
If you're looking for a large sit-stand desk that's manually operated with a focus on ergonomics, then opting for Ergotron WorkFit-D is a great idea. It's the best long standing desk that'll help you avoid cable clutter. You'll certainly enjoy its simplicity with a lever on the right underside that allows you to raise and lower the desk efficiently. Moreover, it has a brake cable system that makes its raising and lowering process faster than some electric systems. 
15. Furniwell 55 Inches Electric Adjustable Standing Desk
This is like a smart console where you give full play to your creativity. It gives ample room to work and play. The large adjustable desk features intelligent adjustments with the press of a button. Moreover, it comes with LED screens to support real-time operating display, plus perfect space to spread out for work efficiently. Classic designs are just the tip of the iceberg when it comes to this long standing desk.
16. SteelCase Solo Sit-Stand Desk
The large adjustable standing desk was clearly designed with remote workers in mind. It allows people of different heights and ergonomic preferences to stretch their bodies while working. The desk is strong and durable, enabling users to hold the heaviest of things. SteelCase Solo desk is definitely a good option to buy. 
17. EZ Air Adjustable Standing Desk
While looking for a reasonable electric standing desk that'll not pinch your pockets, EZ Air adjustable long standing desk is a suitable option. It features a robust, finely textured finish with a dual motor operated by a touch of a button. Moreover, it has a sturdy metal frame that can hold a massive weight capacity, among other features.
18. ALLCAM ED20 Sit Stand Standing Desk
It easily shifts from a sitting to a standing position, just by the click of a button. The long-standing desk easily features an L-style shape with a crossbeam for additional stability. What's more, it comes with integrated storage plus a USB port. It doesn't get any better than that. 
19. EUREKA ERGONOMIC Gaming Desk with Hutch: Keyboard Tray
This is a long standing desk specially designed for gamers. Its features mainly target the gaming market but can easily be used as an office desk. Firstly, it has a curve design for better ergonomics and a finely textured finish to complement the workspace. Moreover, it's sturdy and durable, meaning it can hold a huge weight capacity. 
20. Brodan Electric L-Shaped Standing Desk
Another long standing desk remote workers can opt for is the Brodan electric desk. It has a nicely textured finish for ergonomics, plus it's sturdy for maximum weight capacity. Additionally, the dual motors make height adjustability easy and smooth with minimal noise. The good thing that makes this large adjustable standing desk stand out is its solid and easy-to-use nature. However, it has a hefty assembly process, which is understandable since it's an L-shaped computer desk. 
Conclusion
If you're looking for the best long-standing desks for 2022, the list above will come in handy. It features the crème de la crème of large adjustable desks. Remember to go through your needs, plus factors to consider before buying a large standing desk.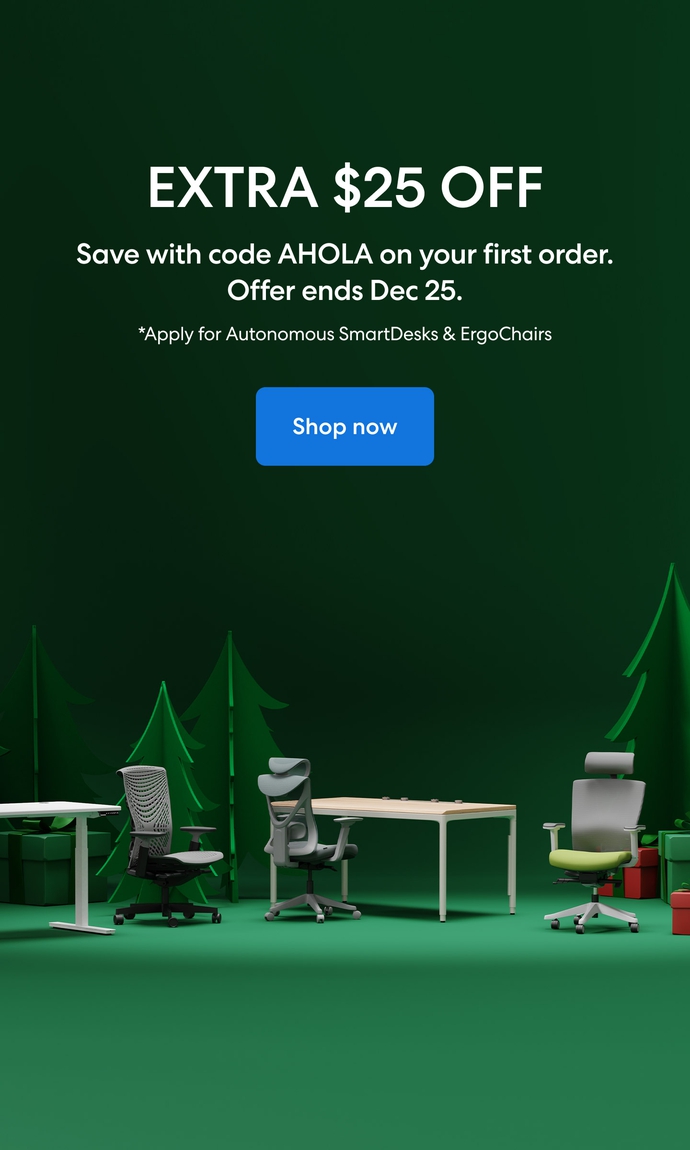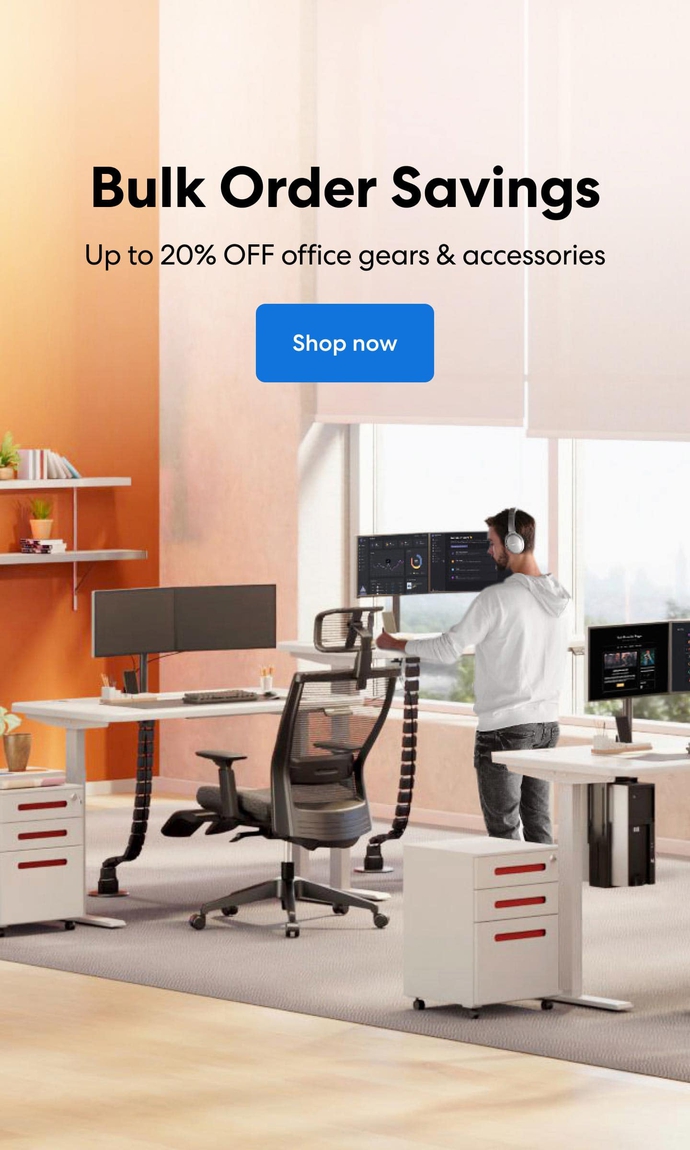 Subcribe newsletter and get $100 OFF.
Receive product updates, special offers, ergo tips, and inspiration form our team.