Smart Products
20 White Standing Desk Designs for Minimal Workspace Aesthetic

Autonomous
|
Jul 6, 2021
3,675 Views
Modern offices are always looking for new ways to boost productivity and creativity around the workplace. New working methods, hybrid teams, and collaborative spaces are some of the strategic changes managers or business owners are implementing, but real change can start in a much simpler way. 
Modern office design is one of the biggest influencers on workers' mindsets and getting in right is essential to get the most out of your in-office time. Two of the most impactful changes being implemented in offices around the world are standing desks and a minimalist design aesthetic. 
Let's look at the benefit of minimalist design and why a white stand-up desk fits in well to the aesthetic, then explore 20 of the best white standing desk options out there today. Let's find out the bestwhite workstation desk for your office!
What Is Minimalist Design and Why Is It Beneficial in the Workplace?
The core value of minimalism is utilizing simple, stripped-back surroundings to allow creativity to flow from within. Basically, getting rid of unnecessary clutter, colors, and distractions leaves a streamlined atmosphere and lets the mind feel stress-free and focused.
Although white is reportedly not the most conducive wall color for a productive office, white fixtures and furnishings look clean and sleek and are the perfect base to work from. Opting for a white desk setup as the center of your work area, be it at home or in the office, keeps the environment calm and your mind open.
Examples of Minimal Office Design Ideas
Keep everything in a neutral color palette, aka white, beige, grey, cream, etc.

Add hints of a darker color around the space (black or brown works best).

Introduce some greenery, but only sparingly - you don't want a full hanging garden on the wall, just a simple potted plant.

Maintain a uniform look. No mismatching or clashing prints.

If you add artwork, keep it subtle and not distracting.

Do not keep anything on the desk that you don't actively use daily.

White walls are not the best choice. Choose a different subtle color such as grey or beige, or a soft green if it suits your vibe.

Above all, think tidy desk, tidy mind!
Benefits Of Standing Desks
An office standing desk is beneficial on so many fronts. More and more modern workplaces are swapping out traditional options for these designs, and for good reason.
Health Benefits
Sitting for too long is not good for joints or posture.

Standing for at least part of the working day improves blood flow and leg strength.

Being "stuck" at a desk all day has negative effects on mental health, whereas freedom of movement can boost moods.

Standing encourages people to stretch and to walk, which is a healthy habit to be in.

People with back problems struggle to spend long hours sitting. Even a short time standing can relieve aches and

prevent neck and back pains.
Work Benefits
Many workers report feeling more motivated when they work at a standing desk.

At the end of a long day productivity usually slips and people sink into their chairs and count down the minutes. Changing a desk to the standing position can provide that energy boost needed to push through until home time.

Conducive to a flexible and

collaborative workspace.

Saves time for people going backward and forwards from the desk.

Standing up and moving around leads to a better network around the office.
Downsides of Standing Desks
Despite the countless upsides, standing desks are not for everyone. Here is some of the negative feedback: 
Motorized adjustable desks are often quite expensive.

Manual adjustable desks are cheaper but require a little physical effort to move up and down.

Older employees may be resistant to this type of change.

Some people say they don't use the standing function as much as they thought they would.

A traditional or old-fashioned office setup may not be a natural fit for standing desks.

 
Are There Different Types of Standing Desk?
Standing desks have been around for hundreds of years, but recent innovation has upped the game and brought about some cool new design features. Far from one size fits all, the types of desks available vary drastically from one to the next, in both style and purpose.
Motorized vs Manual
Lots of modern desks are electrically adjustable, meaning they are raised and lowered automatically using motors. They are usually controlled by a small button on the desk and some offer Bluetooth controls via a mobile app. This is a great feature for ease of use and time management, but it does prop up the price tag a little. 
Manual desks are cheaper but require a little physical effort to adjust the height. Most often they are operated by a basic handle or lever and are unlikely to have you breaking a sweat. Some people don't like the look of a handle sticking out from the desk, although most new designs make it very discreet. 
The third but far less common type is a floating desk, which works on a balance system and glides easily between the sitting and standing position without any effort from you. Although perfectly functional as a backup, floating desks usually have a lower weight capacity than their counterparts.
Single, Duo, and Corner Desks
You can find adjustable desks predominantly in these three categories. Single desks are the most common setup, although duo desks (two-person desks) are gaining popularity as part of the growing collaborative working trend. Corner desks are a valuable space saver and provide a versatile space for working, gaming, or several other purposes.
Top 20 White Standing Desks 2022
Choosing the best white standing desk to fit in with your minimalist design ideas and your practical needs is not easy, so here is a rundown of some of the best white stand up desk options out there and what makes each of them worthwhile. 
Single Desks
 1. SmartDesk Pro
Everything you could ever want in an adjustable standing desk you can find in the SmartDesk Pro. The exquisite design of this white stand up desk encompasses every specification necessary for a professional-grade workstation. Additionally, the classic look is backed up with a 310 lbs capacity and a seven-year warranty, making it the perfect choice for your minimalist workspace design. 
2. SmartDesk Core
This SmartDesk Core can work seamlessly in any work environment and is one of the best examples of modern minimalist office furniture. Everything about this desk is designed around comfort, practicality, and aesthetics. You can customize every aspect, opting for extra desk space or simply pre-programming your height preferences, and can rely on the extra sturdy frame to support all your workday endeavors.
3. Branch Furniture Adjustable Standing Desk
Branch Furniture knows how to make a stylish piece of furniture, that's for sure. This white standing desk is a beauty. Fully customizable with next-level speed and stability, this white adjustable height desk is a classic.
 4. ViraDesk Core Plus
This is the best budget option of a white standing desk. The ViraDesk gets the job done and has a simple but effective design. If you don't want to break the bank and just need a basic white sit stand desk design, then this is a good place to start. 
5. Seiffen Laminated Eco Standing Desk
Where minimalist style is concerned, it doesn't get much better than this. Simplicity at its finest without compromising on functionality, the Seiffen Laminated Eco white stand up desk is excellent value for money.
6. Humanscale Float Desk
Floating desks are versatile, compact, and easy to use. The absence of motors eliminates noise for a silent work environment, but they also don't require you to crank them up manually. In one fluid movement, the desk glides from position to position. Great for a limited space, the Humanscale Float Desk is a simple and easy pick for your white standing desk.
7. Ikea Bekant
Scandinavians are the kings and queens of minimalist design, and few do it better than Ikea. With no fuss but all the functions, the Bekant is Ikea's best motorized standing
8. FlexiSpot Adjustable Standing Desk Pro Series
Built to last, FlexiSpot's pro series is a work of art and is one of the most reliable designs on the list. Fully customizable and with a weight capacity of 275 lbs, you can trust this white standing desk to stand the test of time. 
9. Airlift Pro S3
The Seville Classic Airlift Pro series comes with all the bells and whistles. LED display, ultra-quiet dual motors, and four different height settings are some of the best features of this white standing desk.
10. Tranzendesk Standing Desk
This particular white workstation desk is a good option for a small office with limited space. The top shelf can comfortably hold and support two monitors, and the lower sliding shelf has plenty of room for keyboards and some additional surface space.
11. Ikea Skarsta
Another trip to Ikea because who doesn't love going here! Unlike the Bekant the Skarsta white stand up desk is manual, with a discreet and easy-to-use lever handle just under the desk surface. At first glance, there is very little difference between the two models, other than the method of adjusting the height. Well, that and the price tag!
12. True Seating Ergo Electric Desk
This white sit stand desk is a sleek and simple choice for remote workers looking to upgrade their home office space. The compact design doesn't take up too much space but offers more than enough surface area to get your work done comfortably.
L-Shaped Corner Desks
13.  SmartDesk Corner
A corner standing desk is a fantastic way to capitalize on often-wasted corner space, and the SmartDesk Corner is the best way to do that. Capable of supporting up to 400 lbs and with triple the surface space of a normal desk, you cannot find better value for money than this.
14.   UPLIFT L-Shaped Standing Desk
Speed and strength are the first two words that come to mind when talking about the UPLIFT L-Shaped Standing Desk. With a weight capacity of well over 500 pounds, this white adjustable height desk is versatile and convenient. It is also one of the quickest to adjust due to the three-tiered motor system.
15.  Jarvis L-Shaped Standing Desk
This stunning white sit stand desk looks perfect in the corner of any office. The sleek finish is the product of hours of care and craftsmanship that goes into this Jarvis creation.
16. IMovR L-Shaped Desk
One of the best points of the IMovR L-Shaped white office desk is the Bluetooth control system. Although not one of the most affordable white standing desks on this list, it is well worth the money for ease of use and longevity.
17. TribeSigns L-Shaped Rotating Standing Desk
If you need flexibility and versatility, this is the desk for you. The attractive design of this white office desk fits perfectly in a minimalist workspace and has a side desk that can rotate 360 degrees to fit into any space or angle. It also comes with a compact and cleverly integrated storage shelf unit in the corner of the two desk surfaces.
Two Person Desks
18. SmartDesk Core Duo
Shared spaces are a huge part of the modern workplace, and what better way to maximize productivity than this ultra-convenient two-person white sit stand desk. Style is a given in the SmartDesk range, as is substance. Robust, strong, sturdy, and sleek are just some of the words used to describe the SmartDesk Duo.
19. Branch Furniture Double Standing Desk
With three-stage lifting and a memory function to save manually resetting every time, this Branch Furniture beauty is an excellent choice of shared white standing desk. This white adjustable height desk has generous surface space, and the top is impact-resistant to stand the test of time.
20. Lensvelt Sit-Stand Duo Office Desk
The Lensvelt is a highly professional design with functionality and style breathed into every element. The independently controlled desk surfaces can be divided by a privacy board if required or combined with more desks to create a fluid and modern conference room setup.
Final Thoughts
A white office standing desk is an excellent choice for a minimal workspace. Standing desks are hugely beneficial for the health, well-being, and productivity of your staff. A white standing desk is pretty much the jackpot. Combining the best of both worlds, creative modern thinking, and sleek, simple design is the best way to create an optimal working environment for yourself or for a team. 
Any one of the white office desk options mentioned in this article could be an excellent addition to your working life; it is simply a case of deciding what one suits you best.
Video ads for product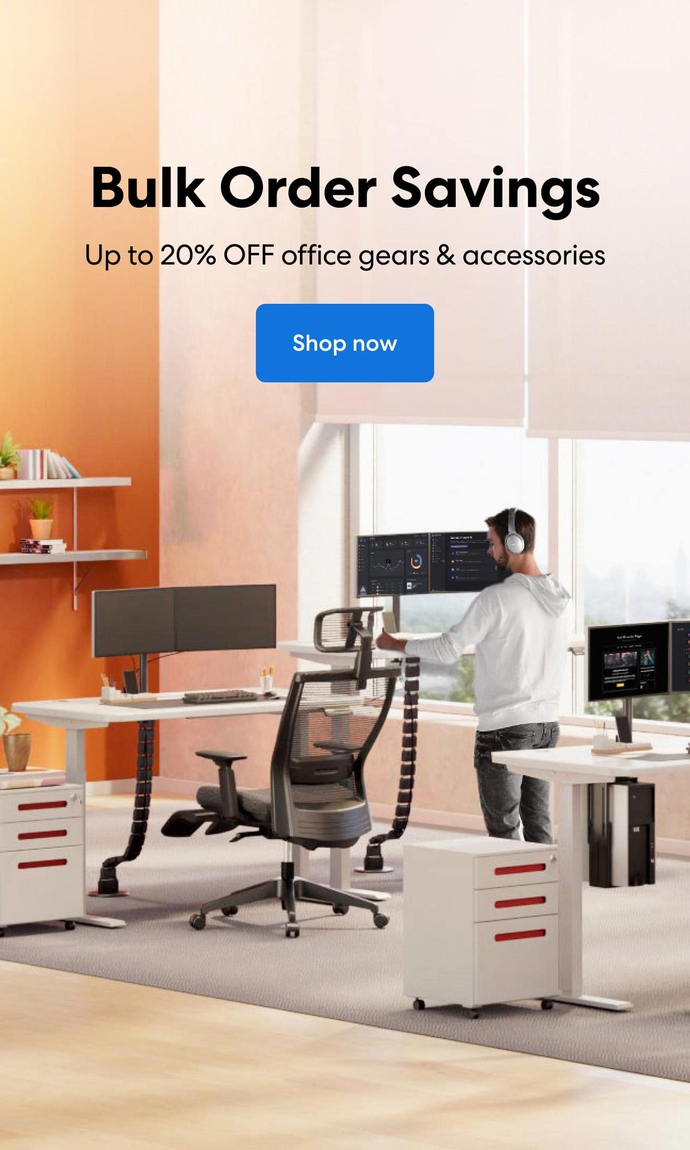 Subcribe newsletter and get $100 OFF.
Receive product updates, special offers, ergo tips, and inspiration form our team.