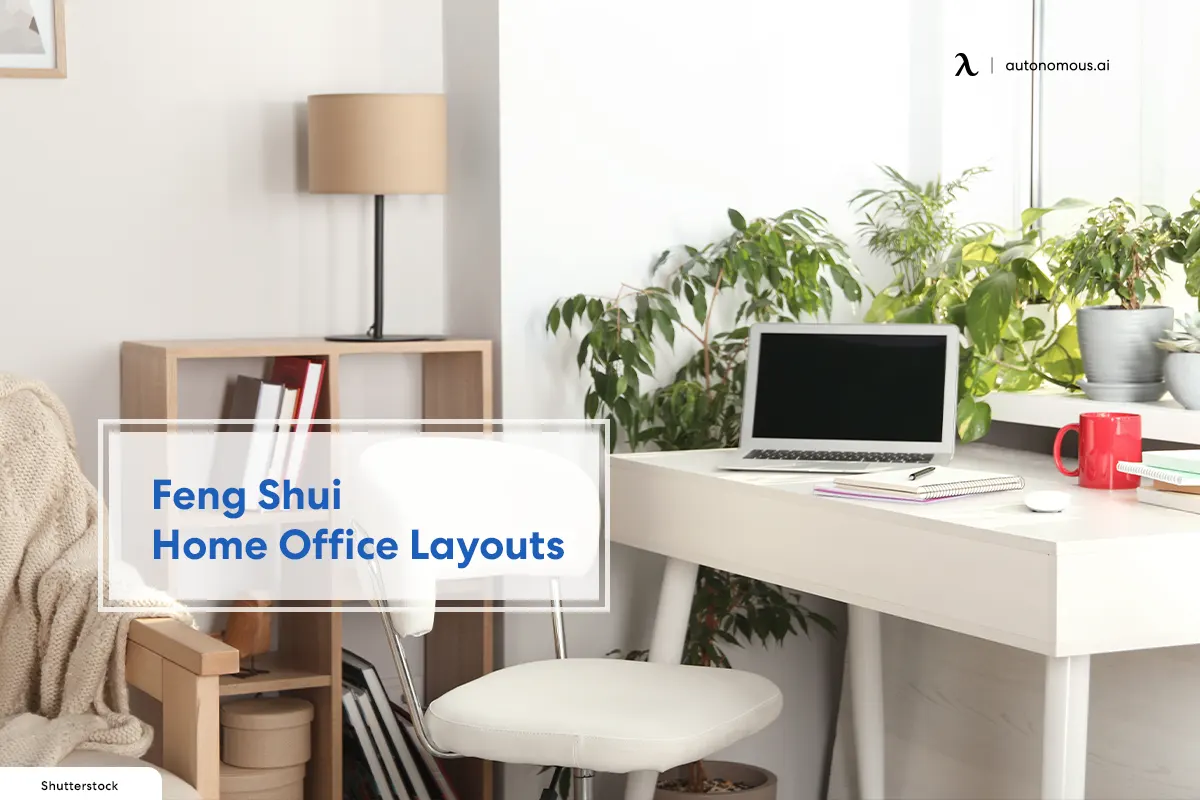 Workplace Inspiration
2023 Feng Shui Home Office Layouts To Maximize Success For WFH

Autonomous
|
Nov 24, 2022
12,369 Views
The unavailability of a proper home office with the right layout is a limitation many home employees suffer from. While some employees were already into the remote work routine, some were surprised when offices were shifted to work from the home regime. Considering the rise in employees' productivity while working remotely, some challenges also need to be encountered. And one of the biggest ones is the selection of proper office layout. Read on to know more about 2023 feng shui office layout!
How to Feng Shui Your Home Office?
The Chinese principle known as Feng Shui is flowing energy in the workplace or even in a bedroom. The concept of a feng shui home office in the bedroom ensures that all the furniture and the wall colors, decorative and your work desk accessories, are arranged to form a proper flow of positive energy.
The central idea of feng shui revolves around the concept that our moods and mind is dependent on our surroundings, and by modifying our home office through the feng shui office layout, feng shui colors, and following the feng shui home office desk direction, we can achieve the perfect amount of harmony in the workplace. Below are some easy tips to set up a 2023 feng shui office layout.
Setting the Desk Direction
This is the best circumstance if you have a room at home that you can dedicate to your home office. Place the desk such that the back of your chair is against a solid wall. Always avoid sitting with your back to the home office entrance, as this is where opportunities enter, and you don't want to be sitting with your back to them because you won't be able to receive them.
And hence L-shaped desk Feng Shui is hard to achieve because L-shaped desks are made for corners; the principle of feng shui with a corner desk involves not limiting your view against a wall. This means you could set up your desk in front of the window or even place some mirrors so you can have a view from behind.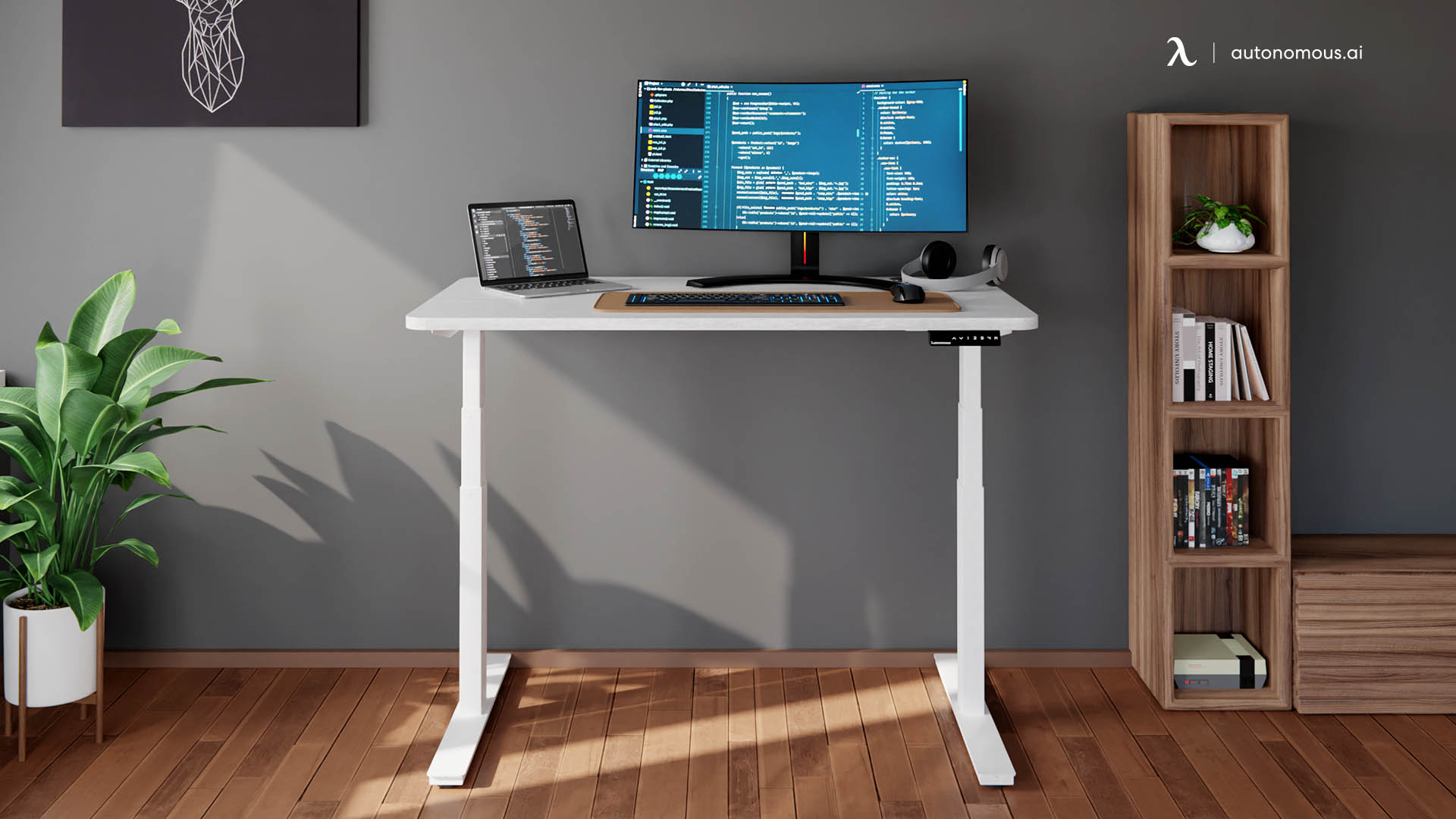 Keep some Plants
If you think placing a good luck plant in your work brings you joy, then you are on the right track. According to the feng shui principle, plants uplift the energy in the workplace. Plants are great at absorbing stress and removing negative stress from your surroundings. Several studies also believe that plants bring luck and money in the workplace, and being green in color also invites prosperity.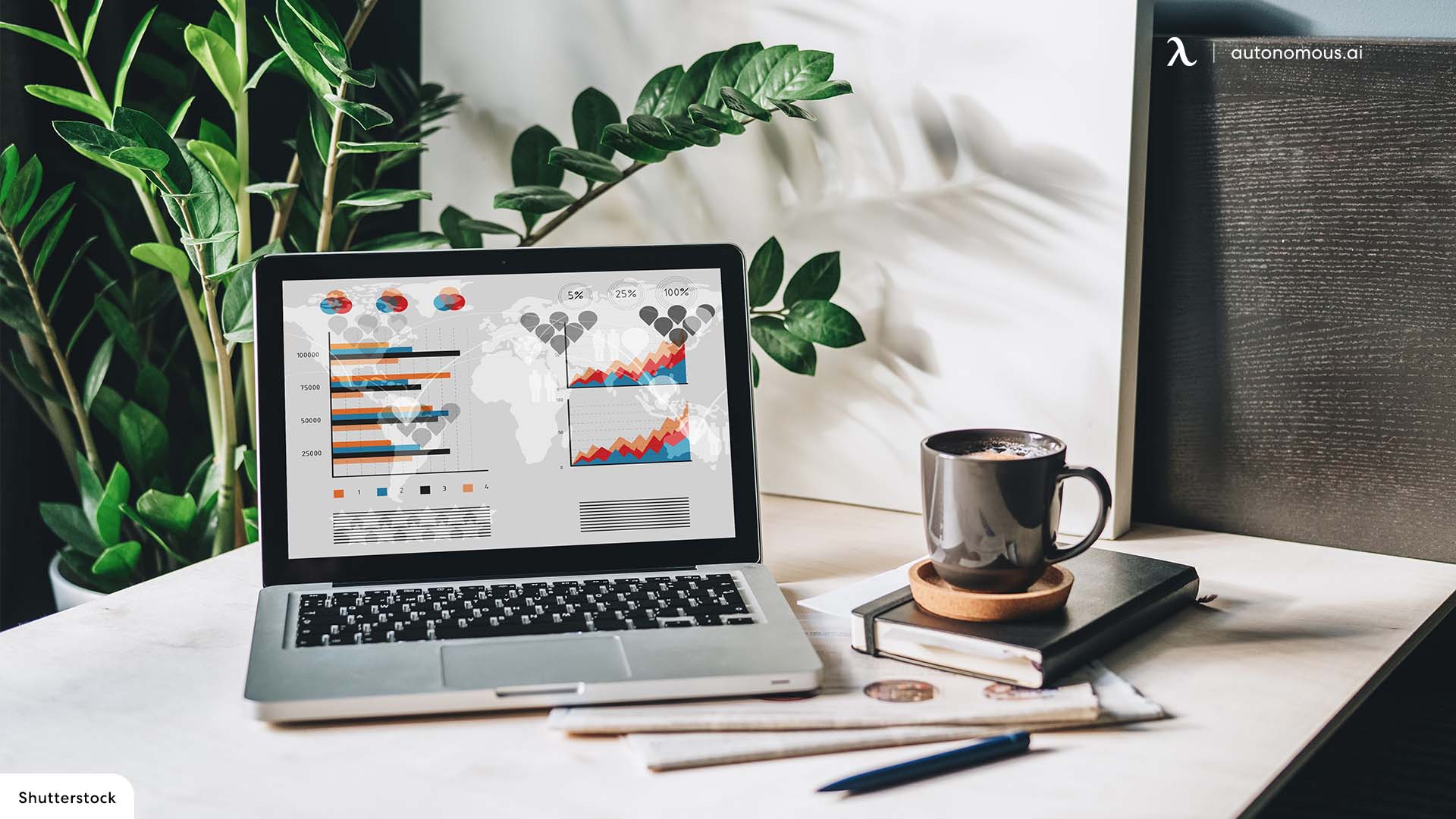 Managing your View
To maintain control of your space, you should have a good vision of the entire room. When you optimize the layout of your work environment, you're also increasing your chances of being successful at work.
Organizing Your Desk
Always keep your desk tidy and only use it to work on current projects. Completed work should always be filed and archived. Clean up your desk after your working day (for which you should have set deadlines, just as you would when going to work). A messy desk reflects a cluttered mind, and a cluttered mind reflects a cluttered desk.
Shut the door to your home office. To freshen the energy in your home office, open the windows and light a woody candle every morning, as the element Wood promotes growth and new prospects.
Do not leave any documents, books, or folders on the floor, as this indicates that your job has deteriorated. Moreover, make sure you also have a proper storage option, so you do not invite clutter in your workplace.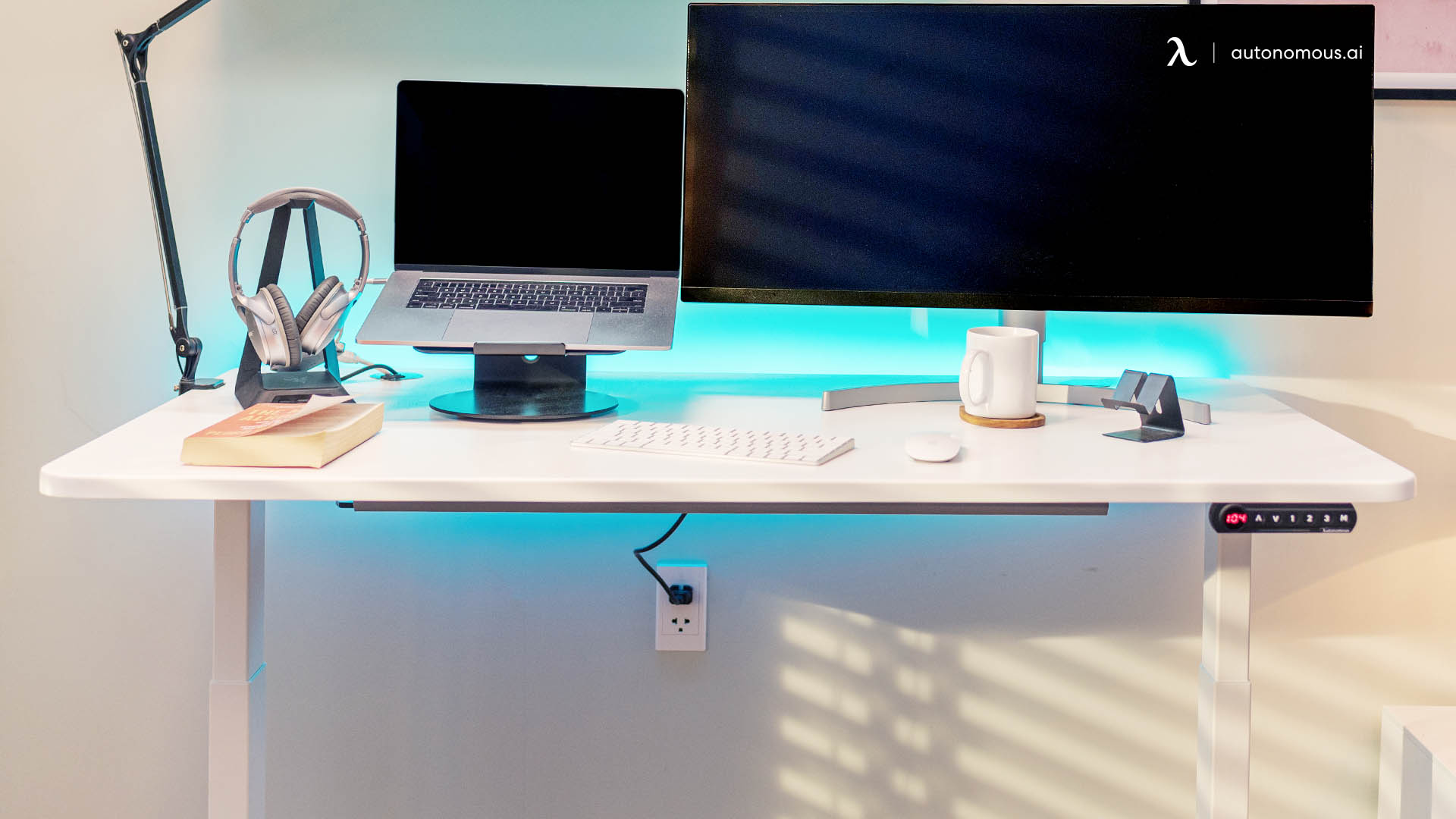 Avoid Certain Places
The basic principle of efficiency in any workplace is to choose where one should work while avoiding some places that damage your efficiency. This means one should avoid working in bed or from the couch. Since these two places are associated with relaxation and laziness, working from here can bring a lot of laziness. Just make sure you choose a place where your back is fully supported, and you are working on a steady table.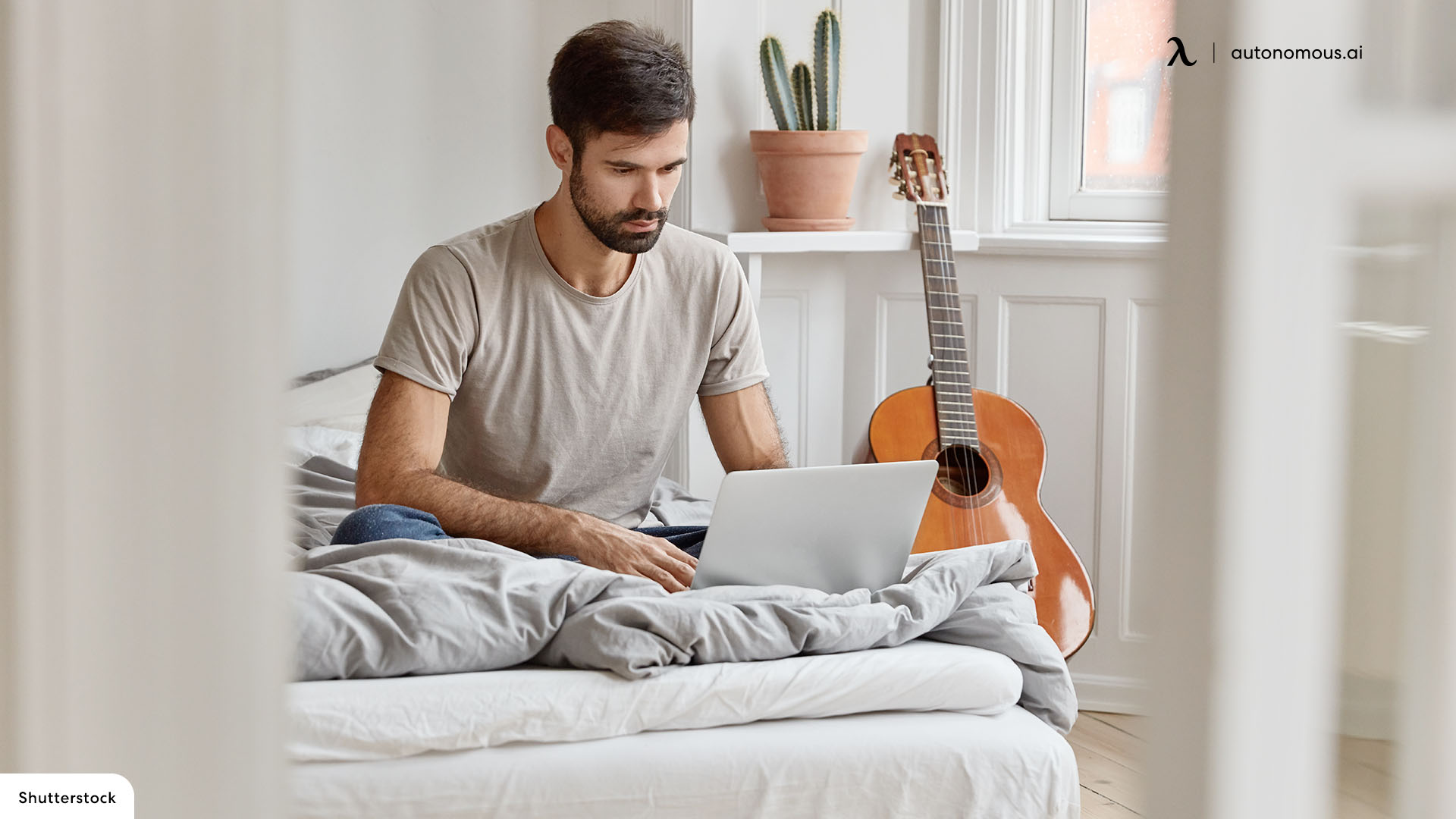 Keep the Aim in Mind
Are you dressing up your room for work, fun, reading or serious projects? Is your work related to creativity, or is it some serious monotone task like numbers crunching. Either way, the feng shui principle is designing your desired space with the aim in mind. Choose furniture that fits your needs. If you need an office design, opt for professional furniture or specifically an ergonomic chair to sit for hours comfortably.
Focus on Organization
The organization is the key to productivity in a workplace, and the feng shui principle revolves around this fact. Many studies prove that a lot of clutter in the workplace can lead to employees feeling drained and tired at all times.
Ensure there is minimum to zero clutter while working or even after you wind up your work. Opt for storage options and multiple cabinets to keep all the items organized. Keep a dustbin nearby to avoid the clutter from piling up.
Focus on Lighting
The right amount of lighting in an office space is the ultimate need for efficiency. One of the basics of feng shui to attract harmony and positive energy in the workplace is to focus on lighting. Bring in good lighting, and if it's natural lighting, then there is no doubt you will experience some real positive energy while working. For places and rooms with uninvited darkness, it is important to adjust with desk lamps or an LED desk lamp.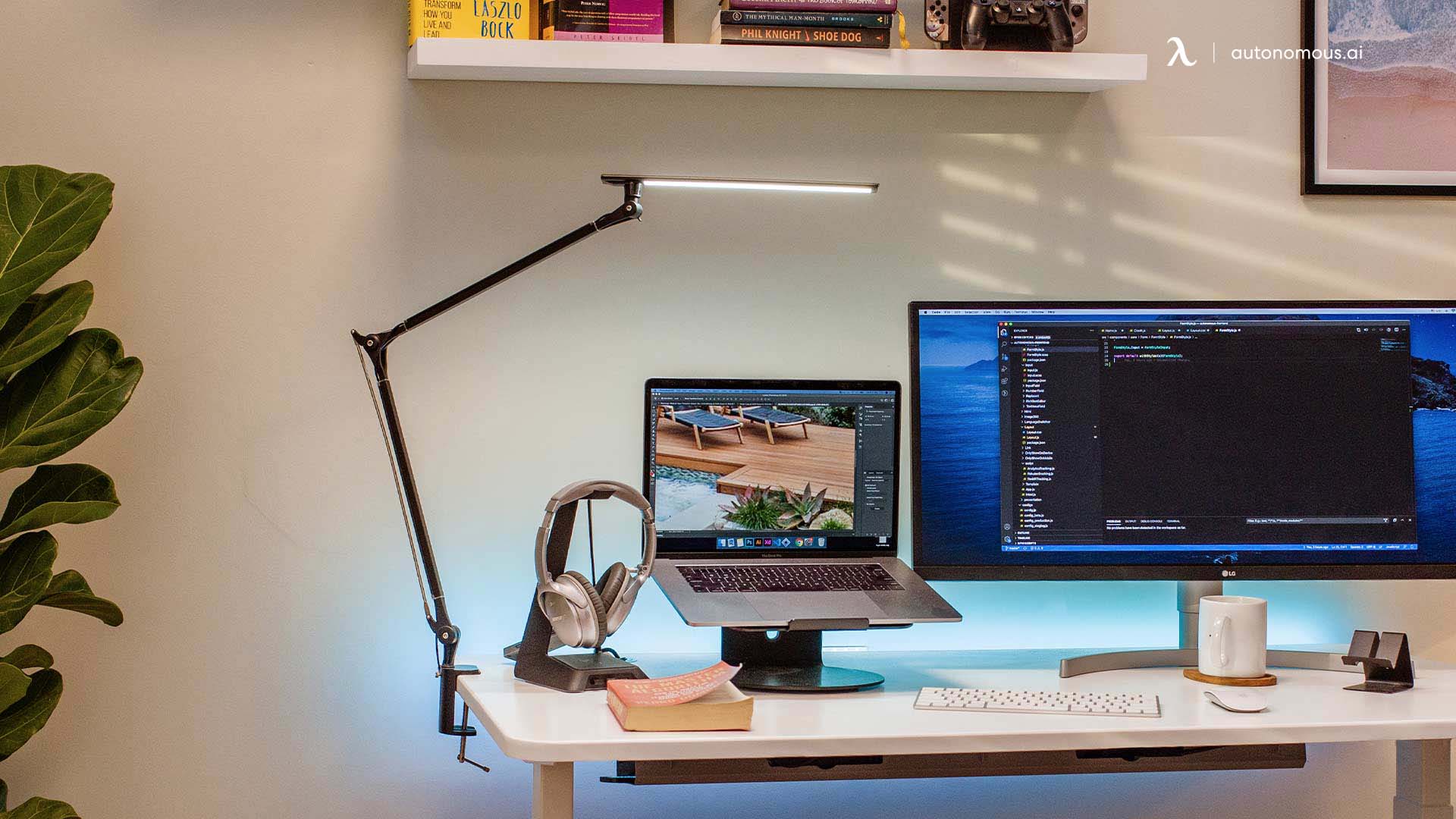 Add a Touch of Personalization
Make your workplace a place where you can shine both personally and professionally. Add things or decorations that will help you achieve your aspirations and goals, such as a vintage map or globe to attract clients from all over the world. According to a feng shui expert, defining what you want to attract and visibly displaying those goals in your area can affect your overall motivation and subsequent success.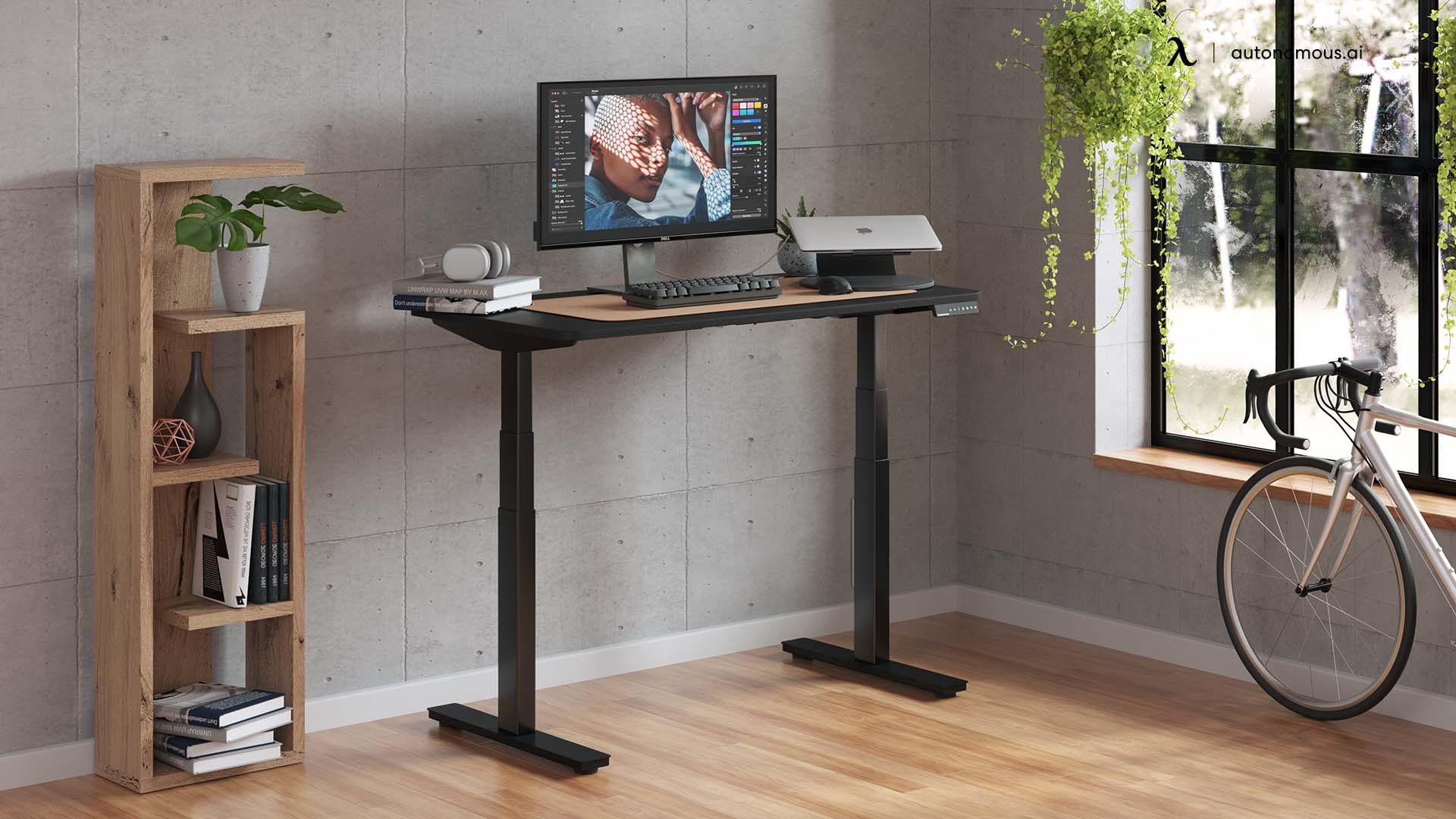 How to Make a Comfortable Feng Shui Office Layout
Feng shui home offices have become quite popular in today's world, especially after the number of remote workers spiked in the last few years. These spaces can help you with office storage and organization, allowing you to focus easily on your work while you're enjoying a harmonious workspace with everything you need to go about your day.
While the ideas mentioned above are great for a feng shui office layout, here we describe some other ideas you can take into account to make your space the perfect remote work area where you can spend your workday without feeling too overwhelmed. 
The Commanding Position
One of the main principles of Feng Shui is the command position. It is an empowering position that allows you to have an overview of the whole room. Hence, instead of placing your stand-up desk in front of a wall or a window, you can opt for an area that allows you to see the whole room. You can try placing it in a central location, where you can easily be aware of what's happening in the rest of the room at all times.
If you have an L-shaped desk, this layout also gives you an excellent opportunity to play around with the layout and come up with some creative office areas that allow you to take advantage of both sides of your desk.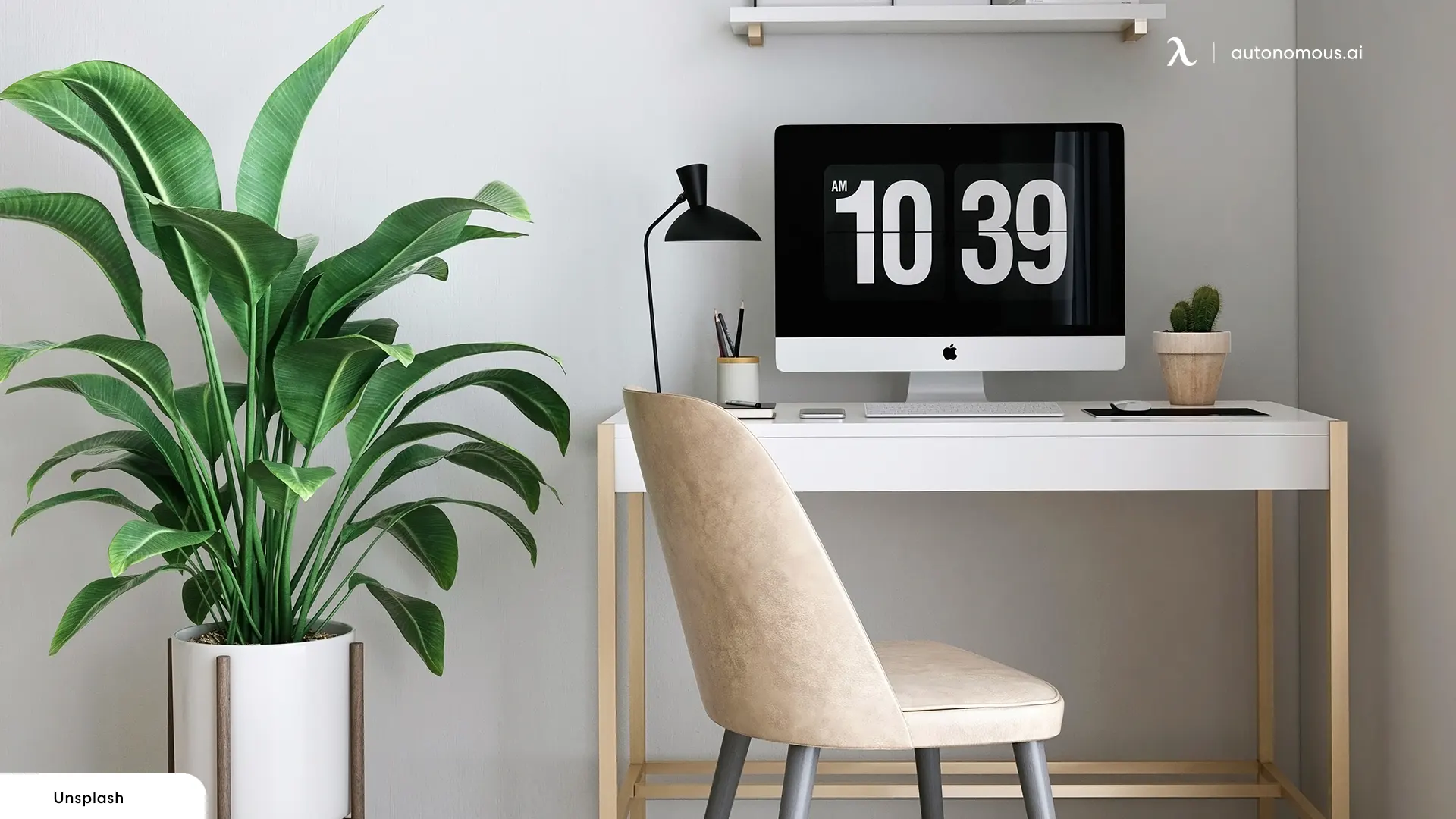 Separate Your Office from your Bedroom
Some people have no other option but to build a home office in their bedrooms. If that's the case, it is essential for you to place any form of separation, such as curtains, so you can separate your "work zone" from your "relaxation zone." As mentioned above, you should never use your relaxation zone to work, and vice versa.
Bring the Earth Element into the Room
You can bring the energy of the earth element into your home office feng shui layout. This element is associated with energies that you want to "enhance" or "cultivate," and has a nurturing nature. It represents stability.
It's possible to invite the earth element into your home office if you include yellow décor. You can also include pottery, crystals, or some nice stone decoration to make it all seem more vivid.
Focus on Comfort
It's highly recommended to include a reclining office chair in your room to prevent dealing with back pain and other physical complaints throughout the day. Strong backing happens to be one of the most important principles of Feng Shui. Similarly, you should arrange your work area in a way that allows you to work comfortably.
If you'll spend several hours sitting on that chair, the best thing you can do is to assure your comfort. This way, you can prevent stress and pain by the end of your work session.
Yin & Yang
Feng Shui is a concept that takes into account diverse types of energy, including yin and yang, some of the most common concepts in our pop culture. These energies are opposite to each other. While yin is "dark" and "passive," yang is "bright" and "active." You can bring these energies to your home office to help you bring a bit more balance into it.
For instance, you can benefit from yang energy while you're working, while yin energy can help you succumb to relaxation once your workday is over. You can do this by playing around with the lighting. While you're working, you can keep the area as bright as possible with the help of lamps or a window. Once your work session is over, you can try to reduce that brightness and unplug the electronics to symbolize the end of your work day.
What About Windows?
A feng shui office layout with a window seems quite tempting. However, you should know that your glass top office desk should be behind a solid wall. If you place your desk behind a window, you'll be impeding the proper flow of energy, which can cause instability and can make you feel overwhelmed.
There are different ways in which you can place your desk without it directly facing a window or being behind one. However, if you have no other choice but to place your desk behind a window, you can use a high back chair or perhaps put a large plant in front of it to "block" it and prevent the energies from exiting the room.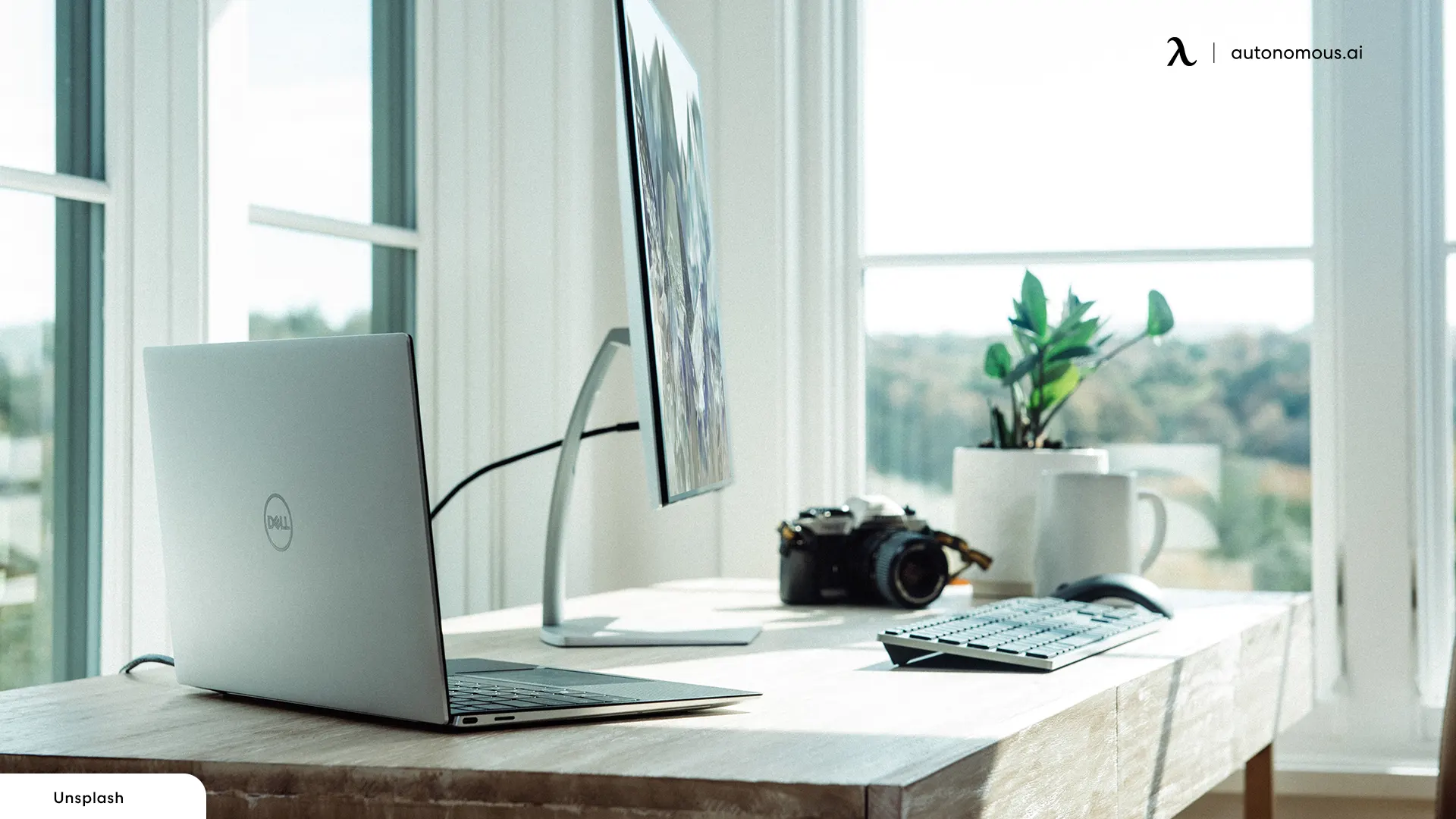 Include the Color Red
In Feng Shui, the color red is associated with the fire element, which happens to be the most powerful of all. It represents passion, transformation, and energy. The best way to bring it into the room is to include red objects around the area. You can also opt for including candles in your office and lighting them whenever it's possible.
What Should You Avoid?
If you want to make sure that you have a balanced feng shui home office, you should avoid some things when possible:
Eliminate clutter

. Your home office should be as organized as possible, as it can help you maintain a clear and focused mind. Everything in the area should be as organized as possible.

Avoid sharp angles

. While this isn't exactly 100% possible in modern layouts, you can reposition the sharp objects in your room, so they are not directly facing you during your work sessions.

Don't sit in certain positions

. If you work with other people in the same room, try not to sit back-to-back, as it can generate conflict. Similarly, you shouldn't sit face to face.

Keep the colors neutral

. While it's important to include some color in your home office, such as in the form of office desk accessories, try not to get too carried away with it. Otherwise, it can make the space feel overwhelming.
There are different ways to make a good feng shui home office where you can spend your work days without feeling overwhelmed. This practice can have tons of positive effects on your mind and body in the long run.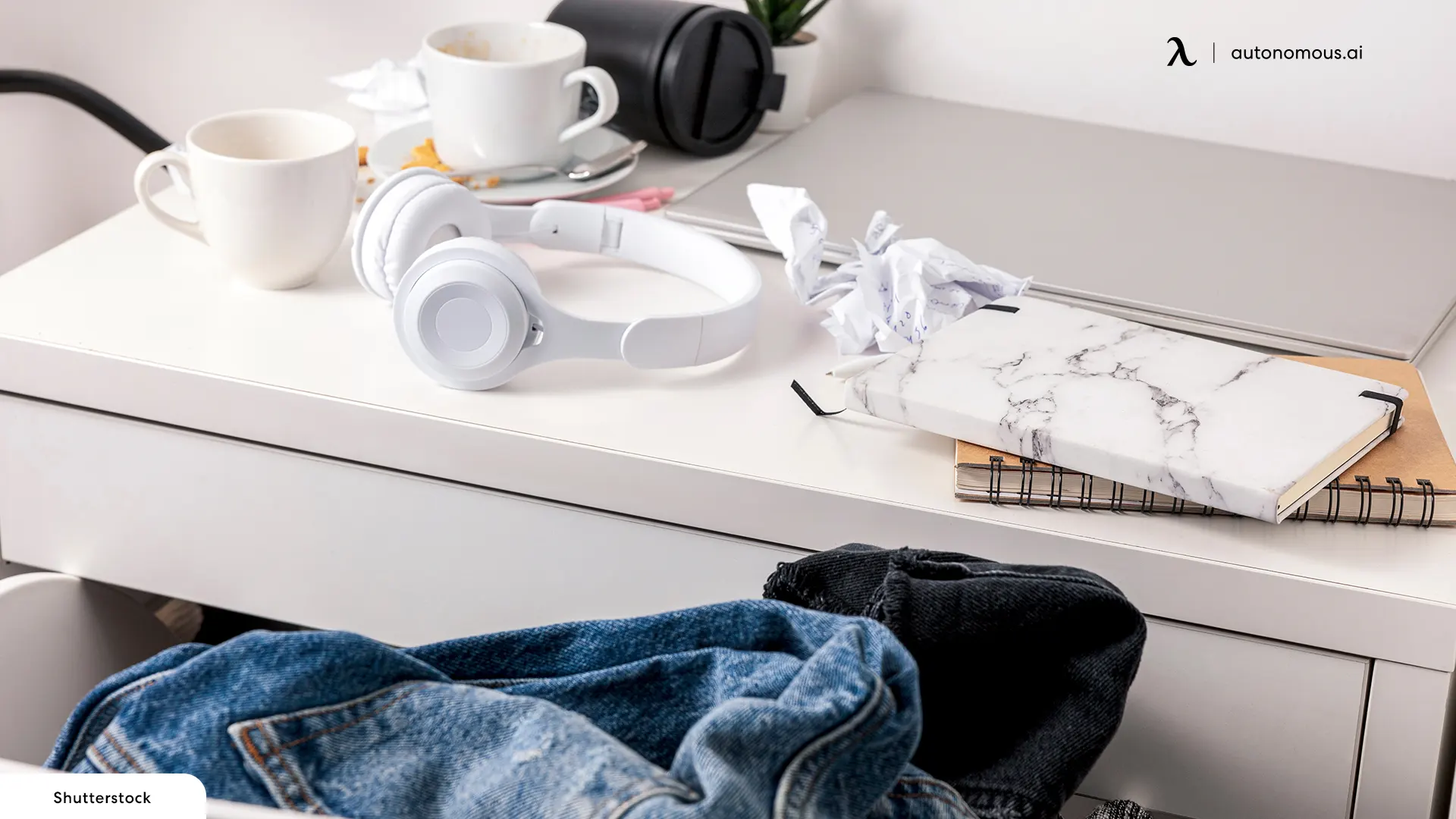 Conclusion
As per the 2023 feng shui office layout, there are some tricks and tips to achieve the perfect colored desk chairs and the right desk placement in the bedroom. In this article, we covered some of the best home office feng shui 2023 ideas for ample productivity. Hope this will help and give you some helpful information about feng shui in the home office.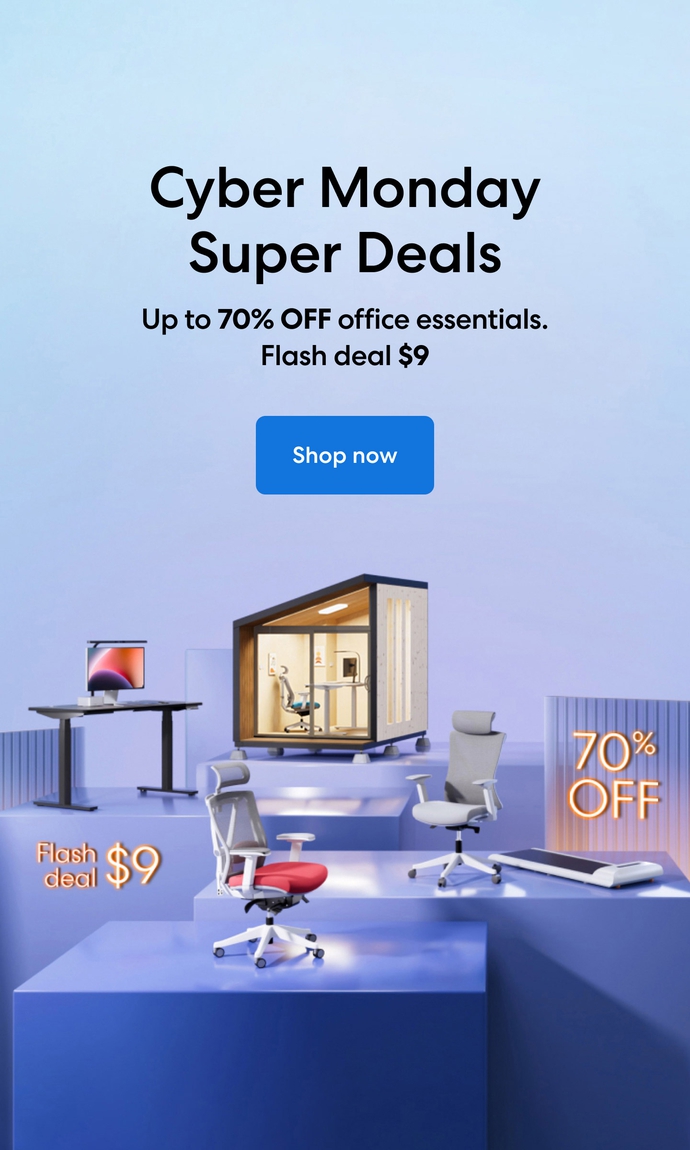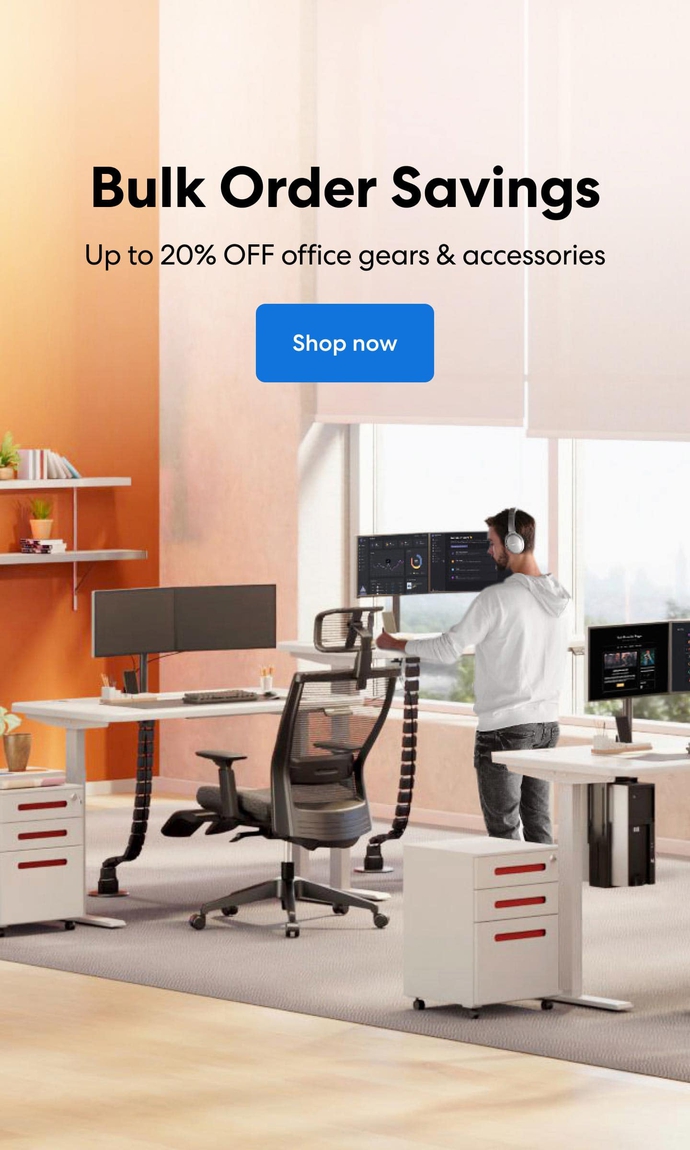 Subcribe newsletter and get $100 OFF.
Receive product updates, special offers, ergo tips, and inspiration form our team.