Workplace Inspiration
Where To Put A Desk In Bedroom: 7 Options
12,251 Views
You might have realized lately that it is pretty tough to manage a separate study room or home office due to certain restrictions caused by your living arrangements. Well, if that is the case, getting a desk for bedroom is all that you will need to do your work from home.
Being a remote worker, you would face a lack of productivity if you do not manage your workspace well. Have you been struggling with the idea of where should you put a desk for bedroom? If yes, you should be more than happy as we are here to guide you.
We understand that this decision is troublesome, as you have to evaluate certain factors and later create a desk for bedroom office plan to execute it successfully. There are several ingenious home-office plans available that provide you with an idea of how you can place an office desk in bedroom. However, before you go any further, it is vital to understand those factors that could affect your bedroom office layout.
7 Possible Locations for Desk Placement in Bedroom
Try to find the right spot for your desk by moving it from one corner of the room to another constantly? Having a desk for bedroom might be important to you, so maybe it's time to take a break and think about what matters to you.
Are you making videos or taking photos that need lots of natural light? What if you just need a place to study that is quiet? Are you a homeworker? Can you work on your hobby at a desk if you're okay with a little distraction?
Are there lots of natural lights for making videos and taking photos? If you are a student, do you just need a very quiet area to study in? Are you working from home? Perhaps you may use the desk just for occasional work or hobbies and wouldn't mind a little interruption? So where to put desk for bedroom? In our opinion, those include:
Opposite either side of the bed

Placing the

desk next to the bed or opposite the foot of the bed

Near the window

Closer to the door, but this depends on the space you have

Behind some wall, preferably a divider

Stored away in a closet or 'cloffice.'

Investing in a moveable desk that you can relocate around the on or house as is convenient

Installing a wall-mounted desk unit
1. Desk Next to The Bed
A place right next to your bed can be an ideal location if you are thinking of where to put a desk in a bedroom. This is among the most accessible places, so you can have peace of mind while working. However, this can be a little distracting, as you might feel the need to go to bed more often or spend too much time working; thus, having a bad sleeping pattern.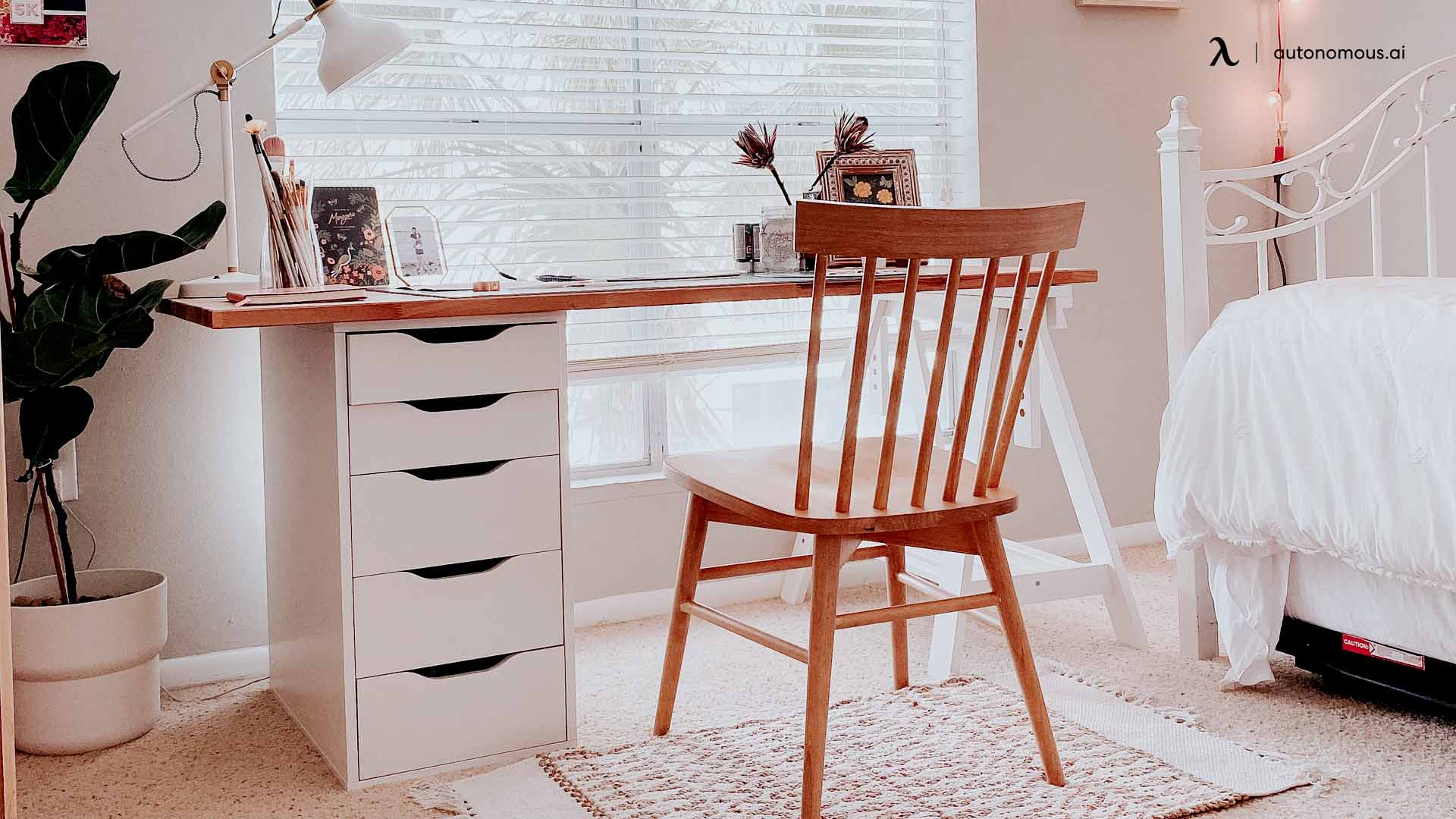 Pros of Placing Desk Next to The Bed
Cons of Placing Desk Next to The Bed
It can be possibly distracting.
2. Opposite the Bed
If you have a spacious bedroom, it is easier to place your desk opposite your bed. You can even keep an office standing desk here. This will not only take less space in your bedroom but will give you more opportunities to add versatility to your bedroom décor as well. Adding floating shelves can be a unique way of making your workspace more productive.
Pros of Placing Desk Opposite the Bed
Provides more opportunity to make your workspace aesthetic.
You can easily divide your room and separate your workspace.
Cons of Placing Desk Opposite the Bed
Usually takes up more space in a small bedroom.
3. In a Corner
Keeping a minimalist L-shaped desk in the corner of your bedroom can help you organize more stuff on your desk. Such a desk placement in bedroom is perfect for those people who get distracted easily, so they can manage their workspace conveniently in a corner.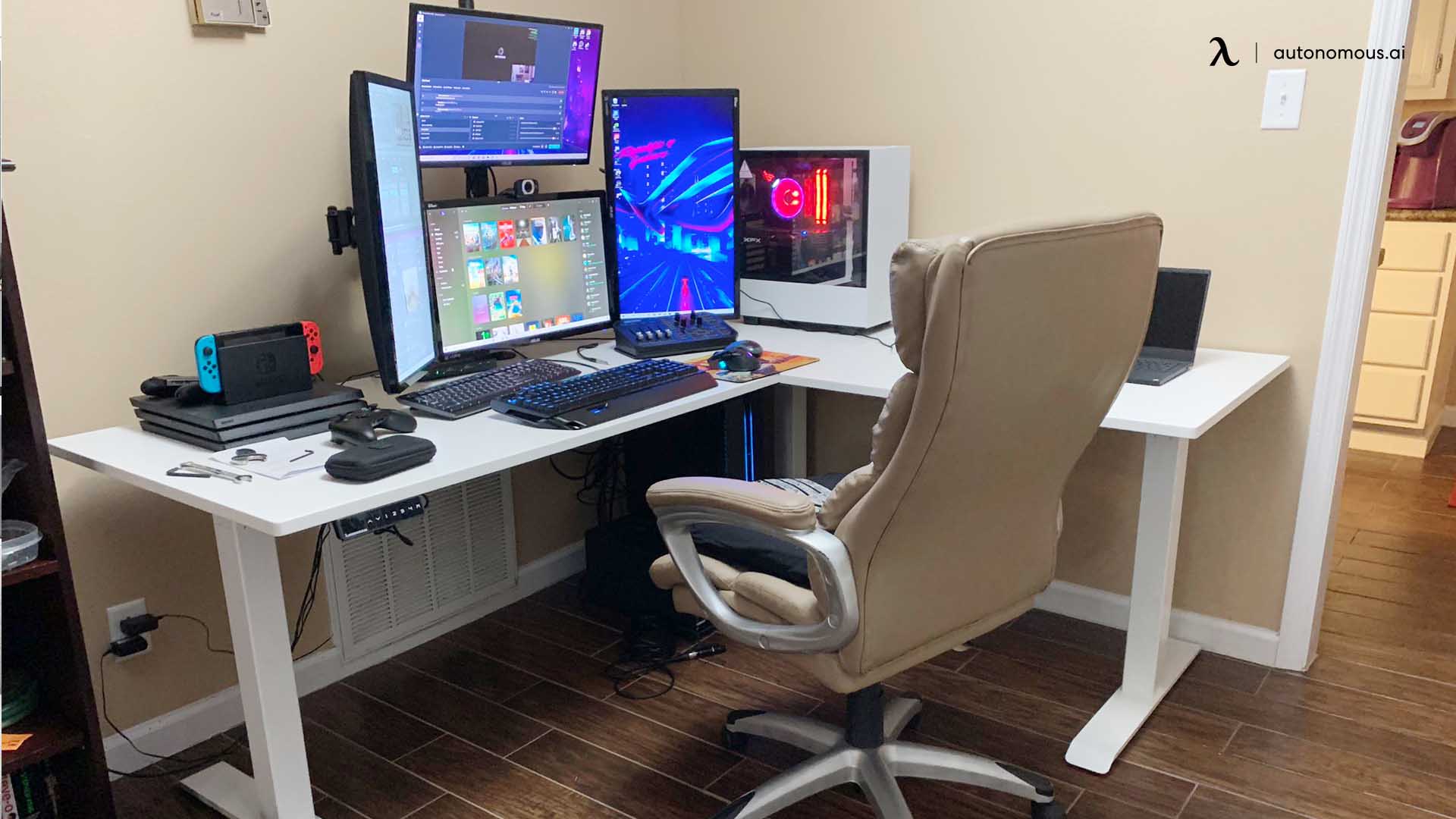 Pros of Placing Desk In a Corner
Helps you have a better focus.
Makes you more productive.
Cons of Placing Desk In a Corner
May have lighting issues, so you will need to install some bright full-spectrum lights for better visibility.
4. By the Window
The place by your window can be an ideal spot for your office or study desk for bedroom if you want a naturally lit space. This ultimate desk setup will help you get the natural light for your home office. Nevertheless, this can be a distracting spot as you constantly face people outdoors, and any vehicle noise can be distracting.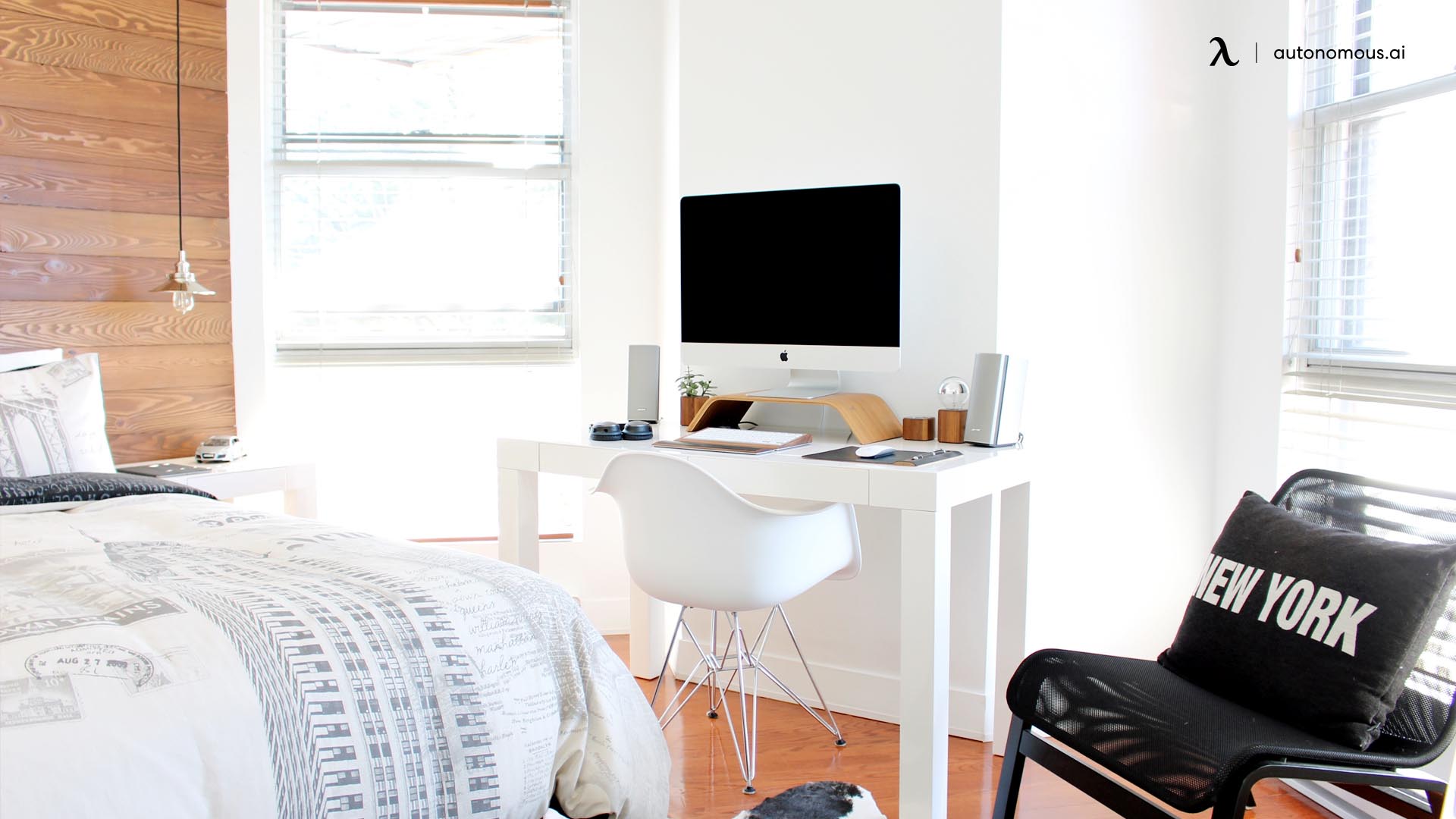 Pros of Placing Desk By the Window
There is plenty of natural light.
Your bedroom space does not get much occupied with such an arrangement.
Cons of Placing Desk By the Window
You may face a lot of distractions from the outside.
5. Nestled by a Wall
You may want to have a complete view of your room when you plan for the desk placement in the bedroom, so in such a situation, having your desk nestled by a wall would be perfect. You can align it perpendicularly, as in you get the view of the entire room. This arrangement can be a little claustrophobic if you face the wall and are not suitable for such an arrangement.
Pros of Placing Desk Nestled by a Wall
You may decorate the wall to make your workspace more productive.
Cons of Placing Desk Nestled by a Wall
Can be a little claustrophobic when facing the wall.
You may feel isolated.
6. Hideaway in The Closet
Placing your office desk in your closet can be a suitable choice if you are more comfortable working in quiet places. This mini office can boost your productivity; nevertheless, you will lose some significant space in your closet.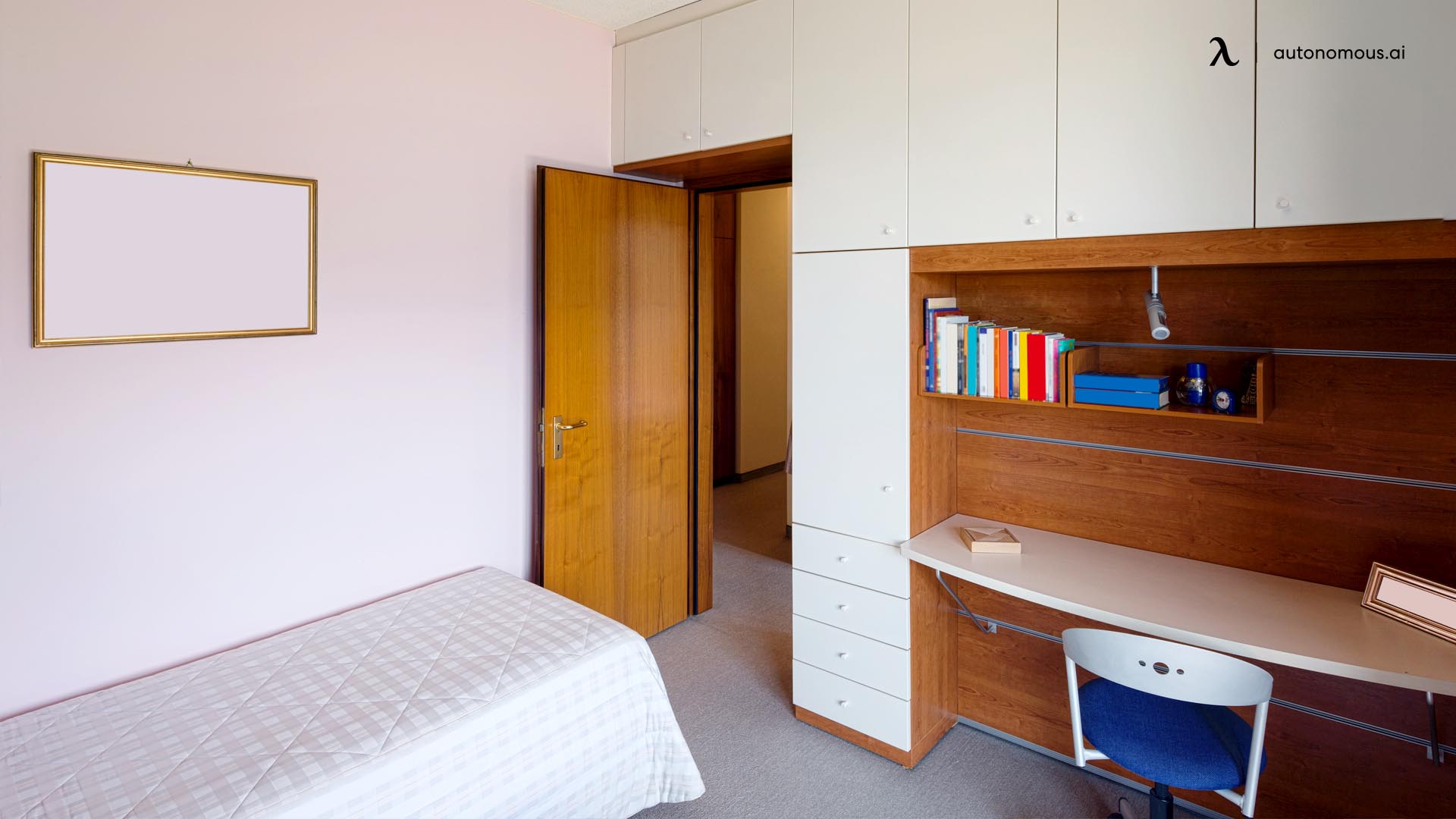 Pros of Placing Desk Hideaway in The Closet
Saves your bedroom space.
Cons of Placing Desk Hideaway in The Closet
Your closet's space gets occupied, giving you a lesser space for your clothes.
7. Get a Movable Workspace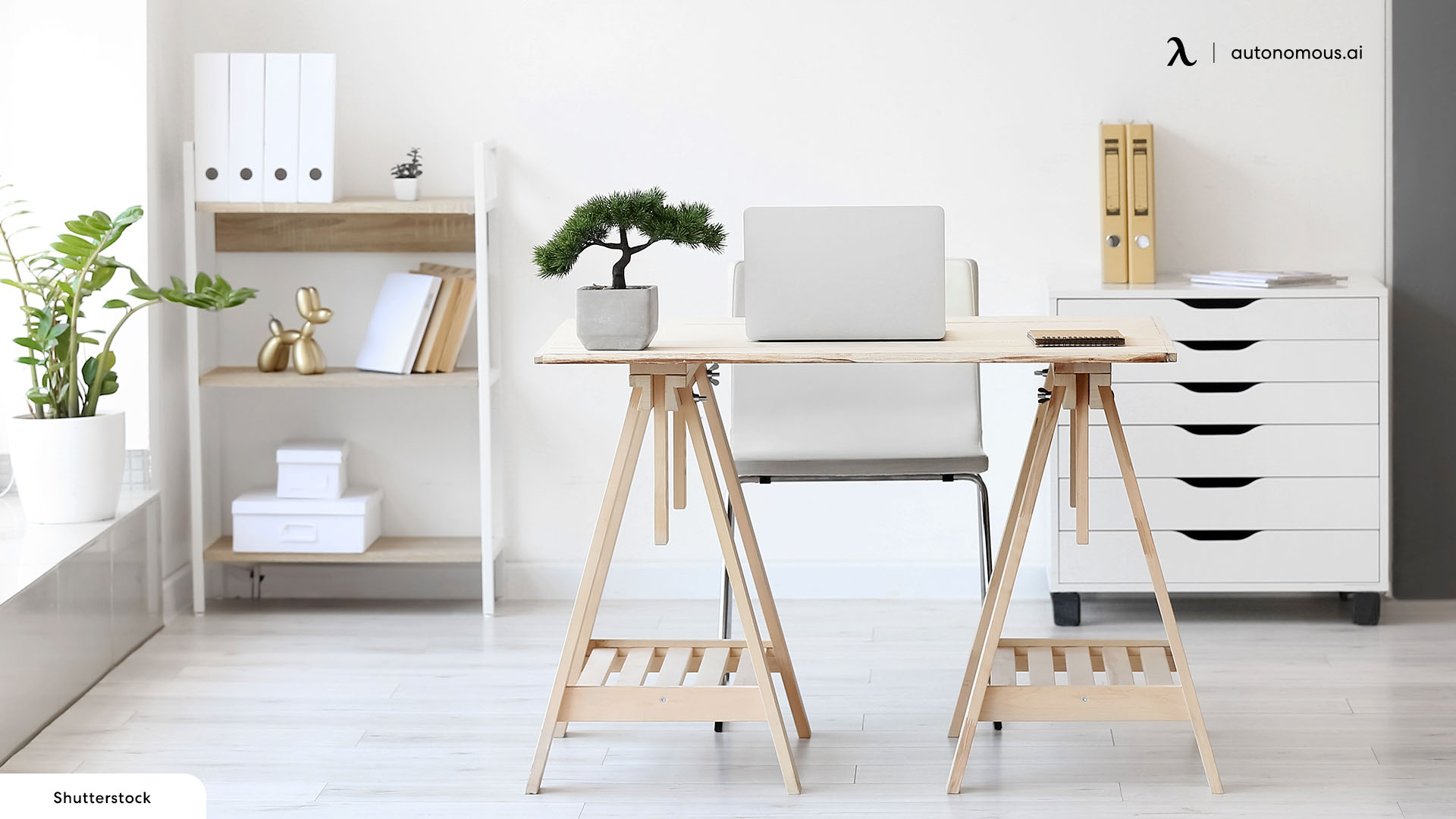 Consider getting a small movable desk for bedroom, preferably a foldable one, if you don't have enough room for one in your bedroom. This way, you can set up your workspace whenever you need it and then move it out of the way when you're not using it. You'll want a desk with plenty of storage options if you choose this desk placement in the bedroom option so that you can put your supplies away when you aren't using them.
Having the ability to move it out of the way when not in use saves a lot of space. A desk for a bedroom that can be easily moved from one room to another if you need to work in another room. As a result, you won't spend all your time in your bedroom working.
Workstations that move are usually neutrally colored to be used in any room. If your room isn't well designed, there are a few drawbacks. You might be discouraged, procrastinate, and ultimately end up less productive each time you set up your desk. In that case, the desk might not fit right. For example, the edges might jut out from behind the wall.
If you want to put your office in the bedroom, you have various options. However, none of these solutions are permanent. You should move your desk to a different spot if it doesn't feel comfortable at first. Do this until you find a position that feels right to you.
10 Desk Options for Bedrooms on Autonomous
Here are ten desk options that are ideal for a workspace or study corner in any bedroom. 
1. Autonomous CompactDesk Core
The first one on our list is the Autonomous CompactDesk Core. Since it has a compact design, it does not take up much space in your bedroom. However, it does provide you with enough desk space and mobility so that you can have an ergonomic work experience.
It is available in aesthetic grey, black, and white color.

It features electric dual motors for height adjustment.

It is designed to have a durable, solid steel frame.
2. Autonomous CompactDesk Pro
The Autonomous CompactDesk Pro is our second-best desk for bedroom. This desk gives you a greater height adjustment range and has a relatively large weightlifting capacity of 310lbs. The company has added upgraded motors in this variant to help you have a sleek work experience.
7-year warranty

It features a solid steel frame.

It features four programmable settings.
3. Autonomous SmartDesk Junior
If you are looking for a study desk for your bedroom, the Autonomous SmartDesk Junior can be your best pick. This small standing desk can fit in any bedroom space quite easily. This height-adjustable desk comes with a peg board and movable dowels, allowing the kids to adjust their shelves how they like.
A spacious drawer and an under-desk cable tray ensure your child's desk space stays clean and tidy. Overall, the desk is great for your kids to do their homework and enjoy their study time independently.
The desk comes in three different color combinations.

It has a weight capacity of 270lbs.

There is an anti-collision safety mechanism to ensure safety. 
4. Northread Standing Desk with Drawers: USB & Type C Charging Port
If you are a fan of minimalism, you will love having the Northread Standing Desk with Drawers: USB & Type C Charging Ports. This desk in rooms features an under-desk drawer to help you organize your accessories. There are also USB and type C charging ports on the desk to facilitate device charging facilities.
2-year warranty

It features a single electric motor for height adjustment.

It comes with a weightlifting capacity of 130lbs. 
5. ApexDesk CompactDesk: Touchscreen Control & USB Charging Port
If you want to have a stylish work corner in your bedroom, you should definitely get the ApexDesk CompactDesk for your bedroom desk setup. This glass-top office desk has a sleek design. It comes with touchscreen controls and a USB charging port to make your life easier. The touchscreen controls make height adjustments simple, while the USB charging port lets you charge your mobile or any other device while you work.
It features a press lock drawer to organize the desk minimally.

It can lift up to 130 lbs.

The tabletop is 47-inches long and 23-inches wide. 
6. EUREKA Ultra Long CompactDesk: Programmable Keypad
EUREKA Ultra Long CompactDesk is an ideal desk for the bedroom. Since this desk is only 47-inches long, it doesn't take up much space in your room. So, maintaining your office tasks from your bedroom will be an easy-peasy task.
The desk comes with an anti-collision sensor to improve safety.

It can lift up to 265lbs.

Four customizable height settings. 
7. The Office Oasis Premium Small Computer Desk: Built to Last
The Office Oasis Premium Small Computer Desk is one of the sturdiest desks in our listing. Although this desk is not height adjustable, it can be a great fit for a bedroom desk setup. The desk comes in three vibrant colors: teak, black, and pear. Overall, this desk is sturdy enough to last a lifetime.
A cable organization tray is underneath the desk to help you avoid clutter.

The desk comes with leveling feet to be gentle on floors.

The tabletop is made using anti-scratch and waterproof material.
8. Wistopht CompactDesk Starter: Anti-Collision & USB Ports
If you wish to plan a bedroom desk setup, the Wistopht CompactDesk Starter: Anti-Collision & USB Ports is a considerable choice too. This desk comes with light wood and dark wood tabletops in addition to the typical black and white choices. Therefore, you can select your desirable tabletop to complement your bedroom furniture. Overall, the desk has advanced features to upgrade your remote work or studying experience.
It features a control box that contains two USB ports.

The desk's height is electrically adjustable.

The tabletop doesn't have pre-drilled holes. 
9. FinerCrafts Standing Desk: Curved Top
The FinerCrafts Standing Desk is a premium standing desk option for a bedroom desk setup. This heavy-duty desk is available in six colors and has a ten-year warranty. Its powerful dual motors make it convenient for the users to adjust its height. Overall, the desk is designed using materials that are durable enough to last long.
The desk comes with a solid steel frame.

It can lift up to 350lbs.

The desk comes with pre-drilled holes to let you assemble it conveniently. 
10. Mount-It! Rolling Computer Workstation with Monitor Mount
Mount-It! Rolling Computer Workstation is a mobile height-adjustable desk. You can conveniently move this desk from one corner of your room to another or any other place that you like. Since this small desk features a built-in monitor mount as well, you can conveniently affix your monitor here and adjust it the way you like. Overall, this desk offers a unique work experience.
It features a high-end desk frame.

It comes in black and silver color.

There are multiple shelves to accommodate your PC peripherals.
Factors Affecting an Office Desk Placement in Bedroom
Space Occupied
Looking for how much maximum space that you have available in your bedroom for a desk is among the foremost aspects that need to be evaluated. You might have a small space; then, you better align your choices to compact a home office desk. Such desks are smart desks and have adjustable heights. They are available in various sizes, so you have the choice of picking the one that fits the space.
Electrical Outlets Availability
Since you have to charge your electronic devices such as your PC or mobile, or might have to connect some other equipment, it is ideal that you choose that corner of your room where the power supply board is available. It becomes easier to manage your tasks efficiently in that way.
Lighting
Your focus is highly impacted by the availability of light under which you're working. Bedrooms are often poorly lit to give a cozy and relaxing environment. Nevertheless, when you are bringing a desk for bedroom, it will be better to ensure your workspace is well lit, either naturally or artificially, as this affects your productivity.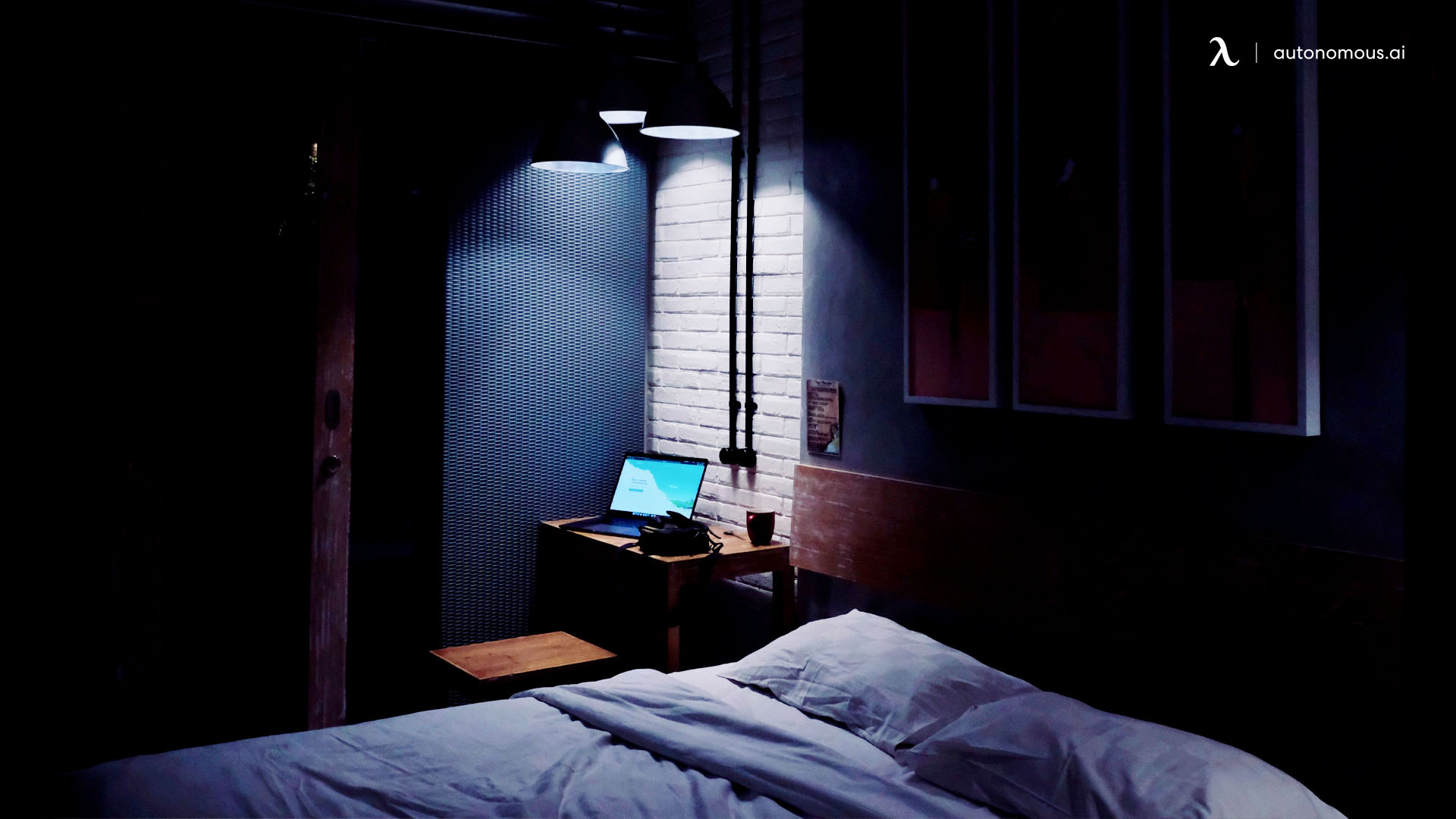 Shared Walls
Your mood and work attitude can be highly impacted by the walls which your work desk shares. Bright colors or some soothing color like seafoam blue will help to keep you happy; thus, it will improve your focus. If the wall has some shelves, it is easier to manage documents and organize desk accessories.
The abovementioned factors affect your bedroom office layout plan and also affect your productivity. Once you are all set to efficiently plan the layout for your home office's desk placement in bedroom, it is significant that you understand how the location of your desk in your bedroom can affect your work.
To help you better evaluate where to put a desk in small bedroom, we have shared all possible locations and discussed the pros and cons of each.
Feng Shui of Office Desk for Bedroom
Being mindful of where your desk is located is a good idea since your desk represents your career and work. As a general rule, a bedroom office layout is not the ideal place for a workspace since a bed right next to you makes it difficult to focus. Being in the bedroom can shift the mood from restful to stressful since it should be a relaxing, rejuvenating space. Consequently, bringing work into the bedroom can adversely affect sleep.
Some people, however, need a desk here if there is limited space or if they live with roommates. Right now, your desk is in your bedroom, and you do not have the option of moving it. There are always ways to make the most of your current situation, and Feng shui gives us tools to shift the energy in our spaces.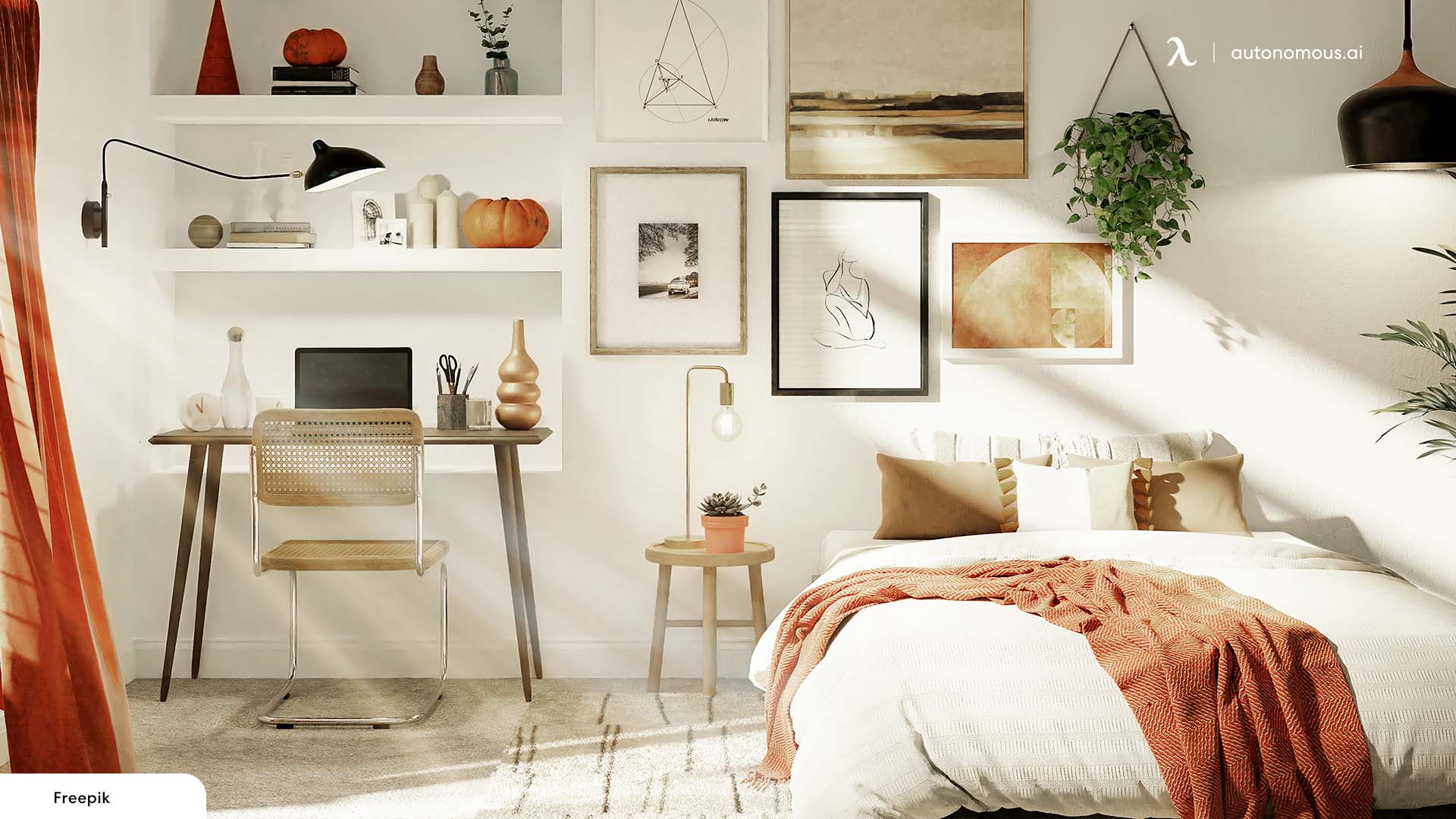 Using the space, you have
Feng shui isn't about deciding what's good or bad about your house. As an alternative, we recommend being curious to observe what you notice in your home and using what you have. A feng shui office layout can help you balance the energy to support you more effectively, so you need not fear a desk in your bedroom creating "bad" energy.
You might want to consider using the bedroom as a separate work and relaxation area if you need to have your feng shui desk there. Work zones are where your desk and the computer will be, as well as any work materials you wish to keep. Ideally, you will have your desk as your relaxation zone, where you can sleep, read, or relax with someone.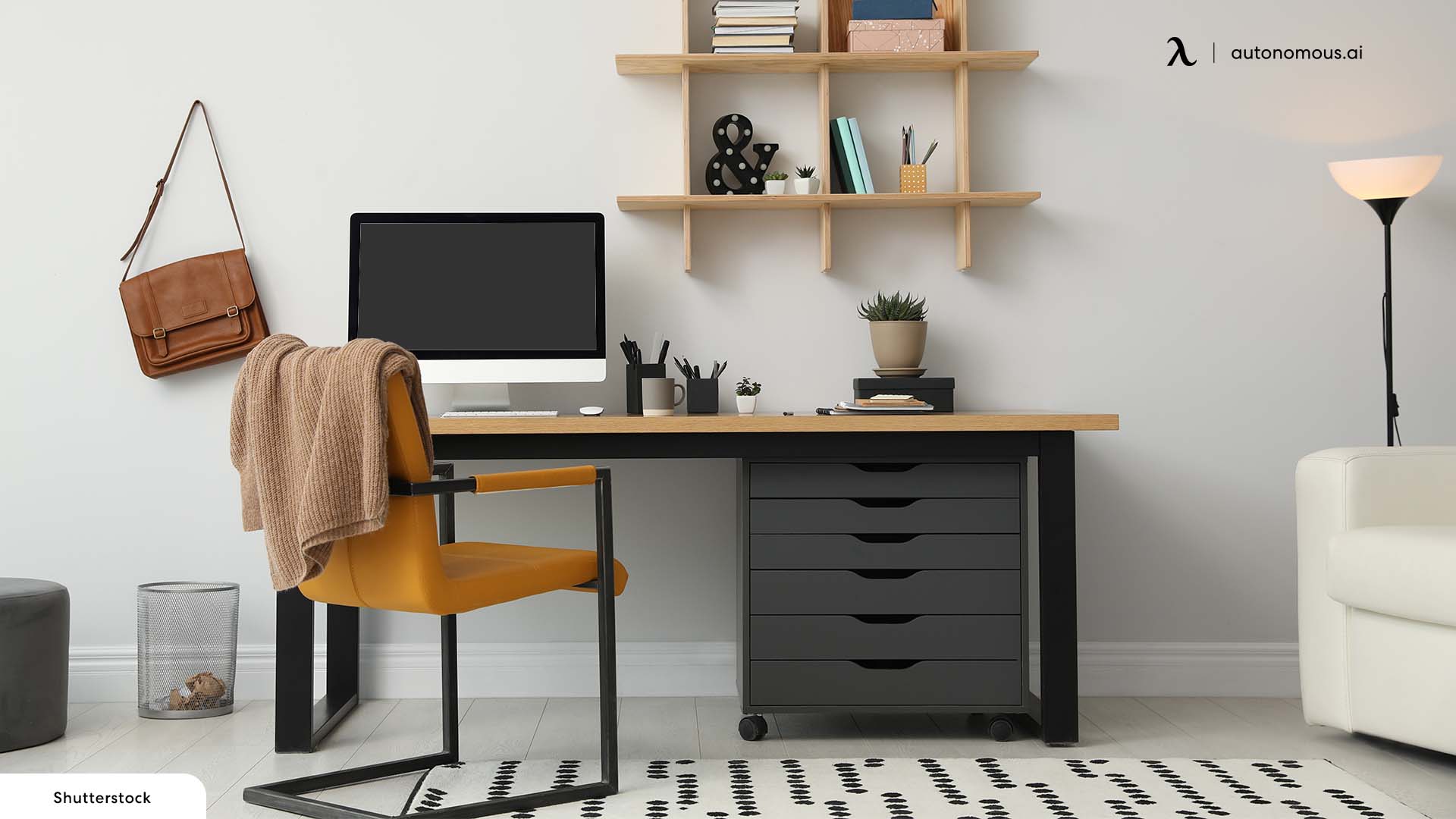 Placing your desk
Try to position your desk as commandingly as possible. In a commanding position, you will be able to see the door or entrance to your bedroom while you are seated at your desk. You will feel more in control of your career by controlling your work and productivity.
A commanding position may not always be possible, depending on the size and layout of your bedroom. Using a small mirror, you can reflect the door behind you if this is the case. Make sure the mirror is positioned to see the door reflected in the mirror by placing it in front of your computer monitor or on the wall you will be facing.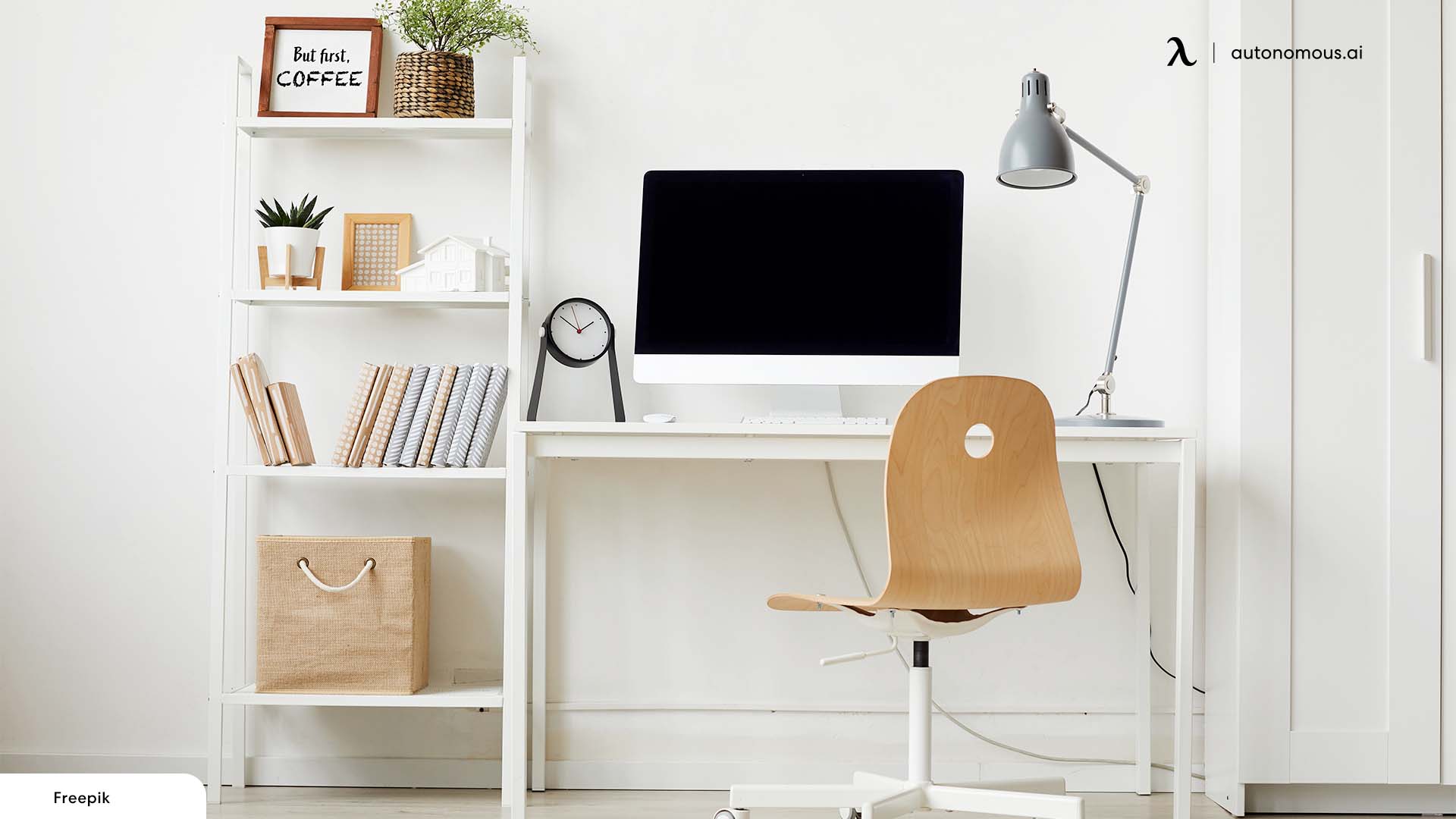 Importance of Ergonomic Element for Desk Placement
It is vital to your health and productivity to have an ergonomic workspace, whether you're in the office or working from home. Having the right ergonomic chair, developing good posture while sitting, and avoiding poor computer posture are three concepts that we believe should be considered when designing your work environment and habits so that you avoid repetitive strain injuries, such as carpal tunnel syndrome.
An efficient home office starts with your desk - and that desk can be the most expensive part! You could make a good-looking desk that has enough space from a countertop, trimmed to the right height if you're on a tight budget.
An ergonomic feng shui office layout with a window isn't so much about the cost as it is about physical comfort. Consider these factors of your desk: storage, height, available space, and depth. Such factors must accommodate all your height and needs. To get your ergonomic desk measurement right, determine the desk depth, elbow height range, eye to screen distance, and the seat height you're most comfortable with.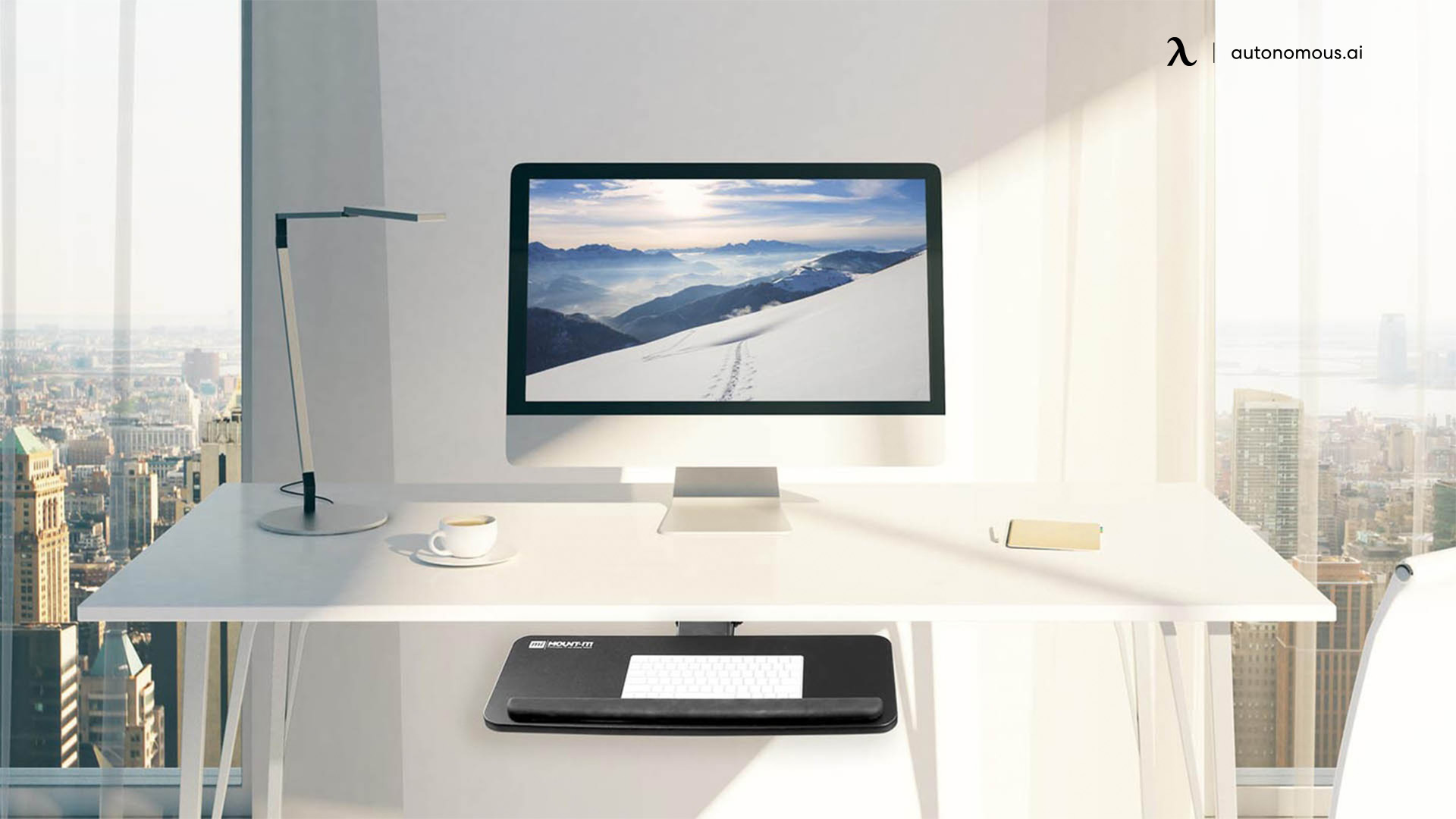 You should test out several desks to find the one that best suits your body, work style, and office layout; no mathematical formula is perfect. Also, you may be thinking of getting a sit-to-stand office desk for your home office. According to studies, standing desks are great for physical wellness and productivity.
Endnote
Efficient planning before placing your home office or study desk for bedroom plays a vital role. You would have gotten an idea about every possible spot for the desk placement in bedroom by now, so you can boost your productivity by choosing the spot that suits you best.
Subcribe newsletter and get $100 OFF.
Receive product updates, special offers, ergo tips, and inspiration form our team.
WRITTEN BYAutonomous
We build office products to help you work smarter.