You might have realized lately that it is pretty tough to manage a separate study room or home office due to certain restrictions caused by your living arrangements. Well, if that is the case, getting a desk in bedroom is all that you will need to do your work from home.
Being a remote worker, you would face a lack of productivity if you do not manage your workspace well. Have you been struggling with the idea of where should you put a desk in bedroom? If yes, you should be more than happy as we are here to guide you.
We understand that this decision is troublesome, as you have to evaluate certain factors and later create a bedroom office plan to execute it successfully. There are several ingenious home-office plans available that provide you with an idea of how you can place an office desk in bedroom. However, before you go any further, it is vital to understand those factors that could affect your bedroom office layout.
Factors Affecting an Office Desk Placement in Bedroom
Space Occupied
Looking for how much maximum space that you have available in your bedroom for a desk is among the foremost aspects that need to be evaluated. You might have a small space; then, you better align your choices to compact a home office desk. Such desks are smart desks and have adjustable heights. They are available in various sizes, so you have the choice of picking the one that fits the space.
Electrical Outlets Availability
Since you have to charge your electronic devices such as your PC or mobile, or might have to connect some other equipment, it is ideal that you choose that corner of your room where the power supply board is available. It becomes easier to manage your tasks efficiently in that way.
Lighting
Your focus is highly impacted by the availability of light under which you're working. Bedrooms are often poorly lit to give a cozy and relaxing environment. Nevertheless, when you are bringing a desk in bedroom, it will be better to ensure your workspace is well lit, either naturally or artificially, as this affects your productivity.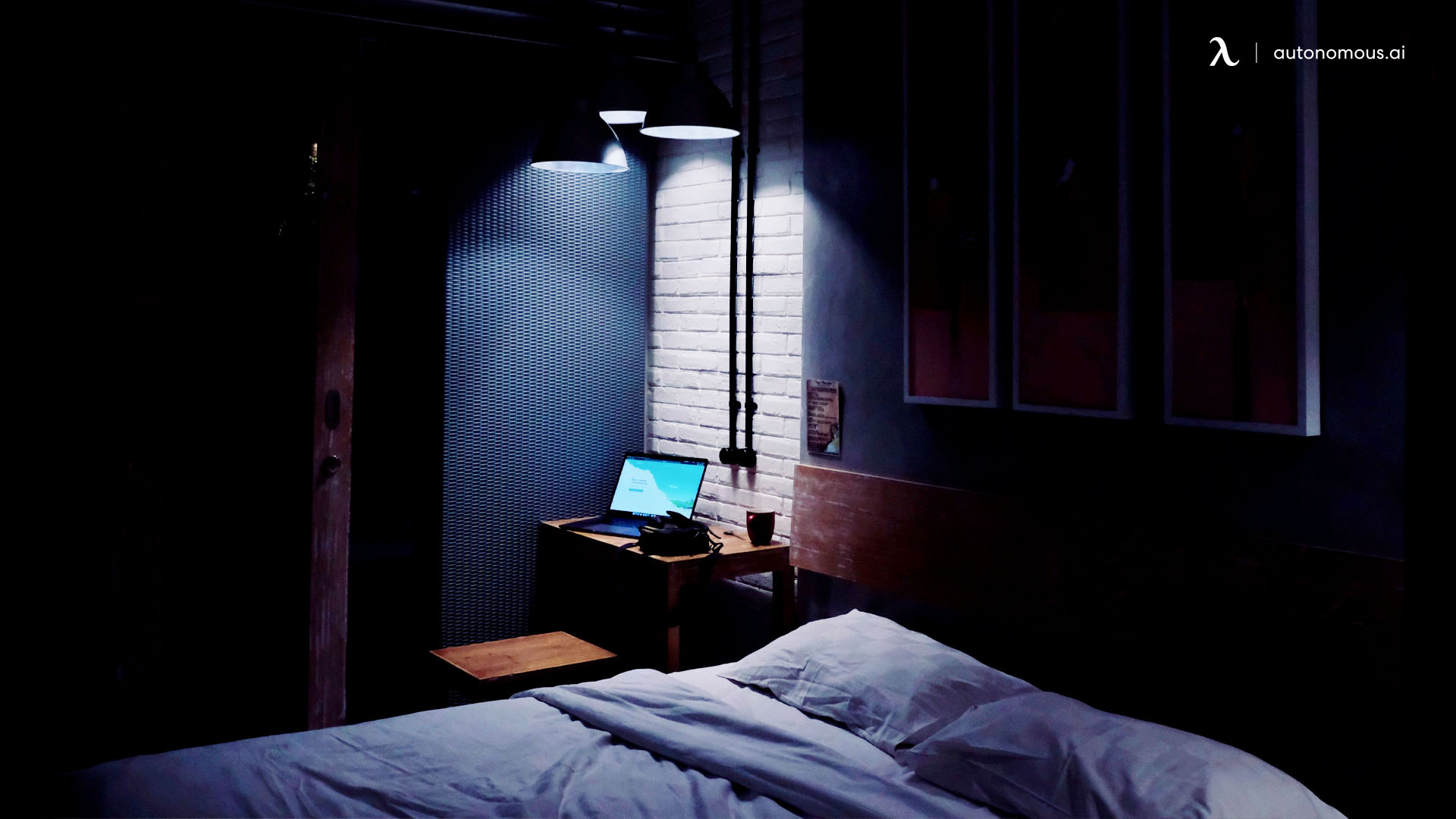 Shared Walls
Your mood and work attitude can be highly impacted by the walls which your work desk shares. Bright colors or some soothing color like seafoam blue will help to keep you happy; thus, it will improve your focus. If the wall has some shelves, it is easier to manage documents and organize desk accessories.
The abovementioned factors affect your bedroom office layout plan and also affect your productivity. Once you are all set to efficiently plan the layout for your home office's desk placement in bedroom, it is significant that you understand how the location of your desk in your bedroom can affect your work.
To help you better evaluate where to put a desk in small bedroom, we have shared all possible locations and discussed the pros and cons of each.
6 Possible Locations for Desk Placement in Bedroom
1. Next to The Bed
A place right next to your bed can be an ideal location if you are thinking of where to put a desk in a small bedroom. This is among the most accessible places, so you can have peace of mind while working. However, this can be a little distracting, as you might feel the need to go to bed more often or spend too much time working; thus, having a bad sleeping pattern.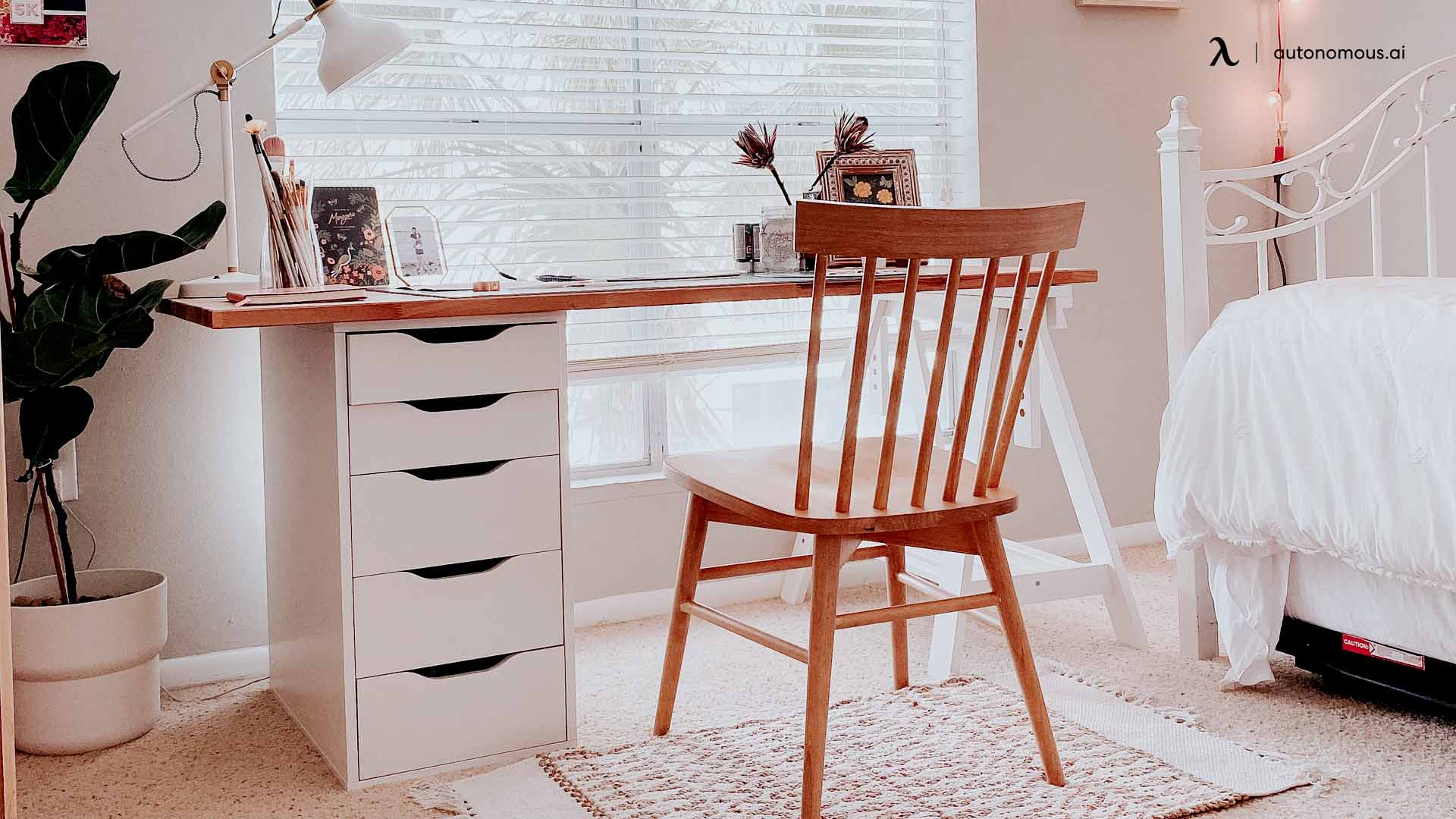 Pros and Cons of Placing Desk Next to The Bed
Easily accessible
It can be possibly distracting.
2. Opposite the Bed
If you have a spacious bedroom, it is easier to place your desk opposite your bed. You can even keep an office standing desk here. This will not only take less space in your bedroom but will give you more opportunities to add versatility to your bedroom décor as well. Adding floating shelves can be a unique way of making your workspace more productive.
Pros and Cons of Placing Desk Opposite the Bed
Provides more opportunity to make your workspace aesthetic
You can easily divide your room and separate your workspace
Usually takes up more space in a small bedroom
3. In a Corner
Keeping a minimalist L-shaped desk in the corner of your bedroom can help you organize more stuff on your desk. Such a desk placement in bedroom is perfect for those people who get distracted easily, so they can manage their workspace conveniently in a corner.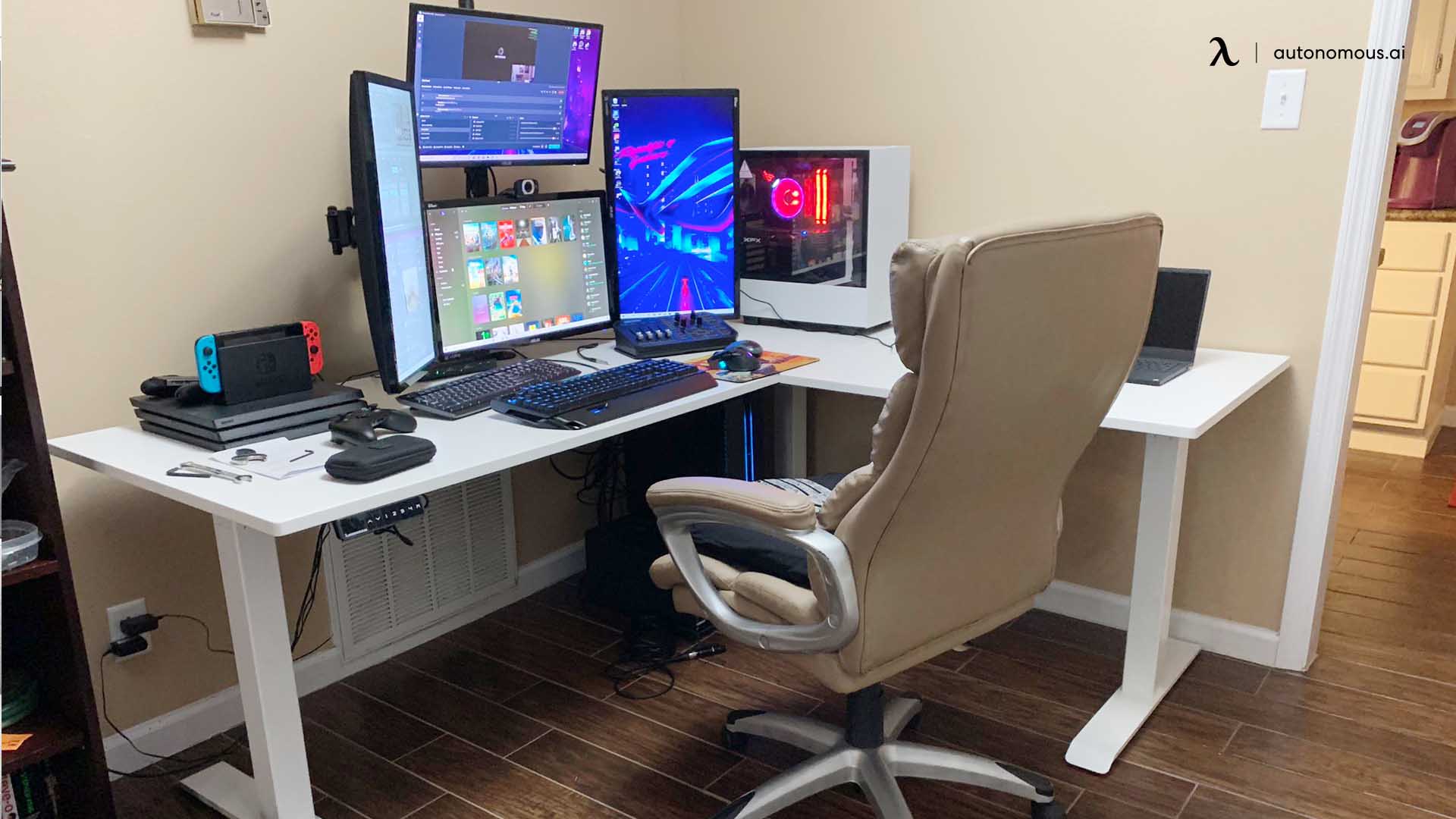 Pros and Cons of Placing Desk In a Corner
Helps you have a better focus
Makes you more productive
May have lighting issues, so you will need to install some bright full-spectrum lights for better visibility
4. By the Window
The place by your window can be an ideal spot for your office desk in bedroom if you want a naturally lit space. This ultimate desk setup will help you get the natural light for your home office. Nevertheless, this can be a distracting spot as you constantly face people outdoors, and any vehicle noise can be distracting.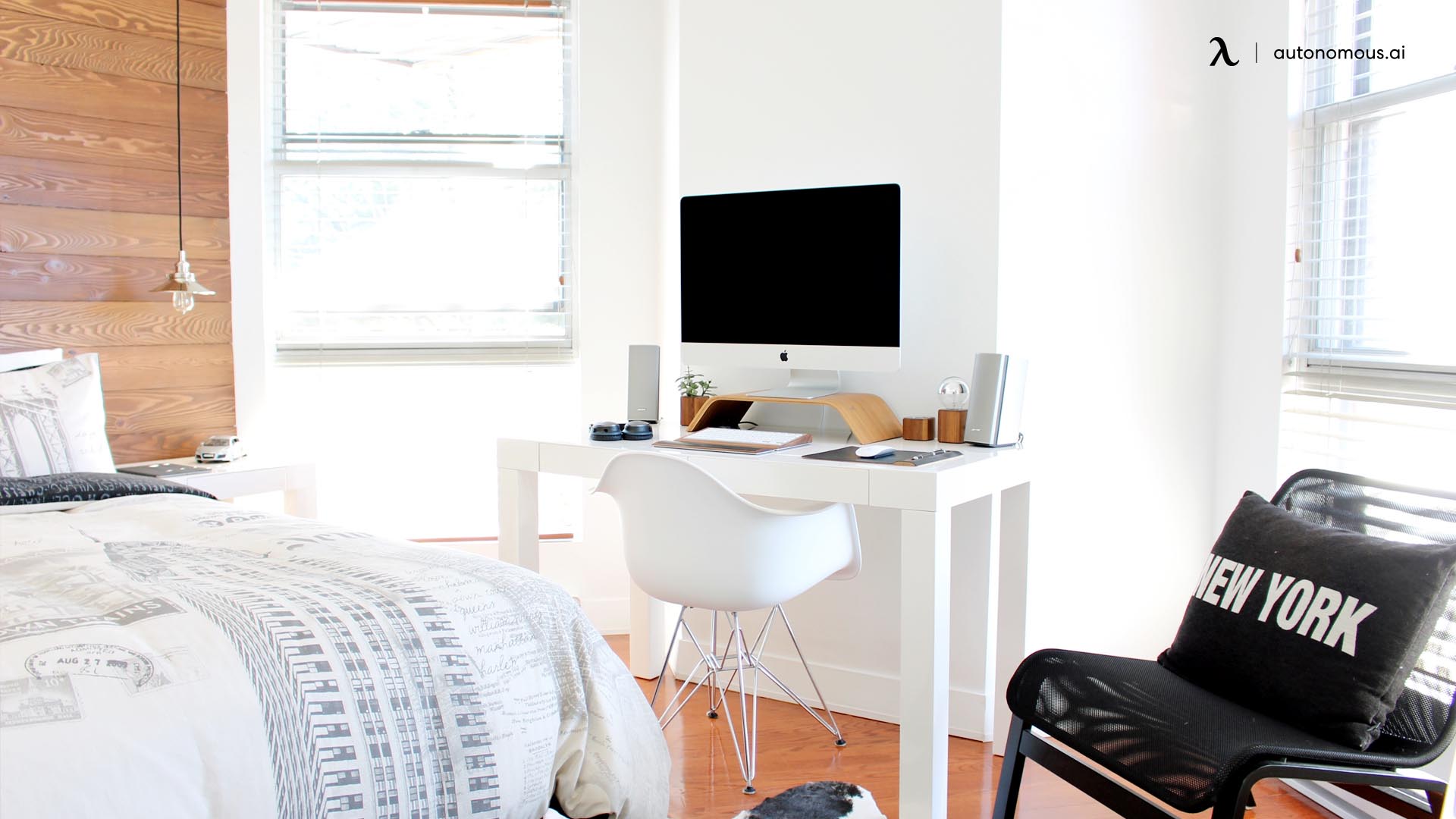 Pros and Cons of Placing Desk By the Window
There is plenty of natural light.
Your bedroom space does not get much occupied with such an arrangement.
You may face a lot of distractions from the outside.
5. Nestled by a Wall
You may want to have a complete view of your room when you plan for the desk placement in the bedroom, so in such a situation, having your desk nestled by a wall would be perfect. You can align it perpendicularly, as in you get the view of the entire room. This arrangement can be a little claustrophobic if you face the wall and are not suitable for such an arrangement.
Pros and Cons of Placing Desk Nestled by a Wall
You may decorate the wall to make your workspace more productive.
Can be a little claustrophobic when facing the wall
You may feel isolated.
6. Hideaway in The Closet
Placing your office desk in your closet can be a suitable choice if you are more comfortable working in quiet places. This mini office can boost your productivity; nevertheless, you will lose some significant space in your closet.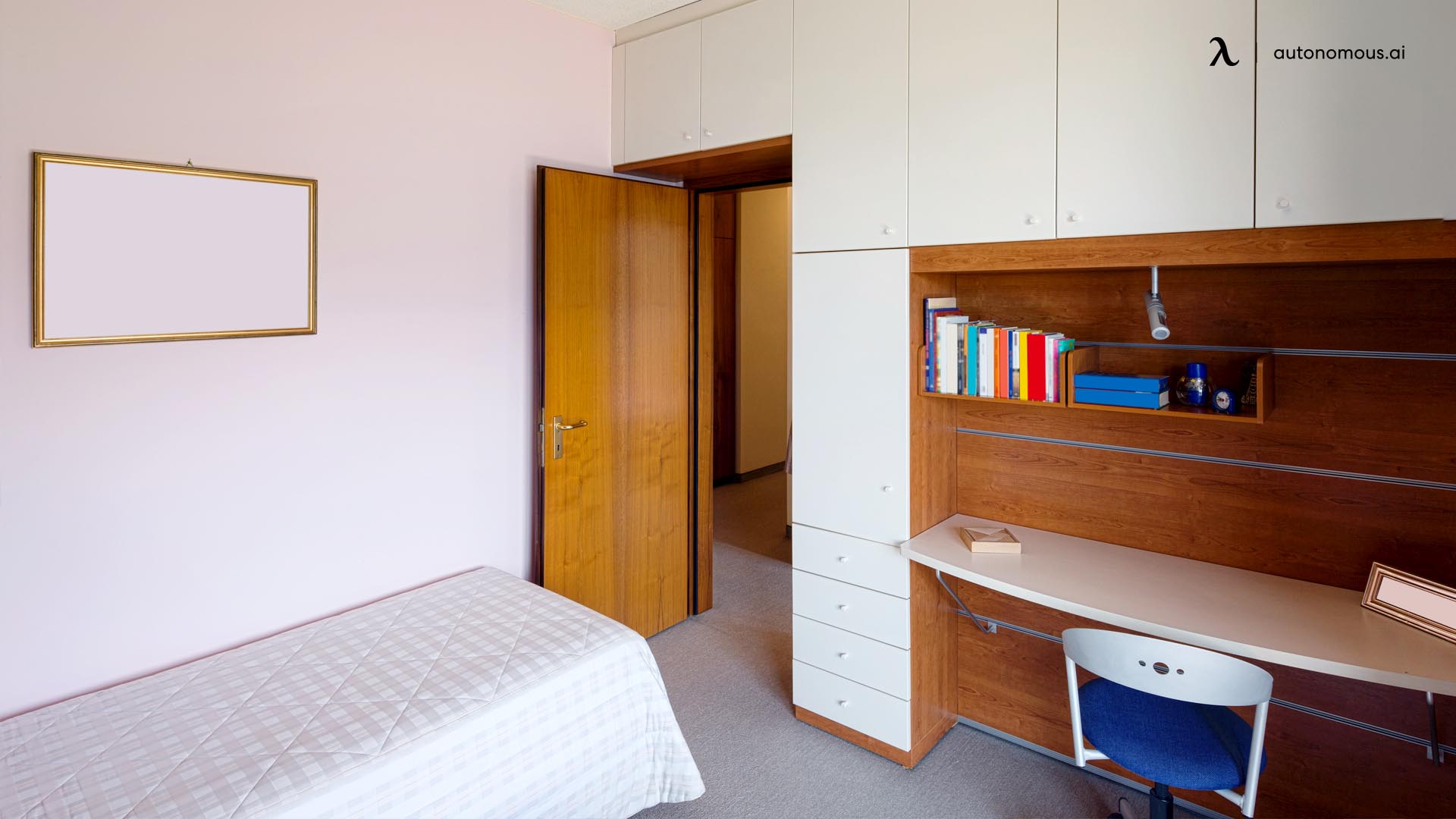 Pros and Cons of Placing Desk Hideaway in The Closet
Saves your bedroom space
Your closet's space gets occupied, giving you a lesser space for your clothes.
Endnote
Efficient planning before placing your home office desk in bedroom plays a vital role. You would have gotten an idea about every possible spot for the desk placement in bedroom by now, so you can boost your productivity by choosing the spot that suits you best.
Get exclusive rewards
for your first Autonomous blog subscription.

WRITTEN BYAutonomous
We build office products to help you work smarter.
Coming at You Live from Autonomous' Social Media!
Please fill the information below.
Thank you!