The importance of cleaning your homes and workplaces, etc., is pretty evident. But most of us confuse cleaning with just cleaning the surfaces, ignoring that cleaning the air we all breathe in is as important as the surfaces and other spaces. But why is it so? The air is full of pollutants, viruses, bacteria, and other health-hazardous particles that cause many issues like asthma, etc. To make the air clean, experts have created air purifiers. If you search out online or visit any store, you will find plenty of options available. But what is the best air purifier for the home? Do all of them offer the same level of efficiency and effectiveness?
No, all office and home air purifiers are not created equal. In this article, we have rounded up the top 5 best air purifiers for you. Know about their pros and cons and buy a guide in the coming paragraphs.
1. X3 Air Purifier by Airdog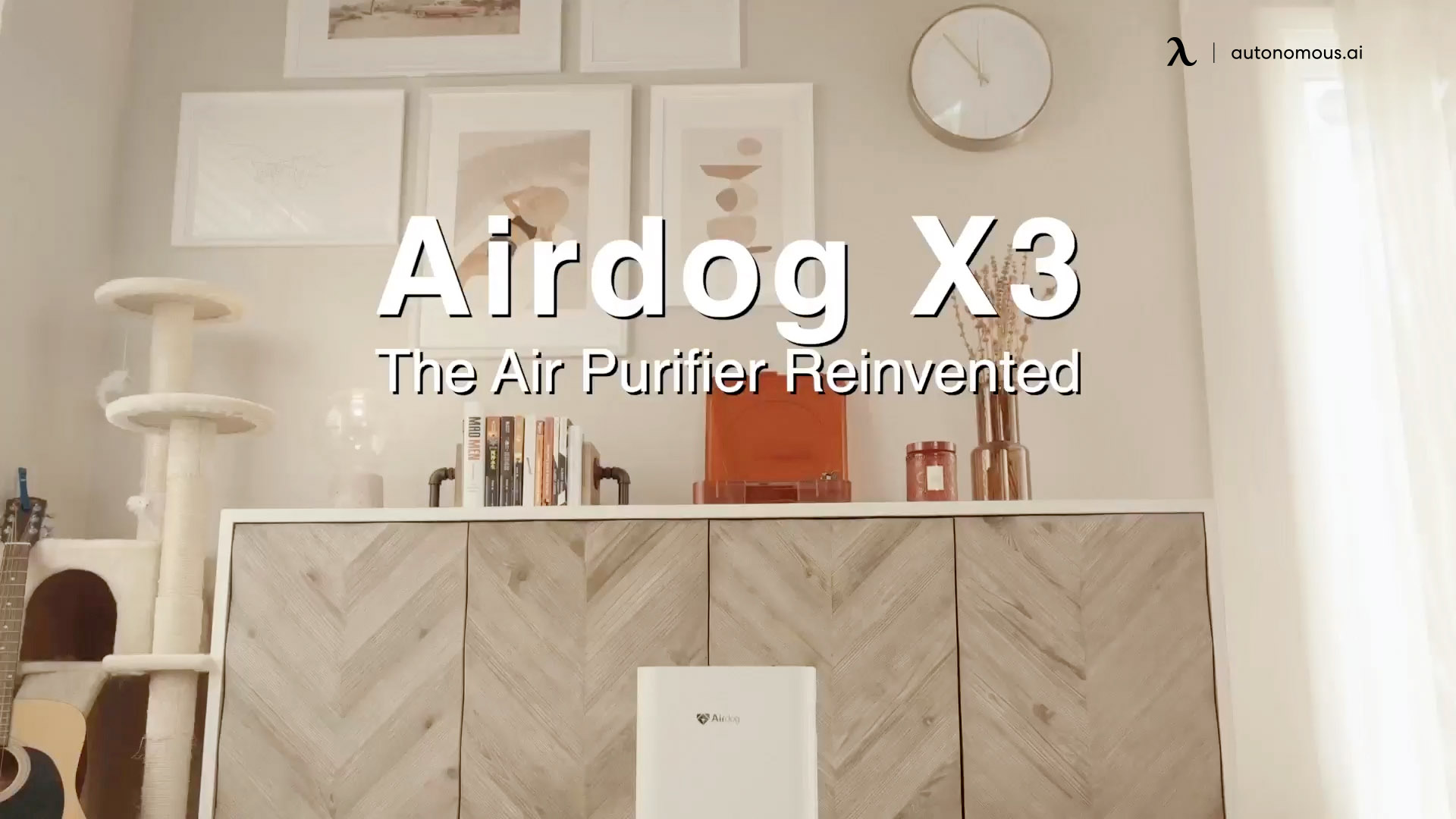 The X3 Airdog air purifier has been designed with powerful TPA technology. This top air purifier for home has a compact form factor 6 times smaller than most of the other air purifiers. Besides, its filters are reusable. Just simply wash them and put them back. So, say bye to the expensive replacement filters. Also, it has a super quiet motor and auto-adjusts the performance. You can also conveniently connect it with app control in both Android and iOS.
Pros and Cons of X3 Air Purifier
The filters of the X3 Airdog air purifier are dishwasher safe. So, you can also wash them in the dishwasher.
It comes with 4 different filter steps to boost its efficiency.
This best air purifier for home use does not trap viruses and bacteria. Instead, it uses an electric field to kill them.
The X3 has the lowest maintenance cost. It has a washable primary filter plate, while you can refresh its carbon filters in direct sunlight.
You cannot readily get units in the early crowd-funding and production stages.
What Makes X3 Airdog Air Purifier One of the Best Air Filters for Your Home?
There are a lot of reasons for this that include it's easy to carry and beautiful structure, the Two Pole Active (TPA) technology, convenient controls, and much more. Its effectiveness has also been proven through various studies and tests, etc. So, with this air purifier, you will surely have clean air to breathe in.
2. X5 Airdog Air Purifier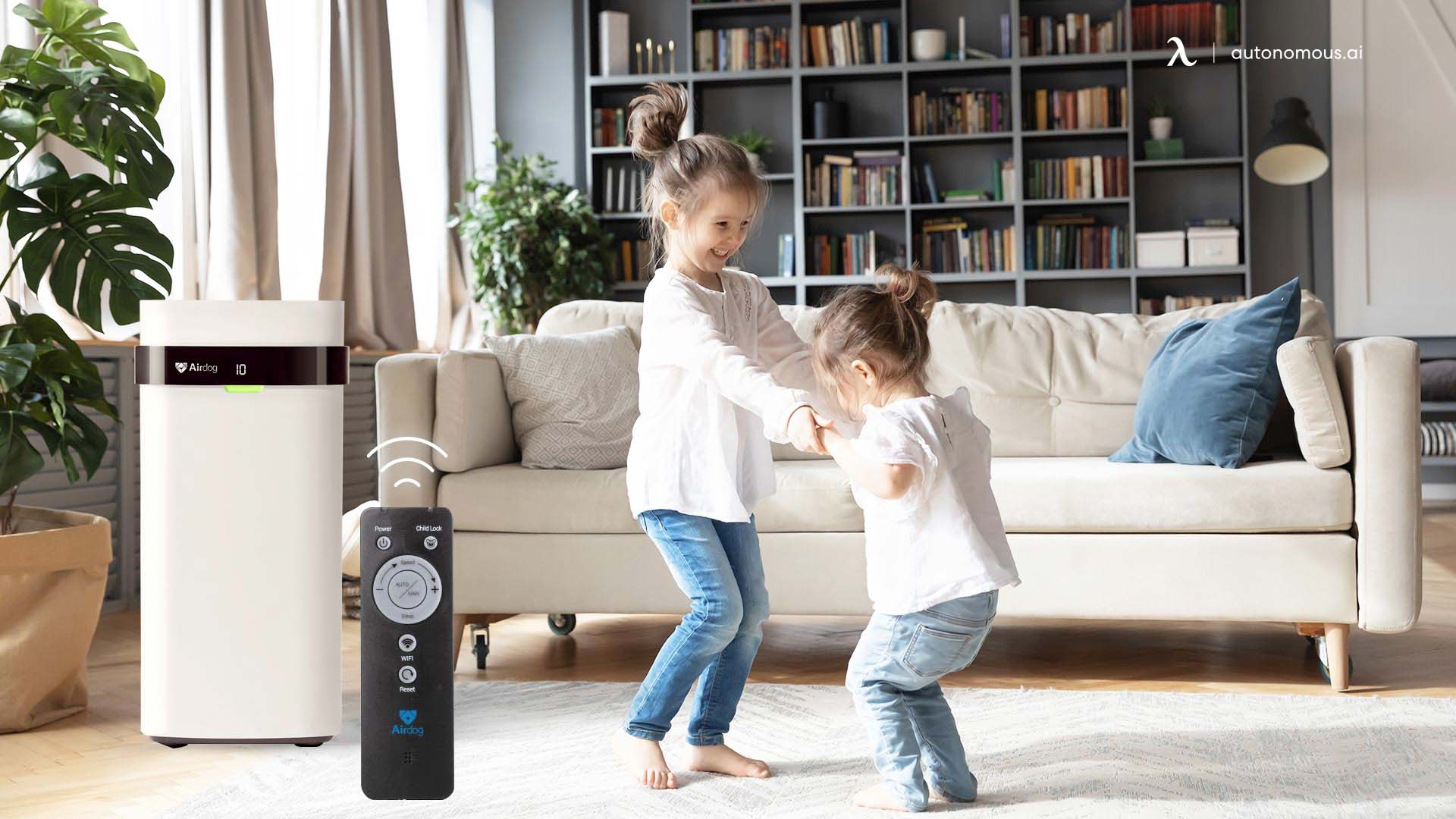 This is another best air purifier for home. Another highly effective and efficient air purifier, the X5, is something you should not miss. This top air purifier for home is known for various reasons, and its efficient performance, easy-to-wash design, reusable filters, and patented TPA technology are a few of them. Besides, the X5 Airdog air purifier has superior filtration performance and a super quiet motor that does not produce disturbing noise.
Also, this tip air purifier has an automatic performance adjustment procedure and aerodynamic performance. You can also connect and operate it conveniently through app control available in Android and iOS. The best thing about the X5 Airdog air purifier is that it also kills the deadly coronavirus. It has been certified to kill COVID'19. It comes with a warranty of 1 year.
Pros and Cons of X5 Air Purifier
You can connect the X5 Airdog air purifier to Wi-Fi and operate it remotely through an app.
With this air purifier, you can also see air quality through the built-in indicator screen and lights.
It has an automatic system that adjusts the purifier based on the air quality level. So, you don't need to monitor air quality to adjust the purifier manually continuously.
The X5 Airdog uses reusable and washable collecting plates. This reduces the replacement cost.
This air purifier is a little expensive. You should have your pockets filled before getting it.
It is easy to carry but bulky.
The X5 Airdog needs thorough cleaning every 6-12 months.
Why Should You Choose the X5 Air Purifier by Airdog?
With so many air purifier options in the market, why should you choose the X5 Airdog? This question might come into everybody's mind, and it's pretty obvious. However, the features of Airdog's X5 are the answer to your why.
This air purifier has a five-stage filtration system that cleans the air from pollutants, smoke, viruses, dust, odor, pollen, formaldehyde, and pet dander. It makes the air fresh and 99.87% cleaner for breathing. Plus, it just takes around 20 minutes to clean the entire 400 square feet room fully and improve your indoor air quality. In the presence of this best air purifier for home, your better sleep and a healthy lifestyle are guaranteed.
3. X8 Airdog Air Purifier Buying Guide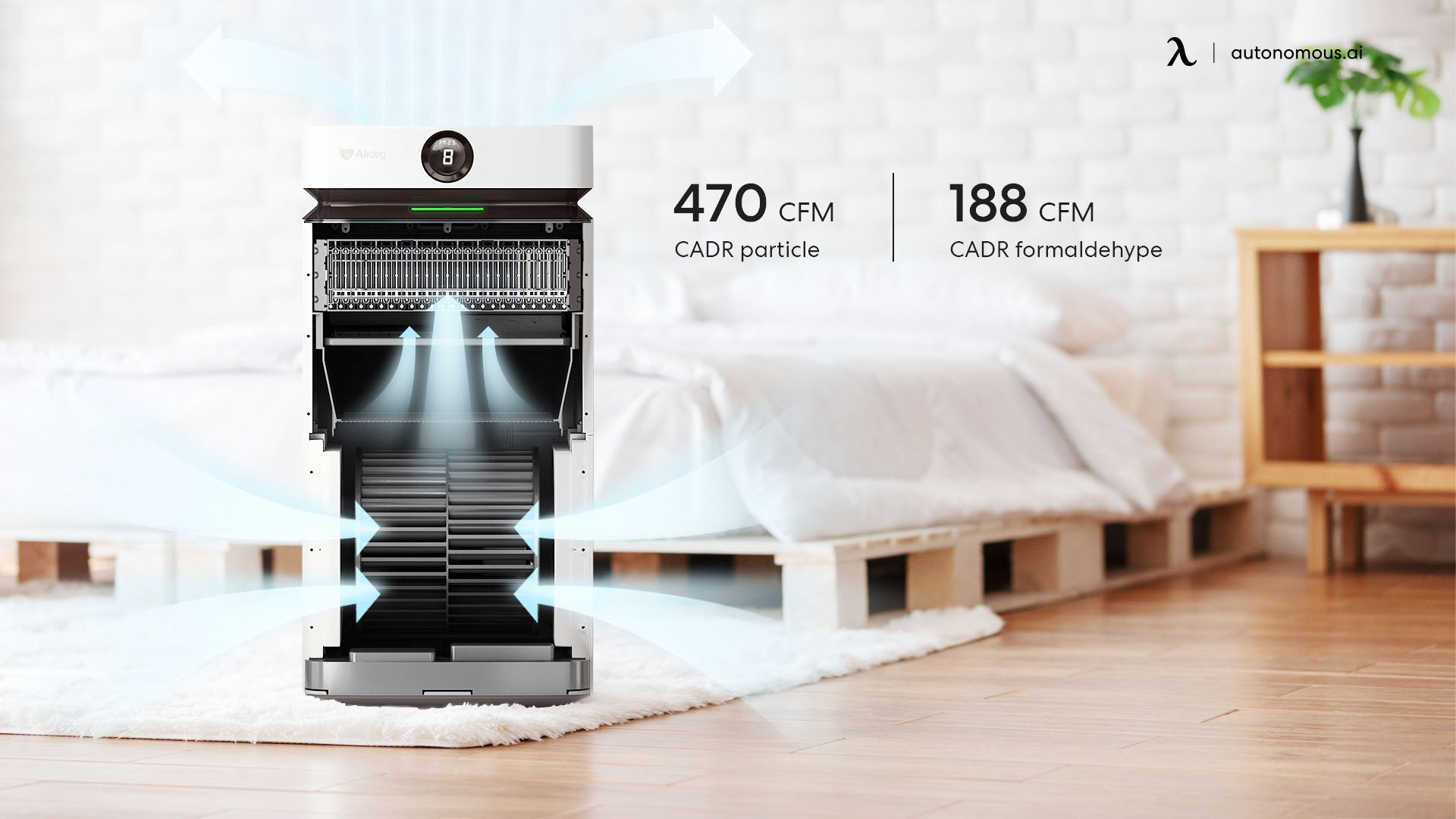 If you want to cover up a larger space, then the X8 Airdog air purifier is what you should be getting. Its killing capacity of 99.99 airborne bacteria makes it the best air purifier for homes and offices. It can destroy particles of around 14.6 nanometers. Besides, the X8 includes patented TPA technology. It is equipped with an excellent filtration system for efficient performance. Also, it contains reusable filters and a super quiet motor.
Like the other air purifiers from the brand, it also has an auto-adjust performance system with an aerodynamic design. You can also connect this best air purifier for home and office with iOS and Android control apps.
Pros and Cons of X8 Air Purifier
The Airdog's X8 has excellent fan power for higher efficiency.
It operates at a very quiet noise level that does not disturb the person sitting or sleeping beside it.
It has a much better ionizer.
This air purifier lowers the filter replacement waste.
Its price is its only con. The X8 Airdog costs $1199, which is straight-up high.
How Does X8 Airdog Air Purifier Clean the Air?
The X8 Airdog air purifier contains a 4-stage air cleaning system with a pre-filter, ionizer, collecting plate, and composite catalyst. This super-efficient system can clean up to 99.99% of the pollutants and bacteria, etc., from the air, making it very clean. This best air purifier for home will make you satisfied.
These best air purifiers for homes make the most necessary home office essentials, and every home and office must be equipped with them. After all, everybody deserves clean air to breathe. So, select and get the right one for yourself.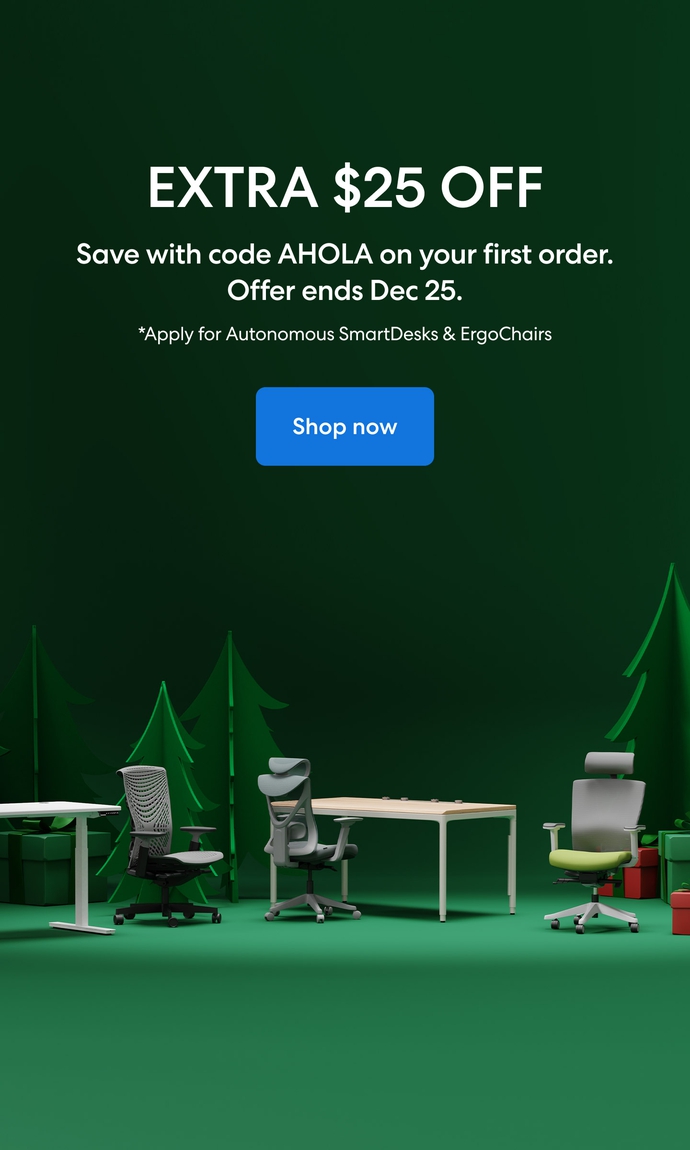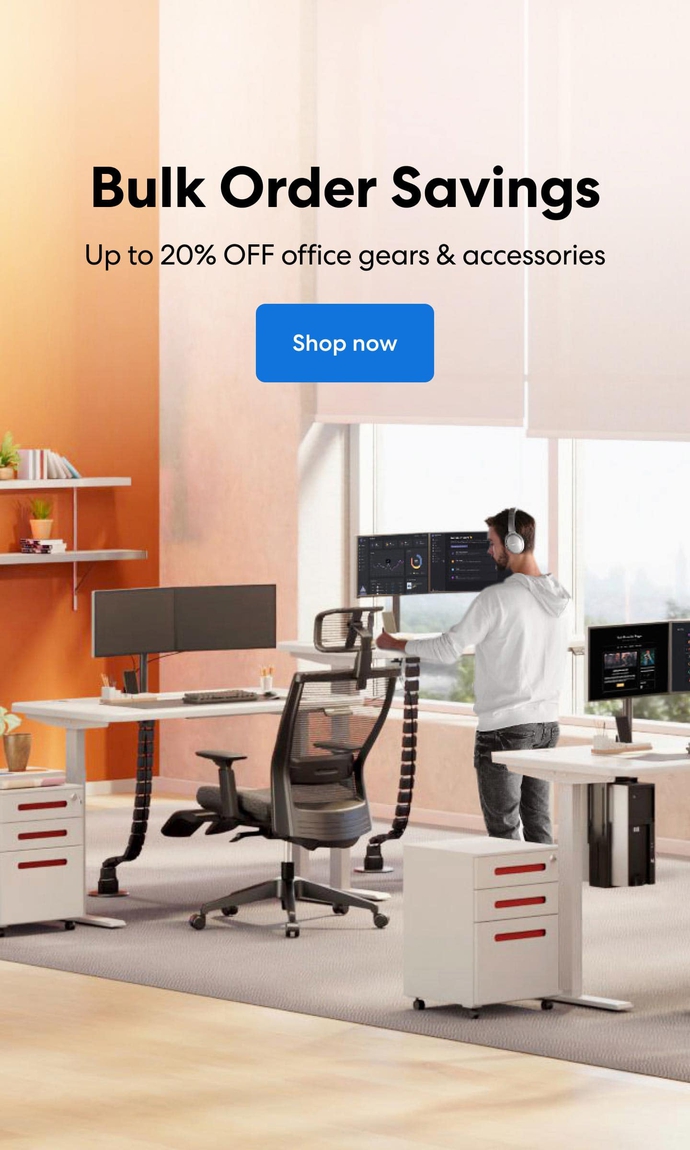 Subcribe newsletter and get $100 OFF.
Receive product updates, special offers, ergo tips, and inspiration form our team.