Smart Products
3 Best Places to Buy an Ergonomic Chair for 2023 - Autonomous

Autonomous
|
Dec 14, 2020
28,317 Views
Research has confirmed that sitting positions directly impact the output of office work. Since then, various versions of chairs have been developed to suit the needs of every office worker. The best chair to be developed so far is the ergonomic chair which has stolen the hearts of all office owners.
The challenge is that there are very many types of ergonomic chairs not to mention hundreds of vendors which compromise the quality. This article will focus on the 3 best places to buy an ergonomic office chair and all there is to know on the purchase of ergonomic chairs.
Top 5 features of the best Ergonomic chair
Here are the features to look for when buying an ergonomic chair for your office:
1. Adjustable arms
Arms and legs play a great role in determining your comfort while sitting. Therefore it is prudent to look for an ergonomic chair with adjustable arms height. This will enable you to align your wrists and elbows with the table when needed. You can also lower or raise the arms when need be.
2. Adjustable seat height
Having this on your chair will reduce the strain on your neck, back, and your legs. You don't want it to be too high off the floor or too near to the ground. Adjustability accommodates users of different heights.
3. Chair Casters
Casters provide support and are always featured in most chairs. Casters are made differently depending on the floor surface where the table chair is supposed to be used. There are specific casters for tiled floors, wooden or carpets floors. It will be prudent to check the type of casters on your selected chair to ensure it matches your office floor. Carpeted floor require hard casters which have less resistance and is mostly the standard caster.
4. Sliding
This feature is majorly designed to suit the needs of women who often have to lean forward because of their short legs. The leaning exposes their backs to strain without support. The sliding sit moves with the body when they lean forward giving the necessary support to the lumbar region. Remember most injuries arise from assuming a wrong sitting position several times without adjustment.
5. Lightweight
A good chair should be made using materials as light as possible. Most people prefer using chairs made from carbon frames and mesh for support. Lightweight chairs are easily mobile and adjustable. They also cause fewer injuries in case of accidents.
Other things to be considered are the designated user of the chair. A chair is not for everyone as people are different. Purchase different types of chairs to cater for people of different heights, weight, and abilities.
Ergonomic chairs are prone to breakages due to their mobility features and setting aside a budget for maintenance costs is a great idea.
Now that you know what to look for in the best ergonomic chair, let find out the top 3 places where you can buy it. These are well-researched sites and are known to provide the best services.
Autonomous - Best Place to Buy Ergonomic Chairs Online
Autonomous is an online Smart desk and Ergonomic chairs selling company. It was established in September 2015 and has since then revolutionized the working environment of its customers.
The company boasts of over a hundred thousand customers globally who are beneficiaries of its quality products. The company consists of mainly innovators, inventors and entrepreneurs who want to make the working environment in offices better for everyone.
What to get from Autonomous? As an online shopping site for smart office furniture, Autonomous has a lot to offer. Some of their popular products are ErgoChair brand and the SmartDesk. There are many other products which can trace their origin to autonomous.
Let's have a look at what is offered at the online shop platform;
1. Autonomous Office Chairs
If you loved the adjustable SmartDesks and didn't know where to buy a new ergnomic chair, then you will also be thrilled with the wide range of Ergonomic chairs available on this site.
Examples of office chairs available are ErgoChair Pro, Avo Chair and ErgoStool. These chairs are perfectly designed to provide great compatibility which enhances efficiency and productivity.
The chairs also have all features a good desk chair should have. When buying an ergonomic chair online at Autonomous.ai, you get a 30-day free trial after which you can return if it does not suit your needs. Sit better feel better and work better.
2. Standing Desks
This is a popular section of Autonomous online shopping category. It offers different types of SmartDesk, also known as Autonomous standing desk.
Popular types of Autonomous standing desks are SmartDesk Pro, SmartDesk Core, SmartDesk Frame & SmartDesk Corner.
The standing SmartDesk is a complete revolution as it allows the user to work while standing. Time to let your blood flow!
These SmartDesks come with a 30 day trial period giving ample time to get the feel of it without spending your money on it.
3. Gaming and Developers desks
Gaming while standing sounds like news from a different world, but it is a reality with Autonomous. It has designed adjustable user-friendly desks specifically for people who spend long hours in front of a screen.
On this site, you will get the standing game desk for gamers as well as development desks for programme developers.
Why choose Autonomous for buying new ergonomic chair?
It offers a guaranteed return of your money. Their ErgoChair are of high quality and very durable, hence saves users a lot of money spent on replacements and maintenance.
Has a 30 day trial period for all its products; this is the most impressive aspect of Autonomous. Its 30-day trial program offers you a chance to try out the products before committing to buying it.
They offer continuous customer support even long after purchase. In case you run into trouble operating their products, be sure to get help from them.
Every buyer wants a warranty on the products they purchase and Autonomous has that covered. You will get a one year warranty from the day of delivery which covers all the repairs and replacements if need be.
Best Buy
Another online site to buy ergonomic chairs is Best Buy.
Unfortunately, best buy only specializes on chairs, unlike Autonomous. However, this is an advantage as it increases the variation of products available for its customers.
What to shop for at Best Buy
1. Arkracing - core series EX Gaming Chair
This chair is specifically designed for gamers. Its stability and flexibility allow you to move around while gaming without the risk of falling down. It features a lumbar pillow, a 3D armrest and a head pillow. It also has breathable fabric upholstery which is a coolant.
Other A racing series of ergonomic chairs are theMaster Series Max Chair, Core Series EX-wide Gaming Chair and Core Series SX Gaming Chair.
The chairs size is too big for small sized people and it is unbearable to use.
2. CorLiving Leatherette and Mesh Executive Office Chair
As the name suggests, CorLiving is specifically designed for office work. It caters for all requirements giving an ideal and cool sitting position. The height adjustments are easy and convenient.
3. Arrozi-Enzo Gaming Ergonomic chair
This is one of the best products available at Best Buy. The chair is comfortable and fits gamers of all sizes. If you want to buy an ergonomic chair for gaming then Arozi gaming chair will take care of your safety. It features adjustable heights, arms and back support.
Other popular Arozi gaming ergonomic chairs are the Venezia Gaming Chair, Verona Pro V2 polyurethane Leather Chair,
Pros of Best Buy
They offer quality products; although they don't produce the chairs themselves, Best Buy has a wide range of quality ergonomic chairs for your office. Good quality chairs are durable and comfortable ensuring that you remain healthy when using them.
They have different prices for different products; buyers do not have to worry about their budgets as there is a perfect chair that will suit their budget.
They ship to the United States and Canada providing cross-border shipping at an affordable fee.
They offer a year-long warranty to their customers. This covers most of your maintenance costs in case of damage.
Human Solution
This is one of the oldest office furniture providers as they have run since 2002. They are among the top retailer for Ergonomic chairs as well as other office furniture.
The company started manufacturing their own ergonomic chairs, designing to the specifications and requests of the client. They offer products such as height adjustable desks, standing desks and convertible ergonomic chairs.
What does Human Solution offer?
There are a variety of ergonomic chairs that can be purchased from Human Solution.
Most of the ergonomic chairs on this site are sourced from UPLIFT desks, a reputable producer of ergonomic chairs.
Pursuit Ergonomic chair
Vert Ergonomic Office Chair
J3 Ergonomic Chair
Features of UPLIFT Ergonomic chairs
Has a pneumatic adjustment wheel which allows tilting and swiveling in a 360-degree angle
Fabric seats offer exquisite comfort
Height adjustable and headrest
Has a waterfall seat which supports the legs
Black and white options
Pros of Human Solutions
They design client specific ergonomic chairs. This enables companies to order chairs with specific requirements for each of the office worker by considering height and weight.
They give a 7-year warranty to all their goods. This is a show of faith that their products can last for more than 7 years without wearing out.
They offer free deliveries within the United States
Offers community services and forest protection which is a plus on their business.
Tips for Buying an Ergonomic Chair Online
As we have seen there are various types of Ergonomic chairs out there and picking one can be very hard. Here are a few tips to consider when buying the best ergonomic chair.
1. How much time do you spend on the chair per day?
If you are working behind a desk for a whole day then you should consider a chair with the best lumbar support as well as good movement. A suitable chair should be able to sway with the movement of your body giving it the necessary support.
2. Your normal sitting posture
There is no standard sitting posture. People have different sitting postures depending on conditions or habits. You should be familiar with your sitting posture and be able to select the best chair for yourself.
In case you are purchasing office chairs, then you should do a survey of your office's occupants. A good chair should allow your feet to rest on the floor and an open pelvic position.
3. How does the sit support your lower back?
Lower back is support is very crucial in the selection of the sit. No one wants to suffer from back pain after long hours of work.  The curved part of your spine is known as the Lumbar spine and is essential for support.
Lack of support leads to deformation of this part and is associated with a lifetime chronic pain. So don't forget the lower back support feature when buying an ergonomic chair online.
4. Are the armrests adjustable
Armrests play a big role in determining how you are going to interact with your working table. You want a chair that will not inconvenience you while you are working on your computer. Ensure that you get a chair that has movable arm support and can support your arms in whichever direction.
5. Are your legs comfortable
Your legs need to be in contact with the floor when using the chair. Limbs are crucial for general blood circulation and balance. Hanging or pressed legs will make you uncomfortable and tired. Here is where adjustable ergonomic chairs from Autonomous come in, just adjust the height according to your height.
Now that you are familiar with what you are looking for and where you should be looking for it, it's time to hit the road. Bear in mind that you don't have to squiz your budget as there is an affordable ergonomic chair that will suit your budget.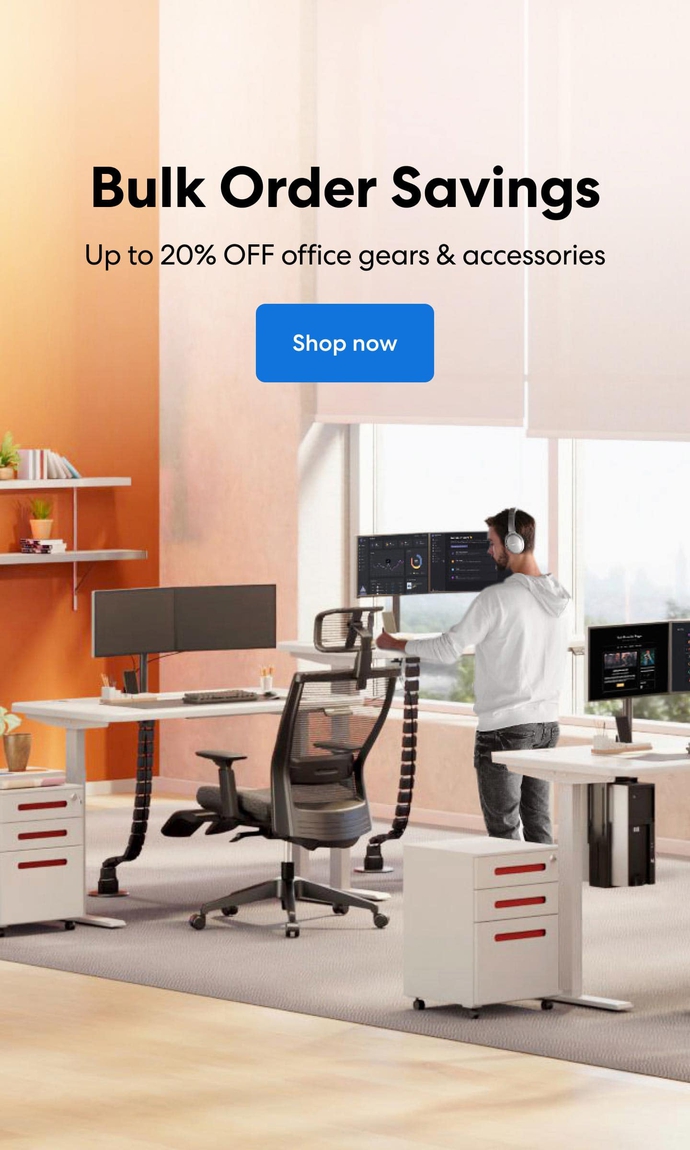 Subcribe newsletter and get $100 OFF.
Receive product updates, special offers, ergo tips, and inspiration form our team.