Smart Products
3 Office Desk Gadgets that Makes Your Employees More Productive

Autonomous
|
Sep 11, 2021
1,844 Views
Working at an office is not easy. You need to be ready to do many things. Apart from that, some office situations can be highly stressful. Yet, one of the most important parts of office working is being able to focus while avoiding distractions. If you want to focus more and improve your productivity, you should try office desk gadgets.   
Many people think these accessories are only desk decor. That couldn't be further from reality. The best office gadgets help you avoid distractions and give you all the energy you need to keep working for extended periods without suffering from stress, anxiety, or mental exhaustion.  
If you are looking for cool desk gadgets for your computer desk setup, you've landed on the right page. Read this page to know the three best office desk accessories that can make you and your employees more productive.  
Don't hesitate to try any of the products named in this article! They can be the office items that define if you can optimize your work mood in a better way from now on!  
Why Should I Get Office Desk Gadgets?
Setting up your office is no easy task, especially if you do it from scratch. There are many things to consider while doing it. Additionally, you always have to take into account that not every business owner can afford to buy tons of must-have office gadgets for employees.  
Regardless of that, purchasing office desk gadgets for your office is one of the best decisions you can make as a manager or employee. Using them shows results like no other thing can do at the office.  
The reason that happens comes from how office workers can take advantage of what home office gadgets offer them. Working at an office can be highly stressful.  
Sitting on a chair for hours can cause you severe health issues such as bad posture issues, back pain, mental and physical exhaustion, and related health problems.
Yet, the best gadgets for computer desk setups are ideal for those situations. We know some workers need extra help to feel better and more comfortable while working. That's why you should have as many cool desk gadgets as you can. To make people see how helpful they can be while enjoying them yourself.  
Feeling uncomfortable while working is one of the worst things you can do at the office. That's because your mood affects the way you work. Your productivity and work quality may suffer a major decrease if you don't feel good while working.  
That happens because feeling discomfort causes you physical pain. When you feel pain at the office, your brain relates the pain to work, so it makes you less active while working.  
You don't want your work performance to be affected by that. Try some office desk gadgets to avoid those issues and be more productive while working! Using them can bring tons of benefits to your life inside and outside of the office.  
What to Look for in Office Desk Gadgets
There are tons of cool desk gadgets on the market. Yet, that doesn't mean you have to pick the first one that you see. Some of them offer you more benefits than others. That's because of the features of the product itself.  
Regardless of that, the best office desk gadgets should share some benefits to be worth the purchase. Those benefits are the perks that buying them brings to your office days. We want you to be successful and productive while working, so here are some things you should consider while buying must-have office gadgets: 
Budget
This applies to any purchase you want to make for your workstation. Some people don't have enough funds to buy everything they need for their office. That's the reason they have to work on a budget to find office desk gadgets or home office gadgets. However, you can get everything you need for a fair price.  
Price doesn't always equal quality. Try finding the middle point between a product of decent quality and price. You shouldn't buy anything that exceeds your budget. There are tons of affordable cool desk gadgets, so don't worry about not finding one for you.  
Effectiveness
When talking about effectiveness, the best office gadgets always appear at the top of tier lists related to productivity increase items for the office. That's because of how much those products can help you improve your work performance. Some of the benefits the items can give you are a creativity increase and an overall better mood while working.  
Regardless of that, not all items have the same effectiveness. Some office desk gadgets have excellent features that help you work in a better way. However, they are not sturdy enough, so they get damaged or nonfunctional after months of use.  
Some others are incredibly resistant and durable but lack the features that help you make working easier. The best thing you can do is find an item that gives the correct features to improve your work performance. Apart from that, make sure it's a product you can use for extended periods without breaking it or something like that.  
Keep in mind that many office desk gadgets can be essential office items. Don't think about these gadgets as something little you can use to improve some things while working. The best office gadgets for computer desk setups do more than that.  
3 Office Desk Gadgets that Improve Productivity
If your employees are having trouble with productivity, it may be time to purchase some office desk gadgets to help them work in a better way and mood. However, you need to choose the right products if you want them to enjoy the benefits of doing it. 
There are tons of alternatives available for you on the market. Not all of them give you the same amount of quality, though. We understand if you don't have time to look for the best office gadgets, so these are some of the most effective office desk items for improving productivity at work: 
1. Autonomous LED Desk Lamp
You can't pay attention to what you need to see on your paperwork or computer if you don't have enough light on your desk to do it. If you have sight problems, these issues can become even worse. Fortunately, there's a way to help you with that while improving your productivity.  
The Autonomous LED Desk Lamp is one of the best ultra wide LED desk lamps on the market. That's because of the amount of illumination it can give you. Don't worry about glare or visual interference, though. This product gives you just enough to light up all your desk without disturbing you.  
Additionally, these LED desk lights have other features that can help you feel better while working. For starters, you can adjust the light temperature throughout the day to match your mood and how you want to feel while working. Believe it or not, doing that is excellent for your mood.  
This product has 20 different light settings, suitable for a variety of desk lighting setup. That means you can spend all the time you need setting up the best LED lamp for you. Make sure to adjust the features to what you need at your office.  
The lamp's automated system remembers your light settings, so you don't have to waste time adjusting those settings over again in the future. That allows you to start working as soon as possible when you get to the office. Many lamps don't offer you those features or don't remember the setting you set up.  
When talking about sturdiness, this lamp has no problems. The Autonomous LED Desk Lamp is made with some of the most resistant and durable materials on the market. Considering that, you don't have to worry about the product getting deteriorated or damaged after a time.  
2. Autonomous ErgoChair
This is one of Autonomous' most famous products. That's because of how helpful it is to office workers. Whether it's the ErgoChair Recline, ErgoChair Pro, or ErgoChair Plus, you can forget about back pain and bad posture issues while using these chairs. Try one of them! 
One of the problems that office workers tend to go through is that they can't work for extended periods without suffering from back and neck pain. That happens because traditional office chairs don't offer enough lumbar support to help you keep your back in an ideal position. 
If you have a bad posture for hours, you may start suffering from back and neck pain. That produces many other health issues. Apart from that, you may suffer from stress, mental exhaustion, and anxiety. Fortunately, you can avoid all those issues by purchasing the best ergonomic chair on the market.  
When we talk about office desk gadgets, many people think we mean small products such as desk organizers or portable phone chargers. Yet, ergonomic chairs can be considered gadgets for computer desk setups. 
The Autonomous ErgoChair offers you optimal lumbar support. That allows you to work all the time you need without suffering from any kind of pain. Apart from that, the comfort this home office gadget provides its user with makes working a comfortable and enjoyable activity for office workers. 
Apart from that, you can fully customize this chair. Its adjustable features let you configure it to make it the best office chair for you. Don't hesitate to try it! 
3. Autonomous SmartDesk
Getting to the end of this must-have office gadgets list, we have the Autonomous SmartDesk. Most people are used to using standard office desks. There's nothing wrong with them, but ergonomic chairs have way more features that aim to boost your comfort and productivity while working.  
This product is a standing desk. That means you can use it while sitting or standing. You may think that working while standing is uncomfortable or impractical, but that couldn't be further from reality. When you are standing, your back is in an optimal position. Being in that position prevents back issues from happening. 
Regardless of that, if you spend some time working while standing and want to sit on your ergonomic chair, you can change this desk's height in a matter of seconds by pressing a button. The control panel of this home office gadget is simple and easy to understand, so don't worry about getting lost along the road. 
When it comes to aesthetics, this item is a minimalist desk. That means it can fit all kinds of offices with no trouble. However, there are many different tabletops available for you to choose from. That even includes custom-painted tabletops! Take all the time you need to browse through the Autonomous website to choose the option you like better. 
Purchasing an ergonomic desk with an ergonomic chair makes the perfect combination to boost your productivity and creativity. Being comfortable while working makes you more active and comfortable at your office. 
If you've never tried ergonomic items, using them can represent a whole new experience for you. Like the Autonomous ErgoChair, the SmartDesk has different models available on the Autonomous website such as L-shaped standing desk, SmartDesk Core and SmartDesk Frame. Each one of them offers different features. However, they all share essential functions, so you can enjoy them regardless of which one you choose. 
Wrapping Up
As you could see, many office desk gadgets can make life easier for you. Many people keep themselves from buying these products to save money. Yet, getting these items represents a huge investment for you. That's because of how much it can improve your work performance. 
If your employees work better, the overall company's productivity increases. That means you can work more and therefore profit more from what you do. However, the best you can do is try those products yourself. 
Don't hesitate to make the investment that can boost your employees' productivity and creativity! Everyone deserves to feel comfortable while working. Make sure your workers are by giving them the perfect tools to work!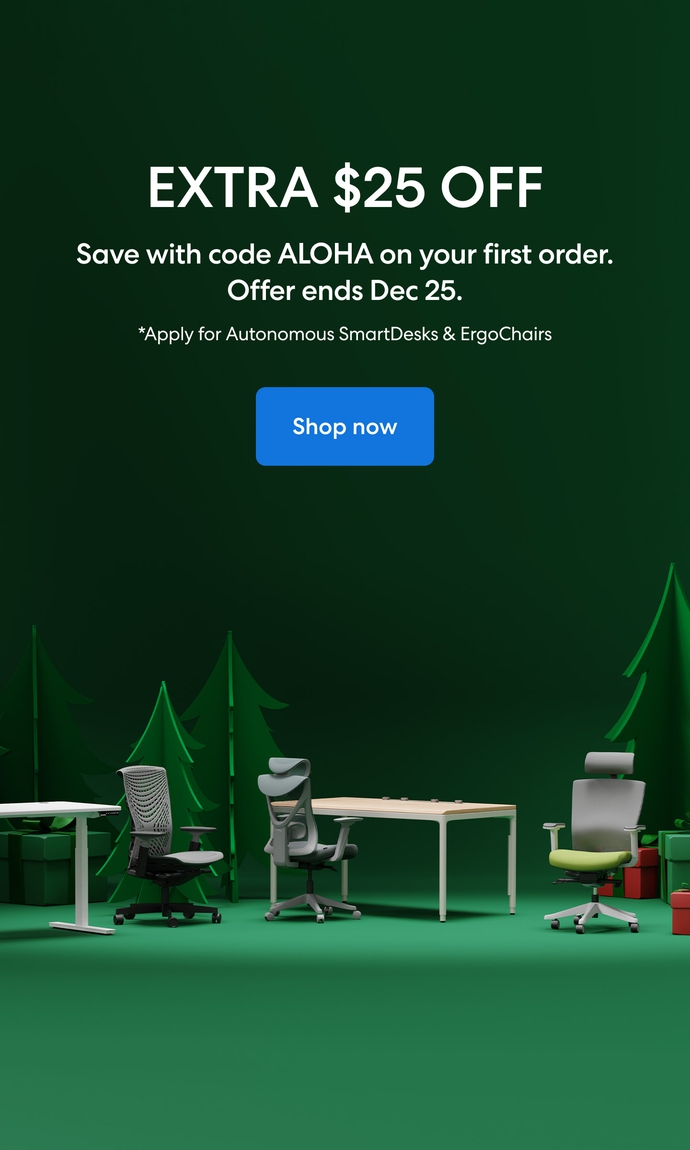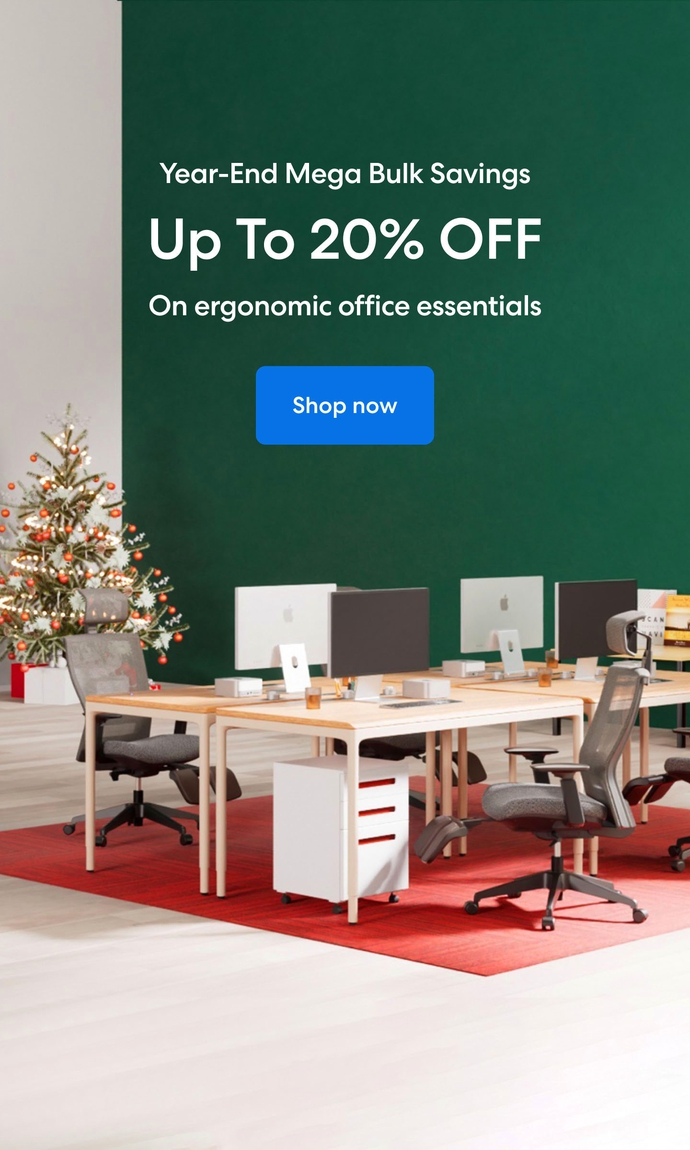 Subcribe newsletter and get $100 OFF.
Receive product updates, special offers, ergo tips, and inspiration form our team.