Smart Products
30 Best Desk Supplies Worth Buying (2023 Update & Review)

Autonomous
|
Nov 16, 2022
942 Views
The best way for home office workers to improve their productivity and comfort during their working hours is to create a pleasing work environment and upgrade their office setup. Therefore, having certain office desk supplies is essential to ensure they are as comfortable as possible at all times. 
After thorough research, we found 30 fantastic office desk accessories you should buy if you want the perfect setup for feeling fantastic while working, studying, or gaming. Check out the following list to learn more about it.
30 Best Desk Supplies You Should Have
1. Autonomous Monitor Arm
The Autonomous Monitor Arm will help you achieve the best possible view of your monitor without straining your neck. It allows you to switch the monitor to virtually all possible positions, as it features 360° rotation and a 20" vertical range. 
This fantastic monitor arm is also highly durable due to being made of a sturdy platinum alloy that can lift up to 26 pounds per arm while also being useful to keep your work area tidy, as it features excellent cable management tools to make sure your monitor looks as aesthetically pleasing as possible.
| | |
| --- | --- |
| Dimensions | 18"L x 19"H |
| Colors | Black |
| Materials | Aluminium |
| Weight capacity | 26 lbs |
| Item weight | 6 lbs |
| Warranty | 2 years |
2. Deskr Topographic Desk Pad
The Deskr Topographic Desk Pad is one of the most beautiful-looking desk supplies you can get for your computer setup. It comes in two different colors to meet your desired aesthetic, and it is also meant to protect your desk from all messes you could make, such as dropping some water or juice over it. This Deskr mouse pad will improve your mouse performance, making it much easier for you to scroll between pages.
Dimensions
35.43'' L x 15.75'' W x 0.15'' H
Colors
Black, White
Materials
Polyester top
Eco-friendly rubber bottom
Warranty
No
3. Mount-It! Keyboard Tray: Clamp-On
If you want to change your typical table into an office desk, the Mount-It! Keyboard Tray is the one for you. This adjustable keyboard mount is one of the most effective ways of adding extra space to your desk by allowing you to put your keyboard on it and letting your entire desk free for you to use however you want. It is also highly ergonomic as it allows your arms to rest at a 90° angle and prevents your wrists and elbows from straining over time.
| | |
| --- | --- |
| Dimensions | 26.4" L x 11.8" D |
| Compatibility | With most keyboards on the market |
| Color | Black |
| Warranty | 10 years |
4. Autonomous Cable Tray
The Autonomous Cable Tray will make your working space look as tidy as possible. It is one of your safest bets regarding cable management, as it can be easily attached to nearly any surface and neatly tucks in all your cables and cords. This handy cable tray is made of sturdy steel with an anti-rust finish, and it pairs nicely with most Autonomous desks.
| | |
| --- | --- |
| Dimensions | 35.4"L x 6.3"W x 2.5"H |
| Colors | Gray |
| Materials | Steel |
| Weight capacity | 35 lbs |
| Item weight | 4 lbs |
| Warranty | 1 year |
5. Autonomous Light Bar
Another great addition to your setup is the Autonomous Light Bar. This ultra-wide LED desk lamp will allow you to have the perfect lighting at all times of the day. It is highly adjustable, as it has four light temperatures and five brightness levels. Moreover, due to its smart technology, it also remembers your specific settings so that you don't have to manually set them up every time you decide to use them.
| | |
| --- | --- |
| Dimensions | 31.5"L x 1.8"W x 35.4"H |
| Colors | Black |
| Materials | Die casting Aluminum & Metal |
| Input voltage | AC 100 - 240V 50/60Hz |
| Brightness | 1200 lm |
| Light colors | 3000k, 4000k, 5000k, 6000k |
| Lamp lifetime | 50,000 hours |
| Item weight | 12.56 lbs |
| Warranty | 1 year |
6. Deltahub Carpio: Ergonomic Wrist Rest
If you constantly suffer from wrist pain, the Deltahub Carpio Ergonomic Wrist Rest will highly improve your well-being and comfort. These desk supplies are meant to provide you with a place to rest your wrist and prevent them from hitting the hard surface of your desk. Moreover, these ergonomic wrist rests don't limit your mobility, so you don't have to worry about getting used to them while typing.
| | |
| --- | --- |
| Size | S, L |
| Colors | Black, White |
| Materials | Silicon, PTFE Teflon |
| Warranty | 1 month |
7. Autonomous Filing Cabinet
It is common for home office workers to run out of storage space. Therefore, the Autonomous Filing Cabinet is perfect for you if you want to add extra cabinets to your desk to keep all your office desk supplies and elements safely stored safely. 
This aesthetically pleasing filing cabinet comes in four colors and features three wide drawers. It can also be fitted virtually anywhere so that you can adapt it to your working area.
| | |
| --- | --- |
| Dimensions | 15.6"L x 19.7"W x 23.5"H |
| Colors | Red apple, Evergreen, Cool gray, Baby blue |
| Materials | Steel plate |
| Weight capacity | 275 lbs |
| Item weight | 46 lbs |
| Warranty | 1 year |
8. The Office Oasis Magnetic Desk Organizer
If you want to keep all your small office desk supplies as tidy as possible, you will need one of these desk organizers. You can use it to store all your notes, pencils, clips, etc. It comes in three different colors and is made of solid bamboo wood, making it a highly aesthetically pleasing option for all possible offices.
Dimensions
13.5"L x 3.25"W x 3.75"H
Colors
Natural/ Brown/ Black
Materials
Bamboo base with N52 NiCuCi magnets
ABS plastic organizing compartments
Non-Slip Silicone Feet
Include
2 Tall tray
1 Short tray
1 Phone stand
1 Medium tray
1 Post-it holder
1 Magnetic Grid
Warranty
Lifetime
9. Mindspace Rose Gold Desk Organizer
The Mindspace Rose Gold Desk Organizer is perfect for those who want a girly aesthetic for their working spaces, as it is made of sturdy rose pink mesh that gives you the ideal space to keep all your office appliances organized while keeping that "pretty in pink" style.
| | |
| --- | --- |
| Dimensions | 8.7"W x 5.5"D x 5"H |
| Materials | Steel mesh with a solid base, soft foam grips |
| Color | Rose gold |
| Include | Paper & binder clips |
| Warranty | 5 years |
10. Logitech for Creators Blue Yeti USB Microphone
An essential office supply for desk for everyone working from home is a high-quality microphone, especially if you're used to Zoom meetings, as it will ensure no one misses a single thing you said. It is also helpful for podcasters and anyone else who works with audiovisuals, as it provides the best possible sound for all your videos.
11. Speks Magnets
Many people can't stand being still in front of a computer for the entire day. Although listening to music and standing up every once in a while can prevent you from feeling anxious, that can also reduce your productivity throughout the day. Therefore, these magnetic fidget balls help keep your hands busy while using your computer without being too distracting and interfering with your job. 
12. ODISTAR Desktop Vacuum Cleaner
This is one of the must-have desk supplies organizers. Although it isn't precisely the best option to eat at your office desk, sometimes we can't help it, and we end up with crumbs all over the place. This is an extremely messy situation that no one wants to deal with during their working hours. That's why this fantastic desktop vacuum cleaner comes in handy to ensure your desk is as tidy as possible. 
13. Happy Light Therapy Lamp
This therapy lamp is handy, especially during winter, as sunlight becomes more scarce. There's nothing worse than messing up your sleep schedule due to working all night, so this artificial sunlight lamp might save you during those nights with extra work. 
14. CloudValley Magnetic Phone Holder for Laptop
If you tend to multitask, the chances are that you love using your phone while being on your computer. However, this may be a bit complicated, as you need to change your focus from one screen to another over and over again. In these cases, this desk supplies organizeris a fantastic addition to your computer setup, as it allows you to scroll through your phone without looking away from your monitor.
15. 6 Pack Transparent Sticky Notes
This is one of the important desk supplies for the office. Regular sticky notes are okay, but they take up a lot of space and might cover important things if you use them in your notebooks. Therefore, these transparent sticky notes are a complete game changer, as you can write on them while still being able to see the entire page. 
16. Headphone Stand with USB Charger
Cable management devices keep getting better and better, and this is one of our favorites because it allows you to keep your headphone and other devices safe while also being the perfect spot for charging your devices. This helps you save a lot of space, as you don't have to buy two separate items for it.
17. Fluidstance The Level
It is rare for people to understand the importance of balance boards, but they're a fantastic addition if you have a standing desk and wish to remain active throughout the day. They also help with your posture and prevent your back and joints from hurting at the end of the day. 
18. MOSISO Silicone Keyboard Cover
If you hate loud typing or have a sensory issue that makes you need more silence than others, you can avoid buying a whole new keyboard by purchasing this desk supply for the office. It is sure to give you smooth and silent typing while also preventing your laptop from getting damaged if you spill some liquid on top of it. 
19. Lula's Garden Glow Garden
Many people love to add a bit of green to their working spaces, as it helps to give them a pop of color and life. If you relate to this, you can get this small succulent garden, which is barely a bit larger than your regular coffee mug, but it is sure to put a smile on your face every time you see it. 
20. Hydro Flask 12 oz Coffee Mug
Something that all home office workers have in common is their unmatched love for coffee, as it helps them stay awake during the longest of shifts. That's why we recommend getting this great coffee mug that will keep your beverages warm for hours, so you don't have to pressure yourself to drink it all right away.
21. Courant Catch 3 Wireless Charger
The office desk supply we want in a computer setup is more cables to take care of, which is why having a wireless charger is a fantastic idea. These office accessories help you charge your phone in a heartbeat while also looking super stylish and aesthetically pleasing. 
22. BetterBack Support Posture Belt
Many office workers suffer from back pain due to all the long hours they spend in front of their computers. However, this can be solved by simply having a good posture. Still, this is something that not everyone can get used to, so we want to make it easier for you by offering this support posture belt that's sure to keep everything in place. 
23. Pure Enrichment PureRelief XL King Size Heating Pad
Nobody likes being too cold, and now that the winter months are closer than ever, it is time to think of new ways of staying warm at the office. One of these ways is by getting a heating pad, which is meant to be wrapped around your body to keep it as warm as possible.
24. Rocketbook Everlast Reusable Smart Notebook
The digital world has taken control over our lives, but there's nothing better than writing down your ideas for you to understand and develop them. This reusable notebook will be the last notebook you will ever have to buy, as you can erase whatever you wrote on it and use it as many times as you wish. 
25. Purple Royal Seat Cushion
If you want to improve your posture and be as comfortable as possible, don't hesitate to add this silicone cushion to your cart and use it in your daily working routine. 
26. iOttie iON Wireless Plus Fast Charger
This wireless charger works perfectly for iOS devices. It charges them much faster than a regular charger, which is fantastic for eliminating the clutter from your working space and ensuring your devices never run out of battery.
27. Nomad Rustic Brown Leather Mouse Pad
If you're into the classics, you can't miss out on this fantastic leather mouse pad. It is perfect for offices with a more rustic aesthetic, preventing the mouse from slipping off the table and allowing it to glide smoothly in any direction you want. 
28. Zanzibar Gem Plant
Many people are bad at taking care of plants, so we added this nearly indestructible plant to our list. Everyone deserves to have a pop of color in their office, even those who tend to be a bit distracted. 
29. Felix Gray Nash Eyeglasses
If you spend a lot of time in front of your monitor, the chances are that it will take a toll on your eyesight after a while. Therefore, these office desk supplies are sure to keep your eyes comfortable even after spending hours working.
30. Ember Temperature Control Travel Mug 2
This fantastic temperature control mug includes a heating pad that you can turn on and off to make sure your coffee or tea is always at the right temperature. 
Bottom Line
All of the previously described office supplies for desks are a fantastic addition to your working setup, but remember that you can always check out the rest of our catalog and see all the deals we have for you.
Video ads for product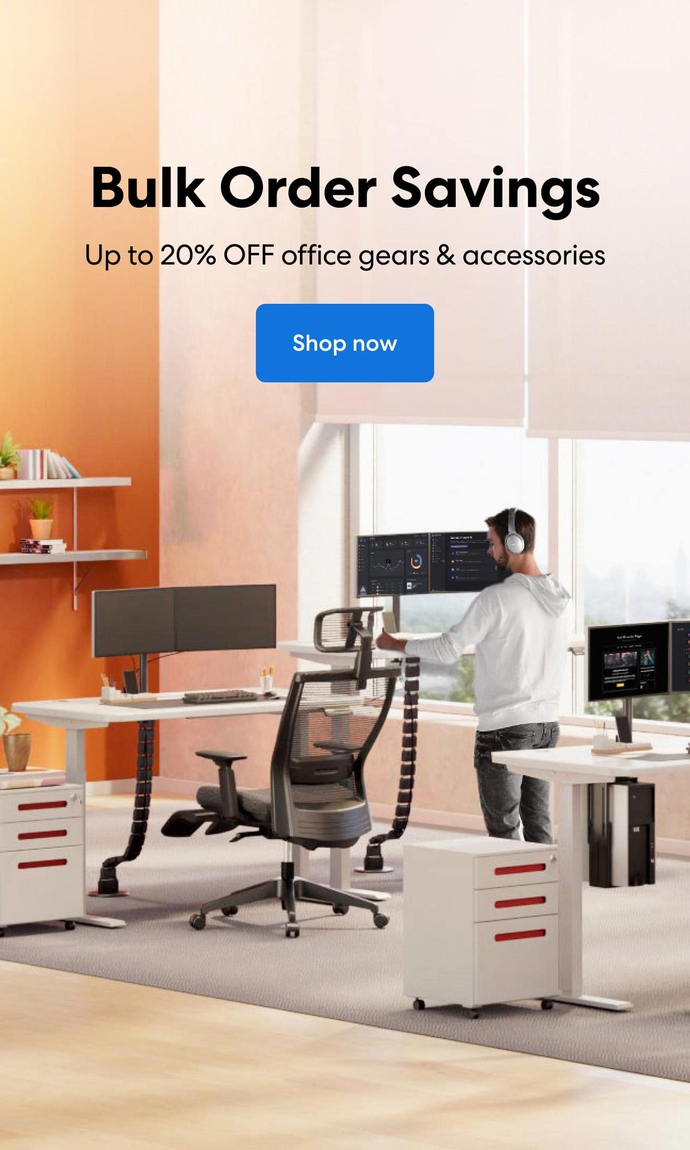 Subcribe newsletter and get $100 OFF.
Receive product updates, special offers, ergo tips, and inspiration form our team.