Latest Updates
30+ Best Labor Day Desk Sales | These Are the Best Deals for You!

Autonomous
|
Sep 4, 2022
955 Views
If you are searching for the perfect desk for your home or office, then you are in luck. Autonomous is holding one of the best Labor Day desk sales in 2022. 
Whether you are looking for a conventional desk, or you want something a little bit more modern, such as an adjustable standing desk, you will be sure to find what you love at the standing desk Labor Day sale. 
Choosing the perfect smart office desk or home office desk can be the key to turning your ordinary home office into a place where you not only get to do some productive work, but also enjoy hanging out in either reading, watching a movie, or enjoying your favorite video games. 
Labor Day Is Almost Here!
Labor Day is going to be celebrated on the 5th of September, 2022, which is just around the corner, so get prepared for the biggest desk sale of the year. Autonomous is joining the rest of the country in honoring our dedicated workforce by offering them great deals on their office desk Labor Day sale. 
If you have always wanted a stylish standing desk but your budget meant that you could not afford one, here is your chance! During Autonomous' computer desk Labor Day sale, you will find a wide range of desks to suit your needs, and they will be available at unbelievably low prices. 
Find the Best Labor Day Desk Deal and Sale on the Autonomous Website
Smart desks and standing desks are quickly becoming the new office standard for many forward-thinking professionals. However, they cost a bit more than regular desks, so many people have had to settle for regular desks within their budget. 
That is all about to change, though, thanks to the best Labor Day desk sale being held by Autonomous. With the massive reduction in all smart office desk prices, be sure not to miss what could possibly be the biggest standing desk Labor Day sale of the year. 
Visit the Autonomous website for more information about the duration, terms, and prices of all desks that will be available during the Labor Day Sale. 
31 Great Labor Day Desk Sales To Choose From!
Now that you are finally able to squeeze that new desk you have always wanted into your budget, here are some great Labor Day desk sale options to consider: 
1. Autonomous SmartDesk Core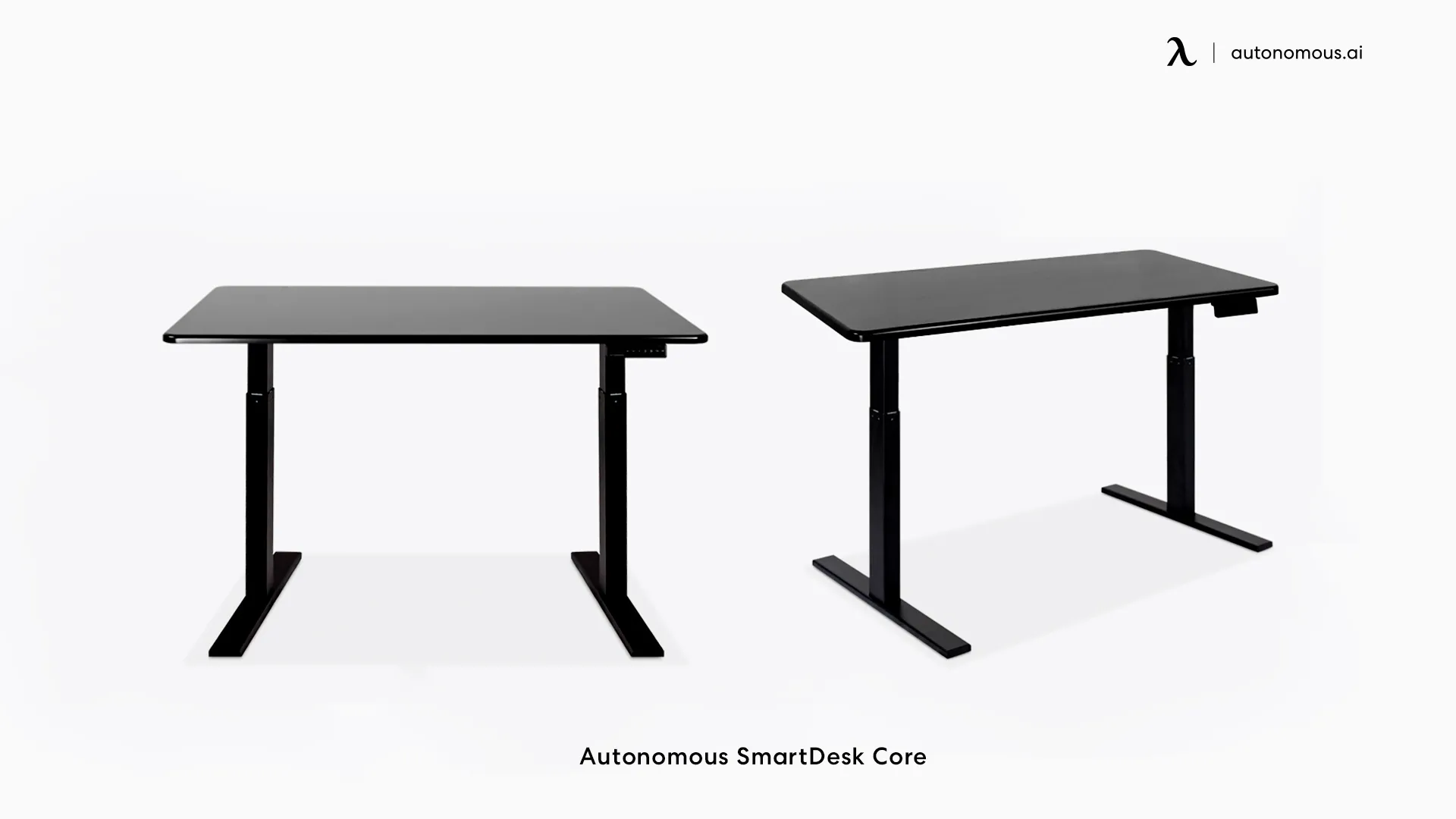 If you want a desk that is designed to help you stay productive all day while taking good care of your well-being, then the Autonomous SmartDesk Core is the right solution for you. This strong desk is made of solid steel frame domes with a dual electric motor for easier height adjustment.
2. Autonomous SmartDesk Pro
Designed similarly to the Smartdesk Core, the Autonomous Smartdesk Pro also has an electric motor and steel frame for added strength. However, it goes beyond that, by offering users a quieter running motor, which is perfect for office environments, and the classic wooden top for those looking for a bit of style.
3. Autonomous SmartDesk Corner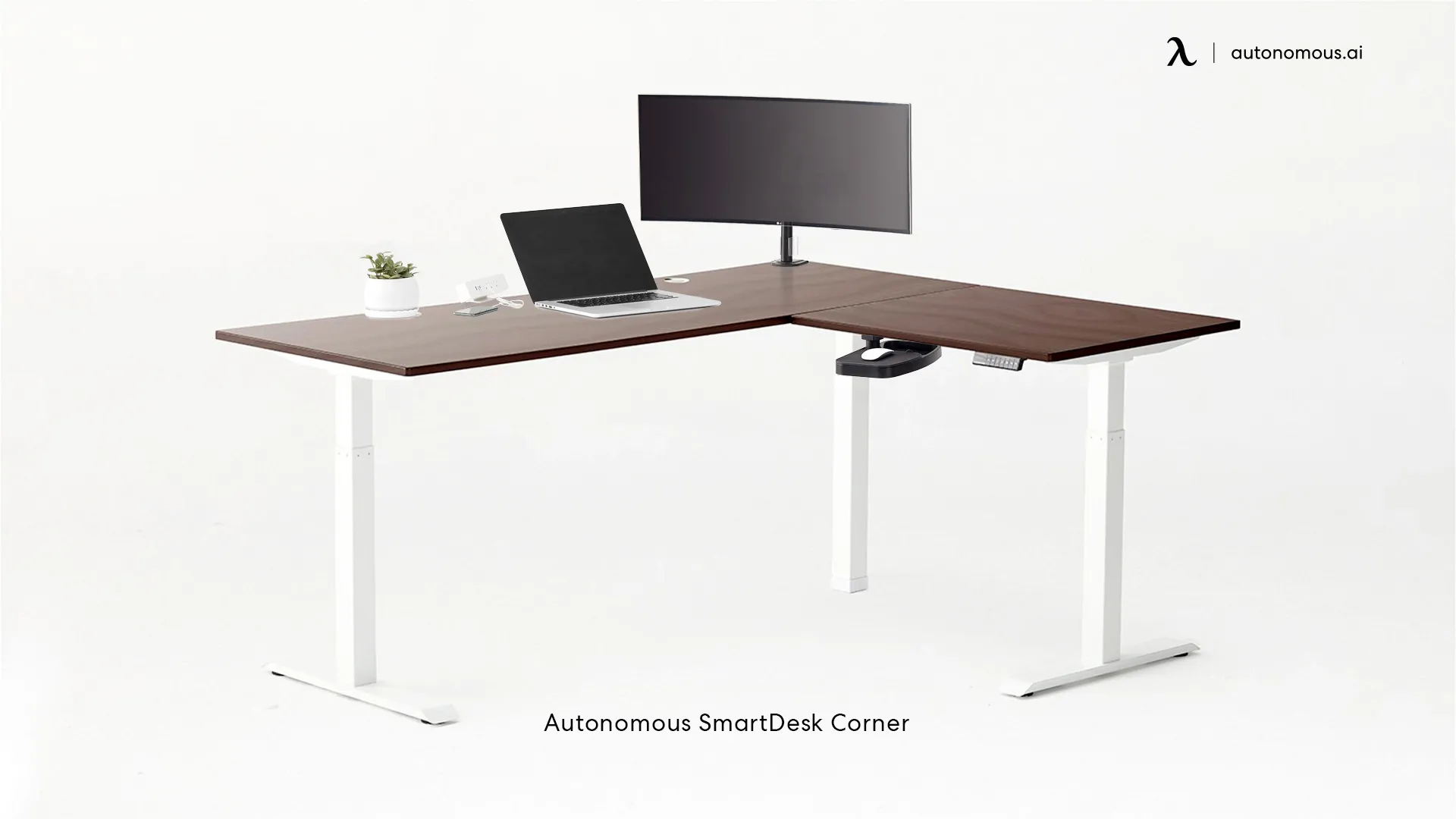 This is a great choice for those who want a large desk that will hold all their office essentials, including dual monitors, keyboards, and speakers. It is strong enough to carry more than 300 lbs. This L-shaped standing desk used to be out of reach for most people because of the cost, but thanks to the office desk Labor Day sale you can get it at a much lower price. 
4. Autonomous SmartDesk Connect
If you are looking for something a bit more modern, then try the Autonomous SmartDesk Connect. With the latest in advanced technology, this desk offers users the chance to enjoy features that are usually found on larger, more robust-looking desks. 
5. Small Computer Desk
When space is an issue then you won't go wrong with the Small Computer Desk from Autonomous. However, do not let the size fool you, because this is a very strong and reliable desk that will last you a lifetime. 
6. Manual Standing Desk by Mount-It!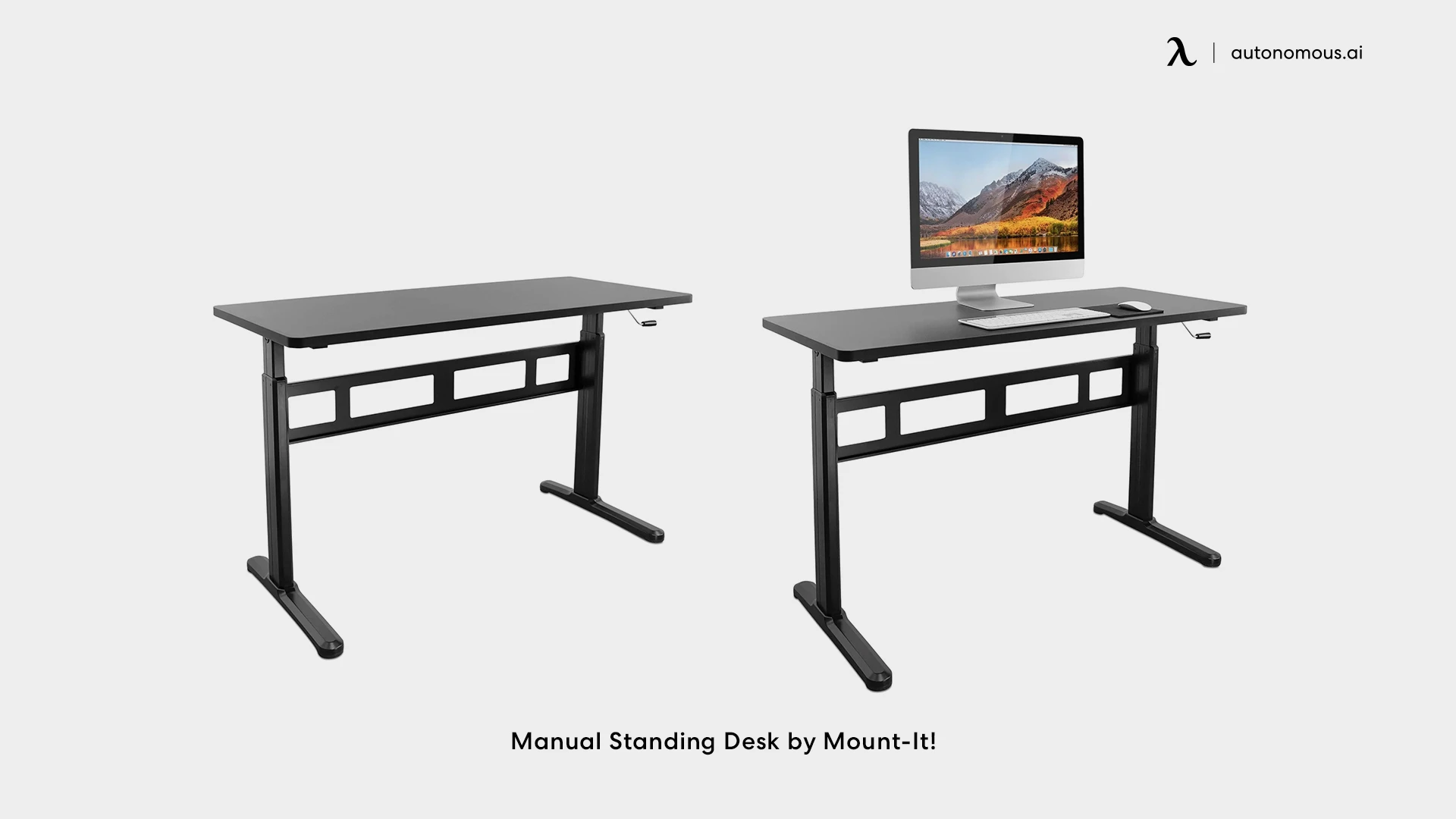 This desk was made specifically for those working on a tight budget because by substituting the electric motor for a hand crank, the price is much cheaper than other desks. If you hurry, you can get it for an absolute bargain at the computer desk Labor Day sale. 
7. Vari Electric Standing Desk 4
The Vari Electric Standing Desk 4 is yet another very small desk that will fit perfectly in small offices. However, it still comes with great features, such as an electric motor and enough space to comfortably get your work done.
8. Mid-Century Fold-Out Desk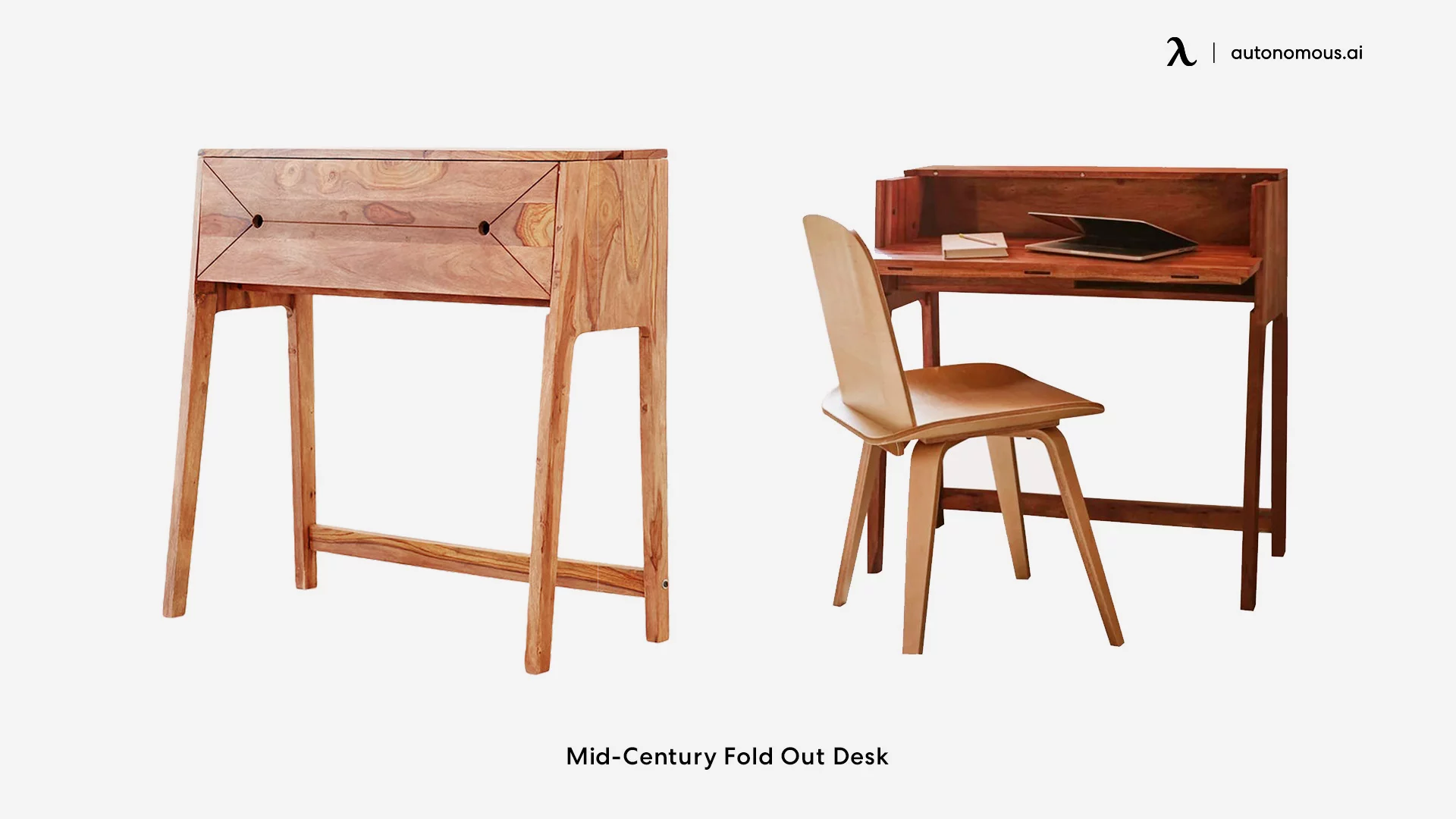 There is nothing like a classical desk to add some style to a room. The Mid-century Fold Out desk is the perfect addition to any office space. It can also be easily folded when not in use, to further open up space for other office activities. 
9. Mainstays Side Storage Desk
The first thing that will catch your eye is the great quality material that was used to make Mainstays Side Storage Desk. It certainly looks a lot more expensive than it is, and as a bonus, you get ample storage space for files, documents, and other essentials. 
10.  Wall-Mounted Drop-Leaf Table by Bjursta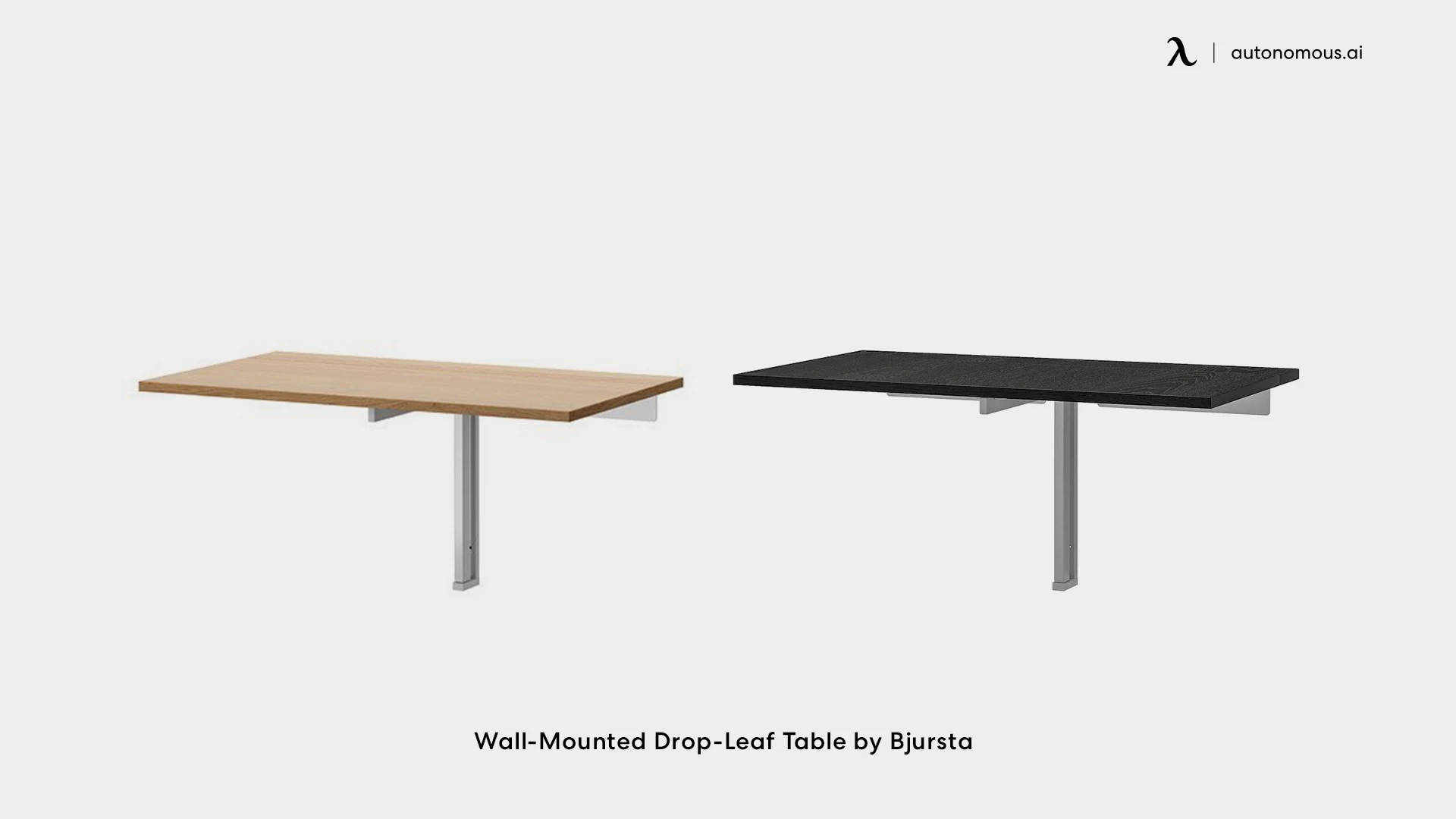 A good modern desk has to be useful in other ways besides just getting some work done. That is true for the Wall-Mounted Drop-Leaf Table, which can be used as a bookshelf or a place to display your office flowers. It also folds away for easy storage. 
11.  IKEA Bekant Sit-stand Desk
Like all IKEA products, the Bekant Sit-stand Desk is made to be transported in a small package and then easily assembled when it reaches its destination. You can do the whole setup and installation on your own to further cut back on the cost of the desk. 
12.  Latitude Run Wall-Mounted Folding Desk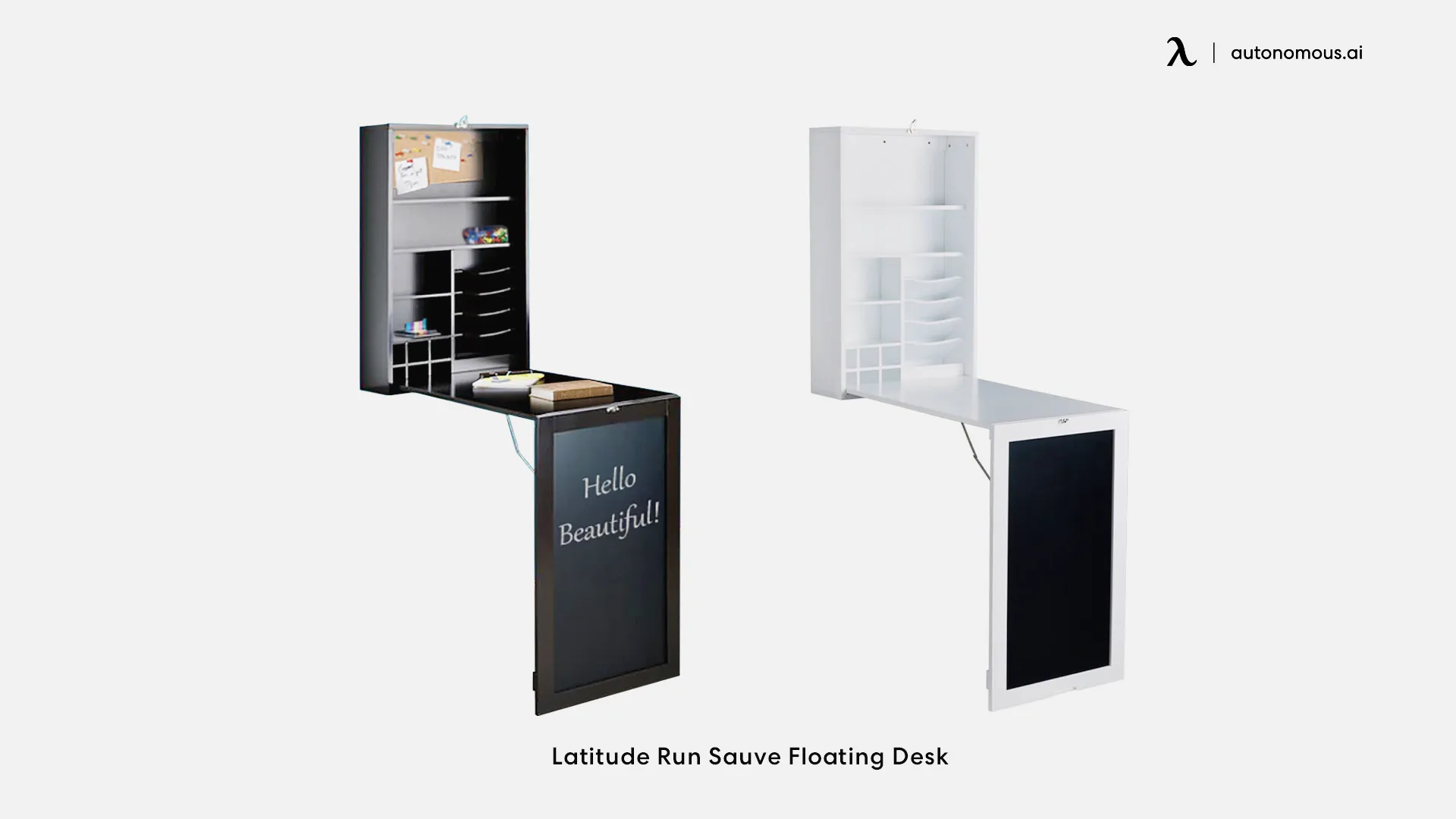 Latitude Run's Wall-mounted folding desk is a great example that adding extra storage space does not mean having to sacrifice the look of the desk. Here, they utilize cubbies to stylishly add acres of storage space. 
13.  Symple Stuff Grattan Standing Desk
You should not worry about the expensive-looking design on this desk, because it is a very affordable standing desk, especially at the standing desk Labor Day sale. This is a desk that will make a statement in any office where it is placed. 
14.  Micah Writing Desk
Labor Day desk sales are there to allow you to afford expensive desks, such as the Micah Writing desk. Where else would you be able to buy such a high-quality desk made of the most expensive and good-quality material? 
15.  Textured Trellis Desk by Anthropologie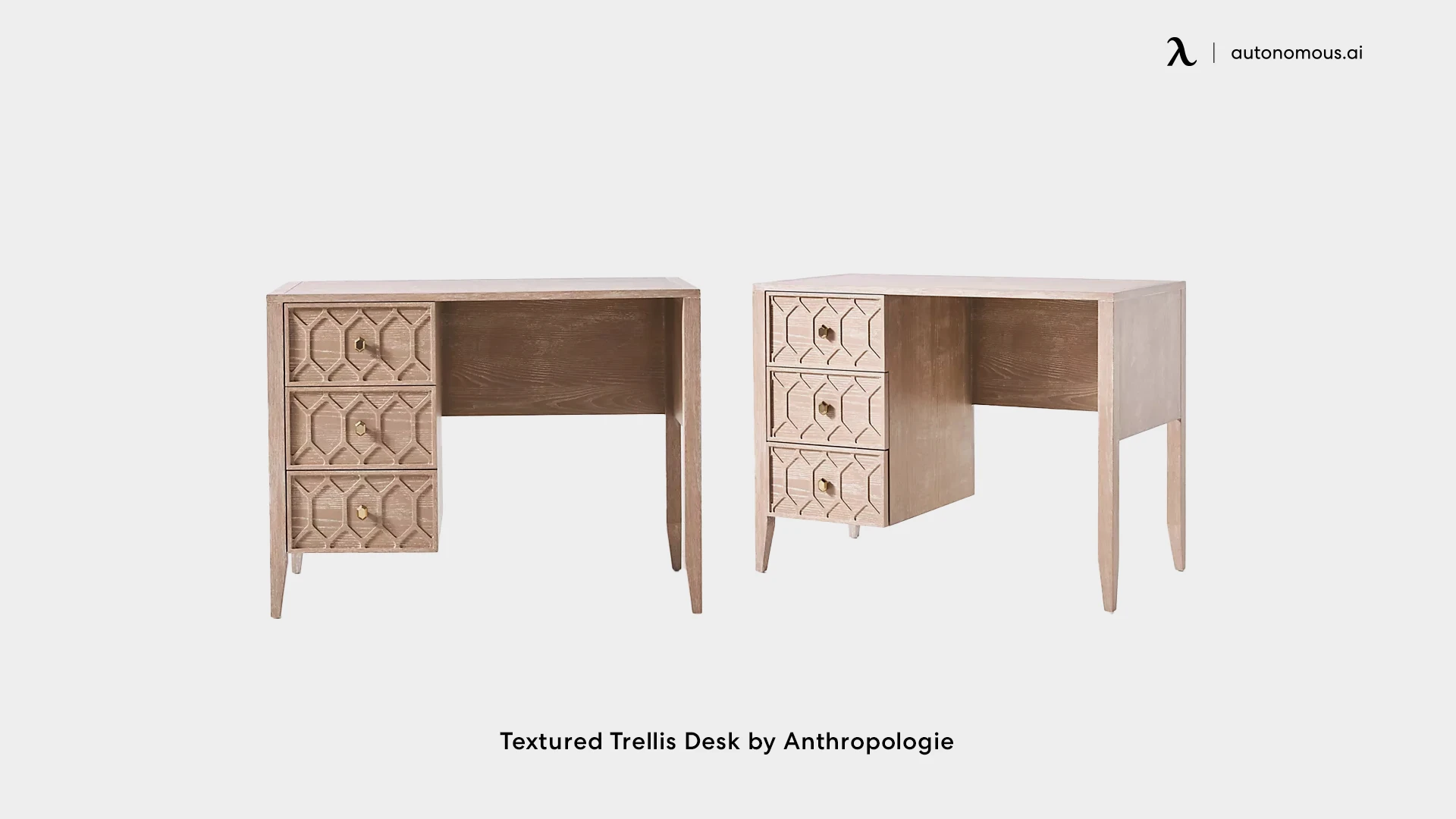 Another very beautiful desk that is made for those who appreciate the finer things in life, and are not afraid to dig a little deeper in their pockets to get what they want. 
16.  Mid-century Art Display Mini Desk
The stand-out feature of the Mid-century Art Display Mini Desk is the lovely glass table top that captures the natural lighting of your office to brilliant effect. You can add some colorful designs right under the glass top to further enhance the beauty of the desk. 
17.  White Duffy L-shaped Desk
If simplicity is what you are after, then have a look at the White Duffy L-shape Desk. It is made of good material, with very few extra features added to make it affordable. If you are lucky, you can get it at the computer desk Labor Day sale for the lowest price anywhere on the market. 
18.  Alexzander Reversible Desk by Gold Flamingo
If you want to avoid giving your office that cramped look, then consider the Alexzander Reversible Desk by Gold Flamingo. It is made of clear acrylic, making it seem to blend naturally with its background. 
19.  Window Mount Standing Desk by Deskview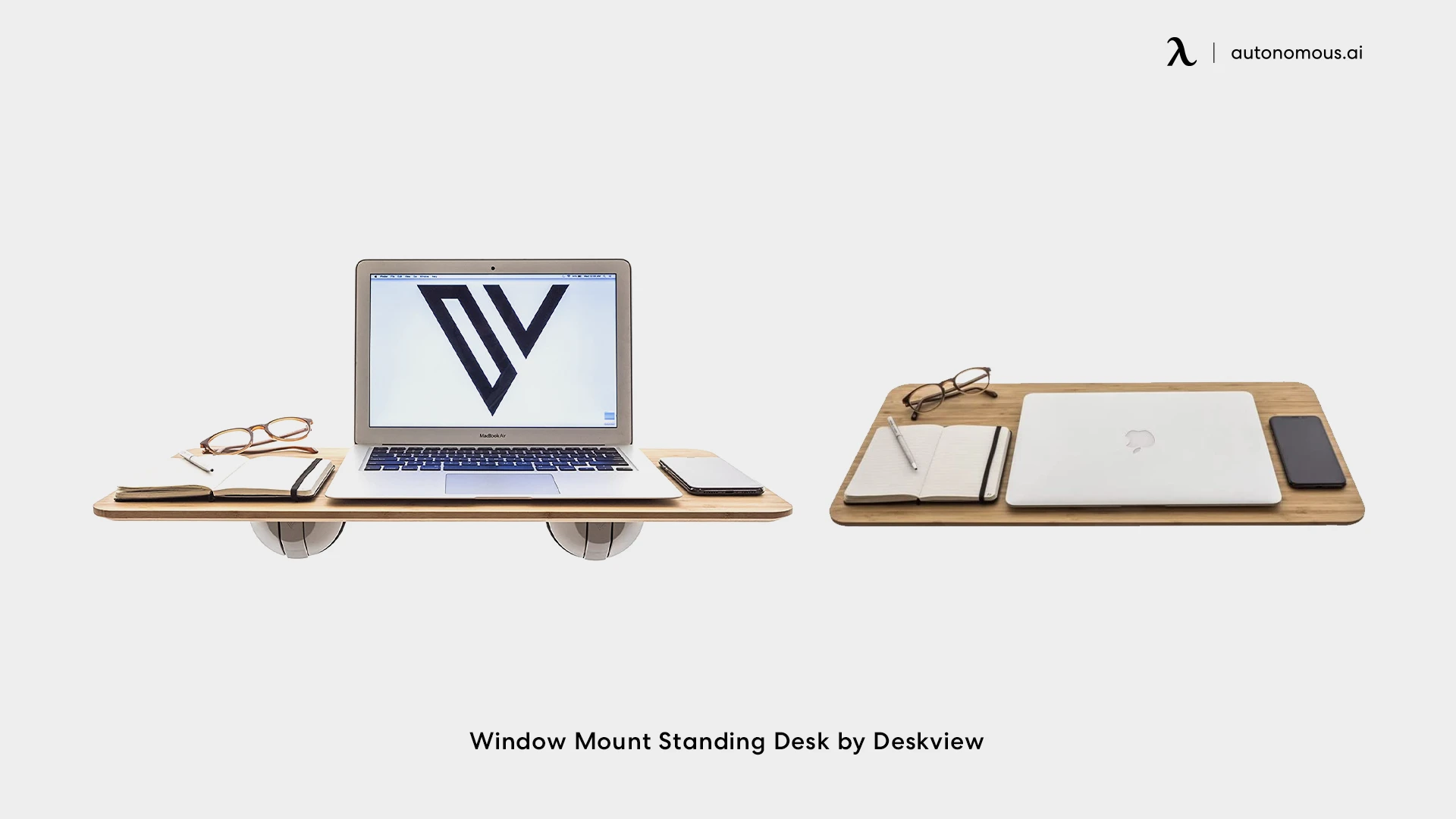 The Window Mount Standing Desk by Deskview offers you something a bit different. This easily portable desk can be set up in front of your favorite window, allowing you to enjoy getting some work done while gazing at a lovely view. 
20.  Haeloen Wall Mount Desk
This type of desk is what's known as a ladder desk because it utilizes the space above you to create extra storage space. It is a great option if you need storage but you do not have the space for it. 
21.  Corner Study Desk From Easyfashion
The Corner Study Desk is designed to cater to the needs of any student or professional who just needs a space to place their laptop and a few accessories. It can be tucked away discreetly in a quiet corner of the room when not in use. 
22.  Alfa Furniture Standing Desk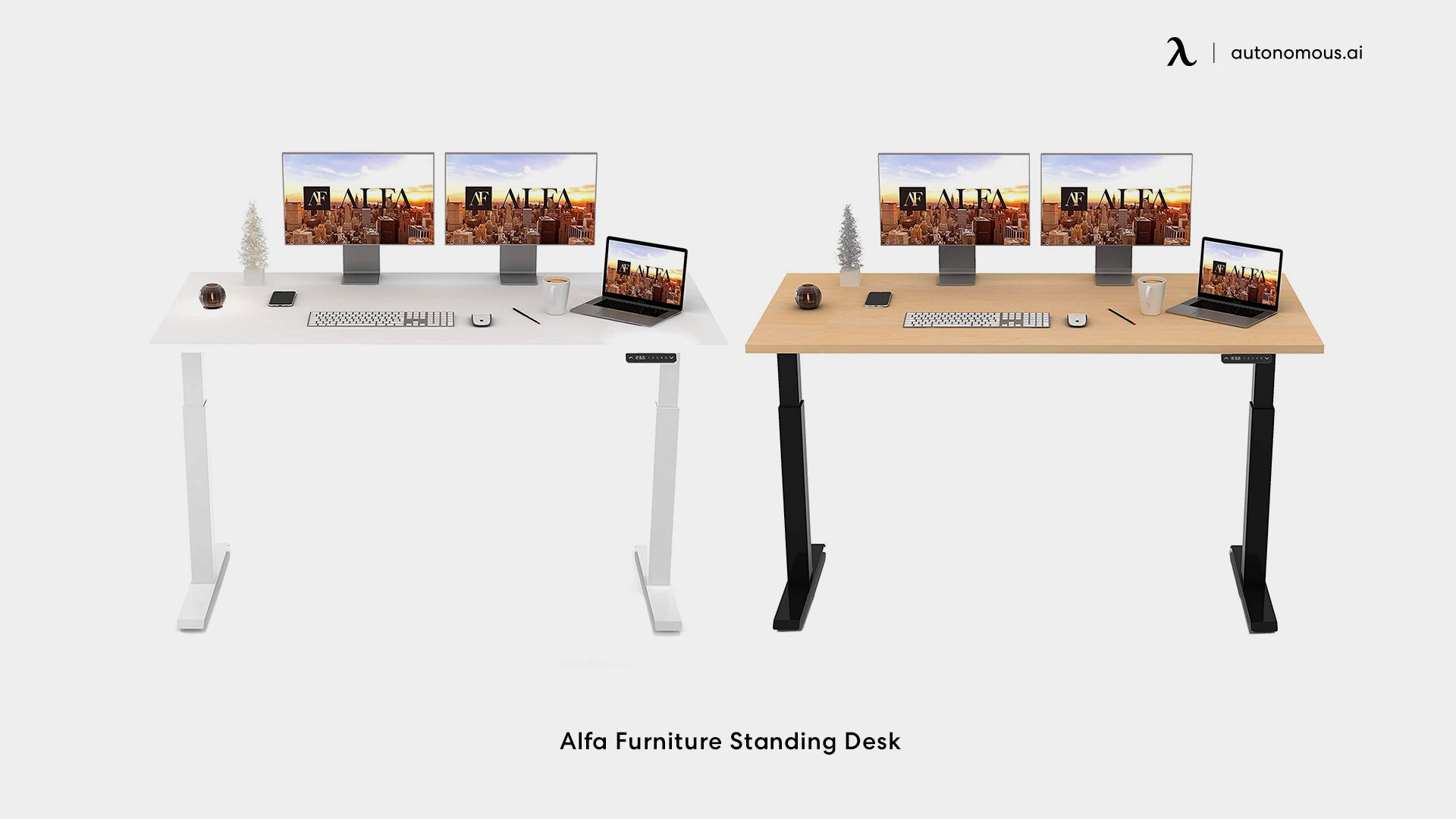 If you need extra tabletop space to place your monitors and other equipment, you should consider the Alfa Furnituring Standing Desk. Not only does it have ample space, but it is also a large standing desk, making it the healthier option for you. 
23.  Whallen Newport Wood and Glass L-desk
The combination of wood and glass on the Whallen Newport Wood and Glass L-desk is absolutely stunning. It is definitely not a desk that you can hide away in one corner of the room because everything about its design is made to be noticed. 
24.  Compact Desk by Wistopht: Wireless Charge Pad
This desk incorporates all the latest in cutting-edge technology, to give you a desk that was definitely made for the modern office. With a wireless charger, electric motor, and very stylish tempered glass top, all your visitors will fall in love with this desk. 
25.  Leather Bound Office Desk
Leather and quality always seem to go hand in hand, which is certainly true when considering the Leather Bound Office Desk. Its small features make it suitable for a small office, while its design can be at home in the most luxurious of offices. 
26.  Upper Square Albin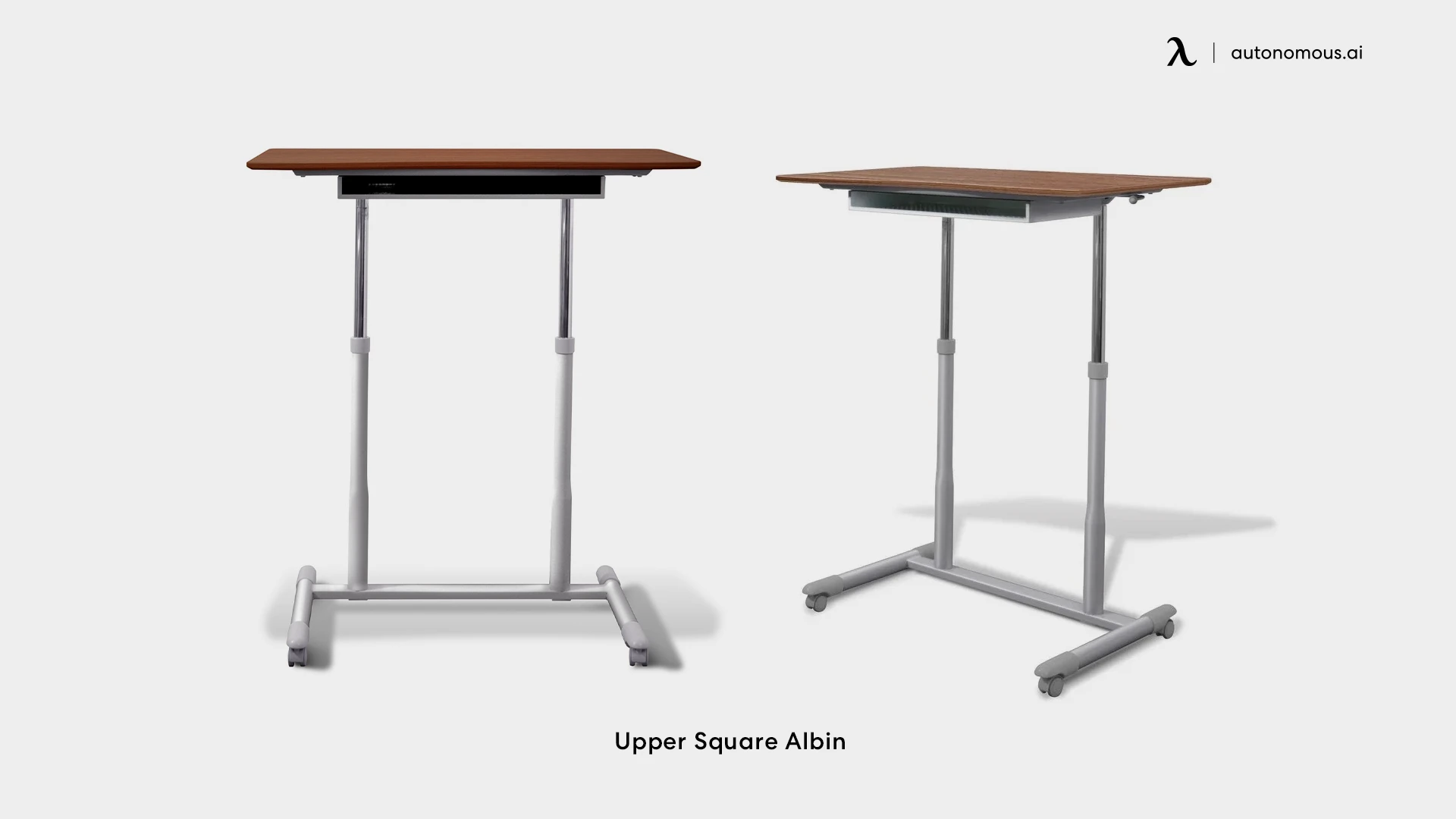 If you must have a standing desk, but you are working on a tight budget, then consider the Upper Square Albin. The manual setup means you cut back on the cost. It is also going to be much cheaper at the office desk Labor Day sale. 
27.  Wistopht Compact Desk: Touch screen Control & Wireless Charge Pad
The most technologically advanced desk of all the ones on this list has to be the Wistopht Compact Desk. Furthermore, the controls alone seem to be futuristic, thanks to the highly sensitive touch screen, from which you can easily adjust the height of the standing desk.
28.  Aesthic Folding Computer Desk
This is a great space-saving option if all you need is a room for your computer and a couple of accessories. This portable standing desk is not suitable if you have to deal with a lot of paperwork because there is not enough space for that.
29.  The Office Oasis Small Computer Desk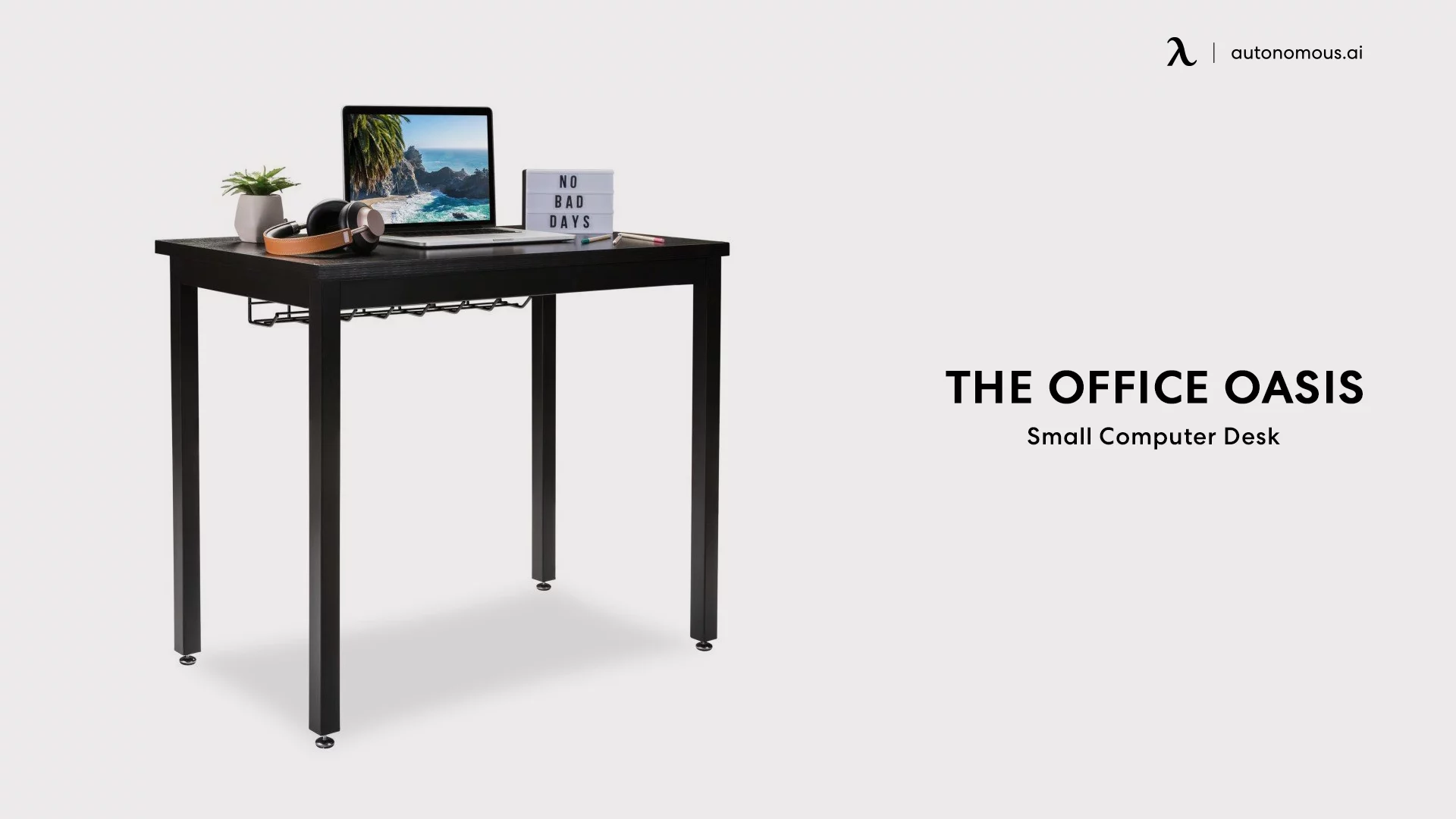 Although it is very small, this is still a good quality desk that has all the necessary features needed to get the job done, especially if you need it for your home office.
30.  Mobile Stand-up Desk
How about a desk that not only allows you to stand while working, but can also be moved around the office if you feel like a change of environment, or you need to create room for your colleagues? If that sounds perfect, then the Mobile Stand-up Desk is the one for you. 
31.  Standing Desk by FinerCrafts: Curved Top
Who says a modern standing desk cannot be stylish as well? The Standing Desk by FinerCrafts: Curved Top has all the modern features of any standing desk, but the curved top also gives it a bit of style.
Conclusion
If you have been waiting all year for the ultimate chance to get your hands on one of these great desks, then the wait is over. Labor Day desk sales, such as the one being held by Autonomous, are made especially for people like you!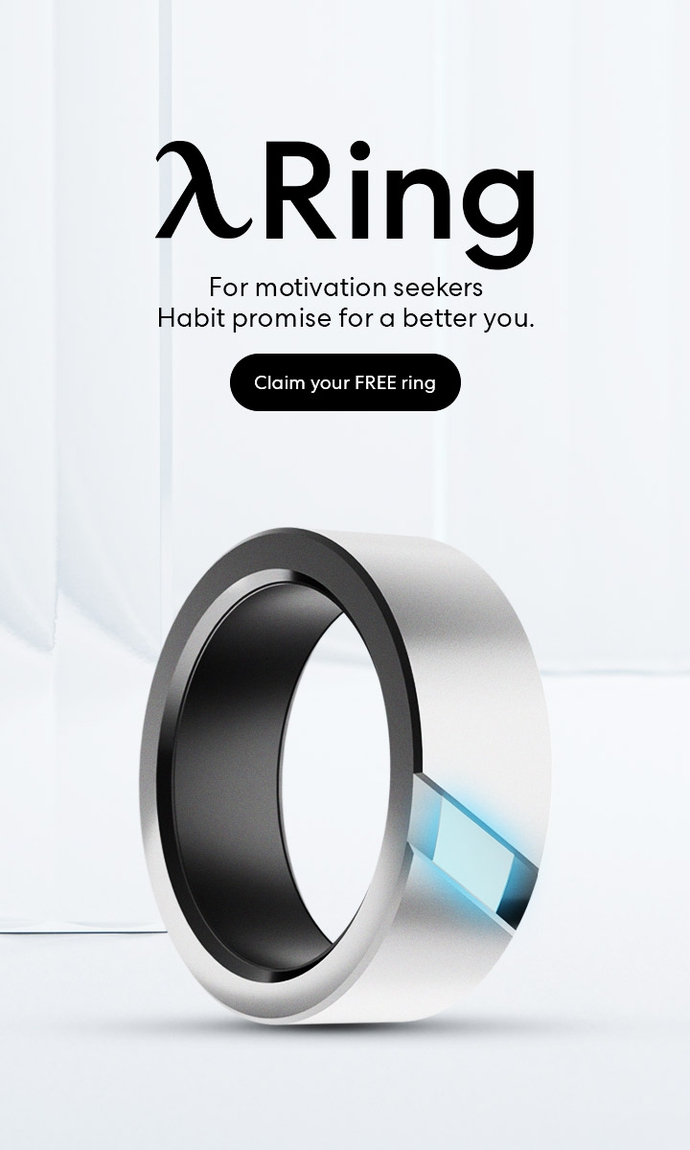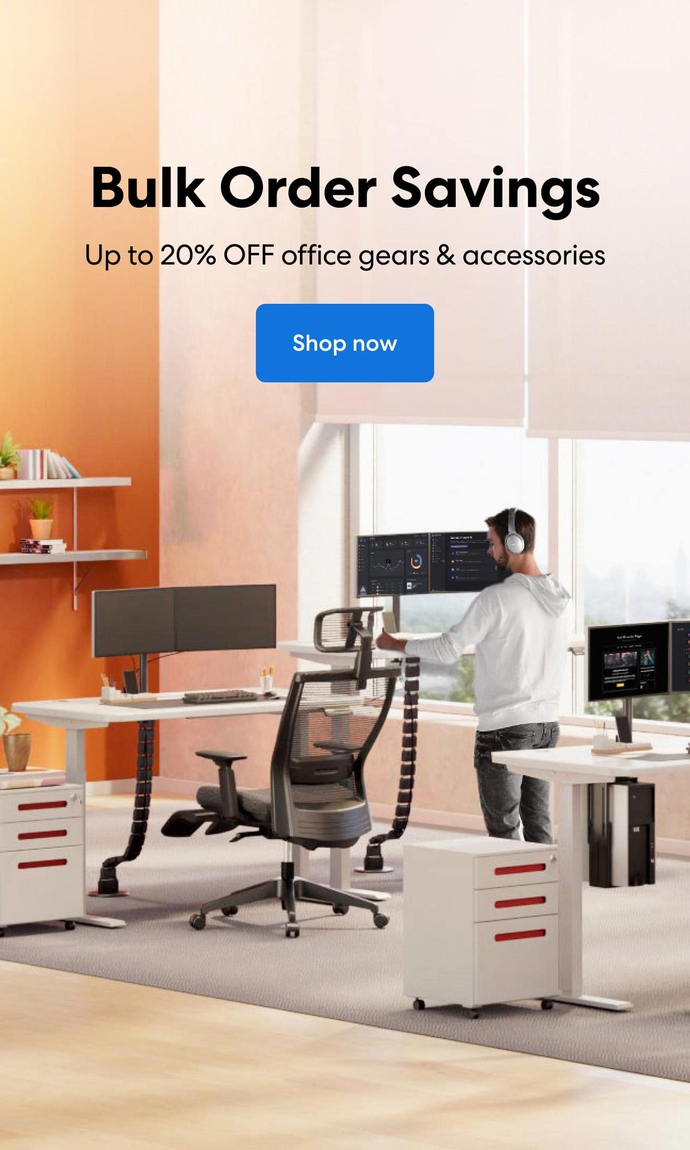 Subcribe newsletter and get $100 OFF.
Receive product updates, special offers, ergo tips, and inspiration form our team.