Workplace Inspiration
30 Cute Office Décor and Supplies for Home Offices and More

Autonomous
|
Jul 10, 2022
1,790 Views
Plain, boring offices are out. Fun, personalized, and comfortable offices are in! With more people working from home than ever, the opportunity to create your dream workspace is coming true for a lot of people. Have you always wanted a cute office décor that reflects your girly personality? Now is your chance. 
Below, we have shared 30 cute office ideas across three categories: design, décor, and specific items. In each one, we provide 10 ideas that can instantly add the cute factor to your workspace, hopefully giving you the inspiration you need to get the ball rolling in your space. 
10 Top Cute Office Design Tips: Color Schemes and Aesthetics
1. Professional in Pastel
Pastels are bang on trend in 2022. Sage green, whimsy yellow, baby blue, and powder pink are just some of the shades you can incorporate for a modern girly vibe. A cute way to work pastel colors into your office is to paint a statement wall and then pick up the colors through your accessorizing. 
Say you love pastel green- paint the wall behind your desk in this shade and carry it through in your soft furnishings. Then, pick a couple of other colors you like and add accents around the room. 
2. All-White Wonderland
Cute office design doesn't immediately mean girly colors- there is more than one way to be cute! An all-white color scheme has a clean, fresh feeling and makes the perfect blank canvas for whatever you want to do. Our top tip for your cute office decor would be to introduce some warmer creamy tones in some places and use lighting to create a cozy, magical feeling. Think white string fairy lights around your desk and a tall standing corner lamp. 
3. Au Natural
Nature is full of cute and quirky things! We love the natural aesthetic- meaning wooden elements, neutral colors, and a nature queen theme. 
One of the easiest ways to perfect this look is to pick a desk with a beautiful natural wood top and pick it up with a matching hanging or floating shelf. Then, keep the rest pretty neutral color-wise, using feathers and plants and a faux fur rug to add texture in your cute office decor. 
4. Pretty Peachy
If classic pink is not your thing, opt for its warmer, more grown-up cousin, peach. It looks gorgeous combined with creams and yellows- even a splash of warm orange here and there. The important thing with this color scheme is balance. Keeping it sweet rather than sickly can be tricky and ultimately comes down to your style choices. 
Our top tips to break up this theme and keep it looking professional are: 
Use black highlights: Pick a chair with black legs, wall art with black writing, or black photo frames, for example.
Don't overdo it with soft furnishings: Whatever fluffy pieces you add, keep them subtle and try to stick to more natural colors. 
5. Boho Chic
This is another cute office idea for you. Boho goddess vibes that are cute with an edgy twist. Keep the colors neutral, add a fabulous bohemian throw rug, and use natural elements throughout the room to complete the look. 
6. Kawaii Office Design
Kawaii is the ultimate cute desk setup. Nobody does ultra-cute better than Japan, and this design trend is a culmination of the best of it. There is no such thing as too much when it comes to Kawaii. It is also a popular cute gaming setup. 
7. Cute in Copper
Take a different approach to cute office design with warm copper. This bronze-color metal perfectly compliments pinks and other girly colors while taking the edge off the sweetness. Use it as a statement by working it into your desk choice, or keep it subtle with accessories. 
8. Girly Glam
Us girls can be cute and glamorous at the same time, and so can our offices! To add an instant glam upgrade, use gold in your color scheme. It works particularly well with white.
9. Little Miss Sunshine
The bold and breezy professional women out there may love switching things up with a yellow color scheme. With the right shade and the perfect placement, you can create a space that brings instant happiness as soon as you walk in. A bright statement wall behind the desk with cleverly placed accessories is the best way to start this cute home office look. 
10. Classy Cuteness with an Elegant Twist
Grown-up cuteness takes on a different form. Strip away the color leaving a monochromatic aesthetic, and then soften it with warm lighting, a fluffy rug, and personalized art choices. Gray, white, and black should be your color focuses here. 
10 Top Décor Ideas for a Cute Home Office
Next, let's look at cute desk décor ideas, meaning tips and tricks for things you can add to the base design to up the cute factor.
1. Soft Around the Edges
We have mentioned soft furnishing already because it is the fastest and easiest way to up the cute factor in any room. A fluffy cushion on the desk chair in a cute home office; the plush throw rug beneath the desk; hints of softness add a girly feel and make the space more comfortable. 
2. Indoor Botanical Gardens
Who doesn't love a house plant? Bring the outdoors in with greenery for your office. Consider adding a hanging basket beside your desk or a large potted plant in the corner. If work keeps you too busy to think about plants, you can cheat with fake ones- we won't tell! 
3. Your Own Personal Art Gallery
Express your cute and quirky personality through your art choices. Go big and bold or keep it simple- it is totally up to you. We love framed artwork for cute office décor because it is a little more fun. 
4. Floating Shelves
Floating shelves keep your desk free from clutter and also provide an opportunity to accessorize. Pick your favorite books with cute covers and stack them up, or place photos of your loved ones. 
5. Working Woman on the Move
A standing desk doubles as a functional piece of furniture and a decoration in its own right. Even in a small office space, you can completely center the whole décor style around the sit/stand desk, making it a feature of the room. It also happens to be great for busy working women who need flexibility and mobility all day. 
6. Light It Up
Say it with us: lighting is everything. There is no point in working to create a cute space if you can't see it properly or get your work done! Lighting enhances whatever design you pick and can be a statement by itself. Champion natural lighting where possible and complement it with well-placed extras. A full-length standing lamp is a cute addition to a small office. 
7. Work and Play
Your cute home office may often double as an escape space- be it to rest or play. If you like gaming, weave that into your workspace! There are plenty of cute gamer-style office accessories and furniture pieces that can multitask as well as you can. 
8. A Little Bit of You
Nothing is cuter than being yourself, so your personality should shine in your office space. Use personal touches to decorate your office, including artwork, photographs, and trinkets that have sentimental value. 
9. Pops of Color
Whatever core color scheme you pick is your base to work from, but how you place the colors is what really makes the difference. Pops of color are a fun, cute, and quirky way to keep a space interesting and stylish. Some easy ways to achieve the look are: 
Statement walls

Wall murals

Brightly colored accessories

A bold chair 
 10. Metallic Accents
As we mentioned earlier when talking about copper, metallics can enhance the traditional cute look and make it more sophisticated. Think about this when you are choosing your accessories and style elements. 
10 Top Cute Office Supplies and Accessories
Finally, we come to smart office accessories and supplies that can contribute to a cute home office aesthetic just with their presence. 
1. Autonomous SmartDesk with Pink Top
The pink top SmartDesk from Autonomous is our number one pick for must-have cute office supplies. It works with many of the design and décor tips we mentioned and is an excellent piece of equipment for a modern workspace. 
2. Magnetic Desk Organizer
Magnetic, simple, black, wood, and metallic: the perfect desk accessory to add contrast to a bright, girly office. We love this desk organizer for its practicality and quirky appearance.
3. Under-Desk Filing Cabinets
Clutter is not cute, no matter what style you try to achieve! Keeping things neat and tidy is the best way to keep a clear mind and productive attitude. Filing cabinets that slide underneath the desk are perfect for a discreet organization that doesn't interfere with the flow of your space.
4. Autonomous AvoChair
An ergonomic office chair is great for your posture, but they don't always look very cute. The AvoChair, however, is perfect for this aesthetic. The soft, curved edges and modern shape have us ready to buy one in every color- black, natural tan, pale blue, or sage green- all perfect for cute design trends.
5. Logan LED Floor Lamp by Brightech
Elegant, curved, and glam: this full-length floor lamp is ready to shine in a sophisticated cute office setting. The white and gold colors work well with plenty of design themes.
6. Desk Pad
This is one of the cute office supplies. One of our favorite desk accessories for women who are both cute and conscientious is the sustainable cork desk pad by Autonomous. Eco-friendly and functional, it helps keep your desk tidy and looks great with almost any aesthetic.
7. LED Lighting
There are many ways to incorporate LED lights into your working space to enhance the cute feeling, but it depends on what exactly you are going for. If you are into a more edgy style, you can add strip lighting around your desk (great for gamers!). Alternatives, buy a clip-on desk bar that helps you see clearly and looks great with the rest of your style. 
8. Simple Desktop Organizing Accessories
Pens, pencils, cables, and all sorts have a habit of disappearing or messing up a desk. Buying some simple but pretty organizers helps keep things looking good and the work flowing well. Our favorite choice is the cup-style pen holders by Lenox available at Autonomous. The shiny metallic look is effortlessly cute with a grown-up twist. 
9. Table-top Monitor Stands
Sometimes, adding different levels can create added interest to a space and bring a little something extra to the overall aesthetic. A really easy way to achieve it is with a monitor stand that sits on your desk for your laptop or computer to rest on. It can help with posture, as well as give you an extra space to hide mess or paperwork. You can find them in wood, metallic, and all sorts of colors, so you can work them into whatever cute design aesthetic you are going for.

10. Pinboards or Magnetic Sheets
If you want a quick way to add personal touches, buy a wall-mounted pin board or a metallic notice board where you can pin reminders, photos, postcards, or whatever other cutie things you want. They can double as a functional tool and a place for self-expression. 
Final Thoughts
Keeping it cute at work has never been easier. Creating an office space you love that reflects your girly side can completely change how you feel about working every day. Don't hold back on upping the cute factor however you see fit. 
You can find plenty of quirky home furniture items to work into your cute office décor plans, and there is no shortage of smart accessories to help take things up a notch. Use these 30 tips as inspiration, and let your imagination soar! Cute office décor awaits.
Video ads for product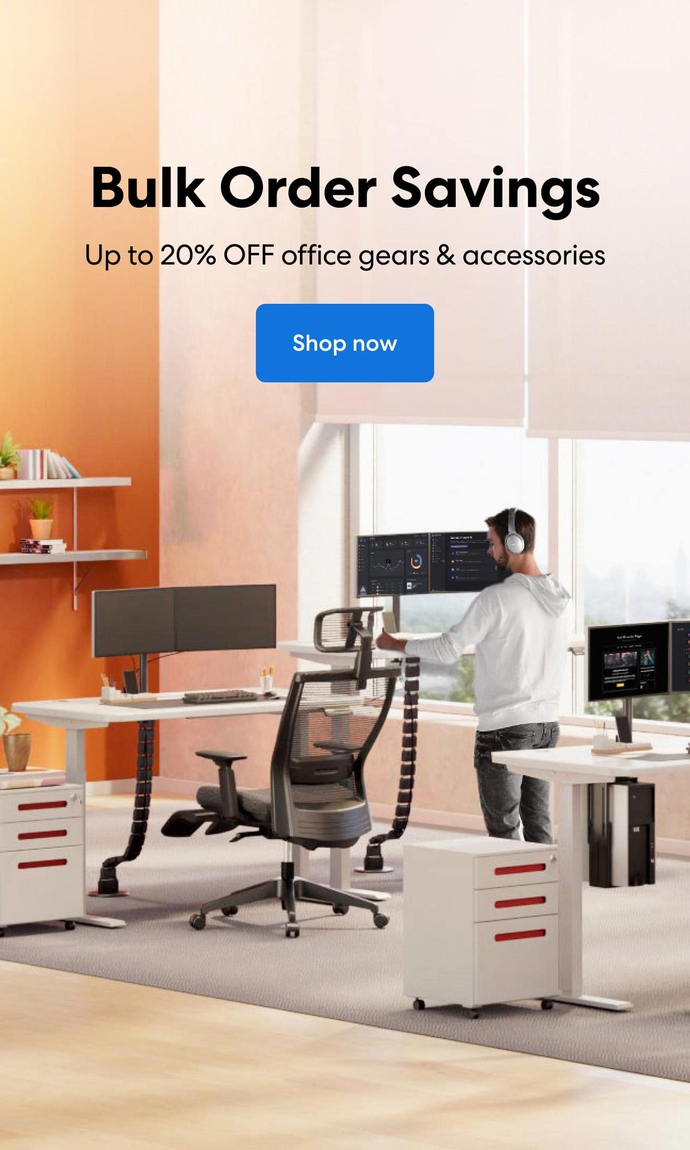 Subcribe newsletter and get $100 OFF.
Receive product updates, special offers, ergo tips, and inspiration form our team.