Workplace Inspiration
40+ Cool Home Office Ideas to Make Your Ideal Workspace

Autonomous
|
Dec 24, 2021
2,271 Views
The right home office designs are more than just attractive. Your work preferences, style preferences, seating preferences, and all of your other unique preferences should all be completely accommodated in your home office. The cool home office ideas allow you to focus on your job and develop new ideas.
According to research on open floor layouts, your office impacts the progress you accomplish there. Approachability, researchers discovered, had the power to influence workers' perceptions of productivity, attraction, attentiveness, participation, and contentment. As the requirement for working remotely grows, it's more crucial than ever to plan out the dream house office setting.
List of Design Ideas to Set-Up Your Cool Home Office
Are you looking for creative ways to spruce up your cool home office décor? You've come to the right place! As you work remotely, having your work environment is critical to increasing your effectiveness. A good home office layout will not only help you stay focused but can also inspire you frequently. We've put up a list of 40 cool home office design ideas to help you create the ideal area for boosting your productivity and knocking out your task list.
1. Raised Platform Stands on a Plain Workstation: Here is the first cool home office idea in the lsit. A raised wooden plank can be used to complement the minimalism of any workstation.
2. Metal and Vivid Color Palette: Metallic appearing silvers and greys can provide your workplace with a contemporary upgrade. Incorporate stark white table arms to the chair's gleaming silver body for a splash of contrasts.
3. Use a Natural Wood Table: A wedge desk displays detailed and gorgeous wood grain patterns, evoking the industrial-style home office's modern flair.
4. Streamline Minimalism: Because it is supposed to promote happiness and psychological calm, minimalism prefers homes and offices.
5. A Splash of Yellow: The lively yellow material in your workplace can stand out and brighten the space.
6. Mix and Match Your Furniture: Colors and furnishings arrangements are utilized to fabricate harmony and aesthetic flow in any room. Adding diverse pieces of modern office furniture to your workspace might make things appear much more appealing.
7. Create a Vintage Look: With some fantastic antique appeal, you may fly back to the generations of the past. Provide your office with a distinctive retro touch with two identical rolling armchairs made with soft leather.
8. Industrial-style workstation: Industrial pieces are made to maximize room and functionality. Its distinctive aesthetic, which combines shiny timber with robust steel, is likely to evoke astonishment.
9. Get Small Pieces To Tuck Away: A small workstation and a modest chair can be tucked below the staircase to create a comfortable office nook.
10. Create a Terrace Office: If you have a tiny balcony or terrace, setting up the outside home office is a great way to experience some extra Vitamin D while you keep working.
11. Add Patterns to Your Office: Repetitive designs and striking monochromatic patterns provide a warm atmosphere in an office accessories corner, great for working on a daily checklist.
12. Elegance in the Modern Age: Narrow materials with sharp corners can be mixed with the rounded curves of the armchair.
13. Recliner Chairs with Foldable Desk: You may move throughout your house as much as you like with an ingenious and foldable writing table.
14. Fluorescent Under-Lights: Using a workstation with neon under-lights, you may make the best minimal atmosphere for an early in the morning writing session.
15. Provide such a Floral Retreat: Decorations and houseplants can be deliberately positioned to create aesthetic equilibrium from either end of the table.
16. Broad Collaborative Table: A bigger and wider desktop can also be used to make a collaborative workstation that is perfect for getting it through the work week with your coworkers.
17. A white-framed office chair: It may offer a lot of refinement and beauty to cool home office spaces.
18. Medieval Desk with Contemporary Legs: Old wooden home office desks with contemporary feet are a great alternative for charming cool home office furniture.
19. Club Desk with View of the City: If you reside in a skyscraper or other high-rise condo, availing yourself of the use of your city skyline is the method to go.
20. Add Different Chairs: Mixing chairs may convey a range of designs and styles while also making your workstation more interesting.
21. Add Ergonomic Vibe: With an exquisite L-shaped workstation and a huge and lofty office chair, you may help maximize luxury in your cool home office spaces.
22. Administrative Sleekness: The sleek and stylish desktop, together with the beige chair with a chrome base, exudes the highest level of journalistic expertise.
23. Simple Communal Office: Make a collaborative workspace by combining twin monitor desks with a long desk.
24. Light Shades with a Wallpaper: Here is another cool home office idea for you.  Wallpaper can make a huge difference when attempting to freshen up a small office area.
25. Dramatic Wooden Shelves: These attractively and geometrically built hardwood shelves provide enough shelf space you might need in a home office.
26. Alcove with Everything: A cabinet L-shaped table optimizes your home office by providing plenty of total areas, shelving, and storage.
27. Traditionally Handcrafted Furniture: Choose sorted handmade home furnishings for a savvier feel in your office.
28. Large Table Space: With a traditional wide desk, you may establish a home office appropriate for the best home office setup.
29. Neutral Colors Palette: Coated desks provide an excellent foundation for soft color schemes.
30. Clean Uniformity: An asymmetrical ivory desk provides clean visual proportions in a rectangular or rounded household office space.
31. White Shiny and reflective shades: A modern white desk with a shiny surface that resembles higher expensive products like crystal or limestone.
32. Oriented Focus Points: Functioning on a large desk surface gives you a lot of room to create fascinating centered areas of focus.
33. Mixed Minimalism: This is one of the popular cool home office ideas for your home working space. You can combine and blend styles to suit your personal preferences.
34. Heterogeneous and Arranged Colors: Using different colors to create visual organization is a home office essential.
35. Create a Bedside Office: If you reside in a condominium or don't have enough space to turn into a workplace, a nightstand workspace can be the solution.
36. Window Area Seats with Bookcases: Designed features like this can double as great places to work remotely.
37. Transform the round tabletop in your household into an office. 
38.  Workspace on the Center Island: The kitchen counter has enough room
39. Square Desktop with Frame-like Shelving: The greatest desks have built-in racks. This saves space and everything is within reach that makes it very convenient.
40. Color Scheme That Complements Each Other: Choose colors that complement each other like a monochromatic theme.
Sum Up
All 40 cool home office ideas are really interesting and easy to execute. Hope this article is helpful for you to build your own productive working space at home.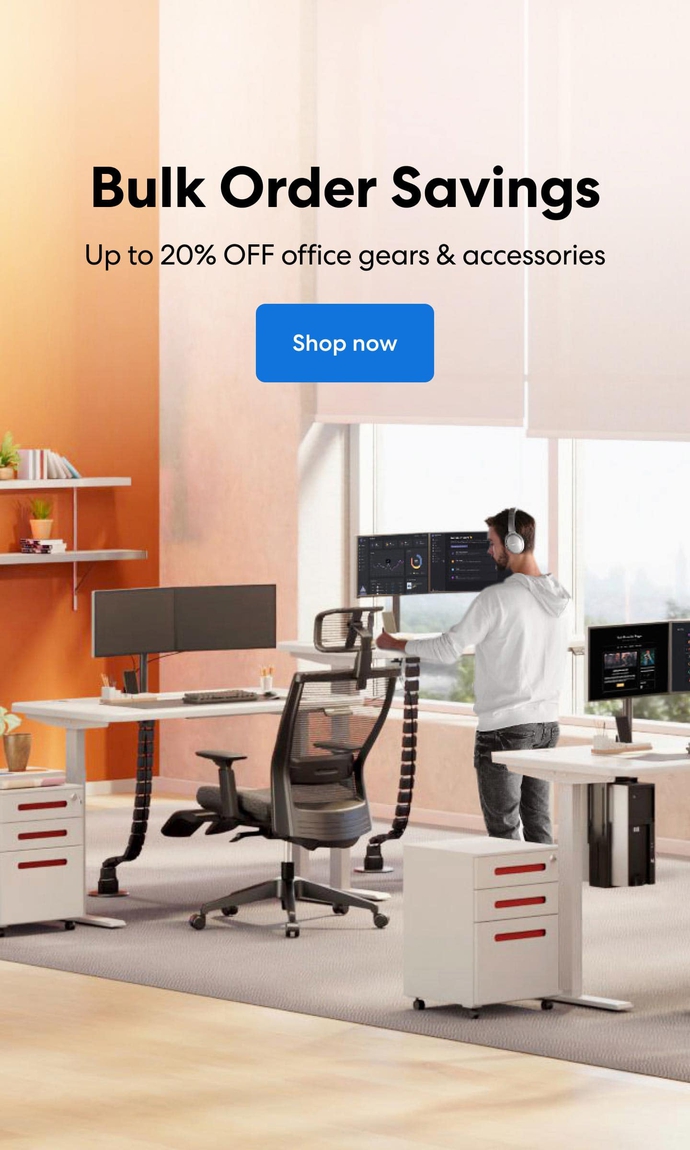 Subcribe newsletter and get $100 OFF.
Receive product updates, special offers, ergo tips, and inspiration form our team.