Gaming Setup
Budget Gaming Chairs: Finding the Best Options Under $100

Autonomous
|
Jul 25, 2023
1,079 Views
Looking for the best gaming chair under $100? While we may not be able to help you find cheap gaming chairs under $20, in this article, we will explore the top 5 gaming chairs that combine affordability with comfort, ensuring an enjoyable gaming experience without breaking the bank.
By reading this guide, you'll gain valuable insights into the advantages of owning a gaming chair, even at an affordable price. We'll provide detailed reviews and highlight the key features of each chair, allowing you to make an informed decision. Let's get started!
Top 5 Gaming Chairs Under $100
1. Techni Mobili Mid Back Mesh Task Office Chair
This outstanding mesh gaming chair offers various features that will enhance your gaming experience to new levels of enjoyment. Rated 4.5/5, it is on our list for many reasons.
The superior support provided by the airy mesh back is unmatched, and it allows for optimal airflow and a cool gaming session. The seat cushion and thoughtfully designed armrests provide exceptional comfort, ensuring you can game for hours without discomfort or fatigue.
With the added convenience of a tension control knob, you can easily adjust the reclining angle to find the perfect position for relaxation. You can also experience personalized seating with the pneumatic height adjustment lever, which offers a range of 4.5 inches.
This chair is better than any other gaming chair under $60 as you will be able to find the ideal height to suit your preferences and gaming setup.
2. HOPERACER Black Racing Chair
The HOPERACER gaming chair in black offers various features designed for comfort and convenience. It has soft padded armrests that provide support and can be easily pushed under the desk to save space. The chair also features a comfortable rocking mode and is suitable for various settings such as home or gaming room decor.
The high-quality PU leather used in its construction ensures that this chair is durable and comfortable (as well as easy to care for). It comes in a variety of neutral and bright colors to complement any decor scheme.
The chair's height may be quickly and easily adjusted thanks to the inbuilt gas lift. The rounded back shape is great for your spine and will save you from becoming weary as easily.
Everything you need to put together is included in the box. The chair can be put together in less than 30 minutes if you follow the directions.
3. JHK Gaming Chair
The JHK gaming chair in black offers a classic style and a range of features to enhance your gaming experience. It is designed with padded flip-up arms, providing exceptional forearm and elbow comfort. The flip-up armrests also allow for easy storage, maximizing space efficiency.
The multi-function design includes a 30-degree rocking feature to accommodate different sitting positions. It also features adjustable height settings suitable for all ages. Constructed with premium materials, this home office chair is made of upgraded PU leather that is breathable, skin-friendly, and easy to clean. It features a reliable gas lift that allows you to adjust the height and a sturdy metal base which can support up to 300 pounds.
With its stylish look, this PC gaming chair adds a touch of glamor to any gaming bedroom. It makes for a perfect gift for your family or friends. You can also choose from classic colors like black, blue, white, gray, and red.
4. OLIXIS Gaming Chair
The ergonomic gaming office chair offers exceptional comfort and support for your spine and tailbone. The high-density rebound foam in the central area of the chair back and seat cushion helps alleviate aches and pains from prolonged sitting. The one-piece lumbar pillow provides comfortable support for your lower back, while the ring-thickening design ensures proper posture and support for the shoulders and hips.
Crafted with premium materials like upgraded PU leather, this chair is wear-resistant. 
5. BestOffice Gaming Chair in Pink
This gaming chair under $90 offers maximum comfort and functionality for all users. With a wider design than average office chairs, it provides ample space for comfortable seating. The chair is easily adjustable for height, allowing you to find the perfect position for your needs.
Constructed with PU leather breathable fabric, this computer chair is designed to provide a comfortable sitting experience. Its ergonomic design ensures optimal comfort, with the ability to rock back and forth. Whether working or gaming, this chair offers excellent comfort for extended use.
This big and tall gaming chair's adjustable height and locking back feature support proper posture, while the wider layout enhances back support. This gaming chair is ideal for those seeking a comfortable and functional seating solution for their office or gaming desk setup.
What to Consider When Buying a Cheap Gaming Chair?
Ergonomic Design
Look for a cheap gaming chair that prioritizes ergonomic features such as adjustable height, lumbar support, and reclining capabilities. A chair with a proper ergonomic design ensures comfort and reduces the risk of strain during long gaming sessions.
Build Quality and Durability
Despite the affordable price tag, opt for a gaming chair constructed with durable materials. Focus on a sturdy frame, high-quality upholstery, and robust stitching to ensure long-lasting durability, allowing your investment to withstand the test of time.
Adjustable Features
A cheap gaming chair with adjustable features, including armrests, backrest tilt, and seat angle, provides customization options to fit your personal preferences. This adaptability allows you to optimize your seating position for improved comfort and support.
Comfort and Padding
Seek a gaming chair with sufficient padding and cushioning for extended gaming sessions. Comfortable seating with adequate lumbar and neck support can prevent fatigue and promote better posture, contributing to an enjoyable gaming experience.
Style and Aesthetics
While affordability is crucial, it doesn't mean you must compromise style. Choose a cheap gaming chair that aligns with your aesthetic preferences and complements your gaming setup. Consider color options and design elements that reflect your taste and gaming ambiance.
Conclusion
While high-end gaming chairs may offer luxurious features, affordable options like a cheap gaming chair under $50 can still provide crucial elements like comfort, ergonomic support, and adjustability.
Opting for a budget-friendly gaming chair can enhance your gameplay sessions without compromising on essential features.
Remember, the importance of a gaming chair lies in its ability to provide the necessary support and comfort that allows you to immerse yourself in your gaming adventures fully. So, even if you're on a budget, plenty of affordable options can provide the comfort and functionality you need to take your gaming to the next level.
Choose wisely and enjoy the experience!
Video ads for product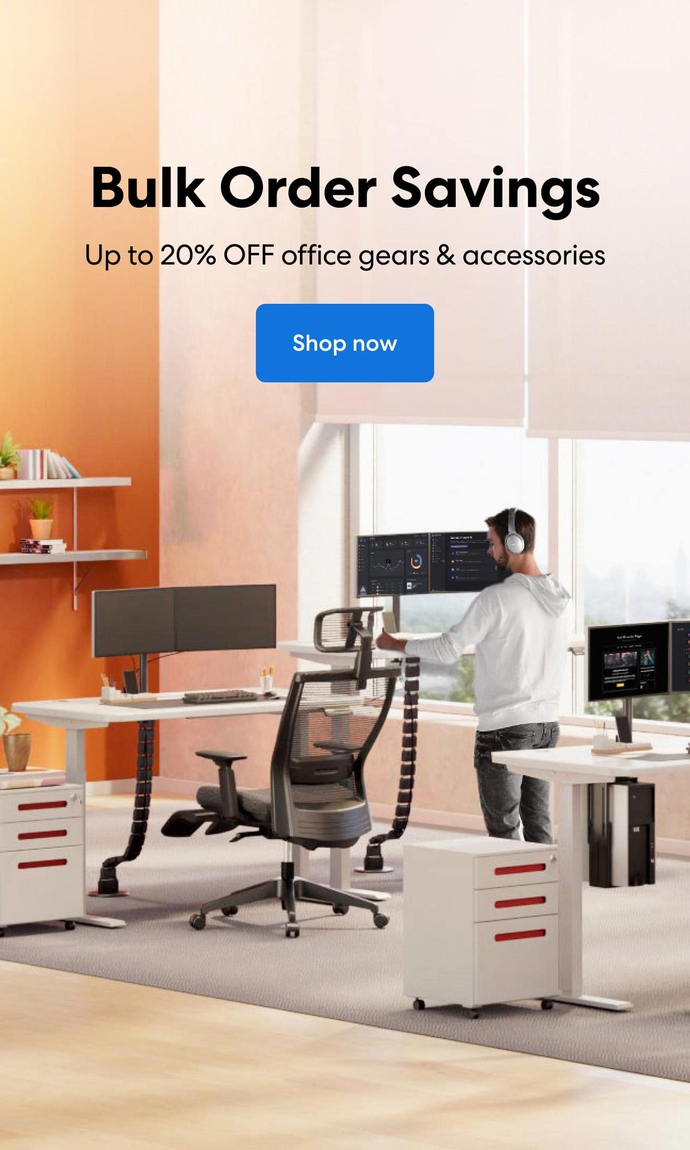 Subcribe newsletter and get $100 OFF.
Receive product updates, special offers, ergo tips, and inspiration form our team.