Smart Products
5 Best Foldable Gaming Chairs for Work and Gaming
911 Views
You might have heard about foldable picnic chairs or even foldable patio chairs that can save you space and only come up when needed. But the concept of foldable chairs and space efficiency has made it desirable to use them in every aspect of life. As far as work and gaming are concerned, the comfort of a chair is highly important; hence foldable chairs were not so common up until now. With modern design, research and emphasis on ergonomics, which helps you save time and provide a healthy solution, a foldable gaming chair is an easy find in today's world.
Even though the concept of a folding office chair with back support sounds unreal, modern designs have made it possible. Hence you don't need to purchase large footprints of office furniture and cover up your valuable space just because you could get some functionality and comfort out of it. A foldable desk chair does the job similarly well. This article will cover the best foldable gaming chairs, types and benefits of using one for your work or gaming setup.
Types of Folding Chairs
Folding chairs are the most compact sitting options, making them ideal for usage at home and in settings where storage space is at a premium. They are simple to set up seats for outdoor weddings, events, and fairs because they can be moved by hand or dolly.
However, current folding chairs include comfort and functionality in their design, making them appropriate for work and gaming. Here are some common types of mechanisms found in foldable gaming chairs.
Plastic Chairs
Plastic chairs are simple outdoor chairs made to enjoy a nice tea time or picnic time. These chairs are lightweight and easy to carry and fold into very compact dressings. However, the plastic foldable chairs do not have a high weight capacity, nor are they compatible for long hours of sitting because they are uncomfortable.
Folding Back Chair
A chair that could be substantially cushioned can have a hinge system where the back attaches to the seat. These types of chairs can be folded for easy storage and easy portability. Such chairs are common for offices and gaming, and people who are short on storage can use such chairs. However, a drawback is that they lie on the floor, so you might need to tilt your head up while gaming.
Foldable Arms Chairs
Foldable arms and gaming chairs with foldable arms are a good choice because they take space efficiency to the next level. This chair can come in all shapes and sizes, and you can flip up the arms to slide them right under the desk. This also provides comfort if you wish to reach closer to your desk while working or playing.
Pros and Cons of Foldable Gaming Chairs
Foldable gaming chairs are an essential and ideal way to save space without you having to compromise on comfort and performance. You can take them out when needed and place them back once done.

You can also find multiple features, options, designs and a vast price range for foldable office chairs. There are a plethora of options to choose from.

They can be a great way to keep extra seating in the back when extra guests come over.

Foldable gaming chairs or foldable chairs are not so durable because they are lightweight with portability in mind for the user.

Foldable chairs lack style and might not be ideal for people with back pain as these chairs require lots of up and down movements, which can hurt the back and damage the spine.
Best Foldable Gaming Chairs
The folding gaming chairs can be a terrific method to save space; you can do that and store them in a closet to free up some much-needed room when you're playing.
To help you conserve space while still having a comfortable gaming experience, we have put together a shortlist of the top foldable gaming seats.
1. Karnox Suede Gaming Chair
This fabric Suede gaming chair has a large design; hence you can be comfortable at all pressure points. Although the chair has adjustable flip-up arms, it offers easy storage at the end of the day. It has head support and lumbar support and offers 4D armrests.
High-density molding foam conforms to your body shape, and the reclining backrests add a wonderful touch to your aching back. This is one of the most comfortable gaming chairs, and you can earn a decent discount when you shop with the Autonomous gamer purchase program.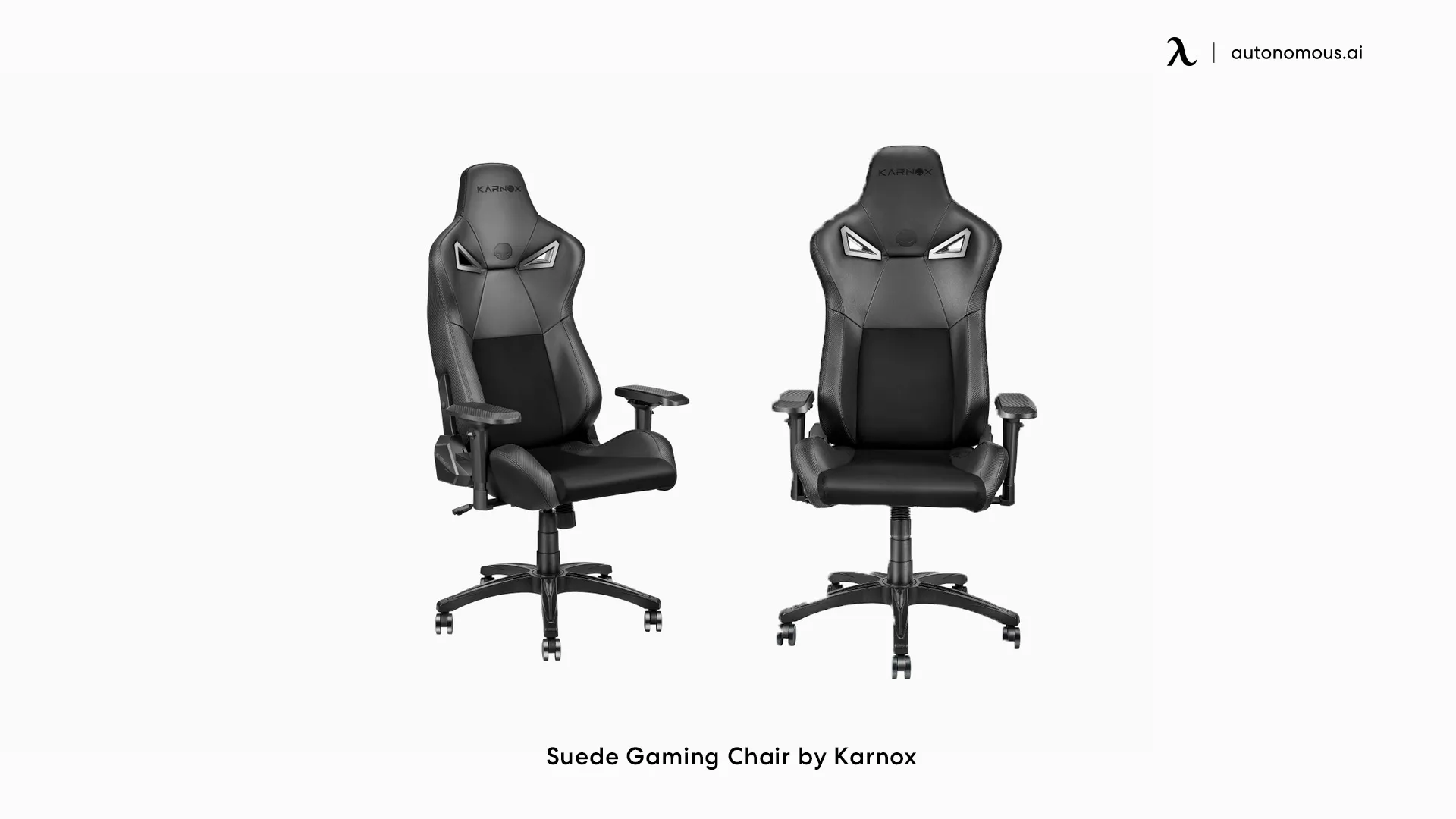 2. Karnox Slate Gray Chair
If you love a fabric gaming chair and enjoy the soft feel against your body, then opt for this smart gaming chair adjustable armrest. The karnox slate grey office chair has a head and lumbar pillow, so you can game and enjoy it for hours without hurting your back and neck. The chair has up to 155 degrees recline seat and high-density foam that conforms to your body shape. It also has adjustable height and a fully adjustable seat tilt.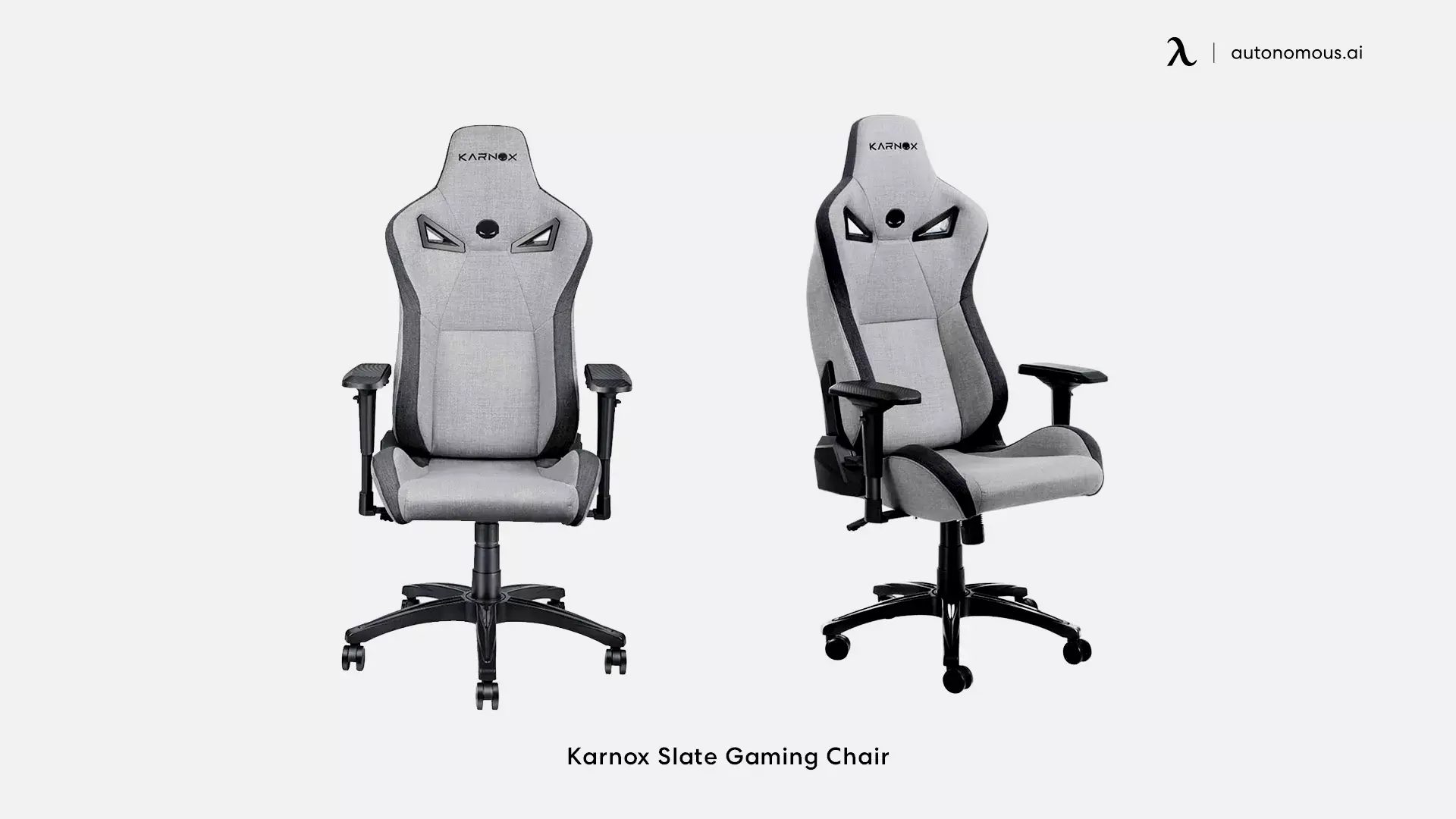 3. Birdrock Foldable Gaming Chair
The Birdrock Home perfectly captures the idea of a chair that can be folded up and utilized for gaming. It is a floor gaming chair with integral elements that are cut with a pattern that adapts to the features of your body and plush fabric that is comforting to the touch and gentle against the skin.
The chair may be fully collapsed into a horizontal position or raised into the backrest to a perpendicular 90-degree posture, which is ideal for gaming.
4. Karnox Leather Gaming Chair
We love this gaming chair with foldable arms because, let's be honest; there is nothing that speaks ergonomics and functionality for gamers more than a leather chair. And not to mention the looks a leather chair adds to your gaming station. And this one is not just an ordinary leather chair, but the leather is high quality and original to provide ultra-high working comfort. The chair has complete adjustability with armrests, height, seat tilt, seat rest and headrest all under your control.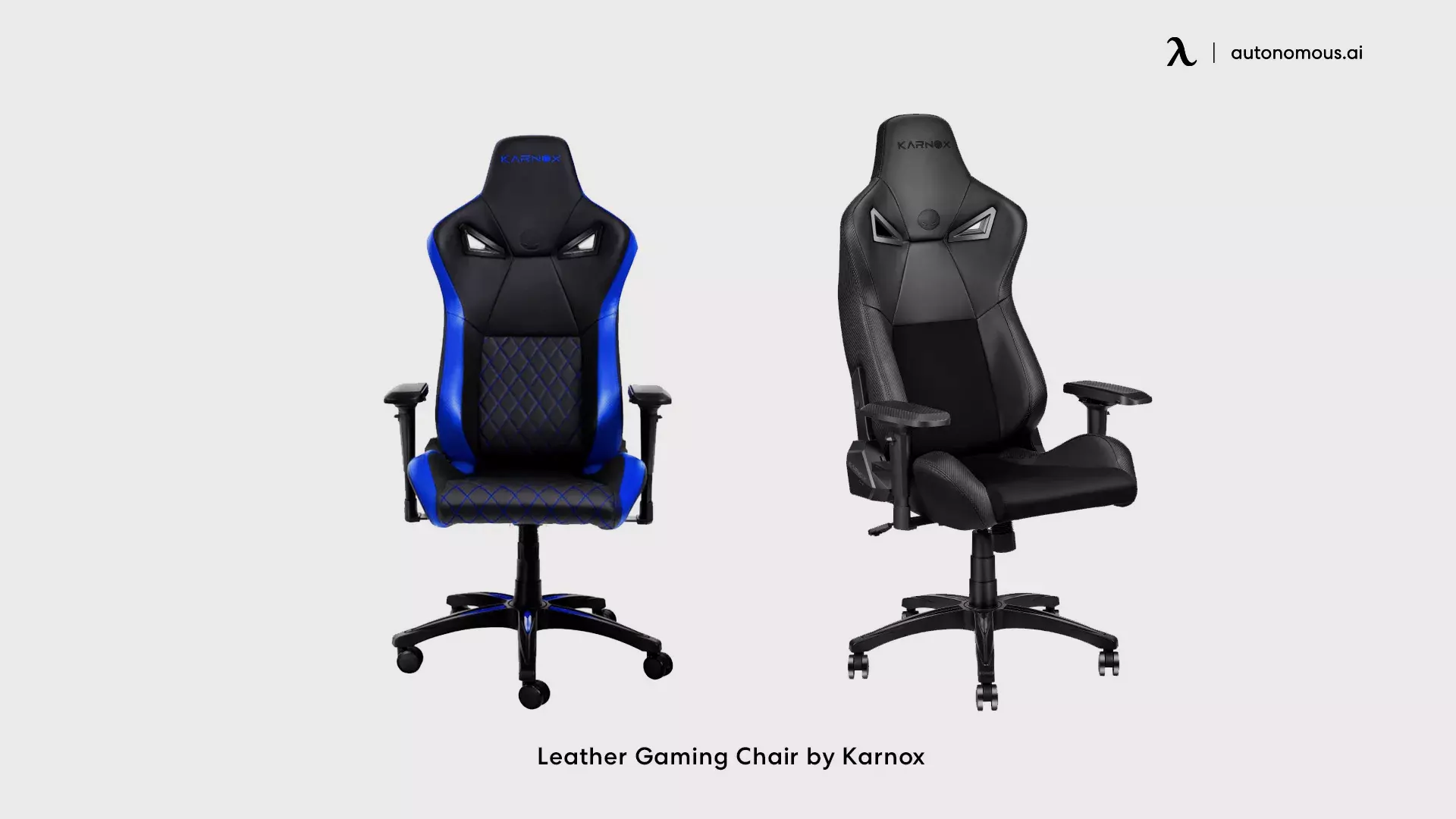 5. Best Choice Swivel Gaming Chair
In essence, this swivel chair is a mounted rocker seat with arms. If your screen is 2' in height, this chair gives you a slight elevation advantage above the ground. Second, when you need to move around without getting up, nothing is more satisfying than taking a fast spin. It's essentially a less expensive counterpart of something more expensive.
Hey, you have special pricing through your company.
Get exclusive rewards
for your first Autonomous blog subscription.
WRITTEN BYAutonomous
We build office products to help you work smarter.