Have you researched well enough to educate yourself about the negative impacts of excessive sitting? And maybe your workplace and the hours you spend sitting in front of the screen gradually trip you into guilt. While it is impossible to avoid sitting entirely, you can, fortunately, make a few changes in your routine and somehow minimize the negative impacts of sitting on your health. And having a proper exercise routine is one such way. Exercising for office workers is highly important because they need to burn some calories and healthily engage the muscles after spending an entire day in front of the screen.
However, exercising for office workers or people with long work shifts is rarely possible because they might not have enough time to squeeze in a proper workout in their routine. But how about exercising at work? Exercising at work is a modern concept encouraged by many of today's businesses; knowing the positive impacts of exercise on mental and physical health benefits work efficiency.
Counting these, many organizations have allocated separate rooms where employees can work out, stretch, practice meditation, burn off lazy pounds, and release happy hormones. And all you need is to bring your folding exercise mat to your work, and you can get on going with those stretchy yoga poses whenever there is a free spot.
Though if you feel confused about the best foldable yoga mat for travel that doesn't become a hassle when you commute to work, in this article, we list the best folding exercise mat for you to take along to the workplace.
5 Best Folding Exercise Mats in Markets
1. Bellabeat Yoga Mat
Probably the most compact design you would find for a yoga mat. This Bellabeat yoga mat is made of biodegradable recycled materials and is 100% toxic-free. Thanks to its compact, tiny design and patented foldable technology, it is easy to carry. The thick folding exercise mat has a 6mm thickness and makes the workout pleasurable with its anti-slip texture. It is made of polymer resin, so you don't have to worry about it causing any allergies or reactions.
It is suitable for your workout challenges at home or can be used by multiple people as it does not retain any dirt or dust, so you might not worry about those feet ruining the original color. Priced reasonably, it can be a great addition to your home gym equipment list or maintain a fitness routine while traveling.
2. Matladin Tri-fold Yoga Mat
This yoga mat with a tri-fold feature is a cost-efficient solution to your workout routine. It is 6 feet long and 2 inches thick and has a foldable design, making it easier to carry. Rather than a round-shaped folding design, it forms into a rectangle that is easy to store and carry. It also has two handles, so you can ride it along with you on your commute or any other way.
The environmentally friendly foam offers high resilience, a non-toxic surface, and a slip-resistant design. The yoga mat is also crack resistant, so you won't have to worry about your workouts getting too excited and fast.
3. Hemingweighs Gymnastic Mat
Suitable for various floor workouts, including yoga, aerobics, Pilates, gymnastics, and martial arts. You may now spare yourself the discomfort of rough, hard, and uneven surfaces because it offers the best underfoot comfort. This foldable gymnastics mat comprises 1.5 inches of firm, high-density EPE foam and provides maximum support and cushioning throughout your workouts.
This mat, which is 6.3 feet long by 2 feet wide, has a 3-panel foldable construction with carrying handles to make it simple to transport and store. It is also one of the sufficient workout surfaces for taller, wider, or people who need a large surface area to move freely. This mat is worthwhile to try because of its strong, lead-free surface that is constructed of non-absorbent vinyl that is simple to clean.
4. American Floor Mats
Fun yet smart, these yoga mat tiles fit like a puzzle piece and can be separated for easy storage. This might take some time to fold and rebuild the mat, but it works wonders for people who need a different than usual yoga mat. Ideal for heavy gym equipment and machinery, the large folding exercise mat is thick and able to withstand heavy loads and machinery. It is highly suitable for professional gyms but is also a stylish pick for people who need to build a workout corner in their offices.
5. Balance from 2 inches Folding Yoga Mat
This perfect size folding exercise mat for yoga, Pilates, and at-home workouts is this one, which is 6 feet long, 2 feet wide, and 2 inches thick. It is built of thick, strong, high-density EPE soft foam, and thanks to its excellent resilience, you can work out in any way you choose while maintaining your balance.
Its surface is lead-free, non-toxic vinyl that is strong, impenetrable, and non-absorbent. The mat is simple to clean and keeps surfaces free of bacteria and odor, thanks to its moisture-resistant technology.
How to Choose the Right Folding Exercise Mat for you?
Do all folding exercise mats look the same? Wait until you try. A yoga mat will impact your work experience and allow you to enjoy or despise your workout depending on how comfortable, spacious and user-friendly it is. Here are some factors to help you pick the best folding exercise mat.
Pliancy
You might only require a soft, thick workout mat because it will stop your feet from collapsing too severely and prevent you from feeling the uneven, rough surface while exercising.
Resilience
A yoga mat must be flexible and resilient to handle all the jumping, movements readily, and continuous movements needed to work out.
Grip
One of the most crucial features of a gym mat is grip because you need stability, whether moving, leaping, pushing, or carrying anything heavy.
Storage
Yoga mats should be simple to store—either folded or rolled—so they don't take up much room and are easier to transport.
How to Stay Fit At Work?

Staying fit at work sounds like a lot of conscious effort because your mind is already engrossed in completing tough challenges of the day. But with modern desk exercise equipment and simple workstation exercises, it is easier to incorporate a healthy workout routine into your daily life. A desk ab workout during some part of the day will help you retain shape and burn lazy calories. You can also practice using standing desks, an ergonomic and effective way to fight off weight retention and unhealthy sitting.
Moreover, you can purchase many workout accessories from big to small and save a great deal of amount with the employee purchase program. Either way, having a healthy workout routine in your daily life is highly recommended and even adding some physical activity to your office routine.
Video ads for product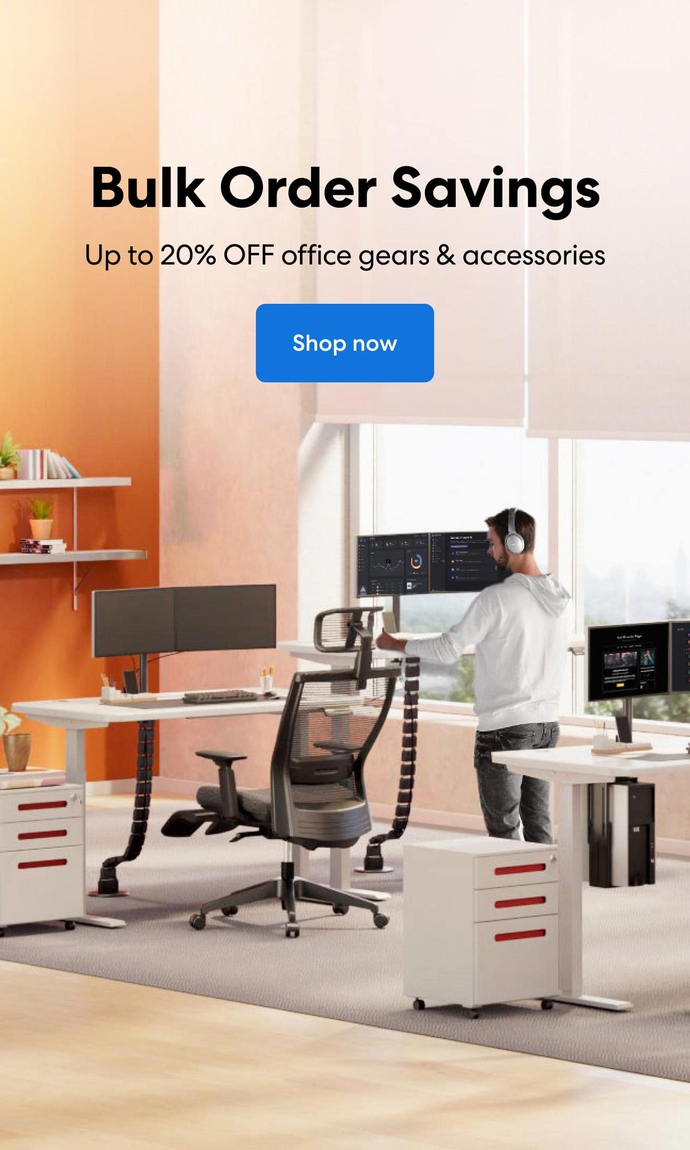 Subcribe newsletter and get $100 OFF.
Receive product updates, special offers, ergo tips, and inspiration form our team.