Smart Products
5 Best Under Desk Footrests Available for 2023
2,169 Views
Admittedly, a desk foot rest is probably not the most common workstation item in the world. Instead, you are more likely to hear about an office chair with a footrest or a standing adjustable desk. These are often paired with other traditional and home office essentials, such as small standing desk accessories.
However, beyond the typical desk accessories for men, women, and unisex needs, a foot stool for desk use can come in handy more than you'd ever imagine. That's why you are here today to learn about these items, which should help you purchase the best under desk footrest possible.
Before getting started, you may be interested to know what you should even be looking for as you hope to purchase one of these must-have office accessories. With that said, why not start there?
Remember that just like purchasing other office accessories, these must meet your unique needs to even be considered useful.
First, what kind of design do you want in your office footrest? This can be from an aesthetic standpoint or the presence or lack of an ergonomic design. The rule of thumb to follow here is if an ergonomic design exists, never buy a non-ergonomic alternative.
This is a principle you want to apply to accessories as much as you do ergonomic office furniture. Once there is an ergonomic option, it means you can work more effectively and healthily. Why is that something you would ever not choose to do?
Next, you may want to ensure that you're getting an adjustable footrest. Some of the options presented are static, while others allow for some degree of adjustability. One of the things that makes the best ergonomic footrest is the ability to appeal to different needs of different people or even of the same person.
As you sit and work, you may also want to ensure that you can get in a respectable amount of foot movement, which helps to promote healthy circulation. So, as you try to identify the best under desk footrest, you may want to ascertain if you can tilt your feet and move them around.
Pay attention to the material of the desk foot rest too. Not only does this partially fit into the overall durability of the item, but it also speaks to how comfortable you are going to be using it. Probably, a hard footrest may not be desirable. Something with a plush or even mesh design may better be suited to your needs.
Assembly is another concern. Technically speaking, a foot stool for desk use shouldn't require much of it. However, if such a need exists, it should never be more than to a limited degree.
Do Desk Footrests Work
This is undoubtedly an excellent question. What's the point of investing your hard-earned money into a footrest, only to find out that it doesn't do what you wanted it to do?
To ascertain if footrests work, it's essential to understand what they're supposed to be doing. That way, you have a proper baseline to measure performance against.
So, if you are in the market for a footrest, you want to maintain a proper blood flow, reduce swelling, prevent fatigue, and maintain leg movement.
Well, you should be happy to know that a well-designed desk footrest does all of these things. Additionally, adjustable models include greater customization, and you tend to find that the value you get out of purchasing one is very good when you consider the price.
Additionally, people with a footrest under their desks generally find that they can sit for longer than those who don't have one.
Note that this does not mean you no longer need a standing desk, but it does mean that when you are seated, you can maintain an even healthier posture.
5 Best Under Desk Footrests in the Market
1. ErgoFoam Adjustable Desk Footrest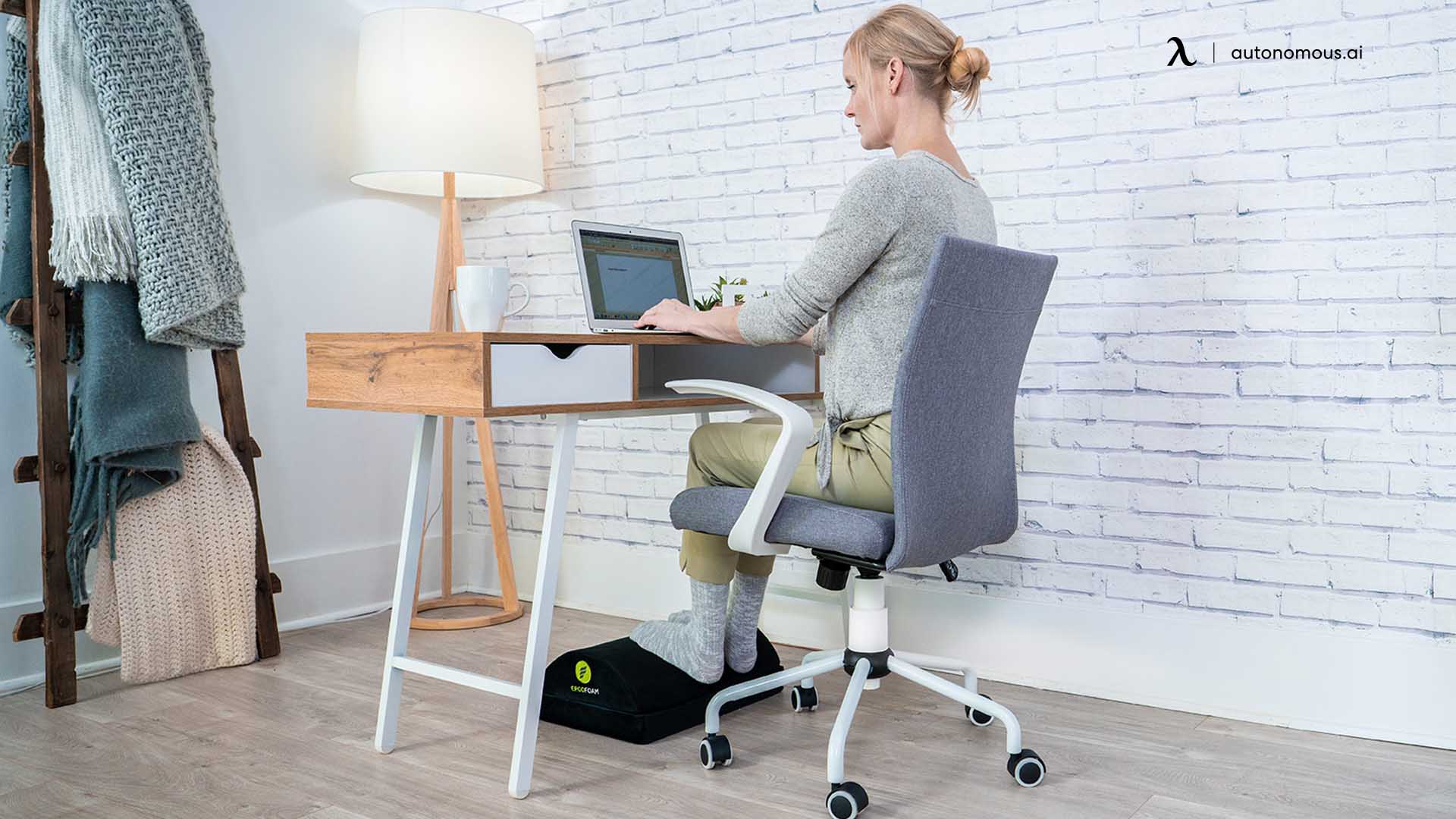 The ErgoFoam adjustable footrest starts off the list, and it is undoubtedly the strongest contender here. The price is highly affordable, and it has an overall great feel. That's thanks to a premium mesh cover that is moisture resistant, which maintains a cool and dry feel.
Therefore, you know you're not going to have much of an odor problem to deal with as you use this one. If you have a pet, there is no need to worry, as this is a highly pet-friendly design.
Another perk that users love is the cleaning aspect of choosing to purchase this desk footrest model. While others can present quite the challenge to clean, this one is barely an inconvenience in that regard.
You are not getting a pure memory foam design here, which is more of an advantage than you may realize. The problem with memory foam is that while soft, it doesn't provide much support. The design here offers you optimal ergonomic support in a firm manner, without being too hard on the feet.
If you want, you can flip your ErgoFoam desk footrest over and use the flat side as a rocker. It is probably one of the most effective ways you can find to keep your feet moving, which contributes to the objective of maintaining proper circulation.
Not everyone has legs of the same length. Maybe your legs are on the shorter side, which would necessitate a footrest that is a little taller. Well, the ErgoFoam desk footrest can meet that need, allowing you to either heighten or lower the footrest, ensuring that it is super effective, no matter how tall you are.
The icing on the cake with this one is that it's recommended by US-based chiropractic doctors. For reference, there is no other brand endorsed by the same group.
2. ComfiLife Footrest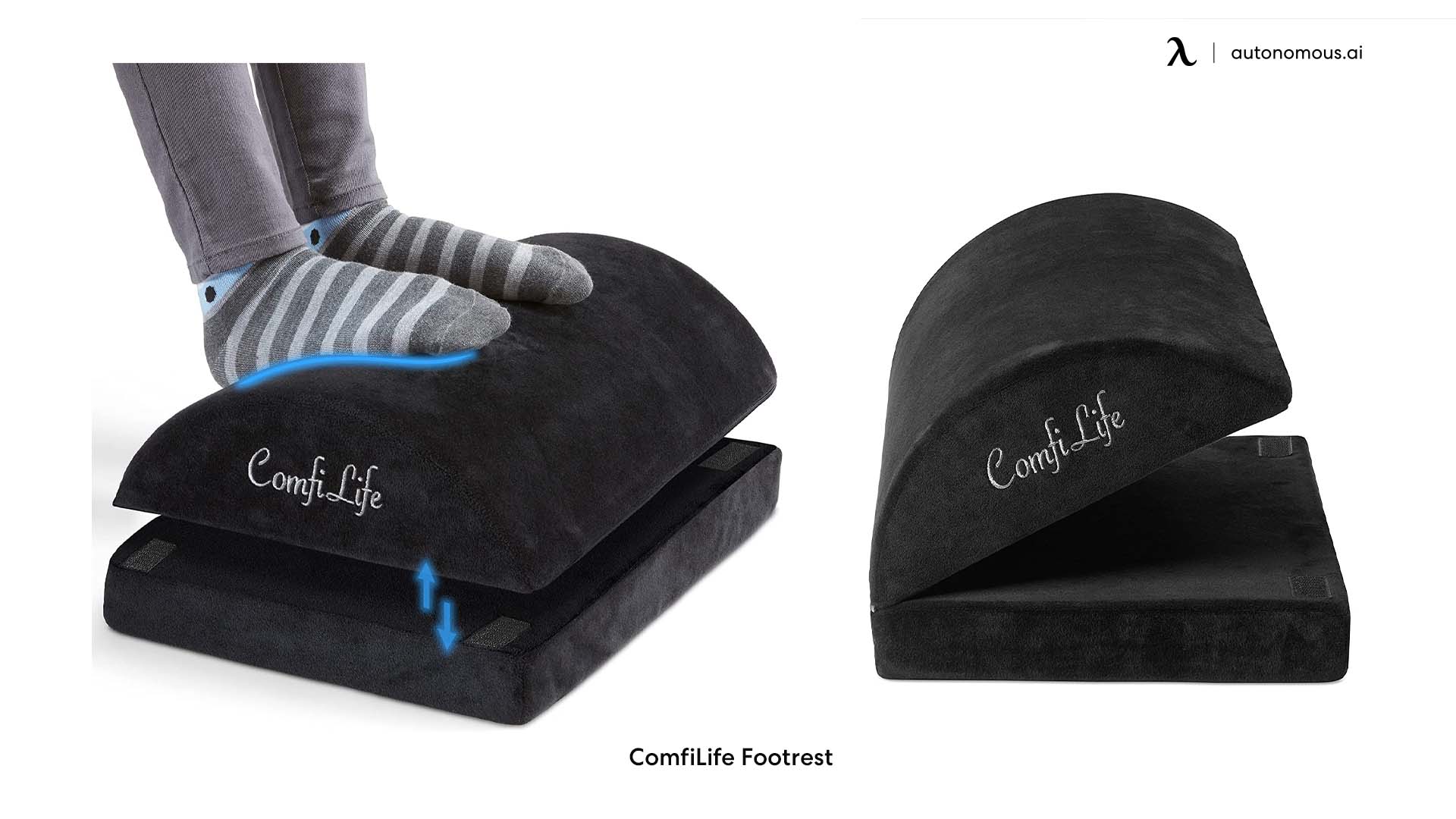 The comfy life is another amazing desk footrest, and it's no surprise that the shape is not too far removed from that of the ErgoFoam model just discussed. Like that model, it also encourages you to work without your shoes on, which by itself, is a way more comfortable way to go through the day.
Its composition sees the use of a high-density foam that also walks the delicate line between softness to touch and firmness for support. Of course, you don't have to worry about this one ever losing its shape, even when you may feel like you are putting it through the wringer.
Thanks to a 2-inch detachable base, you can take advantage of its height-adjustable nature, allowing you to raise it for those who may have shorter legs.
As far as cleaning goes, the unit has a velvet cover that is easily removable and also washable. That way, you don't have to worry about damaging it as you clean. While the cover may mean it's not as resistant to impurities as the ErgoFoam, being able to wash it makes up for that difference.
From a visual standpoint, you can choose your ComfiLife desk footrest in either black, navy, or gray. One of these should go well with whatever your office aesthetic may be.
Note that apart from the huge difference in cleaning mechanism, there is not necessarily too much of a gap between the Ergofoam and the ComfiLife designs. Of course, the similar shape means you can flip your ComfiLife on its head and use its flat side as a foot rocker.
The good thing about these desk footrest models and their rocker design is that they're not as noisy as some of their plastic or wooden counterparts. However, you do have to put a little bit more pressure on these to get the rocking going, since they're using softer materials.
Most persons may prefer to keep their feet stationary as they work though, and that is not going to be any challenge here.
3. Humanscale FR300 Foot Rocker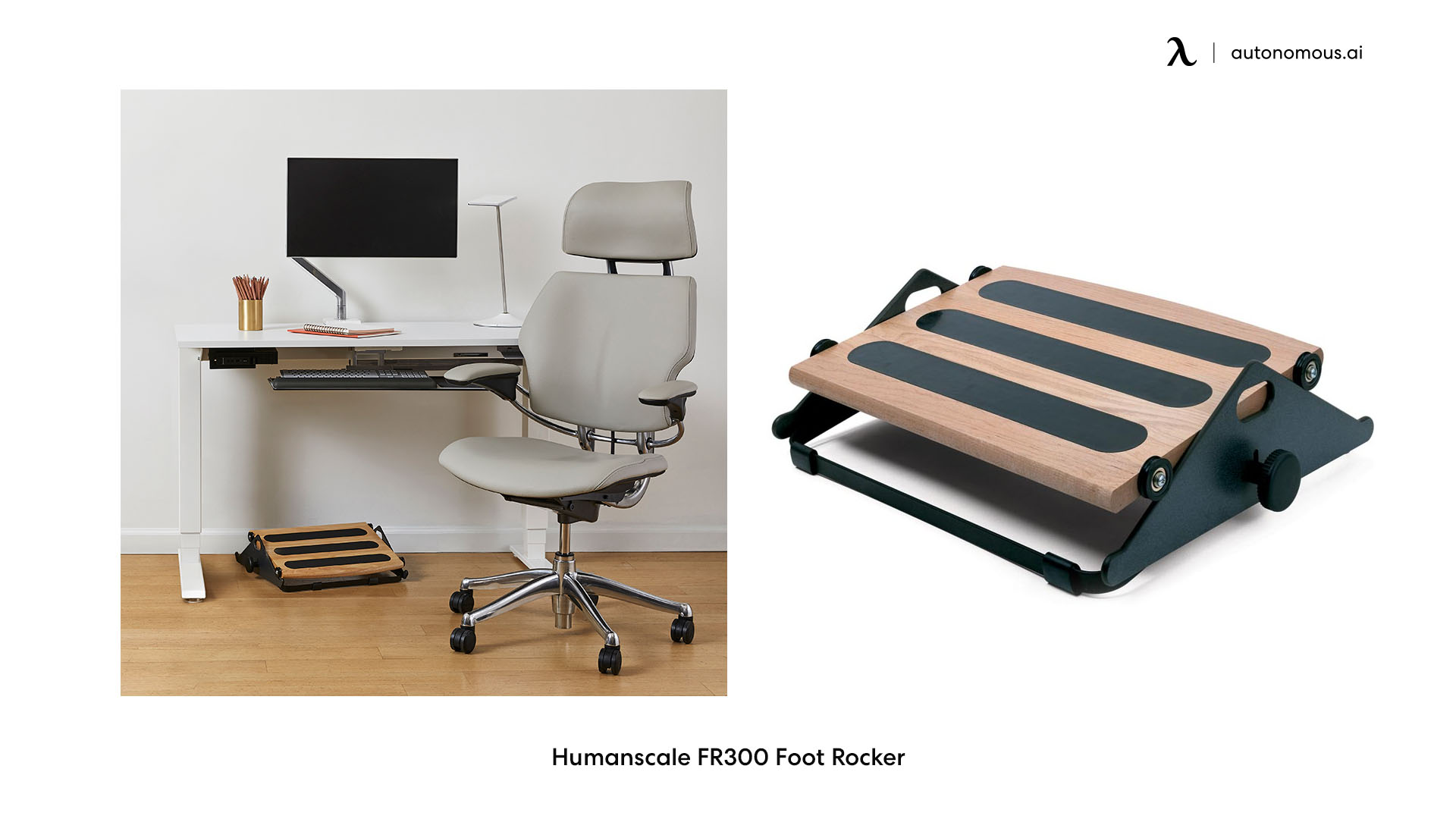 Aesthetically, there was not much of a difference between the previous two desk footrest models. However, the Humanscale FR300 Foot Rocker certainly breaks that trend with its standout design.
If you are not familiar with the Humanscale brand, it is popular for tremendous office chair designs, such as the Humanscale Freedom, which itself tends to rank highly in ergonomic chair listings.
Of course, today is all about getting your hands on a foot stool for desk use, so it's not the day for the chairs to shine.
The design of this desk footrest sees a wooden platform suspended atop a metal frame/stand, which allows for easy and smooth gliding back and forth. For obvious reasons, it is an insanely sturdy design choice. In fact, it would be a strong contender for the sturdiest footrest on the market.
You get a lifetime warranty here, which is understandable, considering the materials that went into the production of this one. This is probably a good time to mention that Humanscale also has another similar model known as the FR500, but that one is not height adjustable.
Of course, being able to achieve a rocking motion without having to flip the footrest over is certainly a plus, though you are probably compromising some level of plush comfort, by going for a wooden design.
It has 3 inches of upward height adjustability from its standard position. Unfortunately, the footrest does not come with the required instructions to complete the height adjustment, which can result in some confused users.
In using this one, you are probably better off keeping your shoes on, because things become a lot less comfortable with them off. Additionally, while you can keep your feet stationary, this footrest is way more conducive to those who want a more consistent rocking motion.
4. Everlasting Comfort Office Footrest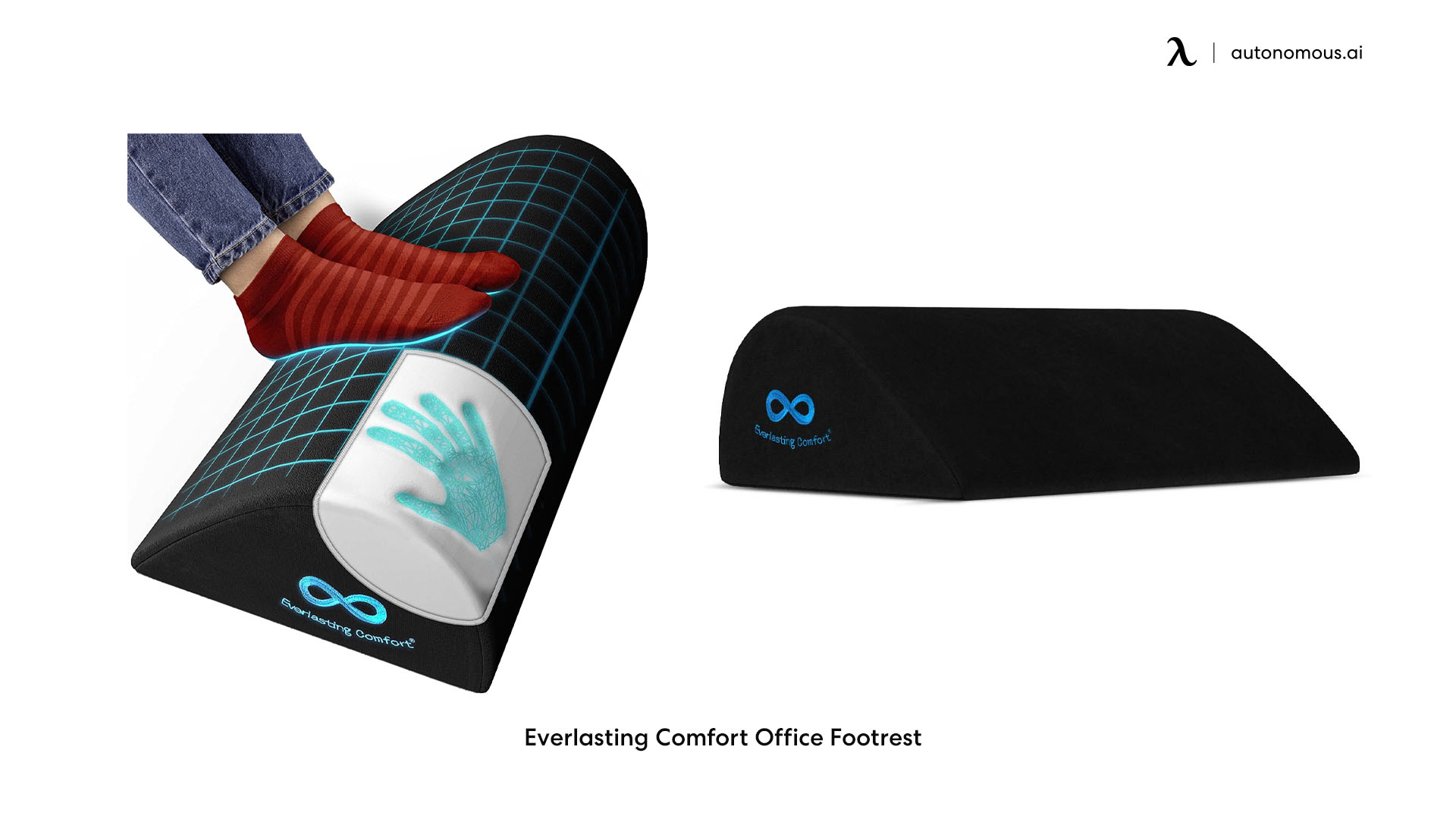 This is yet another of the best desk foot rest options on the market, and unsurprisingly, it bears some shape similarity to the first two models. It's another soft and comfortable option that alleviates a lot of the pressure you may feel as you sit.
As opposed to a pure semicircle, this shape is more aptly described as an ergonomic half teardrop. This allows for a natural level of foot elevation that reduces pain in the feet, legs, and hips, while maintaining proper blood flow.
Note that your feet are not confined to a single position, since you can take advantage of several points of placement, which all can produce the comfort and support you need.
This is a memory foam design, allowing it to shape itself based on the contours of your feet. There's a non-slip base present, meaning you shouldn't have challenges with the footrest moving around as you work.
That non-slip base happens to be flat and usable, so you can flip the footrest on the other side and use the base to achieve more of a rocking motion if you find that more desirable. Feel free to remove the cover for cleaning purposes, as it is also machine washable.
Unfortunately, if you are looking for height adjustment, you are not going to find that here, as the default dimensions are what you are stuck with. So, if your legs are too short for it, you need one of the other options
5. HiHydro Adjustable Footrest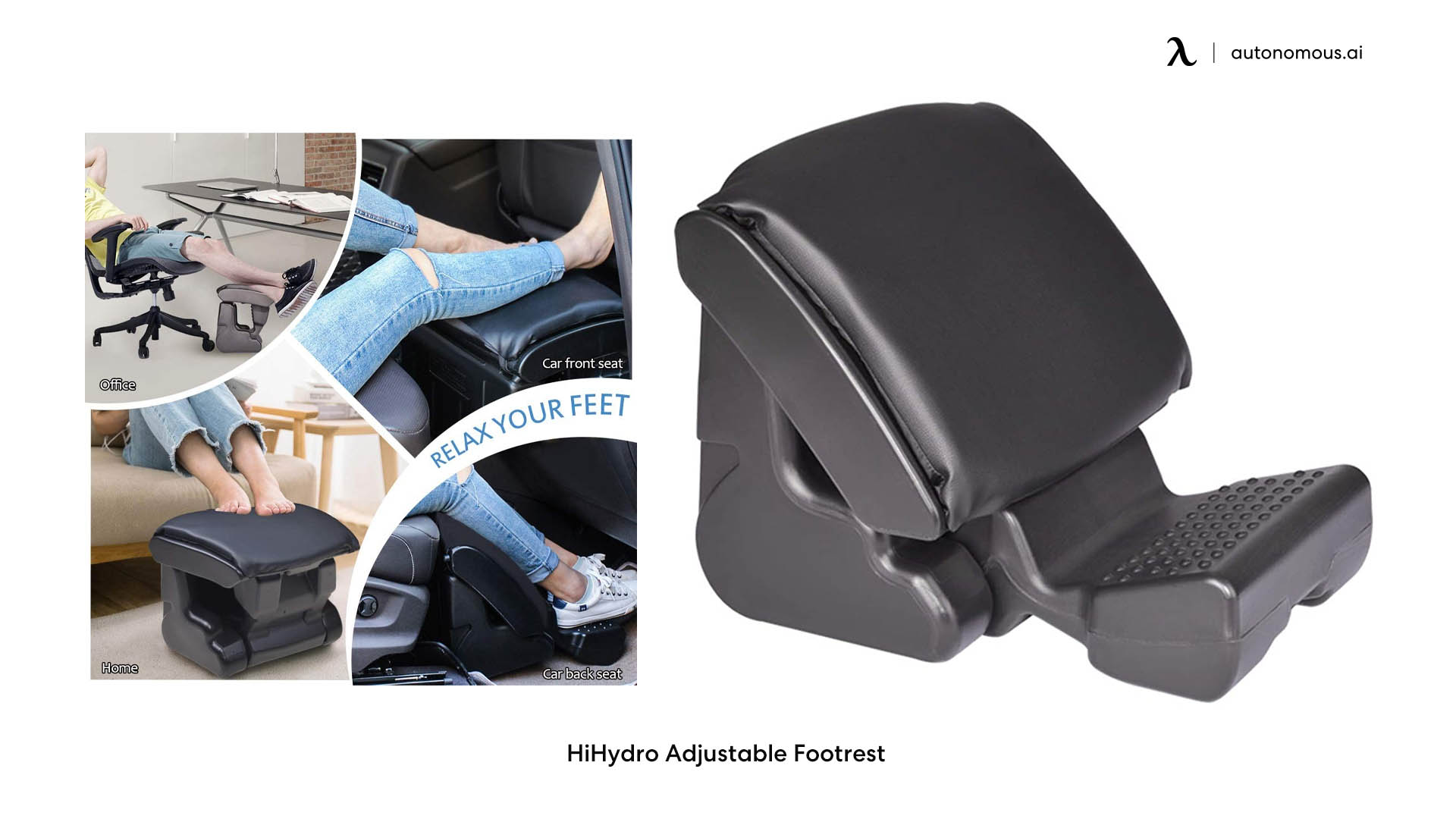 It's probably a good idea to start by saying that the HiHydro adjustable footrest is most certainly one of the most expensive you are ever going to lay your eyes on. Laying your eyes on it immediately indicates why it is so expensive.
You have a comfortable and supportive cushion at the top of an intricately designed Z-lift mechanism that delivers four different height levels. The highest of these is a whole 11 inches above its base position, which means you can use it even if your legs are nearly a foot too far from its lowest position.
While most models can handle 60 pounds of pressure, this HiHydro desk footrest design goes above and beyond, accommodating a whole 120 pounds.
Apart from highlight adjustment, you can also adjust the cushion's angle. The icing on the cake is the massaging beads under the cushion that can certainly improve your blood flow as you work.
This one would probably be a monster to assemble, so thankfully, HiHydro ships it fully put together.
Final Remarks
You could not ask for a more comprehensive look at the topic of an office footrest. These do wonders in reducing several conditions associated with being seated at an ergonomic office desk including leg swelling, blood flow challenges, and fatigue.
Take comfort in the knowledge that the best ergonomic footrest is one that takes care of all of these needs. Additionally, you should now be familiar with the series of considerations you should make before selecting one to purchase.
Finally, you got to see some of the best designs on the market, which you are meant to use to guide your eventual decision to purchase one of these items.
Hey, you have special pricing through your company.
Get exclusive rewards
for your first Autonomous blog subscription.
WRITTEN BYAutonomous
We build office products to help you work smarter.