Smart Products
5 Best Under Desk Keyboard Mounts (Sliding to Swivel) for 2023

Autonomous
|
Jan 27, 2022
1,520 Views
On the topic of office ergonomic furniture and equipment, the conversation seems to always revolve around an office standing desk, ergonomic chair, and the like. Even when accessories are brought to the fore, you may find desk pads, monitor arms, filing cabinets, etc., being presented as the elements that bring a well-needed quality of life improvement to the office space. What about an under desk keyboard mount? 
Though highly underrated and something that's looked past by many, you wouldn't believe the difference in productivity and comfort that using an under desk computer tray can bring you. 
Some office standing desks have built-in peripheral trays that may or may not slide out. However, as people progressively move across to ergonomic standing desks from their traditional ones, they may notice that some of the best brands available do not necessarily have dedicated space to deal with a keyboard. 
Therefore, you're forced to place it atop the desk. It's not impossible to work like this, as many people have successfully been doing it for a long time. Many of them would tell you that it's no inconvenience at all. 
You may even fall under that category of person, but you are here exploring just to see what's out there. Well, once you have the under desk keyboard tray experience, you are likely going to wonder how you coped without one for so long. 
So, what are you meant to expect after reading the information here today? Well, you get to learn about the elements you should be paying attention to as you go to select your keyboard drawer for your desk. 
After you get that information, you may find yourself in a bit of a bind wondering where you are meant to purchase one of these under desk keyboard trays and more importantly, which one you're supposed to be buying. 
It just so happens that there's a compilation of the best under desk keyboard mount options you can find on the market today. It's time to jump into the criteria section.
What You Should Know Before Purchasing Under Desk Keyboard Mount
Size
Whenever you're buying these kinds of office desk accessories, size is always an essential consideration. Realistically, if you miss the mark here, you could end up being all but unable to use your new computer tray, which defeats the purpose of having it.
Considering that you're dealing with something that protrudes, it means that you run the risk of dealing with a very inconvenient accessory being in your way and cutting your productivity more than it helps to boost it. 
Yes, that big one you see may be incredibly attractive, but that does not necessarily mean you can fit it in your workspace. Additionally, it may not even be suited to the way you work and the kind of work that you do. 
Beyond anything, the size of your peripherals should guide this. Some people use incredibly large keyboards, because they find that kind of design comfortable, especially since it's that much easier for them to reach their keys. 
For those persons, if the under desk keyboard mount is too small, they're going to end up being unable to use it.  
Other people may want the tray for other reasons. For example, graphic artists or designers often have drawing tablets. What such people may find is that it's that much more comfortable to use one of these devices when you can position it just close enough to you on a keyboard tray. 
Again, you need to allow the size of the device to be a huge deciding factor in which keyboard tray you use, or you're going to have a highly inconvenient time. 
Cost
Technically speaking, this one should go without saying. You cannot necessarily buy an under desk keyboard tray that's out of your budget now, can you? So, ensure that the prospects that you are reviewing fall in the affordable range. 
Don't misinterpret this in thinking that it means you should go out and seek the cheapest under desk keyboard mount you can get your hands on. Sometimes, going the cheap route means going the route of inferior quality. However, as you're going to come to see, this is not necessarily always the case. 
What you should be doing is attempting to get your hands on the best option that falls within your price range. Sometimes, it ends up being the one that comes closest to your maximum price, but in other cases, it doesn't mean that at all. 
Adjustability
The adjustment mechanism guides the direction and angle that you can expect with your under desk computer tray. Look at this to understand the position range that you can get out of the unit before you decide to go ahead and purchase it. 
As was the case with the size, if you mess up on this, you may end up giving yourself one of the roughest work experiences you have ever had. Luckily, this does not make for the most complex consideration in the world. 
One could say it's very difficult to find an adjustable under desk keyboard tray that doesn't have at least one position that you can find comfortable enough to work. Still, you don't want to settle for a chance. 
You are going out of your way to buy an office accessory that you don't necessarily need for a quality-of-life improvement. Therefore, it needs to adjust in a way that brings the said betterment for you. 
A statically mounted keyboard tray is not going to cut it. This is for the same reason that static office chairs are not necessarily the best idea. They work for the set of persons who happen to be comfortable with the default position, but for people who fall outside of that spectrum, things are a lot more on the difficult side. 
Comfort
This is arguably the most important factor of them all as you try to identify an under desk keyboard mount. Remember that the whole idea behind ergonomic designs is to improve the fit between the worker, the tools they use, and the environment that they're in. 
So, you want a mount that allows you to properly angle your wrists, especially if the keyboard you've chosen has a wrist rest. Of course, the adjustability was alluded to earlier, as you ultimately want to be able to secure a comfortable position. 
Build Quality
This requirement is something that you should apply even beyond the prospect of choosing an under desk keyboard mount. Build quality is something you should never compromise on, even when you are on a budget. 
When the conversation surrounds office accessories, there are almost always affordable options that are well built. Therefore, they can carry out their designated function effectively, and they're likely going to be sticking around with you for some time. 
Aesthetic
Finally, there is the matter of aesthetics. How do you feel about the look of the under disk swivel tray that you may be considering? Does it fit into your office aesthetic well, or does it seem to be throwing everything completely out whack? 
Remember that no piece of modern office furniture or accessory should be pulling so much attention to it that it dims the shine emanating from other pieces of equipment. Of course, there are exceptions to this rule if that's an intended design choice. 
However, it's unlikely that your keyboard tray is the element that you would be building your whole office around. 
So, color availability might be one of your non-negotiable concerns. You find that going too crazy with a keyboard mount is often not desirable. Instead, usually, once you can get these things in neutral colors, there is no problem. 
Another consideration may be how bulky things are. After all, you're shooting for efficiency with a good look. 
If your space is small, for example, you may want something with a little bit more of a streamlined appearance to function effectively and present a neat and compact visual. 
Best Under Desk Keyboard Mount
Now it's time to turn your attention to the options out there for you. 
1. Mount-It! Keyboard and Mouse Platform
You may probably stop right here and make it your choice, and no one would blame you for doing so, as it certainly represents the best of this list. Adjustability is one thing, but its incredible form factor that allows for immense space savings is where it shines. 
As far as color goes, you are getting a black under desk keyboard mount, which means it's neutral enough to fit in with any office aesthetic, presenting no disturbances. 
The design of this laptop and monitor mount allows you to easily place your peripherals lower, promoting optimal risk placement and the maintenance of a neutral posture. 
Though it may appear small, it's compatible with both small and large keyboards. Adjustability comes in the form of tilt and swivel, as well as height adjustment. With all these combined, you can put it in just the right position to support you. 
On top of all of that, you can slide it under your desk when you are not using it, and there is a built-in gel wrist support pad, so you don't necessarily have to worry about having a wrist rest on your keyboard. 
2. HUANUO Keyboard Under Desk Tray
For those familiar with this computer drawer for a desk, one of its standout features is its adjustability. It has a full-motion design, allowing for up and down tilt, as well as a left and right swivel. There is also a generous height adjustment. With all this, you should be able to position the unit effectively for comfort. 
Like the previous option, it includes a gel wrist pad, which just complements its potential for adequate ergonomic positioning. Unfortunately, when you are not using it, you can't put it completely under the desk. Approximately 3 inches is always going to be visible. 
It has a dark wooden finish, so there shouldn't be too much trouble fitting it in with your visual. 
3. Seville Classics Airlift Desk Tray
Seville Classics is known for quite numerous modern office accessories, so it's no surprise that the manufacturer is responsible for one of the best under desk swivel tray options you can get your hands on. It uses a horizontal sliding mechanism, making it very easy to use. 
From an aesthetic standpoint, its color is neutral, and it is quite plain. Where it stands out is its cable management system that is pre-built before shipping, so you don't have to worry about assembly. 
Thanks to a durable bracket mechanism and steel ball-bearing, the tray's sliding mechanism is butter smooth. It's basic, but it's reliable and very easy to set up. 
4. 3M Under Desk Keyboard Tray
3M is also well known for a series of office furniture and accessory designs. Here, you're getting an under desk keyboard tray that aims to offer comfort like never before. 
Height adjustment is present and is carried out by using an included knob. Additionally, you get an even positive and negative vertical tilt that's intended to help you find the best position to work in. 
The platform also swivels 360 degrees left or right, making for quite the range of movement. You even get a mouse pad that features a battery-saving design. It includes a gel wrist rest for comfort, and the tray can be put completely out of sight when not in use. 
5. FERSGO Under Desk Keyboard Tray
It's probably a good idea to start by saying that this is an expensive keyboard tray. It allows you to adjust its height and tilt, and you also get a 360-degree swivel. Compared to the other options listed, this one is more compact, making it more suited for small spaces, but less suited to large keyboards. 
There is an antiskid mouse pad with an anti-fall mouse guard, and there is even a comfortable wrist rest included. One of the challenges is that the mouse tray is separate from the keyboard tray and it's also about an inch lower. 
The result is that you don't necessarily end up with better posture from using this model. 
Final Remarks
There's value in securing an under desk keyboard tray from an ergonomic standpoint. Hopefully, the insights here helped you do just that effectively!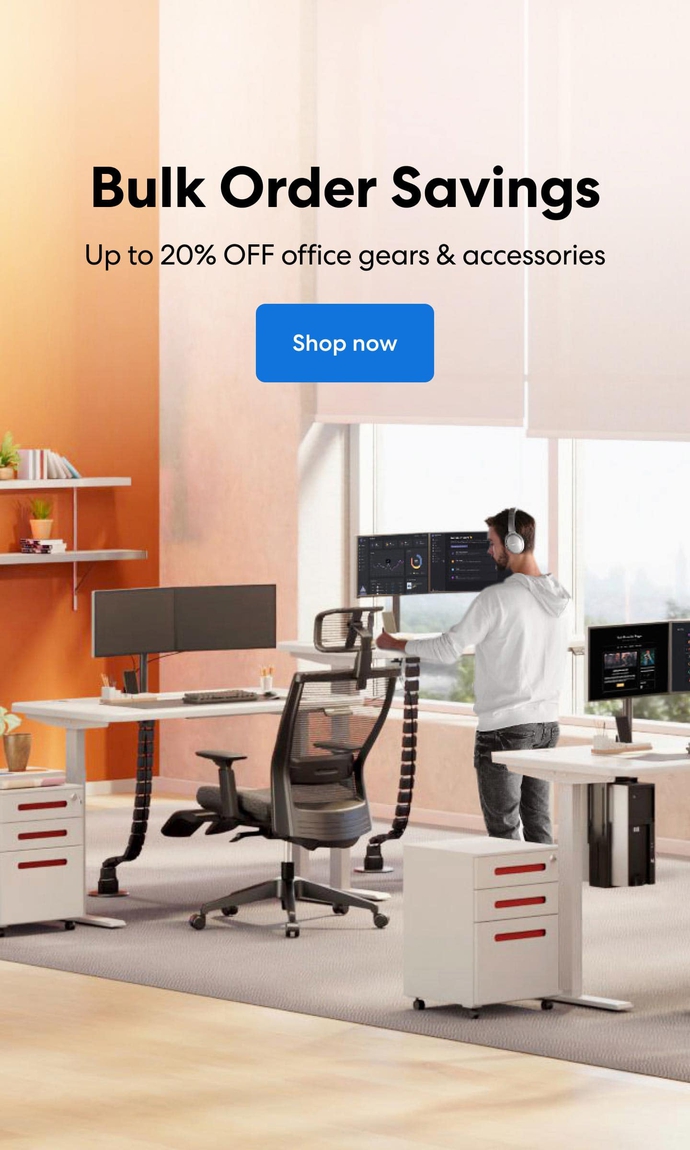 Subcribe newsletter and get $100 OFF.
Receive product updates, special offers, ergo tips, and inspiration form our team.