Hybrid team building is necessary to create a healthy work environment and strengthen the bonds between coworkers and superiors. It may seem challenging at first, but these activities make it possible to make powerful connections between all kinds of attendees (either in-person or remote).
In the past, interacting with teammates was an activity exclusive to in-person attendees. However, it is now possible to make hybrid team bonding activities that every person in the organization chart can take part in, even if technology seems to make us more distant.
As of now, most workplaces are using a hybrid working model due to the COVID-19 pandemic. This way, people can choose whether they want to attend the workplace, or maybe the company has specific guidelines, allowing them to work from home certain days of the week while requiring them to attend the actual workspace the rest of the week.
Every workplace uses a different version of the hybrid workforce. Some of them use a model reminiscent of office hoteling. Thus, the needs of a company may differ from one to another, but all enterprises have something in common: boosting the employee's camaraderie and teamwork, efficiency, and bonds.
But how can you find some effective hybrid team games?
It doesn't have to be a struggle. Hybrid working takes into account both remote and in-person workers; thus, organizing activities where both of them can participate isn't as complicated as you may think it is.
Additionally, please note that these activities are excellent for making sure your personnel members feel "included" even if they work from different locations – either in the exact location or outside – as everyone is included somehow. It is crucial to consider the schedule of your employees.
For that reason, today, we have brought up multiple hybrid team building activities you can use during multiple gatherings not only for the reasons explained above but also to clear your mind a bit and have fun for a while
Videoconference hybrid team games
There are tons of hybrid team-building activities you can organize to bond with your team. This option is the safest if you have workers from different locations working simultaneously.
We use different video conference tools for this purpose. The most popular ones seem to be Zoom and Hangouts, although other people prefer to go for software like Skype for Business.
But these tools do not have to be used for the same purpose all the time. These images grant you access to each person's live video and sound, which is enough for you to prepare fun activities to do together and interact with each other, such as the following.
1. Breakout Room
If you didn't know, Zoom has extra functions available you can use to strengthen the bonds between your employees. For instance, the "breakout rooms" game seems to be a trendy choice because it allows you to divide big groups of people into smaller groups to boost camaraderie.
Let's say you have twenty people working with you. Then, you'll have to divide them into groups of four or five for them to work together towards the same goal.
2. Scavenger Hunts
There are tons of scavenger hunt games that you can play online, even though they were purposefully made to be played outdoors. How can you do this, though?
Well, you can choose to incorporate games like Agent V to get your teammates to collaborate with each other for the same purpose. The game's plot revolves around a planted bomb, and your employees will act as agents as they all will have access to different codes and tools. It will only be possible to reach the end of the game through collaboration.
3. Escape rooms
We already mentioned a Zoom version of these games above, but perhaps you may want to use another version for this game if you use a different platform.
You don't have to purchase anything extra to create an escape room game. You can use the tools you already have to encourage your teammates to work together towards the same goal. For instance, you can prepare a room with puzzles that are easily visible through the webcam so people can look for them and solve them while interacting with each other.
You can apply the same thing for websites and even encourage your teammates to create puzzles themselves and show them via their webcams, as explained above.
4. Pinturillo
Pinturillo is a fun game that any person can play. The game will designate a player. That person will receive a word, which they'll have to draw on the screen. The rest of the members will have to guess that word based on what the person doodles.
It's a fun game where everyone participates and has a simple premise, making it possible for everyone to have a great time.
However, Pinturillo has a considerable drawback: the rooms are limited. Therefore, bigger teams may find some issues if they want to include everyone.
5. Trivia
How much do your employees know about pop culture?
More than a competition, this is a fun game where you can stimulate teamwork by dividing the groups into multiple teams. You or another person can act as the moderator – the person who will recite the questions and grant points based on the answers.
For instance, a fun thing to do is test how much your employees know about the 2000s decade. But there are many other ways in which you can make a trivia, either by yourself or by looking for them online.
6. "Donut"
If you have the opportunity, you can make your team use Slack and enjoy the Donut extension. This add-on will randomly pair your employees so they can have conversations or work together on a specific project, for instance. There are multiple possibilities, and all of them are excellent ways in which your teammates can get to know each other and learn more about themselves.
7. Bingo
You can make your own bingo card based on shared experiences at the workplaces or similar stuff, such as a "remote work" bingo. It will be an excellent way of spending time together and having fun for a while.
You can also request your teammates to come up with ideas to make the game even more enjoyable. You can also encourage them to participate by offering a prize for the winner, such as a gift card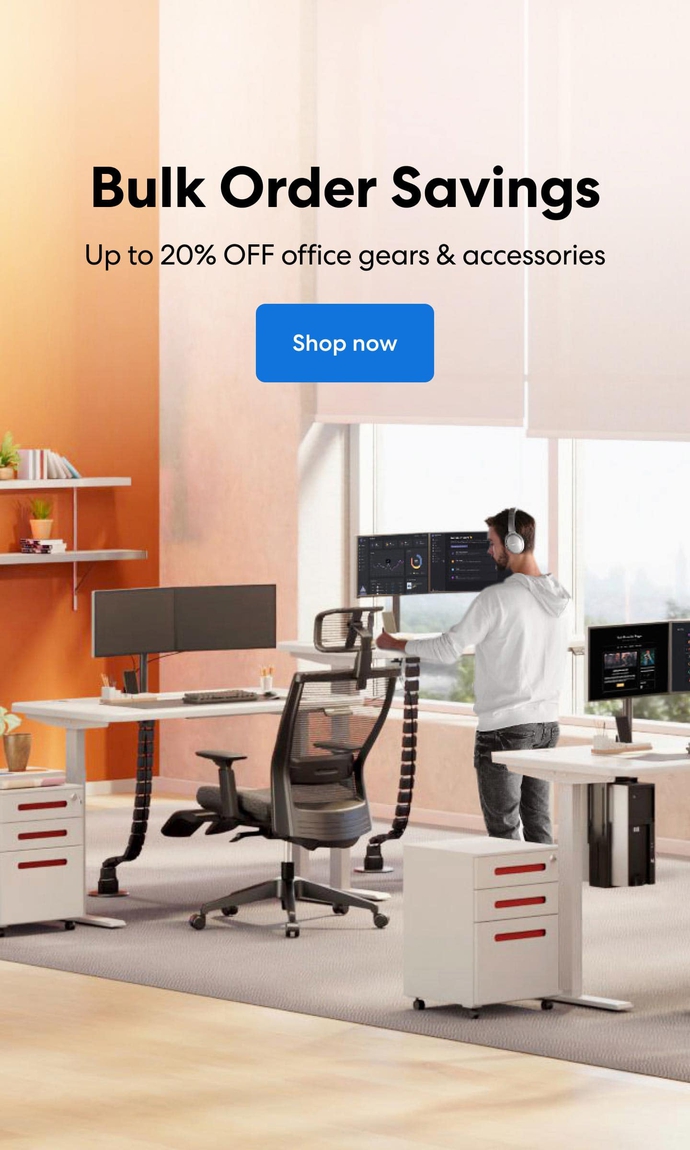 Subcribe newsletter and get $100 OFF.
Receive product updates, special offers, ergo tips, and inspiration form our team.