Workplace Inspiration
5 Modern & Productive Office Layouts for 3 Desks

Autonomous
|
Sep 17, 2021
5,619 Views
The lockdowns following the pandemic have made businesses believe that they should change their operational methods if they wish to have a happy and healthy workforce. Therefore, several office layouts sprang up to support businesses in these tough times. In most cases, workers were divided into teams. You would have heard about desk pods which is precisely an office layout for 3 desks, as this is one of the most common office layouts.
Here, you have a team of at least three office workers who collaborate while maintaining their social distance. You might be a part of such a team as well, so an office design for 3 desks would help you a lot.
Planning an office layout for 3 people might be a little technical for you as you must maintain social distancing and ensure you and your colleagues stay productive. As a prerequisite, you should order wholesale office furniture to get your office desks at many affordable rates. Once you have them, the next step is to plan the office layout in the best way possible. So, this is the point where the real challenge begins.
To make everything simple for you, we have shared some modern and productive office designs for 3 desks here. These ideas will help you plan a better office layout for you and your colleagues, so let's have a look at them.
5 Recommended Office Layouts for 3 Desks
1. Create a Row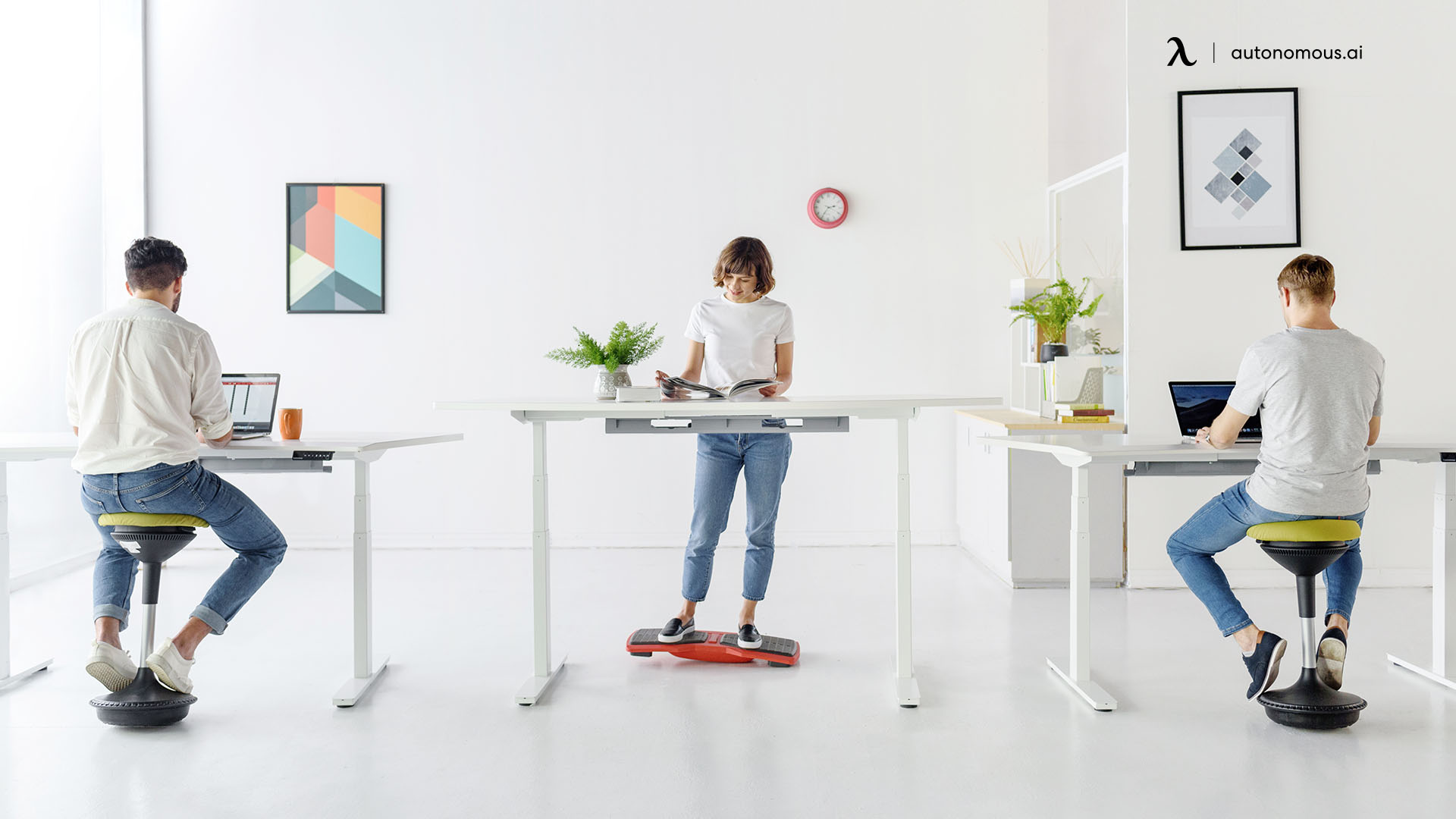 Placing your 3 desks side by side in a row can be a suitable layout if you have a long narrow room. You can think of placing these desks at a little distance if you have more space. This layout will make it easier for you to pass paperwork or any other material to your colleagues as you work.
Since you will be having all desks on one side of your office room, you can add any other furniture like a sofa or any office accessories like filing cabinets or shelves on the other side. 
2. Line the Desks Against Different Walls
This arrangement is suitable for a square office room. All you need to do is place your three desks against different walls. In this way, you and your colleagues will be able to communicate and interact with each other much more easily. The good thing about this arrangement is that you can use it for both small and large offices.
Once placed the desks as told, you will have one wall free and the central room space vacant. You can think of placing some couches and a table in the center to provide a spot for team meetings. Moreover, you may think of placing storage accessories like filing cabinets and shelves on the wall that's left free. 
3. Create a Horseshoe Arrangement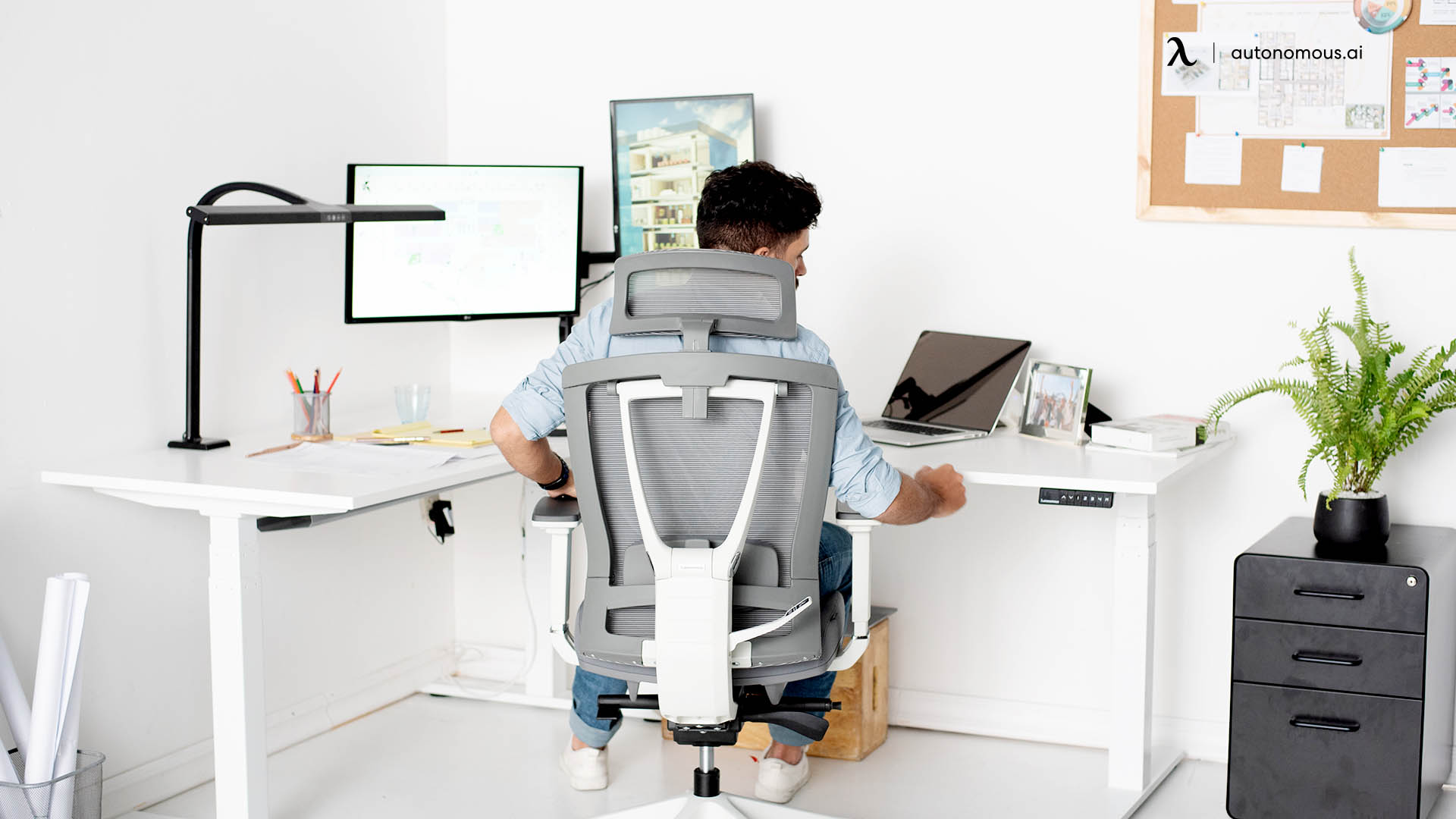 A horseshoe arrangement is a great option if you want to plan a collaborative work environment in your office layout for 3 desks. You may think of going for this layout if space is not an issue for you as it requires larger office space.
Here, you may think of placing three smart desks in a horseshoe arrangement as that would be ideal for this layout. What we mean is that you are supposed to place two desks parallel to one another and the third one perpendicular to both the desks. 
4. Create a Cluster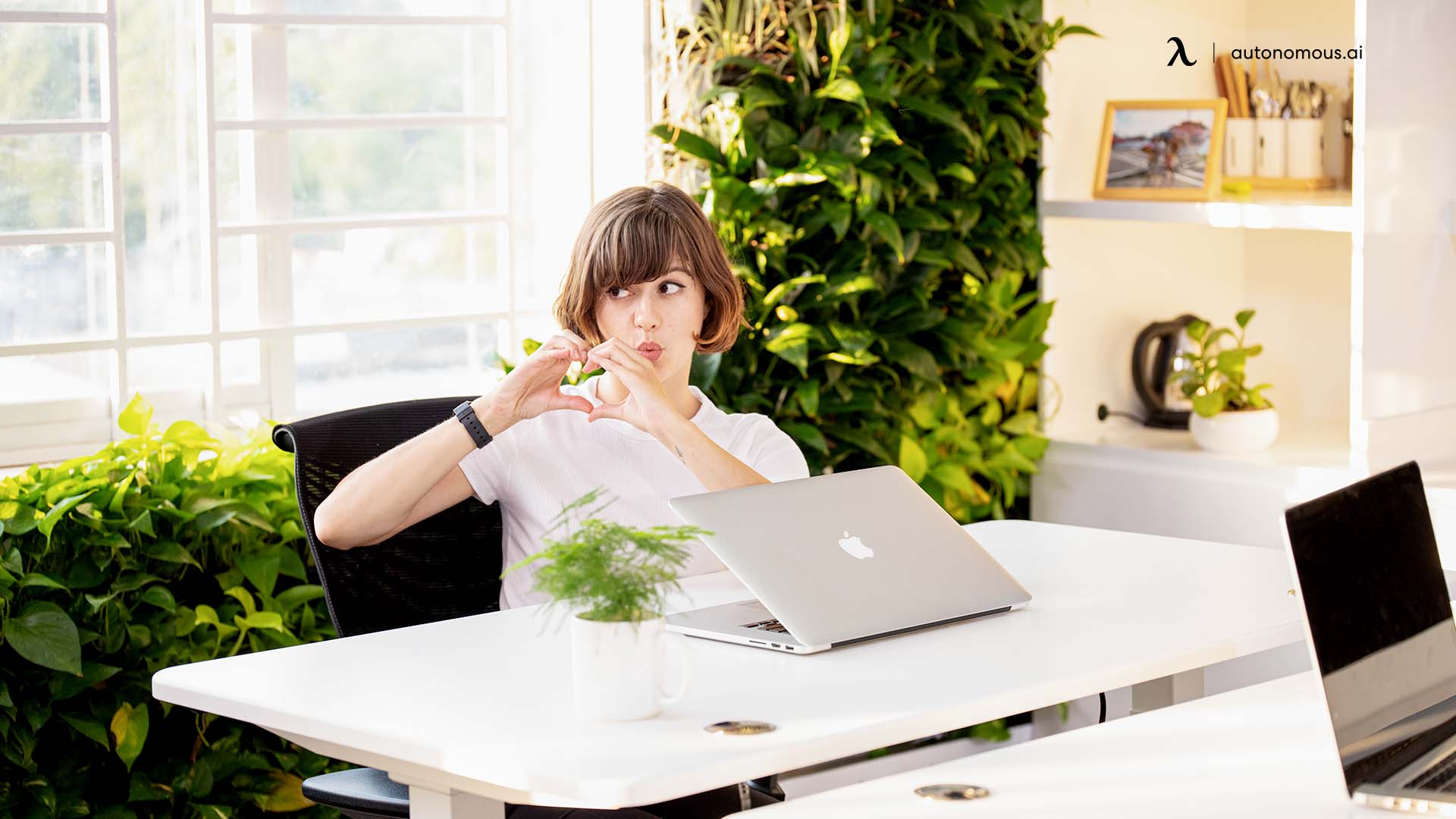 Creating a cluster is another innovative office design for 3 desks. Like horseshoes, this layout is suitable for a large office space. However, here you cluster your desks to your office's central space. This arrangement leaves plenty of space in the room's perimeter, so you can conveniently place your storage accessories or furniture pieces here.
As far as the desk placement is concerned, when you plan an office layout for 3 desks, you place two desks front to front, and the third one is placed close to the ends of these two. In this way, workers get to interact more; therefore, this layout is also suitable for group projects. 
5. Use a Combination of a Double Office Desk and a SmartDesk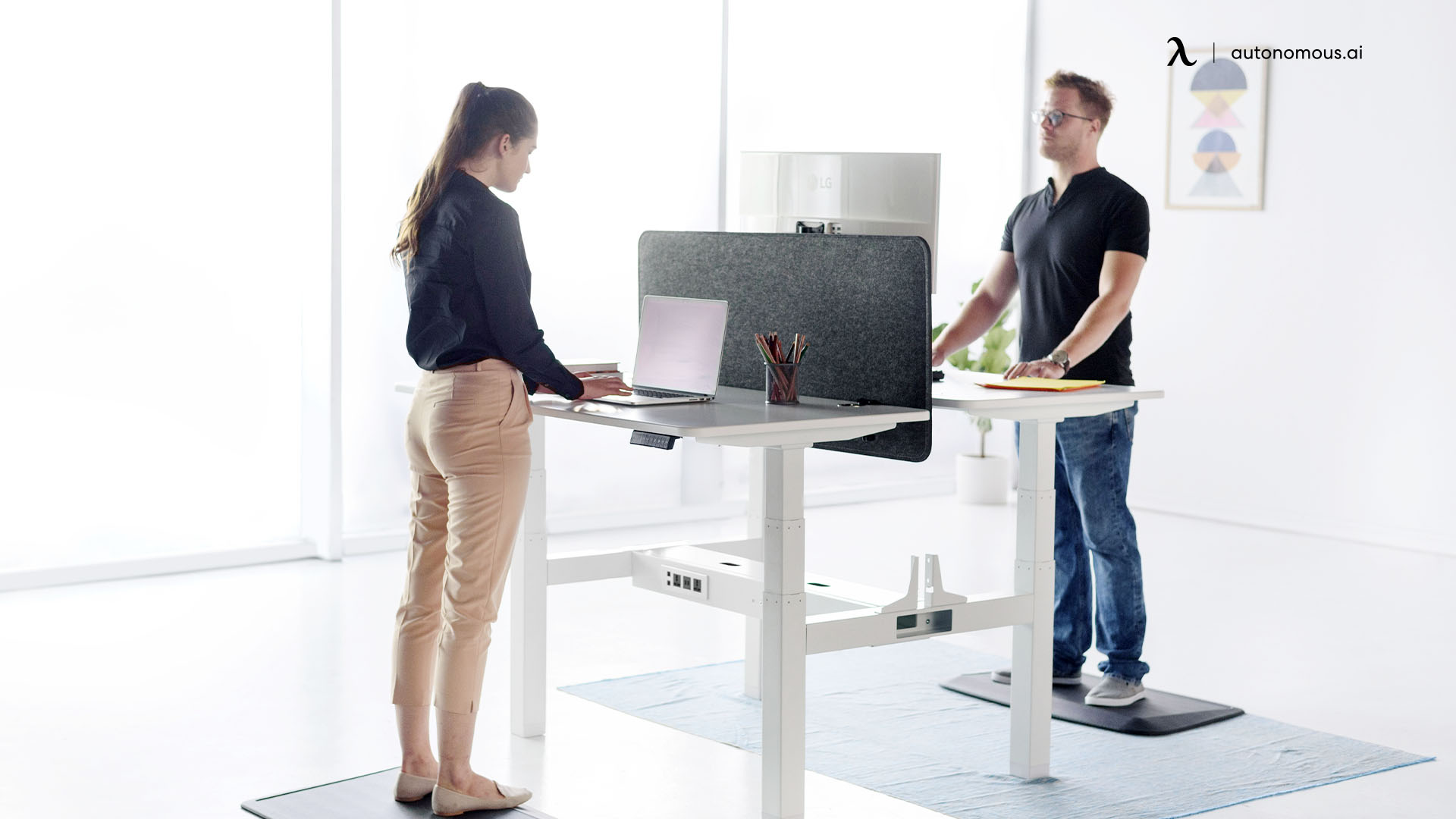 This office layout for 3 desks is quite like the clustered layout, but here you are using the special Autonomous double office desk coupled with a simple, smart desk. However, the desks are not completely clustered here as the double office desk allows both users to set the height as per their requirement while they work facing each other.
This desk layout can come in handy if you all are working on different tasks but need to exchange some paperwork or other materials as you work. Also, since it keeps you closer, you can easily have small talk to stay fresh and upbeat while you work. 
Wrapping It Up – Stylize Your Desks with Plants and Colorful Accessories
Once you have chosen your favorite office layout for 3 desks, you should make some effort to appropriately stylize your desk to ensure that it is a modern office design that keeps you productive. One of the best ways to add plants, as plants help you make your office airier, ensures you stay fresh.
Certain plants, i.e., feng shui plants, are known to bring prosperity and power and have a lot of positive energy associated with them. Therefore, adding such plants will help you have a modern and productive office.
Another suitable way of making your office a refreshing look and keeping yourself productive is to add colorful accessories. This will help you have a brighter work experience. Always remember that effective lighting is as important as proper desking, so install some LED desk lamps and lights as well to ensure you have the best office design. We hope that all of this will help you plan an ideal office for you and your colleagues.
Video ads for product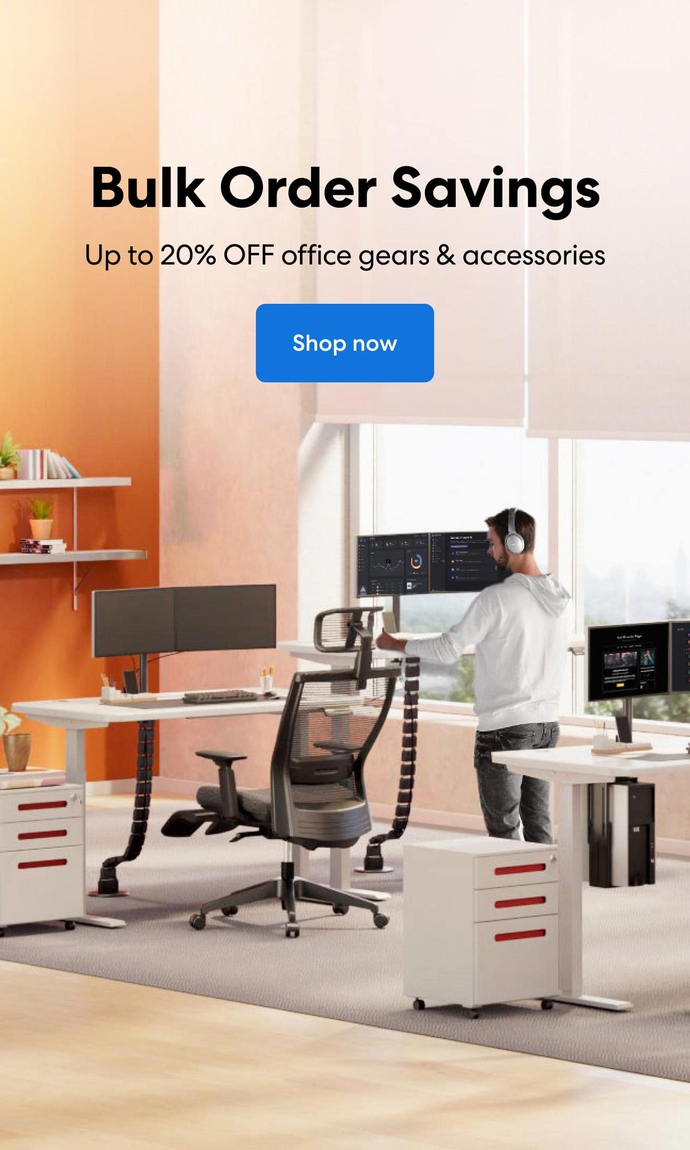 Subcribe newsletter and get $100 OFF.
Receive product updates, special offers, ergo tips, and inspiration form our team.