Workplace Inspiration
10 Types of Office Meeting Room Design for Different Events

Autonomous
|
Oct 23, 2022
5,367 Views
Teamwork is the cornerstone of accomplishing tasks at a company or organization. Communicating with one another, exchanging ideas, strategizing, obtaining investments, and collaborating on an appropriate implementation are critical steps in moving your company ahead. Therefore, every company should have a dedicated office meeting room. 
A partnership can differ from a simple conversation with one other participant to brainstorming ideas as a group or teleconferencing with coworkers worldwide. These events usually take place in meeting rooms in most offices. On the other hand, the best working spaces are far more than a few armchairs around one table surrounded by four partitions.
Because collaboration is so important and comes in many different forms, lecture halls must be both diversified and capable of inspiring staff members to give their finest performances. Customizable office meeting room design that enables people to work as per their requirements and personal preferences are critical for maintaining a high level of productivity, not to mention recruiting and attracting tremendous talent.
Why Do Companies Need a Meeting Room?
A well-equipped office meeting space is the best way of gathering employees to work on a business situation. You practically connect many individuals by removing them from their desk jobs or the emptiness of an open plan office and placing them together in a meeting room. Companies ensure their facility has equipment that promotes simple interaction, such as massive TVs, all-in-one virtual conferencing platforms, and bulletin boards for improvised writing, sketching, and more, to guarantee that everybody can engage in a problem-solving workshop.
Like a tailored suit, a meeting room instantaneously communicates your company's uniqueness, level of accomplishments, craftsmanship, and relevance in the world today to clientele, buyers, and guests. A well-designed meeting room with cutting-edge technology and attractive furnishings provides a welcoming environment for visitors, allowing them to breathe and put their trust in you.
A badly constructed meeting room with outdated furniture and cumbersome heritage gear, on the other hand, communicates a message. It implies that your organization is out of touch with the contemporary age and that customers should seek answers elsewhere.
Different Types of Office Meeting Rooms
Collaboration, conception, and connectivity are synonymous with office meeting rooms. The pandemic has dramatically changed the way employers and employees see workspaces. With zoom becoming a household name and work-from-home a sociocultural norm, we reimagine the meeting rooms.
Conference rooms are a space for collective input, a place credited for business innovation, direction, and decision-making. Workspaces, however abundant, have been starting to feel a little cramped up and outdated. So, with changing times, we have tried to reimagine where employees can enjoy simple creature comforts while performing optimally in a professional environment. Quiet, ambience, and comfort are metrics we chose to curate this list; new conference room ideas are rare; however, combined with these elements, we are sure you will find something you will love. These conference room ideas will help give you autonomy, privacy, and comfort, allowing you to work at your best.
There are different kinds of Office meeting rooms out there. Here are some of our most preferred meeting room types for you to choose from:
1. The Fast-Sync Breakout Room
This is a modern office meeting room, which is furnished with loungers, soft seats, and one or two coffee pitcher tables, which are an excellent approach to stimulate cooperation and interaction without erecting barriers. They should be a decent significant distance away from your corporation's central workstations so that the conference has a sense of depth and solitude.
2. The Session Room
These rooms appear as work pods, which may accommodate up to six people, are ideal for one-on-one discussions, small telephone calls, and devoted working activities. You will normally outfit a conference room with a round or compact wooden table, comfy seating, and some additional space for guests to go and get up to move throughout. Since these areas may include some audio/video devices, they may also be used as a forum for people to set their computers down and have a private talk or white-boarding workshop.
3. The Booth Shaped Conference Room
A call booth is an excellent location for calling a consumer or coworker. These acoustic and soundproof meeting pods are normally limited in size and come with a tiny table and chair. Think of having your construction company create a wood pod, a couple of them or looking into premade ones that may be readily included in an established workspace when constructing your co-working space.
4. The Conference Room
These would be your relatively small spaces from our office meeting room ideas, seating 8 - 10 individuals. These chambers, which come with a regular big table and seats, allow larger numbers of people to gather together while still observing each other. This conference room design usually features an audiovisual system that allows for presentation and videoconferencing, but the key focus is on groups connecting and strategizing.
5. The Meeting Room
That's for the big event, major customer or board committee meeting, department get-togethers, as well as other crucial collaborative activities. They are built for 12-18 individuals and are more sure to garner your industry's focus (and resources) than in other spaces. To provide a worthwhile experience for management and consumer use, many groups may choose to implement Technology-based products into the space fully. These spaces are ideal for large workstations, multiple seats, or other storing furnishings, as well as a couch.
6. Outdoor Meeting Rooms
One of the meeting room designs that you could use is outdoor meeting rooms. Outdoor spaces can be refreshing for employees who are limited to a small indoor office space for most of their day. Outdoor meeting rooms allow you to enjoy the serenity that comes with nature, which can increase brain activity as it reduces all kinds of stress and tension. These outdoor meeting rooms can be installed in outdoor spaces as backyard office kits.
7. Local Shared Office Space
Localized office hubs offer a distinctive convenience for daily commuting, freeing up much of your important time. Pick and mix between the kind of space you require, from single cubicles to virtual meeting spaces and large boardrooms. These allow for the flexibility most start-ups desire regarding cost-effectiveness and facilities. Depending on the options offered, you can book and rent the desired time slot with most business hubs.
8. Virtual Meeting Space
Since the pandemic struck, remote work has become more common. People are now used to interacting virtually through platforms such as zoom, skype, google meets, etc. Another office meeting room design idea is a virtual meeting space. Virtual meeting rooms allow people from all over the world to connect, exposing you to different cultures and welcoming diverse ideas. Virtual meeting spaces have started gaining more popularity because of the ease of access and convenience that they offer. They are not only inexpensive, but are also time-saving.
9. Employee Common Room
If you want to create a more comfortable and casual meeting space, you could designate an employee common room for this purpose. These rooms promote a more informal discussion, which can be helpful if you want your employees to feel comfortable enough to give out their honest opinions on certain work factors. This kind of meeting environment may be less intimidating for employees. Employee common rooms are available in most offices, hence can be turned into office meeting rooms easily.
Best Office Pods from Autonomous
1. Autonomous StudioPod
For those looking for a more compact and modern conference room design, we suggest the Autonomous StudioPod. An indoor-outdoor private workspace designed to host anywhere between 2 to 3 people. A mobile wooden cabin for plug and play. Completely furnished with important storage space, a convertible sofa, a foldable coffee table, a bookshelf, and a work desk. The pod design provides privacy, subtle luxury, and versatility keeping in mind the needs of any office function. It is easy to assemble and takes less than 2 days to set up in a space as small as your backyard. Made with high-quality materials and is built to last, with added waterproofing and weather resistance.
Dimension
106" W - 155"L x 106.3"H
Material
Exterior: Aluminum layer
Interior: Eco-friendly honeycomb paper
Frame: Steel
Include
A closet, desk, bookshelf, TV stand, a foldable coffee table and convertible sofa bed
Minimum wattage
150W
Lighting
3 color modes
Warranty
1 year
2. Autonomous WorkPod
The WorkPod is an alternative to crowded cafes and public libraries. A complete sound-insulated privacy pod with floor-to-ceiling glass doors. Weather resistance and backyard friendly, this space allows you to think out loud and worry less. Managing all kinds of weather while letting in natural light. Keeping up with Autonomous's design language, it is again easy to assemble and needs to be plugged into a power source for you to get into your work. Smaller workspace to accommodate the self-employed and people who want the individual workspace to disconnect from distractions. 
Dimension
103"W x 142.5"L x 92" - 125.5"H
Material
Exterior: Composite wood
Interior: Plywood wooden frame
Frame: Steel, M300 cement
Include
SmartDesk Pro, ErgoChair Plus, Cable tray, Filing Cabinet, Dual Monitor Arm, Anti-fatigue Mat
Minimum wattage
100W
Weight capacity
2.9 tons
Color
Black, White
Warranty
1 year
3. Autonomous Pod
Looking to personalize your office space according to your needs and need extra space? An Autonomous pod is a simplified version of all the pod systems mentioned before and one of the finest small meeting room design ideas. It offers simplicity in design and the promise of a hassle-free setup. Equipped with power outlets, it is a wooden cabin space to furnish according to your need. With enough space for an individual's comfort, it can easily fit in a home office setup. Floor-to-ceiling glass windows and the option of ambient lighting, heating, and cooling channels allow you to customize your experience. The same space requirement and Autonomous's quality proposition make for great value for someone looking to differentiate between their home and office by installing this multifunctional office garden shed. 
Dimension
103"W x 142.5"L x 92" - 125.5"H
Material
Exterior: Composite wood
Interior: Plywood wooden frame
Frame: Steel, M300 cement
Weight capacity
2.9 tons
Minimum wattage
100W
Color
Black, White
Warranty
1 year
4. Thinktanks Compact Office Pod
Do you enjoy simple creature comforts but still looking for modernity and timeless design? Think tank compact office pod offers an air-conditioned, well-lit compact space with state-of-the-art security and soundproofing. 4000k light color temperature LED, up to 35 dB of soundproofing, electronic locks, and a temperature-controlled environment offer the comfort and luxury people desire while working hard. It has room for all the necessary furniture, e.g., desks, lamps, conference room chairs, bookshelf, etc. With just enough space for an individual, the compact pod adds to the amenities offered in the previously mentioned Work pod, with a 3-year warranty and country-wide shipping in the US. There is not much else left to ask for.
| | |
| --- | --- |
| Dimension | 7 x 7 x 7.5 ft |
| Material | Double laminated tempered glass, R200 aluminum |
| Color | Black, Green |
| Interior | Washable PET Felt |
| Standard outlet | 110-220V |
| Lighting | LED 140W |
| Warranty | 3 years |
Design Ideas to Consider Incorporating in your Meeting Rooms
Conferences are an unavoidable part of every company's day, no matter where they work. Then you're not alone, even if the prospect of adding another conference to your whole stressful work schedule makes you cringe. Here are some meeting room design concepts that really can enable you to engage better staff and make use of every minute.
Micro LED walls
This technology outperforms any projectors or computer by projecting brilliant colours ranging from pure white to deep blacks. All conference attendees will get a clear image of your presentations thanks to the high-quality, crisp photographs that appear terrific from any viewpoint.
Collaborative whiteboards
You could provide more noticeable improvement and hold better productive meetings using smart boards. You may also add conference room chairs with wheels to have a collaborative meeting while sitting comfortably.
Invest in a good audio system
Perhaps a picture is worth a thousand words. A conference in an office meeting room without good acoustics, on the other hand, could be completely ineffective.
Get smart
Intelligent film has the potential to transform meeting rooms' designs. This technology, sometimes known as "reconfigurable film," has advanced significantly in recent years, with compositions that could be retrofitted into existing surfaces. Skylight included meeting rooms have a distinctive look and feel, and they keep interiors light and spacious.
It's all about the statistics
Consider how many persons the office meeting room will need to accommodate. It's pointless to have a colossal meeting space if it's too tiny to fulfil your needs. Similarly, it would help if you didn't have to stash away a huge boardroom that remains empty for most of the day, as this area is a waste of resources. To explore the room's possibilities, consider developing several smaller meeting areas, such as adding an Autonomous WorkPod.
Don't let the loudness bother you
If employees are coming with each other to communicate, discuss, or educate, it's critical to determine soundproofing methods to minimize bothering colleagues, regardless if your office is an open area or has a variety of distinct spaces. Soundproofing is now considered a vital component of many working environments, ranging from sound-absorbing panels to curtains and even light fixtures.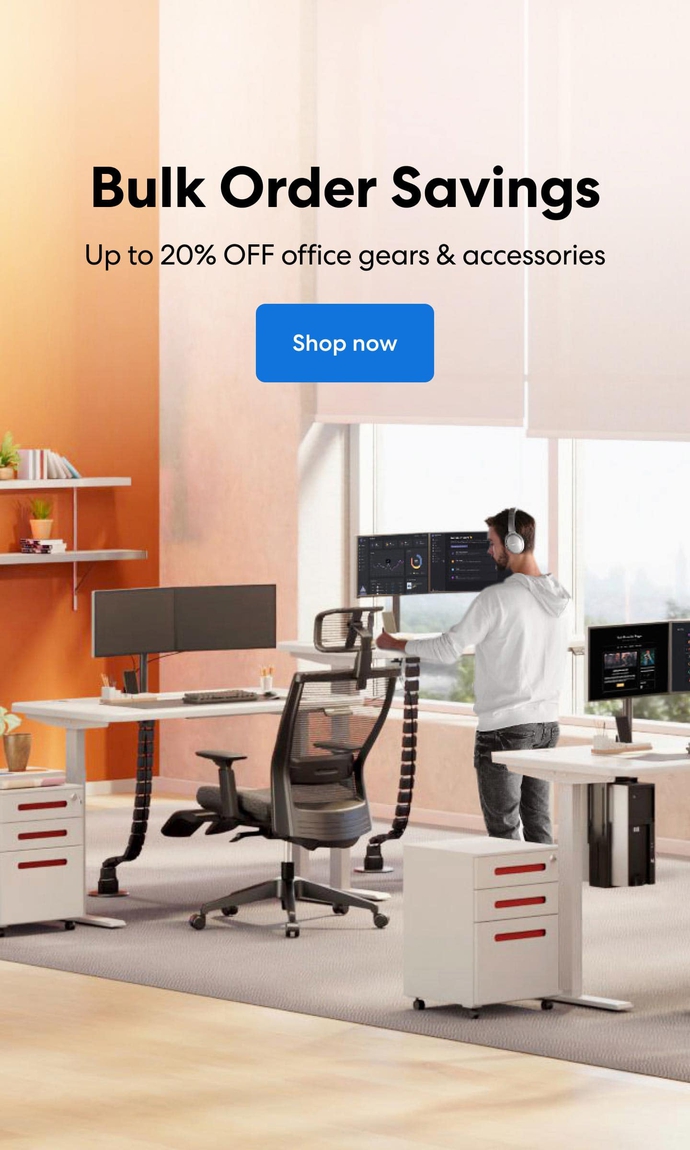 Subcribe newsletter and get $100 OFF.
Receive product updates, special offers, ergo tips, and inspiration form our team.