Identifying the best laptop stand is a challenge that quite a few office workers find themselves faced with. It's a little confusing when you think about it, considering all the incredible models out there that can do the job incredibly well and are quite affordable. 
The challenge likely comes from the potentially high number of not-so-great models that can sometimes be bad enough to turn people off laptop stands altogether. After all, you probably have a laptop desk setup featuring an adjustable standing desk and an incredible ergonomic chair. 
Whether you're seated or standing, these pieces of ergonomic office furniture are quality builds that help you to remain productive while looking out for your health, reducing strains, pains, inflammation, blood flow issues, etc. 
However, you sometimes find that the way a laptop sits on a desk makes it less than convenient to use. Unlike a monitor that is naturally suspended highly thanks to its stand, the base of a laptop screen is usually almost at the same level as the tabletop surface.
Bear in mind that even if monitors aren't held up by their stands, they are usually using monitor arms that allow them to be suspended at even more convenient heights and angles. 
So, what if you could heighten it seamlessly? Well, that is why you are here today. It's all about finding you an adjustable laptop stand that you can be proud of. The idea is to heighten the unit to a comfortable utilization position and offer angling to create even greater convenience. 
When you raise the height of the laptop, the keyboard would naturally become uncomfortable to use. Remember that while the screen felt incredibly low, the keyboard would have been at a perfect height. 
However, once you raise the laptop to a high level, things can get a bit crazy for your wrists. So, you find that you begin to be able to modify the angle of the laptop's screen and base separately, even though it's airborne.  
Technically speaking though the best thing to do for your office or gaming laptop setup is to ensure that you have separate peripherals. Though you can use a laptop on a stand comfortably with its built-in keyboard and mouse pad, this is highly unrecommended. 
One could even argue that even when a laptop is flat on a desk, its keyboard size and mouse pad design make it way less conducive to high productivity when compared to a standard keyboard. 
What to Consider When Buying a Laptop Stand
As you look to purchase a laptop riser for your desk, what are some of the things you should pay careful attention to, so you don't end up with post-purchase cognitive dissonance and regretting your purchase? 
First, there is the weight. You want to think about this for two reasons. First, your desk likely has a maximum weight capacity that it can support. Going over this can create some challenges, particularly if you're dealing with an adjustable standing desk. When you start to approach the weight limit or exceed it, you find that the lift mechanism becomes less responsive. 
Additionally, if this is meant to be a portable laptop stand, a lighter weight means that you can carry it around more easily. 
Next, there is the matter of height. The whole idea of using one of these is to suspend your laptop off the desk. Therefore, you want to ensure that it can reach heights that are convenient enough. 
Standing desks have been mentioned here twice, but what if you are not using one? If so, the laptop stand needs to compensate even more. You know what your office desk configuration looks like and should choose your laptop and monitor stand to support it. 
On the other hand, if this is meant to be a brand-new office and there is no furniture just yet, then you can strategize everything at this point. 
The design is another thing that you may want to bear in mind. Some have smaller footprints than others, and some colors are naturally going to fit into your office space better than others do. For example, if you've gone for a rustic green design throughout, then a red laptop stand may not fit so well. 
You also want to think about how ergonomic the stand is. Two of the problems it's meant to solve that can create health challenges over time are the unwanted bending of your wrist and the way you would have to angle your neck downwards to see the screen. 
If your adjustable computer stand does its job well, then you have nothing to worry about here. 
Best Laptop Stands to Consider
1. Mount-It! Laptop and Monitor Stand
Mount-It! is first up on the list, and the manufacturer is almost known for these kinds of computer hardware. The adjustable computer stand's claims to fame are its adjustability, and the way it allows you to free your desktop real estate by suspending both a monitor and your laptop in the air. 
Again, it's recommended that you use an external keyboard if you are electing to go with this laptop and monitor stand by Mount-It!. The design is conducive to helping you reduce the strain of areas such as your neck, back, and eyes. 
With seamless height transitioning, you can optimize your viewing angle for a truly ergonomic experience. 
There's also no need for you to worry about stability, thanks to the high-grade aluminum and steel C-clamp that can firmly be fastened in place to prevent any movement. Any table up to 4.1 inches of thickness should be able to use it well. 
Apart from the height adjustment, there are some other angles that matter. For example, the adjustable computer stand offers a 90-degree forward and back tilt, as well as a 180-degree left to right swivel. 
The best laptop stand allows for 360 degrees of rotation, allowing you to take advantage of both portrait and landscape orientations. Cable management is built in too, and you should also note that the laptop stand has airflow built-in underneath.  
If all of this wasn't Impressive enough, you are offered a 10-year warranty on this design.
2. Mount-It! Height Adjustable Laptop Tray
This is another best laptop stand from Mount-It! Unlike the previous model, this is a single function unit, as opposed to providing a dual-suspension functionality. Instead, this one is all about your laptop. Whether you need it for work, school, or even gaming, expect to get a tremendous experience out of this one. 
It is a great way to create an impromptu sit-stand set up if you have a traditional desk. Of course, that means you're going to have to use the laptop keyboard, but who knows? You may not find it to be a huge inconvenience. 
Still, you're advised to angle the adjustable computer stand since it can help you to mitigate several health challenges that you may have. 
The platform sits atop a Z-lift mechanism, and both can be adjusted independently for some impressive angling. Note that this Mount-It! height adjustable laptop tray went all-in on the ventilation, which is great since the last thing you want is to end up with a laptop stand that fries the internals of your machine as you use it. 
Mount-It! maintains the support trend from the previous model though, offering you a staggering 10-year warranty on every purchase of this laptop riser for your desks. 
3. Mount-It! Desk Converter
Here you have a Mount-It! desk converter with gas spring. After two previous entries, you would think that the manufacturer would be done with the list, but, as you can see, that is not the case. 
The good thing about the spread that you're seeing is the variety it gives you, considering that all these products are fundamentally different things. 
Now, you are dealing with a standing desk converter that does what the last entry did more spectacularly. 
If you are not familiar with the principle of a standing desk converter, it's meant to turn your traditional desk into an adjustable standing one. 
To achieve this, you put the unit atop your desk and put your workload atop it. Of course, that means that you would have to clear a substantial portion of your tabletop, if not all of it. 
Some standing desk converters, such as this model by Mount-It! includes a peripheral tray that allows you to have a convenient place for your external peripherals. Your laptop can go atop the main platform, as can an external monitor. 
As you can see, one of the benefits of using a converter is the increased real estate that it gives you, compared to a regular laptop stand. 
The 10-year warranty makes yet another triumphant return with this best laptop stand. 
4. Rain Design mStand
This may be one of the top options out there if getting your hands on a portable laptop stand happens to be important to you. It's constructed out of pure aluminum, which is a testament to its durability. With a small footprint and weighing only three pounds, you can see why carrying it around is no problem at all. 
From a design perspective, it strikes that unique balance between simplicity and elegance. Even some of your heaviest laptops are not going to pose any challenge for this one. You should know though that it is best suited to those using Apple MacBooks, though models of your favorite Windows machines can be accommodated. 
The color schemes that you can get are perfectly aligned with the aesthetic style that Apple's MacBooks bring. What you also find is that the stand is conducive to greater cable management, leading to a neater desk, considering you can route cables through the back of it.
5. Ergotron WorkFit-T Converter
Here you have the second standing desk converter on the list, offering up many of the benefits of the first, with probably a bigger tabletop surface to work with. Yet again, there is enough real estate for you to support both your laptop and an external monitor that you may be using. 
Additionally, you have a generously sized peripheral tray, allowing you to accommodate a full-sized keyboard with a mouse alongside it. The height adjustment range is incredibly generous, allowing you to go from flat on your traditional desk to high enough for standing desk use.  
The weight capacity of this adjustable laptop stand is 40 pounds, which should be more than enough for your monitor, laptop, and peripherals. However, if you purchase a monitor that's on the heavier side of the fence, such as most gaming units, then you may want to verify the weight before choosing to put it atop the stand. 
6. VIVO Single Laptop Stand
VIVO takes the final spot on the list with its attempt at providing you with the best laptop stand you can get. The design of this adjustable laptop stand is a little on the interesting side since it implements a couple of the tropes you'd expect to see from a riser. Of course, a riser is usually intended to support only a monitor, so it creates quite an interesting parallel. 
Still, that means you get the standard pole mounting style that allows you to recapture your entire desktop real estate with your laptop suspended in the air. The arm holding the laptop tray is incredibly sturdy, and the tray itself offers adequate ventilation for your machine. 
The height adjustability of this best laptop stand is incredibly generous, and you can easily adjust your laptop's angle by just swinging its arm around the pole. A C-clamp is used to hold the unit to your desk, and it's even padded to prevent you from doing any scratch damage. 
If you want icing on the cake, this best laptop stand model can be a traditional monitor riser if that's what you want to use it for. However, you would need to configure it with the included monitor bracket if you are interested. 
Final Remarks
Hopefully, you should be much more acquainted with the laptop stand concept and what it means to snag a good one. First, in buying anything, you need to be thinking about the right factors. Well, with the information you've now been provided, you have an acute understanding of what these factors may be. 
Next, there's the matter of What models are even viable. Even that has been taken care of for you as well. You've been shown quite the spread, which should enable you to select the best laptop stand based on your unique office needs.
Video ads for product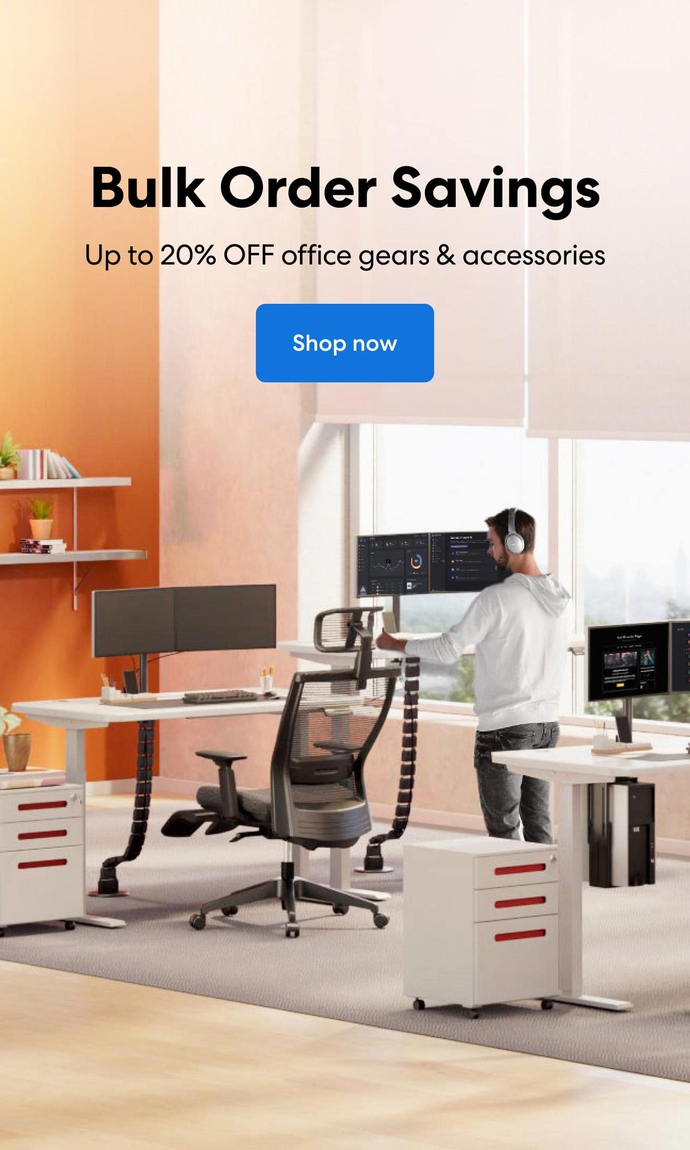 Subcribe newsletter and get $100 OFF.
Receive product updates, special offers, ergo tips, and inspiration form our team.