A mesh office chair is highly sought after by many working from home and looking for a way to make their home offices more ergonomic. But with so many options on the market, it can be difficult to know where to begin. How do you choose the best ergonomic mesh office desk chair? Here are our top 7 picks.
Mesh office chairs have become the most common type of office chairs in the workplace. That's because mesh provides a unique sitting experience and a look other fabric can't replicate. Because of mesh's popularity, there are thousands of different mesh office chairs in the market.
So, how do you choose the right mesh office chair that's best for your needs? This can a daunting task, especially because there are many options out there. In this article, we have curated a list of 7 of the best mesh office chairs in 2022. Whether you're looking for neck support, ergonomics, color, or best value, we got you covered.
1.

  Duramont Ergonomics Adjustable Office Chair
If you're on a budget or looking for a good value for your money, this mesh office chair is a great candidate.
The Duramont Ergonomics Adjustable Office Chair features robust lumbar support that's height and depth-adjustable. Also, it features a waterfall seat that's superior in terms of comfort. This mesh chair also sports high-end rollerblade style caster wheels that are much more durable and glide over carpets easily.
The mesh seat on this office chair is well cushioned around the edges, which is crucial for sustaining comfort in a mesh office chair. Coupled with a headrest that's height and angle-adjustable, you've got yourself a winning combination.
2.

  Autonomous ErgoChair Pro
ErgoChair Pro is one of the best ergonomic mesh office chairs; it's fully customizable, and it's designed to offer back and neck support. This prevents back pain and improves your sitting posture. The office chair features a breathable, durable mesh upholstery that encourages comfort and airflow. ErgoChair Pro's foam seats make it even softer and more supportive, which enables it to maintain its form. The seat is also wrapped with a breathable fabric to make sure you stay fresh and comfortable all day.
The construction of ErgoChair Pro is rock-solid and supports up to 350 pounds of weight. The ergonomic office chair is perfect for back pain because it lets you control how much lumbar support you need from your chair. This office chair also features a lumbar support cushion, which you can easily push up or pull down to support all body types. The ErgoChair Pro comes with a two years warranty.
3.

  Herman Miller Aeron
The Aeron comes with a warranty that covers people weighing up to 350 pounds for 12 years. This ergonomic mesh office chair is built from 8Z Pellicle mesh, which is soft and supportive, and also holds its shape well.
The Aeron also features a recline function with multiple tilt lock and tension options. Its optional lumbar adjustment system is excellent for offering good lower back support. Also, this office chair has some of the most comfortable armrests in the market. Its armrests feature a wide adjustment range and the arm pads are comfortable to use. However, one potential drawback to this office chair is the metal frame. Its seat has a thick side frame, meant to cradle you in the chair, but can be uncomfortable to lean against.
4.

  XUER Ergonomic Office Chair
The XUER Ergonomic Office Chair is a superb mesh office chair that features a large and flexible headrest that's comfortable. Its headrest is 12 inches long, and it supports your neck even when you pivot your head from side to side. The taut springiness of the soft mesh headrest is superb because it offers the right amount of neck support without being floppy.
This mesh office chair also features a 24 degrees tilt range, self-adjusting lumbar support, and an angle reclining lock. Further, this mesh office chair sports 3D armrests, a 3-year warranty, and a mesh sloping seat that moves back and forth.
5.

  Autonomous ErgoChair Recline
This is the perfect ergonomic mesh office chair, especially if you're working on a tight budget. Although the ErgoChair Recline costs only $179, it still looks and feels like a more expensive office chair. This office chair comes with a one-year warranty, and it has a weight capacity of 250 pounds.
The ErgoChair Recline features a mesh backrest that's comfortable and distributes your weight evenly while encouraging breathability and airflow. This office chair also has a thickly padded foam seat, which is covered with a high-quality polyester shell. Further, the chair sports a balancing mechanism that allows you to switch from upright to reclining position in a single action. The ErgoChair Recline also features a 24 degrees tilt range, highly adjustable armrests, self-adjusting lumbar support, and adjustable seat height.
6.

  Hbada Ergonomic Office Recliner Chair
The Hbada mesh office chair features an outstanding 155 degrees backrest tilt and pull-out footrest, which allows you to take power naps and full respite from work.
This mesh chair remains stable no matter if you're upright, slightly tilted, or in a fully reclined position. It also features a soft neck pillow, foam seat, and armrests that lower automatically as you recline. The chair also features built-in lumbar support, a sloping mesh seat edge, a headrest that's height and angle-adjustable.
However, this mesh office chair isn't suitable for people who are tall and big because it only supports a weight capacity of 250 lbs.
7.

  AmazonBasics Mesh Office Chair
The AmazonBasics Mesh Office Chair sports a height-adjustable headrest, built-in lumbar support, and a mesh backrest that tilts and locks. Although its lumbar support is non-adjustable, it's astonishingly comfortable, winning many positive reviews from users.
As a bonus, the AmazonBasics mesh chair features folding armrests, allowing you to tuck the armrests away and bring the chair right against your office desk to save space. Although open mesh is more refreshing, it's less comfortable in this office chair than in other mesh office chairs on this list because the seat frame is more pronounced. To make this chair suitable for sitting for extended periods, use a seat cushion. For what you pay for this mesh office chair, you're getting good value for your bucks.
Final Thoughts
There are many types of mesh office chairs, varying in style, price, and function. They're all built to serve different purposes. Some are best suited for tasking, others are best for conference room applications, and others are perfect for executive offices.
Thus, it's crucial to know what's important to you when deciding which mesh office chair to buy. This list has many great options and should provide something for most people searching for a new mesh office chair.
Video ads for product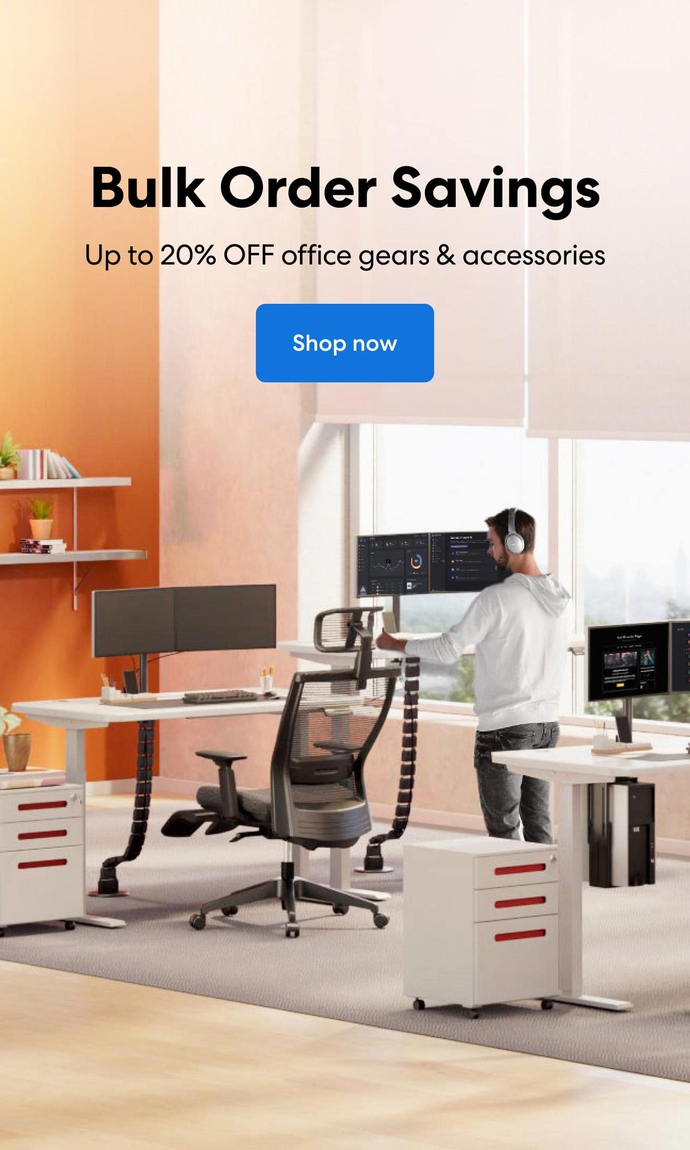 Subcribe newsletter and get $100 OFF.
Receive product updates, special offers, ergo tips, and inspiration form our team.