Smart Products
7 Best Types of L-Shaped Desk for 2023 (Review/Rating from Experts)

Autonomous
|
May 18, 2021
4,535 Views
Office ergonomics has contributed a lot towards making a workplace comfortable and smoother. The whole study behind making a workplace ideal for the employees is all about a hybrid workplace. Hybrid workplace and hybrid working model is targeted to make a workplace comfortable for the employees, and it also aims to improve efficiency and enhance productivity. L-shaped desks are yet another addition to the ergonomic office furniture family.
An L-shaped standing desk is targeted to maximize space utilization and avoids the corner space from being wasted. An L-shaped corner desk is one of the most useful office accessories, ideal for both an office and a home office setup. With a corner standing desk, you can easily set up your workplace anywhere in the house and even choose the quietest corner to help you focus on the work schedule.
If you want to reorganize your office space to maximize your productivity and use floor space optimally, then L-shape desks are ideal for you. Workers are always looking for "corner symmetry," and what better way to achieve that than having a desk in the shape of an L that perfectly fits parallel to two walls.
Add an ergonomic touch to your workspace and declutter it with the best solution; the flexible design of an L-shaped work desk will provide you with all the additional storage you need. Expand your chair swivel area and start searching for fun corner desk ideas because an L-shaped desk is all you need to complete any contemporary professional space look.
Even though there are many DIY standing desk frame options in the market, you can choose the best L-shaped office desk that suits your workspace as well as your budget. Before we get to the best L-shaped desks for 2022, let's talk about some of the must-know benefits of having a standing desk and L-shaped computer desk for your workplace.
What is an L-Shaped Desk?
As the name suggests, L-shaped desks are shaped similar to the letter L. they are one of the wisest and smartest additions to the work desk family. These desks are specifically made for tiny places and small working areas. L-shaped desks can be ideally placed in a corner, and they will provide you with extra room to set up your tiny offices. As the pandemic gave rise to work from home routine, many people had trouble adjusting to the changes. One of the major reasons was an insufficient or improper office set up at home.
While you cannot just rely on your bed to work and check your emails, not all of us have work desks at home. Even if we wish to buy one, tiny spaces and confined rooms pull a certain limitation. This is where an L-shaped desk comes in handy. An L-shaped desk gracefully sits in the corner and gives your extra space. Even two people can work at once with an L-shaped computer desk. There are many benefits of an L-shaped work desk for your home office or even regular offices.
L-shaped Desk vs Normal Office Desk
It is important to have diversity in a workplace and provide a colorful environment to the employees and maximize efficiency and enhance productivity. Diversity in the workplace ranges from high tech office furniture, Working hours, different working shifts to the type of furniture you have chosen in the workplace. If you are looking for diversity in office furniture and equipment, there is no better way to invest in different kinds of furniture. 
Since now is the right time to upgrade your workplace to maximize efficiency and develop it into a modern working place, an L-shaped desk is a great addition to the modern working place. There are many advantages that a corner desk or an L-shaped desk offers over a conventional desk.
Space saver
For starters, an L-shape desk saves you a lot of space. The corner space which would have gone wasted otherwise can be utilized to the maximum potential with the help of an L-shaped desk. Since you can fit an L-shaped corner desk in the corner of the room, the central space is saved for other office furniture. And while a simple desk could accommodate only a single employee in the corner, with the help of an L-shaped desk, you can allow two employees to work at once.
Better Privacy
Maybe you are working on a big project, or your mind is one of those which cannot tolerate the tiniest of noise while you need to focus. For such employees, an L-shaped standing desk is the best choice. It allows you to stay away from the office chaos and gossip, and you also get a quiet cool corner to proceed with your work smartly.
Elbow Support
Not many people pay heed to this tiny advantage, but we don't let simple things go. An L-shaped desk provides great support for your elbow. If you are working on your desktop the whole day, then the tension retained in your shoulders can tire your body before you even know. With the help of a tilted corner in an L-shaped computer desk, your elbow gets strong support, and you can relax while working.
More Organized
More space gives you greater chances to be organized. For people who work with many papers and files, an L-shaped desk gives you a great area to organize all your stuff. You can stack the files easily and process them as you please. Thanks to the extra corner space, you can even make individual stacks and organize them category-wise. While more space allows you more room, you don't need to get up each time you need a new stack; the L-shaped desk surrounds you in a way that is reachable from both ends.
Work and Game
All work, no play makes your life dull and boring. With an L-shaped corner desk at your home, you can easily dedicate a separate side for your gaming and consoles. You won't have to worry about dropping your gaming setup as the spacious space can hold both your work laptops and your gaming pc. And what's better than having a little motivation right beside you while you are working?
Organized Cords
A messy workspace gives rise to messy work. That is true! Our surroundings play a huge role in impacting our minds. With an L-shaped work desk, you are more organized and away from clutter. Arranging the cords becomes easy as the grommets provide you enough ways to organize your stuff. And most of the L-shaped office desks come with two grommets so you can organize cables individually. 
L-shaped Standing Desks
The only thing better than an L-shaped desk is the L-shaped standing desk. An L-shaped standing desk improves your general posture. It offers all the benefits of a standing desk and the perks brought up with an L-shaped desk. The combination of both is the future of an ergonomic workspace, and many organizations seem to love this idea.
Benefits of an L-Shaped Standing Desk
The benefits of an L-shaped standing desk are no less than an ordinary standing desk. An L-shaped standing desk offers more advantages than a conventional standing desk because it combines both excellent features. If you are skeptical about the advantages offered by a standing desk, then here are some discoveries and health benefits that will force you to give this idea a deep thought.
Weight Loss
Slow and steady wins the race. Since weight loss is not a trick or tip to be followed, it is a lifestyle change that promotes healthy habits and ensures to get rid of harmful habits. One of the most harmful habits is prolonged sitting. Sitting is the new smoking, and people who sit for many hours are at a greater risk of developing both short-term and long-term diseases.
Standing burns a higher number of calories as compared to sitting. Although the difference isn't much, this isn't the only advantage of a standing desk.
Reduced Back Pain
Back pain is one of the most common health issues found in over 80% of adults. Back pain in adults varies, but one of the most common reasons is improper sitting and poor posture. While poor posture puts a lot of pressure on our lower back, sitting for long hours makes our spine prone to bear an unnecessary load. The tension retained in our shoulders while sitting and working makes our entire back suffer. But, standing desks with L-shaped office desks can help you mitigate back pain.
People who have been using L-shaped corner desks with electric power as a replacement for conventional office desks have reported up to a 50% reduction in their back pain. The lifting of unnecessary load from the lower back and hip has made many adults happier and healthier.
Improve Heart Health
Our heart is the body's major organ, and sitting does a lot of damage to the heart. Sitting reduces the calorie-burning rate. This makes a human have higher cholesterol levels. Higher cholesterol levels damage the human heart and its health in many ways.  Since sitting is a major part of a sedentary lifestyle, and all sedentary lifestyles damage heart health, standing negates the negative impacts of sitting for long hours.
Better Mood
This link is surprising, but it is true. Our moods are the greatest dictator of the quality of work we produce in the workplace. With a standing desk, employees are reported to have better moods, thus improved efficiency. Since the body metabolism increases as a person stands rather than sitting, this provides a greater energy flow to the human brain resulting in the increased mood.
Best L-shaped Desk for your Workplace
Choosing the right L-shaped desk for your workspace depends on a lot of factors. These factors include size, material, height, and functionality. One of the major governing factors is the price range. You can make many different choices depending on the type of desk you require and the budget limitation you have for your workspace.
Non-Adjustable Desk
Standing desks come in both adjustable and non-adjustable height. A non-adjustable standing desk is a cheaper option with the health benefits of a standing desk. It can be a rectangular or even L-shaped computer desk. You get a fixed height with a non-adjustable standing desk.
Smart Desk Frame
For people looking for cheaper options and who don't want to invest in an entire smart desk, a DIY smart desk frame is a great option. Smart desk frames come in all types and shapes. You can even get an L-shaped standing desk frame for your workspace. With a strong frame, you can set up any platform you like and make a complete standing desk for you.
Home Office L-shaped Desk
A home office L-shaped desk is no different than an office L-shaped desk. It offers space, durability, and a lot of functionality. You can use it for multiple purposes and even set it up in any reliable corner in the home.
Electric Standing Desk
Electric standing desks have an electrically operated motor to raise or lower the height of the working desk. You can use the electric system for a swift change in height. On the other hand, a manual standing desk uses a lever or crankshaft to adjust the L-shaped corner desk's height. A powerful electric standing desk is expensive as compared to a manual standing desk.
L-shaped Computer Desk
L-shaped computer desks are specifically made to support a desktop and its entire equipment. Computer desks are usually made in glass for greater aesthetics or even wood. It allows two people to work at once, and usually, the frame is made of a strong metallic body to support the entire weight.
SmartDesk Corner
SmartDesk Corner is one of the most famous and smartest standing desks. It is a great ready-made desk for your workspace with all the functionalities and flexibilities offered. A triple motor action powers the L-shaped office desk for a powerful height adjustment operation. With a load capacity of 440 pounds, you can use it for multiple applications and even place heavy work desktops on it.
Floating Desk
A floating desk is one of the cheapest options to set up for your workspace. It takes the minimum amount of space and allows you to set up a workplace within your tiny budget. A floating deck can be adjusted to any height, such as a standing desk height or even a sitting one. The benefit of a floating deck as an L-shaped corner desk is that it does not require extra space or won't even require you to clean up a corner. Although it is a cheap option, it offers limited space and limited workload capacity.
Standing Desk Frame
To choose standing desk legs and the type of frame govern the entire strength of the standing desk. A standing desk is majorly dependent on the frame it has. A stronger frame offers more durability and longevity. When planning your L-shaped computer desk, you must measure or weigh the perfect tabletop. The weight of the desktop can then be subtracted from the lifting power of your ideal flexible standing desk frame. Using this formula, you can figure out how much desktop equipment you'll be able to carry on your standing desk.
15 Best L-shaped Desk Options Available in the Market
1. Autonomous SmartDesk Corner
Autonomous boasts its position as a leading manufacturer of modern desks and other fine furniture items in the industry, but its latest creation, The SmartDesk Corner, is one of its best-selling products. This corner office offers plenty of space for you to get creative and get everything done on time. It has a solid steel frame and a great 400lbs weight capacity for all your workplace gadgets, devices, and resources. The 4 programmable presets allow you to manage everything from your comfortable sitting position.
2. Mr. Ironstone L-Shaped Desk
This desk is constructed from a high-quality, anti-skid, scratch-resistant P2 MDF board that is super easy to clean and maintain. The frame of this desk is fabricated from premium powder-coated steel, and the desk itself can support more than two monitors. The adjustable leg pads and X-shaped legs provide great stability and maximum support.
3. Sauder Edge L-Shaped Desk
This small L-shaped desk is all you need to convert an idle space at home into a fancy home office. It is constructed from environmentally friendly engineered wood, and it features space-saving drawers. It is an easy to assemble desk with conveniently positioned grommets that easily manage cables and wires. The chalked chestnut finish gives this home-office L-shaped desk the voguish look it needs.
4. GreenForest L-Shaped Gaming Computer Desk
The three-piece reversible design of this motorized gaming desk makes it perfect for gaming. It is crafted from eco-friendly material, and it features a moisture-proof and scratch-resistant surface. The desk is a combination of durable metal frames, adjustable legs, and a sturdy L-bracket installed to make the desk stable and firm.
5. Masala Height Adjustable L-Shaped Desk
There are a lot of features that make this desk likable, but the best aspect of it is that you can raise one side of the desk to turn it into a standing desk. The cable management holes incorporated in the design allow you to hide all your cords. This desk offers great desktop space and has two spacious drawers, one of which can be transformed into a file cabinet.
6. Fatorri L-Shaped Computer Desk
Ample storage space and multiple shelves make this desk perfect to de-clutter workspaces while offering the ideal minimalistic look. A sturdy metal tube runs along the desktop and shelf length to provide maximum support and offer great structural integrity.
7. Chardior L-Shaped Corner Desk
If you achieve the right-angle orientation, you can use the ample space provided by this desk to turn it into a spacious desk for two people. The sturdy metal frames offer great structural support, and the adjustable footpads keep the table stable. This desk is equipped with three grommets for the organization of cords and cables.
8. Bush Furniture Anthropology 60W Glass Top L-Shaped Desk
This ultra-modern design is functional and exceptionally durable. Its stunning glass finish aesthetic exudes class and elegance, and it complements the vibe of every room. The sturdy metal frame offers great structural strength and supports up to 150 lbs of weight.
9. Rosecliff Heights Jace L-Shaped Desk
This desk brings the rusty vintage look back to your workspace, and it fits perfectly well in all corners. The laminated layer protects the engineered wood from decay and damage and ensures maximum durability. The perfectly adjusted angled design offers exceptional storage space and reduces space occupation.
10. Termont L-Shaped Desk
The spacious and elegant design of this L-shaped desk for home office makes what makes it unique and extraordinary. This executive desk contains two large drawers, a special tray storage unit for open-air storage and a bottom tray for carrying items like office tools and printer paper. The modern and minimalistic design of this desk features below desk storage and a cable management system.
11. Bush Furniture Key West L-Shaped Desk
You can never go with choosing an elegant, classic white L-shaped desk that adds a certain grace and class to your whole office space's look. The scratch-resistant surface and durable body can accommodate all kinds of office supplies and books. There are strong support panels attached that can withstand a weight of up to 200lbs. The white oak finish makes it an attractive L-shaped work desk.
12. Cubiker L-Shaped Computer Desk
This high-quality, modern design is perfect for all minimalists who prefer a sturdy built and a subtle design. This L-shaped desk nurtures productivity; it has two small drawers and plenty of storage space below the desk for you to keep all your work accessories stored. You can easily fit your computer monitors and additional gadgets on the desktop.
13. VASAGLE Industrial L-Shaped Computer Desk
The simplified assembly process of this desk allows you to get started with your work quickly. The symmetrical design flow and ample workspace are ideal for dynamic work. There are two below desk shelves for additional storage.
14. Inbox Zero reversible L-Shaped Desk
This desk stands out from the competition because of its simple but highly sturdy design. As the name suggests, this top-quality home office L-shaped desk supports two orientations. It is made from recycled material and is cost-effective. It sits on top of a strong metal frame that offers high bearing capacity. This is one of the best L-shaped desks for people looking for budget-friendly desks.
15. Techni Mobili L-Shaped Desk
This desk is ideal for a home office corner desk as it has ample storage, but it still doesn't occupy too much space. It is constructed from 100% laminated wood and features two shelves, two drawers, and a cabinet so that you can easily store all your essentials. The nice gray finish is stain and scratch-resistant, and an additional thick column supports the junction of two desktop panels.
The right L-shaped desk can make all the difference in transforming your chaotic and cluttered workspace into a well-organized space with a hint of elegant and minimalist aesthetic. Such desks not only offer plenty of storage space but they allow you to create a dynamic workflow. So, make an informed decision when you decide to purchase an L-shaped desk for your home/office space.
Video ads for product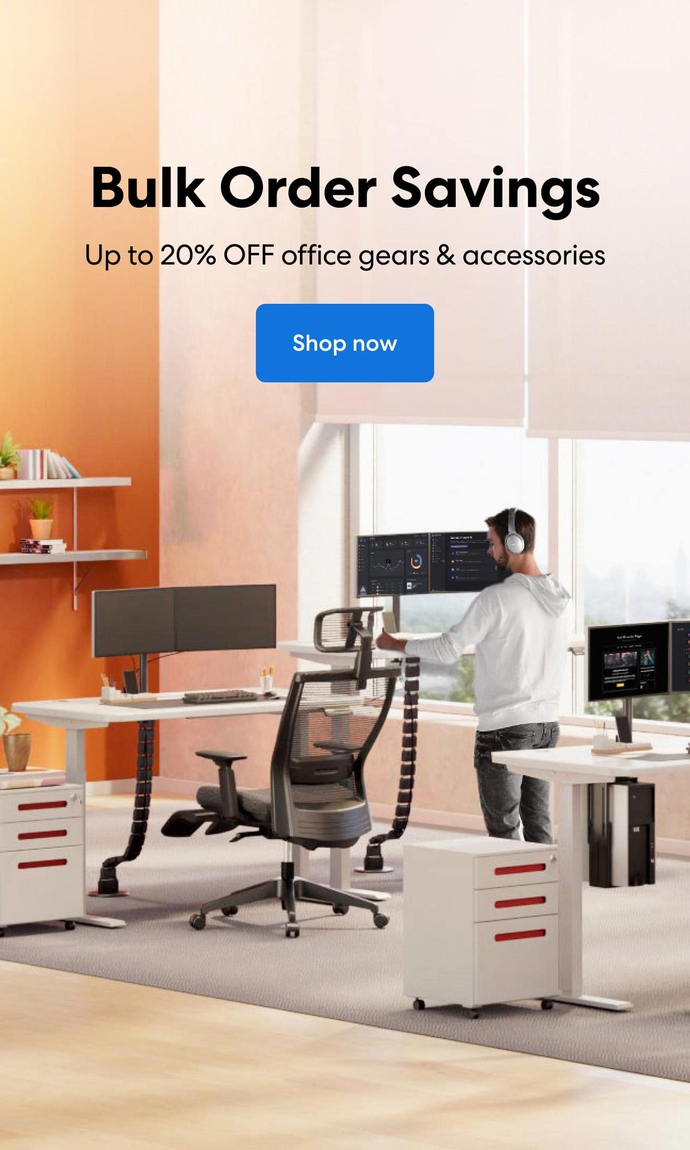 Subcribe newsletter and get $100 OFF.
Receive product updates, special offers, ergo tips, and inspiration form our team.