When working in a busy office space, noise is a major concern. For ample productivity, it is important to have a noise-free, distraction-free work setting for all employees to focus individually on their tasks and not get distracted. The same is the case when you have a work or study desk in a shared dorm room or even in your bedroom where you don't want to wake up anyone besides you.
An ergonomic adjustable office desk is beneficial until you hear the loud noise when the desk moves up and down. Since the desk movement results from the desk parts or steel frame moving up and down, you will likely experience noise. Part of why so many people opt for an electric desk vs. a manual desk is that manual desks are very loud with the mechanical motors and cranks involved.
But some electrically powered office adjustable standing desks are also accompanied by the loud motor noise and the whirring sound of the machinery moving up and down. This article will cover the best home office desks that do not make a loud noise when they are height adjusted.
Best Modern Adjustable Office Desk with Low Noise
Sitting in your office chair all day isn't good for your body, no matter how comfortable it is. However, being on your feet all of the time isn't good for your comfort or health. You get the best of both worlds with an electric, height-adjustable standing desk.
You can switch between sitting and standing with just a push of a button but what good is it if the desk makes a loud noise each time you try to adjust it a bit. Hence it would help if you had an ergonomic adjustable office desk that works with the quiet motor operation. Here are our best picks for low noise electrically powered standing desks.
1. SmartDesk Corner
This L-shaped desk from Autonomous, also known as smart desk corner, is the quietest desk despite its large design. This is because it is powered by three electric motors operating at a sound level near the whisper action. The motor involved is specially made distraction-free to make this desk applicable in quiet workspaces. The SmartDesk Corner offers a weight capacity of 400 pounds and comes with a five-year warranty.
2. SmartDesk Pro
If you love a smart office desk with a quiet motor operation, check out this affordable product from Autonomous, which has all the reasons for your next ergonomic purchase. The desk comes in three different sizes for starters, making it suitable for small to extra-large monitor settings, and dual electric motors power it.
The motors operate at a low noise level of 40 dB, and the desk has a weight capacity of 310 pounds. It has a solid steel frame which is well constructed to avoid any noise while moving up and down. Though this ergonomic adjustable office desk is a complete package, it doesn't come with storage space, but you can easily install a desk drawer to get a tiny storage solution.
3. Flexispot EF Standing Desk
If you want your best standing desk to be motorized but don't want to spend much money, the FlexiSpot EF is a good option. It has a quiet motor lift and a keypad with three height settings that may be modified. The FlexiSpot standing desk is also equipped with a smart feature that alerts when it's time to switch your position from sitting to standing or other way round.
4. Keyboard and Mouse Platform
If you do not need an entire desk or want to invest your money in a new desk, this adjustable keyboard and mouse stand from autonomous is the safest and most affordable solution. This tiny addition to your workstation will substantially improve the work posture and allow you to adjust the keyboard placement to an ergonomic level.
5. Wistopht Adjustable Office Desk with Drawers
Besides loud motors, one major concern controlling a desk height is the difficult control settings. This isn't the case with this adjustable standing desk with a drawer by Wistopht because the desk has a digital keypad panel on the desk surface where you can control and manage the height with just a touch.
This ergonomic adjustable office desk is a digitally controlled smart desk with the surface as a charging pad for your cell phone and other devices. It has a matte black finish paired with a silver-grey frame, and the desk also has tiny storage drawers to keep all of your essentials safe. The quiet motor ensures the desk moves up and down hassle-free and is suitable for busy work settings.
7. Allcam Standing Desk
The Allcam is an electronic sit-stand desk with a single-click adjustment from sitting to standing height. The desktop is ideal for compact residences or offices, measuring 47 inches by 24 inches. For further stability, the desk has L-style legs with a crossbeam. The desk is the epitome of ergonomics. Besides managing cable clutter, it also comes with USB cable charging ports and a built-in drawer for an easy storage solution. 
How to Choose the Best Sit Stand Adjustable Office Desk
Amongst the tons of choices in the market, it is hard to choose a product that suits your needs, ticks all the boxes for you, and is also suitable for the budget you have in mind. Since an ergonomic adjustable office desk is a big investment, you might want to become wary of making the wrong decisions. Here are some factors that will make you choose the best desk.
Desk Size
Take precise measurements, especially if you have a tiny space to work with, to ensure that your choice desk will fit. When it comes to your desktop, keep in mind that the width and depth are important. The optimum depth will help you maintain proper wrist and elbow ergonomics and keep your monitor at the proper distance from your eyes so you can have an ergonomic glare.
Weight Capacity
Consider the lift capacity of any desk you're considering. Electric height adjustable desks come with a weight capacity of as low as 50 pounds and a maximum capacity of as high as 700 pounds. Depending on what you need you can choose the right weight capacity for you.
Price
Several factors might have a significant impact on the cost of your workstation. Electric standing desks are normally more expensive than manual standing desks. Compare several providers to get the finest solution for you at the most affordable price. Check to see if the company provides a warranty.
Video ads for product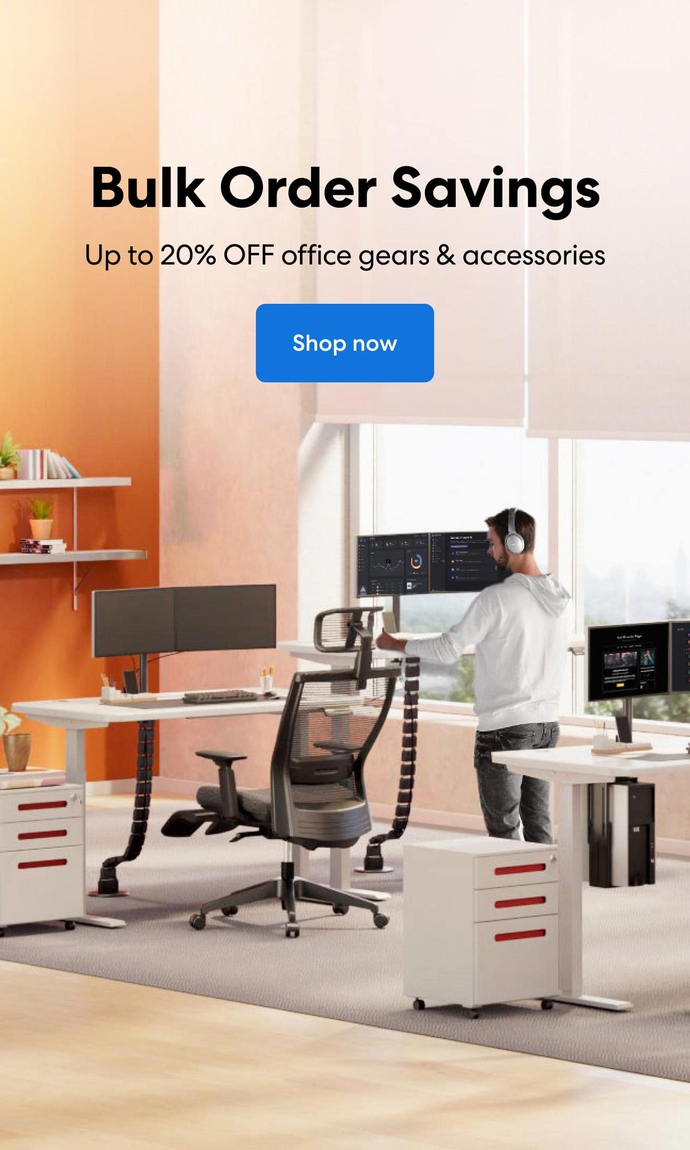 Subcribe newsletter and get $100 OFF.
Receive product updates, special offers, ergo tips, and inspiration form our team.