Smart Products
7 Of The Best Sit-Stand Chairs And Stools Should Buy in 2023

Karen Kimonye
|
Dec 21, 2020
24,648 Views
Most probably you've heard of the health benefits of standing when working; however, many of us don't have the stamina to stand for hours on end.  That's where a sit-stand chair comes in handy.
A drafting chair for standing desk allows you to work upright and maintain a good posture while taking the weight off your feet at the same time. Essentially, with a sit-stand chair, you can easily stand even without the physical stamina and energy needed to maintain that posture. In this article, we'll review the very best sit-stand chairs out there. Each chair offers something unique based on your existing office setup, function, versatility, and budget.
Here are the 7-best sit-stand chairs you should buy, especially if you want to start standing to improve your posture, prevent back pain, and improve your stamina.
A standing desk may be accompanied by a multi-function, adjustable stool designed to make working more energizing and comfortable. A sit-stand chair might even be referred to as perching stools, height adjustable stools, standing height stools, or an active stool. We've taken a look at these sit-stand stools and if they are worth the cost.       
What is a Standing Desk Stool?
Our home offices are very different from a regular one. A sit-stand chair is one of those new things and is a must-have for your workspace at home. You're probably aware of how great ergonomic chair features are and the advantages it offers your posture and remote working experience. However, if you feel like you need to reinvent your home office, it might be time to introduce a sitting stool. The difference here is that the stools have adjustable height and are free of armrests and backrests.
They have footrests and might even be useful for a larger drafting table. Drafters don't have to stand and move around while working. Specialized drafting chairs have backrests and a solid base but limited motion, especially where the backrests are concerned. This limit is placed there to prevent the taller height from topping the chair over.        
Some stand chairs are called active stools and are backless. They are slightly unstable so that you can balance and facilitate movement easily. These sit-stand chairs are marketed with varying styles and features.  
Why Get a Standing Desk Chair or Stool?
Sitting comfortably at your desk in an office chair could be the ideal solution. So, is getting a stool for a standing desk worth it? A standing desk tool does have some hidden advantages over a chair.   
Better Mobility
It's easy to get immersed in work and forget that you've been seated the whole time. Too much sitting, even in an ergonomic chair, is harmful and leads to health problems. A standing desk stool will make you get up more often, so you move around. At the same time, it's very comfortable so that you can sit easily.    
Smaller Size
Some office chairs take up lots of space. It is critical to choose the right ergonomic pieces when planning out your office. The result could otherwise be a stuffy workplace where it's tough to focus and is messy. The best use of your space calls for adjustable standing desk stools. You save space, are comfortable, and can move around.    
Less Slouching
We lean over our desks when standing or sitting while working and improve sitting posture at the computer. It happens because your knees and core aren't in the right position when you are seated. Sitting stools let you work comfortably by moving you closer to the PC screen while seated upright. The design of the stool engages all body muscles. 
Criteria When Considering a Standing Desk Stool or Chair
There are many options available online for standing desk stools, making it hard to pick one. Here are a few tips to consider if you're looking for an adjustable desk stool to use in your home office.
Cost
Standard office chairs generally cost much more than these stools. Investing as much money as you can in a suitable stool is crucial to selecting it. You will get a long life, comfort, and health benefits from the right one when you select one with the right value!
Design
A sit-stand chair must offer a comfortable seating experience, be made of sturdy materials, and appear attractive. You must select a stool that you are comfortable with because you will spend a lot of time on it. With a stool like this, you can directly feel how comfortable it is through its design.
Guarantee
Buying your first standing stool can make it difficult to comprehend the quality of a stool right away. Choosing one from a reputable manufacturer is crucial because you might have trouble using it. Additionally, these stand chairs are covered by a warranty, and they will be of high quality.
Consistency
A heavily leaned stool will wobble as it becomes more unstable over time, if not immediately. You should select a standing desk stool that will withstand any strain placed on it while remaining steady.
User Experience
Using a stand chair opens up a range of possibilities. If you get an adjustable one, you can utilize it in various ways and get the most value for your money!
7 Best Sit-Stand Chairs And Stools You Should Buy
1. ErgoStool from Autonomous
The Autonomous ErgoStool meets the modern demands of seating with comfort and style. This stylish ergonomic stool has an adjustable seat height, which allows you to switch between sitting and standing. At its lowest height, this stool has a regular seat height of 24 inches while at its highest height it can extend up to 34 inches. It's easy to switch between these heights: by pushing down the cushioned seat of the stool you'll release the height lock and the seat base slides easily higher or lower. Once you find the height that's perfect for you, push down the cushioned seat once more to lock it into place. Thus, this stool is perfect for working on a standing desk.
At a sitting height, this sit-stand stool can move at 38-degrees allowing for active sitting. The goal of active sitting is to prevent muscle tightness from extended periods of sitting. With this stool, you can exercise your muscles improving blood circulation and muscle strength.
This ergonomic sit-stand stool also has a circular base allowing for 360-degrees rotation. This means beyond the 'wobble' motion, you can also move in concentric circles to give your back and leg muscles more active movement.
Another highlight of this ergonomic stool is that its weighted and robust base grips firmly on most floor surfaces. This allows you to adjust in your seat without shifting your desk or table.
This ergonomic sit-stand stool is made with high-quality material, especially the base and gas cylinder that props the seat up. If you're looking for a stylish chair; this stool is your best bet because it's perfect for all body types and desks.
2. Learniture Learning Stool
This sit-stand stool is easy to assemble, and it works perfectly in a sitting position as well as a standing position. The stool has a thickly padded seat, comfortable to sit in. The padded seat is very cozy for lower limbs and tailbone.
The Learniture Learning stool has a lightweight design that allows mobility because it has a non-slip, curved base feature that allows a wide range of motion. The backless design promotes proper sitting posture while strengthening the core muscles. This is a well-crafted stool that offers lower limb support and quality height adjustment and movement.
The quality of the material used to make this sit-stand stool is great, especially the gas cylinder and base that prop up the chair. The stool has replacement lifts, which you can easily install yourself.
3. Winsome Spectrum ABS Stool
The Winsome Spectrum Swivel Stool is one of the best sit-stand chairs in the market. It is the perfect chair for those who suffer from knee pain after sitting in one position for extended periods. The ABS AirLift is one of the most advanced features present in this sit to stand chair. The feature makes the user feel at ease with adjusting technology. The high-quality material used to make the chair makes it durable.
The chair has an open loop that comes with a working chrome in the base. The open-loop prevents the chair from breaking and it's not harmful to the user. You can use this chair for long with no faults. Also, you can easily adjust the chair's height based on your comfort level. This chair needs no hard installation, and it requires a simple assembling.
4. Perch Chairs and Stools
If you're searching for the best sit to stand chair that supports both sitting and standing, then the Perch Sit Stand Chair is your best bet. It's one of the top-rated sit-stand chairs in the market. The seat of this chair extends to support the user, and it can ease back pain after using it for an extended period.
The base of the Chair has five non-slipping rods. This chair has high durability because of its stainless-steel construction. Also, this is a lightweight chair so you can carry it from one area to another with no difficulties. The chair offers the needed grip which protects you and prevents you from slipping. The chair has a two-tiered design, and it has a separate mouse deck.
5. Alera AdaptiveErgo Perch Stool
This sit-stand stool has a great ergonomic design with a swiveling seat and pivoting angled column. The Alera Perch Stool is a slimmed-down version of the VARIDESK standing chair below. The stool has a versatile pivoting, which allows for a lot of forward and lateral movement in your body, all while keeping your upper body aligned.
The sturdy base of the Alera Perch Stool offers stability when leaning forward, standing, or swiveling. The seat can swivel up to 180 degrees, that's outstanding! This is a fun element that can keep you energized. Also, when you get up off the seat, it automatically goes back to the front-facing position.
With the easy-to-reach levers on each side of this stool, you can easily switch from sitting to standing. The chair can go from a height of 21 inches to 30.5 inches, all while allowing you to switch from the two positions easily.
The Alera Perch Stool comes with an instruction manual, which makes it easy to assemble.
6. Adjustable Standing Desk Chair
This is a great sit-stand chair with a highly ergonomic moving pedestal and a stable base that supports a range of motions while sitting or standing. The low-cut design of the low backrest and cushioned seat enables your body to stay in an upright position for a healthy posture.
With the air-lift piston, you can easily and quickly adjust the chair's height. You can easily go from 23 inches to 32.75 inches. At 32.75 inches, your legs will almost be straight.
The weighted base of the VARIDESK chair will keep you in place, no matter how much you move on the pedestal. Also, you can use this sit to stand chair safely on any floor, which can be a problem with some cheaper sit-stand chairs.
The VARIDESK Adjustable Standing Desk Chair is a perfect sit-stand chair with a modern trendy look. Since its seating is made of leather, it's easy to clean. The seat pan is made from plastic together with a thick padded cushion and upholstery, the back of the seat has a built-in handle that makes it easy to move the chair from one area to another.
7. Alera – Activergo Sit to Stand Stool 
The Activergo Sit to Stand Stool has a curved bottom that allows the stool to offer substantial support. The stool requires no hard installation, you can directly use it after opening the product.
The adjustable seat provides comfort, and there's no chance of losing grip. Since this stool is lightweight, you can easily move it anywhere. The compact design of this sit to stand chair allows you to store it anywhere you want. This ergonomic sit-stand stool is highly durable because it's built with high-quality materials.
The only drawback to buying this chair is that it offers minimal height-adjustable options.
FAQs
How long do you sit on a sit-stand stool?
The amount of time you're seated depends on the tasks you're doing. It isn't recommended to stay seated or standing for too long. The healthier alternative is to alternate between the two as you go about your day.
Is a sit-stand stool better than an office chair?
There is a way to ease workplace fatigue and back pain caused by standing with the right ergonomic stool all day. When you sit on a stool or saddle seat, you have opportunities to perch, move, and sit while working.
Standing while you work is possible with the best sit-stand chair. If you are struggling to stay upright while you work, you can use this sit-stand chair. It's a great way to stretch your legs after sitting at your desk for a long time! To make the object taller, you only need to increase its height.
How do you sit ergonomically on a stool?
There are many ways to use the stand chair. Furthermore, they are adaptable, which makes them a good choice. The following tips will help you to use and maximize them properly. The knee spaces in some standing desk stools are more generous than others. The stool provides a comfortable place to sit with your knees up. Resting your legs in this manner maintains good posture while maintaining proper leg alignment.
This sit-stand chair can accommodate people who prefer to sit comfortably while working. Jump right in after setting the stool at the appropriate height. You can then complete your task whilst sitting on the stool. You should set it at a height that won't make your neck and back sore. A leaning base is standard on all ideal standing desk chairs. As long as you maintain your stance, it is comfortable to lean forward. In addition to your physical wellbeing, it benefits your mental wellbeing as well. Kneeling is impossible with office chairs.
Should I Have a Standing Desk to Use Sit-Stand Chairs?
Well, you don't need a standing desk to enjoy the benefits of sit stands chairs. You can elevate your monitor and computer using boxes. While your workstation may look weird, this cost-free DIY method works.
Alternatively, you can just get a desk riser or stand. A desk riser not only elevates your monitor and computer peripherals, but it's also height-adjustable for when you want to sit down. Also, there are laptop stands that can prop up and tilt your laptop to the right angle and height for maximum comfort.
Also, you can buy a standing desk to go with your ergonomic office chair, but you don't necessarily need it. The goal is to get off your seat and stand, and you can make the necessary purchases gradually based on your needs and set up as you go.
Conclusion
When choosing a sit-stand chair look for one that offers comfort. Make sure the chair is durable and of good quality for long-lasting performance. The best sit-stand chair is perfect for the office, home, or any location.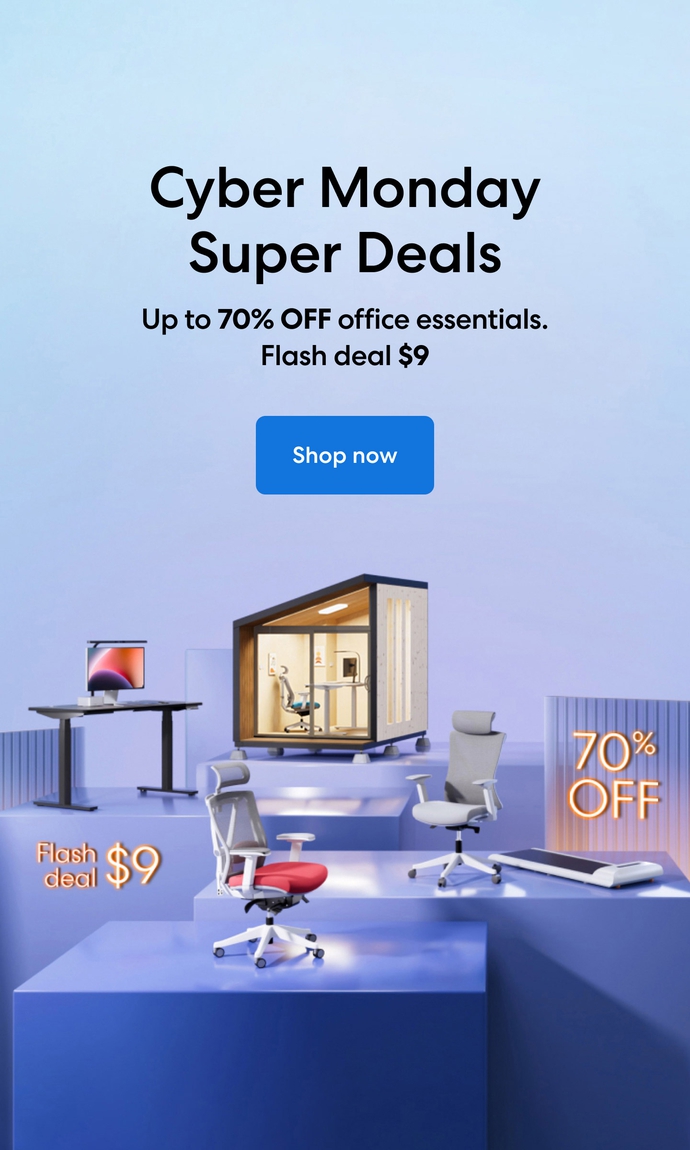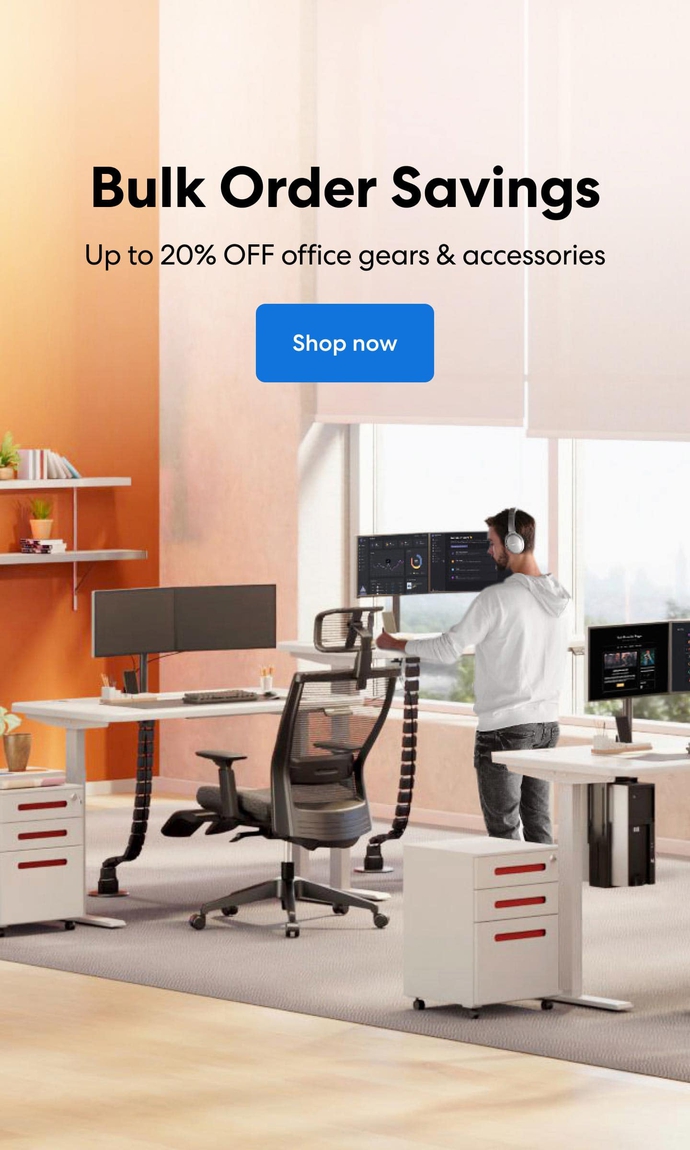 Subcribe newsletter and get $100 OFF.
Receive product updates, special offers, ergo tips, and inspiration form our team.