Feeling tired and fatigued at work is very common among office workers. This is especially the case when they are jam-packed with their tasks at their workplace. Often, they forget their comfort and end up encountering painful muscle strain and stress. The best way to solve this problem right at your workstation is to practice some standing desk stretches.
Stretching helps you spare some time for yourself to relax your muscles and avoid muscle stiffness. Certain standing stretches at work improve blood circulation and help you engage your core while you work. In addition, standing back stretches treat common back pain and stiffness in the neck. Therefore, stretching at intervals lets you resume work with greater energy and productivity.
Are you one of those office workers who commonly encounter muscle stiffness and back pain upon working for extended hours? Are you interested in learning about the best standing stretches at work? If that is so, we are here for you!
In this article, we have shared the most useful back stretch at table exercises that will help you treat back pain and other muscle ailments that an office worker often encounters. So, without delay, let's have a look at them one by one.
7 Simple Standing Desk Stretches to Relieve Pain
1. Lateral Trunk Stretch
Lateral Trunk Stretch is a simple stretch that you can do at regular intervals while at work. It is ideal to have an ergonomic computer chair for this exercise, as it has a comfortable, ergonomically designed seat that provides apt support.
What you are supposed to do to practice this stretch is to place one hand on your thigh and raise the other. Next, bend laterally towards the side where you have placed your hand for support and hold yourself in that position for 15-20 seconds. Doing this stretch will eliminate the pressure on your lower back.
2. Knee to Chest Stretch
The second, Knee Chest Stretch, is also something that you can do while remaining seated on your office chair. All you are supposed to do is ensure that you sit straight and then raise one of your knees to your chest.
To ensure you stretch maximally, put both your hands on top of your knees and bend it toward your chest. This stretch should be such that you feel it in your lower back and your pelvic region, as it is supposed to target them and eliminate muscle soreness.
3. Hamstring Stretch
The hamstring stretch is yet another exercise that you can do while sitting in your office. A change that you can think of doing here is getting yourself an ergonomic stool in your office while practicing this stretch because the ergonomic stool will keep your core engaged as well.
In order to perform this stretch, you are supposed to keep your back straight and extend one of your legs to rest your heel on the floor. Ensure that your lower back is straight enough that you feel a stretch in your hamstring muscles. This will improve blood circulation and eliminate muscle soreness. 
4. Side to Side Tilt on a Balancing Board
An intelligent way of practicing your daily standing desk stretches is to incorporate a standing desk flow board in your workstation. Standing on a balancing board like this one is itself an exercise as it engages your core and keeps you more active at work. You have to tilt the desk board sidewise alternatively while engaging your core and legs in a side-to-side tilt. It is important to keep your core tight during this exercise to get better results. 
5. Downward Facing Dog Stretch
Since we have talked a lot about lower back stretches, let's share an upper back stretch too. The Downward Facing Dog Stretch targets both the upper back and lower back. It also increases the movement range of your pelvic region. So, it is one of the best back stretches at the table. To practice this stretch, you must ensure that you have an ergonomic chair to sit on and an office desk.
What you are supposed to do is sit straight on your chair and raise your hands straight above your head. Next, you have to bend towards your desk while your back is still being straight and place your forearms flat on the desk with palms facing the tabletop. It is better if you hold on to this position for not more than 5 seconds.
6. Side Plank
The side plank is one of those work standing stretches that you can perform if you have a standing office desk. To practice this exercise, you must place one of your palms on your desk and raise your torso by propping yourself on your palm.
Ensure that your body is straight while you are in this position. In addition, you should also engage your core and your glutes in this position. A good side plank would be of 30 seconds at least. So, try practicing it regularly during breaks. 

7. Leg Extensions
The leg extension is a stretching exercise that you can practice on your office standing desk. If you are doing it with your standing desk, you should stand straight first and then extend one of your legs enough to place it on your desk.
Make sure that the desk is clutter-free before you do this. While your leg is on the desk, touch your toe with one of your hands. You can stay in this stretching position for a couple of seconds and then get back to normal. It is better to do this stretch with both legs alternatively.
Conclusion
That's all from our side! We hope you have taken notes and learned some of the most useful standing desk stretches from the list we shared above. All these exercises are crafted to target your back and legs, so we believe that they will be helpful for you at your workplace. We hope that incorporating these exercises will be fruitful for you and boost your productivity at work. So, make your move and incorporate your favorite standing stretches at work!
Video ads for product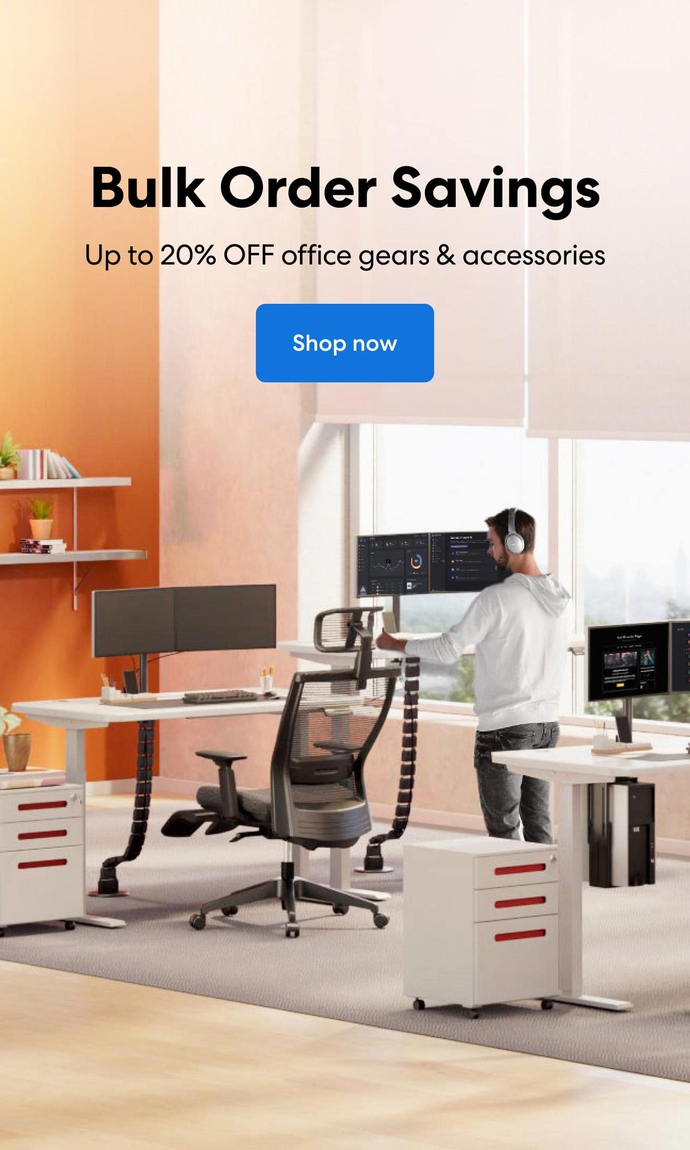 Subcribe newsletter and get $100 OFF.
Receive product updates, special offers, ergo tips, and inspiration form our team.