When it comes to having a hybrid workforce, it can be tricky to know how to start. There are various flexible work ideas out there, and they are going to help you figure out what to do and when. Let's find out more about flexible work schedule ideas and how to implement them:
What Is a Flexible Work Policy?
What is a flexible work arrangement? This is where the employee can choose where and when to work. The goal is to help employees manage their personal lives and work and can reduce stress and boost job satisfaction and productivity.
However, before you focus on various flexible workspace solutions, you need to have a firm flexible work policy in place. It needs to explain:
  How to see if an employee is a candidate for flexible work
  What flexible work means at that company (work from home, flexible hours, etc.)
  How to request flexible work
The flexible working model works well for many companies, but it takes time to set everything up. You want a policy in place to make sure that everyone knows what's expected of them.
Consider these helpful tips
Telecommuting Days
You may not be able to let your employees work from home every day, but one of the best ideas for flexible work arrangement options include letting employees pick the day or days they work from home. This can help if an employee is thinking about reducing their workload to part-time because they can still get things done at home while working a full-time job.
Flexible Work Schedule Ideas
Flexible work ideas couldn't be complete without the ability to work flexible hours. That way, employees can choose to come in later and work their eight hours. On top of that, they may want to work 10 hours a day for four days and take the fifth one off. Just make sure that your policy explains who can do this, when, and what days they may take off. That way, you don't have an empty office every Friday!
Summer Fridays
If you can't do the normal flexible work schedule ideas, then you might be able to do Summer Fridays. There are different scenarios, but you could let employees:
  Work a half-day on Friday and pick whether it's in the afternoon or morning
  Leave work an hour or two early and still get paid for it
  Not work on Fridays at all but work 10 hours the rest of the week to have full pay
  Not work on Fridays and not make up the time (but still or not get paid)
Ways to Make Your Company More Flexible for a Hybrid Team
With so many flexible work ideas, you need to figure out how to implement the ones you like most. Here is a step-by-step guide:
1. Keep Staff Focused
Flexible work ideas can't get off the ground if your departments aren't on the same page. They're going to be working harder to do all the extra work of creating and writing the policies. Make sure that you're listening to them and communicating "why" you're doing this.
2. Training
Managers are sure to have difficulties with a hybrid remote work schedule for every employee. Therefore, it's essential that you train them months in advance before these ideas for flexible work arrangement options come out.
While there may be laxity, and managers aren't going to have to watch every move, they still need to make sure the staff is working and communicating.
3. New Software
Most flexible work ideas don't require you to have specific software. However, if the goal is to have various workstations for specific jobs, it's best to use office hoteling software. That way, you can easily see which stations are open and when. Employees can "book an appointment" for that space when they need it.
It's best to have software that lets them see when it's available. That way, they can schedule other tasks around the need for that particular workstation. The need for this is based on the flexible work schedule ideas that you implement.
However, you may find that a new appointment scheduler or calendar is necessary. That way, you can note who is working from home, who is in the office, and what their hours are now.
4. Trial Run
It's fun to think about all these flexible work ideas, but when you've got it all ready to go, it's a bit overwhelming. You don't have to feel nervous about it, but you're going to anyway. Do a trial run of it all to see what happens. Make notes of any problems you run into so that you can address them later.
Ensure that the team knows what you're doing and that this is temporary to work out the bugs. Then, go back to the normal way of working for a few months. Sort out any of the issues you found and start the flexible work scenario again. You may have to do that a few times to get it right.
Alternatively, you can choose to implement your flexible work ideas with one department or a small group of people from different departments. You can judge how well they're doing, what needs to be changed, and all the rest.
5. Some Aren't a Good Fit
Even with plenty of ideas for flexible work arrangement options, some people just aren't good as flexible workers. Each person needs specific skills and traits to do it effectively. Don't shut down your entire flex work program because a few can't do it. Instead, let them work in the office and offer other perks. The rest of the employees can benefit from work flexibility.
Conclusion
These flexible work ideas should give you something to think about. While you might not be ready to implement these flexible work schedule ideas yet, you can get started. As you come closer to the big reveal, everyone is going to get excited about the new way of doing things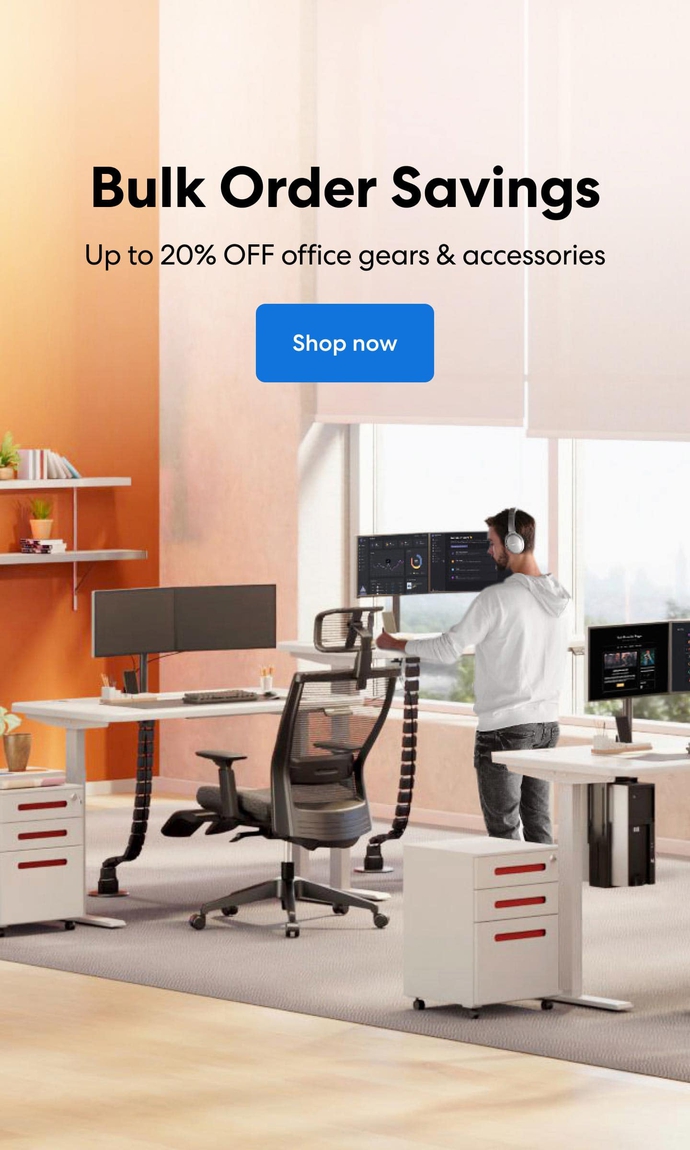 Subcribe newsletter and get $100 OFF.
Receive product updates, special offers, ergo tips, and inspiration form our team.