Workplace Inspiration
8 Ways for Minimal Office Décor for Any Workspace

Natasha Palance
|
Jun 11, 2021
4,334 Views
Why not stay minimalistic while designing your workspace? The idea of getting a minimal office décor has gained a lot of traction recently. Whether you work at a home office remotely or are part of the physical workforce in your organization, modern minimal office décor is something that inspires everyone.
But why is the minimalism trend gaining such popularity worldwide? Well, the popularity is due to the benefits that this setup provides everyone. A minimalist desk décor is known to boost productivity and help you engage with your workspace better. Since this setup has promoted workers to work better irrespective of the place they work from, people have started liking it even more.
We know that as a remote worker, you must be interested in knowing some minimal room décor ideas, or as an office worker, you must be interested to learn how you can have the modern minimal office décor. That's why we have shared some of the most innovative ideas that you should adopt to avail the office of your dreams. Are you ready to know what we have for you? Well, let's dig in deeper!
1. Invest in Ergonomic Furniture
A home office minimal design is incomplete without a good ergonomic chair and a standing desk. Ergonomic furniture offers you adjustable features that make it easier for you to set your desk and chair in a way that you do not suffer from any muscle strain and can work longer hours. The additional benefit that you get upon buying an ergonomic office chair is that this chair has more adjustments that make it easier for you to relax when you take a short break from work.
2. Remove Clutter by Eliminating Ornaments
One well-known feature of a minimal setup is that it lacks clutter. People often have a habit of placing various ornaments on their work desk, thinking that it will make it look aesthetic. Unfortunately, this is a misconception, and ornaments only make your workspace more crowded, and you are aware of how bad clutter can be for your productivity. So, it is better that you avoid adding any ornaments and remove them if you have any.
3. Make Your Workspace Green
But what do I place on my table to give it an aesthetic touch when I remove the ornaments? Well, you can think of adding some low-maintenance plants and make your workspace greener. Plants rejuvenate one's mood, and most of them are known as a charm that can promise you wealth, power, money, and a lot more.
They are also known for boosting your productivity by around 15%, so you won't regret making your workspace green. Think of placing some low-maintenance plants so that you do not have to waste much time taking their care.
4. Pick Your Favorite Neutral Colors and Textures
You can only achieve a minimal office décor if you set a complete aura of minimalism where every color combination and texture promotes tranquility. Never stuff your office space with a burst of vibrant colors which lack any patterns. Usually, neutral colors look better and are more aesthetically pleasing in modern minimal office décor.
You should think of aligning your cushions, storage, pens, and other smaller accessories with the color combination that you are choosing for your room's wall and office desk. We know that you must be thinking that neutral colors would make your room décor too boring, so what to do now? Well, various textured pieces are available in the market, you can think of adding them to beautify your minimal desk décor further.
5. Specialize Your Workspace with Important Accessories
Specializing your workspace is an important thing that you should do as a priority while setting your home office. This is because specializing your workspace makes it more engaging for you to focus on your tasks better. Only place those accessories that will be useful for your job. If you are a streamer, then install a good mic and headphones in your desk space so that it becomes handier for you to access any of your equipment.
6. Invest in a Durable Shelved Corner for a Reliable Storage
Since the beginning, we have been talking about keeping your office space décor minimal. This means that most of the files and other items like collectibles and ornaments that you usually place on your desk are to be kept somewhere else. So, the best you can do is install a shelved corner with close proximity to your minimalist desk set up so that you can place an ornament or collectible in front of you while you are working. This will make you more motivated and will make you love your office décor even more.
7. Think of Using a Wooden Office Setup
A wooden office setup is quite trending these days. This design helps you stay minimalistic while ensuring that your workspace looks aesthetic. The best part about a wooden office setup is that it won't even look boring, so you will stay active and engaged while performing your tasks.
8. Add Some Minimal Art Décor Close to Desk
In order to satisfy the aesthetics of your workspace, it is vital to add some minimal art that you can view easily. This is the point where you can finally think of adding that personal touch by placing any piece of art that you like or your favorite family portrait in your desk space so that your minimal office décor looks complete. All of this will help you stay motivated and productive while you work on your projects.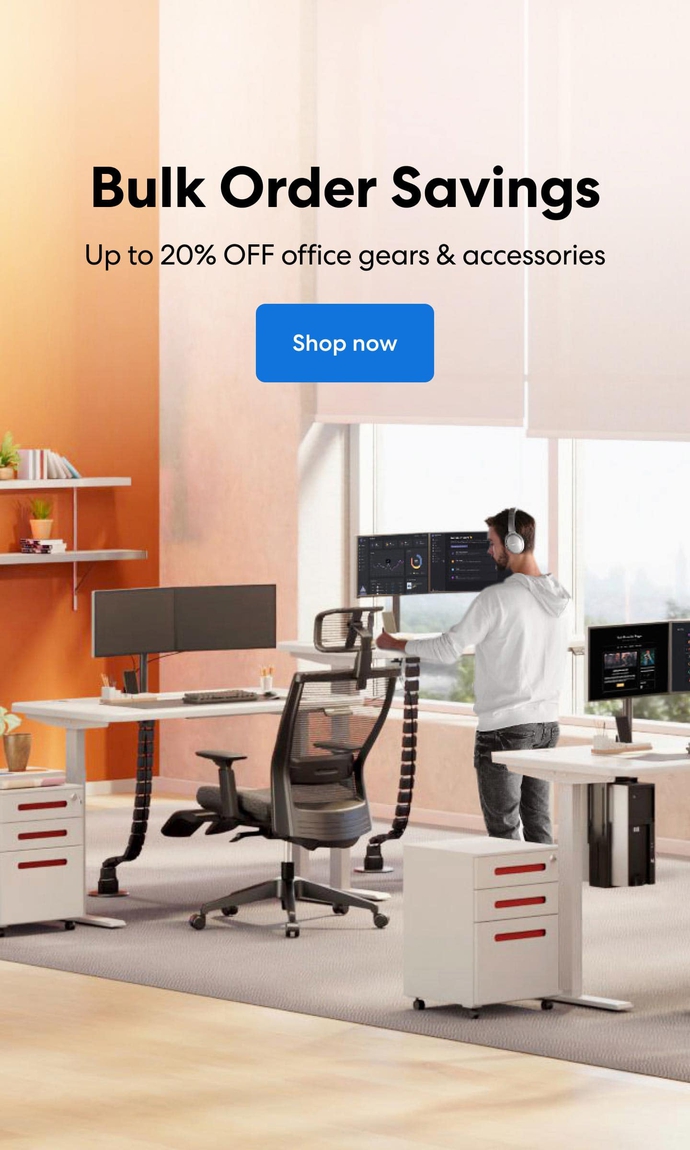 Subcribe newsletter and get $100 OFF.
Receive product updates, special offers, ergo tips, and inspiration form our team.