Building strong teamwork relationships can be the foundation for building outstanding company performance. As a manager, it is part of your responsibility to build a rapport with your staff and to make sure your employees are satisfied in their job position, feel valued, and are dedicated, productive and positive in this workplace.
One of the keys to building a company that is as effective and efficient as possible is to build a team of staff that are aligned with the company's goals and objectives. Are you a manager who is looking to build a strong team relationship with your employees? This article by Autonomous discusses how to communicate with your employee effectively, how to build a productive team culture, and introduces eight ways to build strong relationships at work.
Communication Essentials
Communication is one of the most vital skills to managing a successful team and being a successful manager. It is essential to build strong relationships at work to increase and improve overall company performance. Whether you are managing a team of employees in a smart office with bulk office furniture order or communicating with your team remotely, there are several communication essentials for remote work or in an office that every manager should implement in their work environment.
1. Communicate Frequently and Specifically
Communicating frequently and specifically is, without a doubt, the most valuable quality for any manager to possess to build a strong team relationship. It is important not to keep the staff in the dark by failing to communicate with them. It is vital to keep the workers satisfied and updated by sharing crucial details regularly and ensuring that they get regular colleague feedback relating to the activities they accomplish.
Even if you communicate frequently, the information you correspond must be specific. It is harder to transmit unclear and open-ended knowledge than to not communicate at all. You should make sure that workers understand precisely what is required of them and how they should accomplish the job. You guarantee that they understand what they need to do and how they can go about doing so by doing so. Clear information while communicating with employees is to avoid any misunderstandings or errors.
2. Make communication Transparent
It is not possible to make communication transparent if the information is kept hidden from workers. It is important that they are still mindful of what is expected of them, as well as any relevant facts. Transparent communication makes your workers happier and gives them faith in you. One of the most critical and healthy work relationships in a company environment is that between a manager and their workers. Employees who have confidence in their employer are more likely to perform harder and more effectively. As a result, it has the potential to increase firm competitiveness and maximize job efficiency.
3. Build Strong Teamwork Relationships
Employees would be more at ease with you if you build strong team relationships with them. Building strong team relationships results in a more pleasant working atmosphere. Employees that are more at ease at work are less stressed at work, and they are also more effective and successful. If you are working remotely, you can organize virtual team bonding for your employees. It is important to note not to get too involved in this process, as certain workers can choose to take advantage of a personal relationship with their employer.
4. Build a Comfortable Environment
The atmosphere in which communications and interactions take place is critical to the communication's success. You are going to want to be in a position where you can take notes, for example. In certain cases, a reliable microphone is necessary for optimal performance. You are going to want to stay away from any potential disruptions.
It is also important to have meetings and brainstorming sessions at your desk. Make sure you have a standing desk where you can conveniently take notes and place your microphone (and camera, if needed), an ergonomic chair for convenience, and a privacy panel where you can stick notes.
How to Build a Productivity Culture for Your Team
Management of Resources
Understanding resource needs and making appropriate decisions is a significant aspect of maintaining the productivity culture. There are two types of services that managers should consider. Human resources are the first, and non-human resources are the second.
Objectives Should Be Clear
All employees in the workplace must have a good understanding of the goals they are pursuing. Managing staff across multiple departments can be difficult. If the team is operating without a schedule, the probability of confusion, uncertainty, and unproductive work increases.
Main Team Presence
Studies have indicated that isolation harms mental health. Managers have a responsibility to remind all team members that they are still a part of a team. Furthermore, employees must realize that they are valued rather than disposable pawns.
Team bonding or bonding exercises are a great way to build strong work relationships and maintain a team presence.
Avoid Macro-Managing
Mirco-managing is also another field where many managers make common teamwork mistakes. Keep in mind that the job is to get employees and other resources together and create a productive work environment. As a result, each subordinate should feel empowered to complete the tasks required and carry out a job role effectively.
8 Ways to Build Strong Teamwork Relationships
 You are the manager of an excellent team, and you want to accomplish amazing things together. In many instances, the success of a manager is reflected by the results and performance of the team he or she manages. This is why building strong team relationships are critical to the company and individual success. Here are eight ways to build strong team relationships:
Trust in yourself and your teammates

Respect others' ideas

Show up with the best of your ability

Support your team members

Provide

effective employee feedback

Communicate and share regularly

Divide tasks and workloads equally

Recognize the talents and skills of your employees
The Bottom Line
One of the pillars of success in a company is the building of strong teamwork relationships. If the relationship between a manager and their team is positive, the company is going to experience higher levels of productivity, efficiency, and economic gains. A manager must communicate with his or her staff, build a positive work environment that promotes a productive culture and come up with creative methods to build teamwork in the workplace.
Video ads for product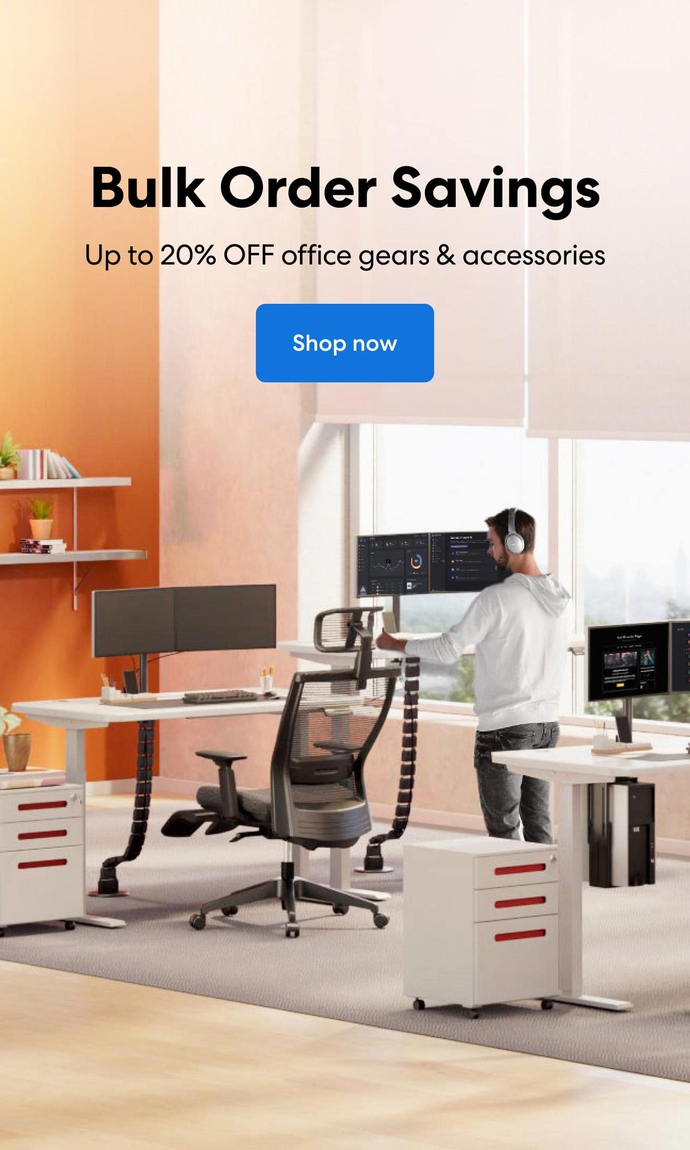 Subcribe newsletter and get $100 OFF.
Receive product updates, special offers, ergo tips, and inspiration form our team.