Smart Products
9 Best Standing Desk Converters with a Dual Monitor Mount

Autonomous
|
Mar 30, 2022
1,635 Views
You have probably heard of a standing desk converter before, and the concept of a monitor arm may also be familiar to you. However, what if the two were combined into a standing desk converter with a dual monitor mount? 
If so, you would achieve two things. First, there would be the job of the converter, which allows you to take advantage of sit-stand sessions without having to throw out your traditional office desk. 
On top of that, you get to recapture what would have been tabletop real estate atop the converter, since you are going to be suspending your two screens above it, using a mechanism that gives you height adjustment and rotation. Of course, this means you get to take advantage of portrait and landscape screen orientations at will. 
While a dual monitor standing desk attachment may be very easy to find as an independent element, you're not going to see the two being shipped as one piece too often. 
Therefore, knowing that they exist may not be enough for you to find a good one. To that end, there is a host of content below alluding to several stellar options that you may want to consider for your office space.  
By the time you've finished browsing the dual monitor desk riser options, there should be no challenge in optimally selecting one and avoiding post-purchase cognitive dissonance. After all, you want the best desk converter for dual monitor mount use.
9 Best Standing Desk Converters with a Dual Monitor Mount
1. Mount-It! Desk Converter with Dual Monitor Mount
A Mount-It! desk review kicks this list off in the form of the M1-7934 sit stand desk converter. Even if your office desk has no ergonomic features to speak of, this unit is rooted in the principle of ergonomics and should have you working comfortably and effectively in no time. 
Mount-It is known for several innovative pieces of office furniture, and it's no surprise that you are now getting a desk converter with a dual monitor mount, which can handle your PC screens that run up to 27 inches. 
The weight capacity of the arms is a cumulative 33 pounds, which should be more than enough for any screen combinations up to the stipulated maximum size. 
As is the case with almost all Mount-It products of this nature, you are provided with a 10-year warranty that covers you if any manufacturing faults reveal themselves during your usage tenure. 
Not all converters use a separated platform design, but this one does, meaning that you have an upper tabletop space, as well as a peripheral tray that can accommodate both full-sized and short keyboards effectively. 
The height adjustment range for your screens runs from 6.25 inches to 16 inches, which is convenient for a broad range of different people and use cases. 
2. Ergotron WorkFit-SR Dual Monitor Riser
Risers and converters are two sides of the same coin, but there is one design trope that you can use to differentiate the two. A standing desk converter appears to be a miniature version of an entire desk, usually featuring a whole tabletop and it may also feature a peripheral tray. 
Risers, on the other hand, feature a screen mounting area, and probably a single small platform for your peripherals. There's typically a central beam and tremendous potential for vertical adjustability. 
Though this Ergotron unit is technically a riser, it's being included because it serves the same purpose as a dual monitor standing desk converter. 
While there isn't much horizontal adjustment, you can change the positioning of your peripheral tray or dual monitor mount vertically at your will. 
Risers are also known for their small footprints at their bases. So, what you find is that you get to recapture the entire surface area of your existing desk, which means you can accommodate more office desk accessories. 
This dual monitor desk riser is incredibly sturdy and built with high-quality materials, meaning it's going to be sticking around with you for some time. You should note, however, that it lies on the more expensive side of the spectrum, so be prepared to spend a pretty penny if this is the one you want to go with. 
3. Ergotron WorkFit-A Dual Screen Converter
Now, you go from one Ergotron model to the next. However, this standing desk converter with dual monitor mount is a hybrid of a standing desk converter and a riser. So, instead of having physical features that solely represent one of the two, you are going to notice a combination.  
For example, there's a small area of mounting at the base, which is typical of a riser. However, instead of having a beam extending upward, there is a curved arm from the base that suspends a miniature riser portion with a dual monitor mount at the top, while featuring what appears to be two platforms that are more typical of a standing desk converter underneath. 
The description sounds a bit cumbersome, but once you lay eyes on it you understand what all this means. If nothing else, by designing the unit this way, Ergotron allows its users to exercise a tighter sense of control where positioning is concerned, and there is certainly more customizability. 
Like the previous model from Ergotron though, expect to spend even more than you would on many solid full-featured adjustable standing desks if you are interested in purchasing this unit. 
4. AirRise Pro 2.0 Adjustable Desk Converter
AirRise takes the next spot on the list, thanks to a very streamlined standing desk converter with dual monitor mount functionality. While you may not necessarily be too familiar with the name, this is not the only version of this product. 
The AirRise Pro is a standing desk converter that embodies some of the typical functionality that you would see out of an X-pattern adjustable unit. There is an upper screen platform and a static keyboard peripheral tray, capable of handling both full-size and short keyboards effectively. 
The difference here is that there is now a built-in dual monitor mount that accommodates screens up to 24 inches. You get a bit of custom positioning, which technically goes high enough for you to comfortably place a laptop on the upper platform and work with a three-screen setup. 
You're only getting this one in black, but given that it's a neutral color, you should find that it slots well into just about any office aesthetic. 
There is integrated cable management in multiple areas, so maintaining a neat-looking workstation is no challenge whatsoever. Additionally, AirRise ships the unit fully assembled, so there is no need for you to worry about tinkering with moving parts just to get things up and running. 
5. VIVO 32-inch Desk Converter
It should be no surprise that VIVO finds itself here, considering its track record of producing quality office furniture, especially where desks and converters are concerned. This entry is all about the manufacturer's 32-inch desk converter that features a highly adjustable dual monitor mount. 
The arms, while they can extend straight out, also feature bending ability, which means you can have them as close to or as far away from each other as you like. Of course, rotation is a part of the package, allowing you to capitalize on portrait and landscape orientations. so, feel free to work in whatever way makes you most comfortable. 
It's always good to have a converter that makes sit stand sessions that much smoother and more convenient.  
From a physical composition standpoint, there is an upper platform, as well as a peripheral tray with a curved edge for a more ergonomic experience. Note that, unlike some other models that push the base of the mount as far to the rear as possible, this one doesn't use the same offset. 
So, there's a bit of a limitation in the extent to which you can use the upper platform, but it's not completely out of the question. 
6. VESA Ergonomic Standing Desk Converter
Though this unit from VESA is listed as a standing desk converter with dual monitor mount, its physical attributes are not too far removed from the Ergotron hybrid unit described above. The same curved arm from the mounting point is featured with a dual monitor riser at the top, and a suspended platform underneath. The difference here is the fact that there is only a single platform, instead of two. 
Screens of up to 24 inches are supported, and the monitor arms provide quite a satisfactory range of motion. You can get a positive or negative 30-degree tilt, positive or negative 15-degree swivel, and 360 degrees of rotation. 
Of course, one of the benefits of the mounting style is that your tabletop real estate usage is almost nonexistent, giving you back more of your desk for other reasons.  
An interesting design choice that VESA implemented was making this unit incredibly easy to clean, because of removable pieces that expose hard-to-reach areas. It's as if the manufacturers paid attention to all the high-touch areas and ensured that they could be effectively taken care of. 
7. Inbox Zero Electric Standing Desk Rise with Dual Monitor Mount
The Inbox Zero Power Rise is another standing desk converter with dual monitor mount featuring a central beam, a single platform, and a dual mounting point at the beam's summit. As you would expect, it has a small footprint, meaning that it should not interfere too much with your tabletop real estate. 
A one-touch touch electric height adjustment system allows for smooth and quiet transitions when it comes time to alternate between sit-stand sessions. There is even a built-in phone or tablet stand for greater convenience. 
Additionally, cable management facilities are provided, contributing to your maintenance of a neat workstation. Assembly is incredibly easy, and the unit is BIFMA certified, meaning it is safe to operate and it's also highly durable. 
Unlike some of the other models highlighted so far, the screen size support here goes all the way up to 32 inches, so your very large displays are not excluded. A five-year limited warranty is included just in case you may need some support for any manufacturer errors. 
Finally, the base is made of pure steel, while the top features manufactured wood, both of which are hardy materials. 
8. Siig Standing Desk Converter with Counterbalance Arm
Here, you have this third hybrid model on the list, and this one features a single platform. Motion is controlled by a gas spring-assisted mechanism and your adjustment potential is quite vast, offering you the ability to adjust the height, as well as tilt, swivel, and rotate your springs. 
The monitor arms here support displays as small as 13 inches and as large as 27 inches. A total of 26.4 pounds is supported, meaning each screen can be up to 13.2 pounds. 
Many converters and risers only allow for a single mounting style. However, this one allows you to take advantage of its heavy-duty C-clamp for any desk between 0.5 and 3.6 inches of thickness, or you can use grommet installation through the desktop hole. Integrated cable management is also included, allowing you to maintain a pristine aesthetic as you work. 
9. Techtonic Standing Desk Converter with Dual Monitor Mount
The final option on the list comes from none other than Techtonic, which certainly has a few remarkable pieces of office equipment under its belt. The desk converter features an upper and lower platform. 
You can tell that the former is not necessarily meant for anything much, as the latter happens to be the larger of the two. Typically, the peripheral facility would be smaller, but that's not the case here. 
This one is so large, it can accommodate a full-sized keyboard and mouse, without utilizing 40% of the space available. 
Its adjustment mechanism is electrical, meaning all you need to do is push a button when you're ready to alternate position. The footprint at the base is surprisingly compact for a standing desk converter, meaning you get to take advantage of quite a bit of space on your existing tabletop. 
Final Remarks
As you can see, putting a dual monitor sit-stand workstation together is not necessarily the most difficult thing in the world, assuming you know where to locate the right fixtures for the job. 
Now you know that you don't have to get rid of your existing office desk to get a brand new standing desk with all the bells and whistles. Instead, you can evaluate the options given above on them. 
Realistically, there may not necessarily be a unit that you can objectively label as the best sit stand desk converter. However, based on whatever unique needs you may have in your office space, one design may stand out to you more than the others do.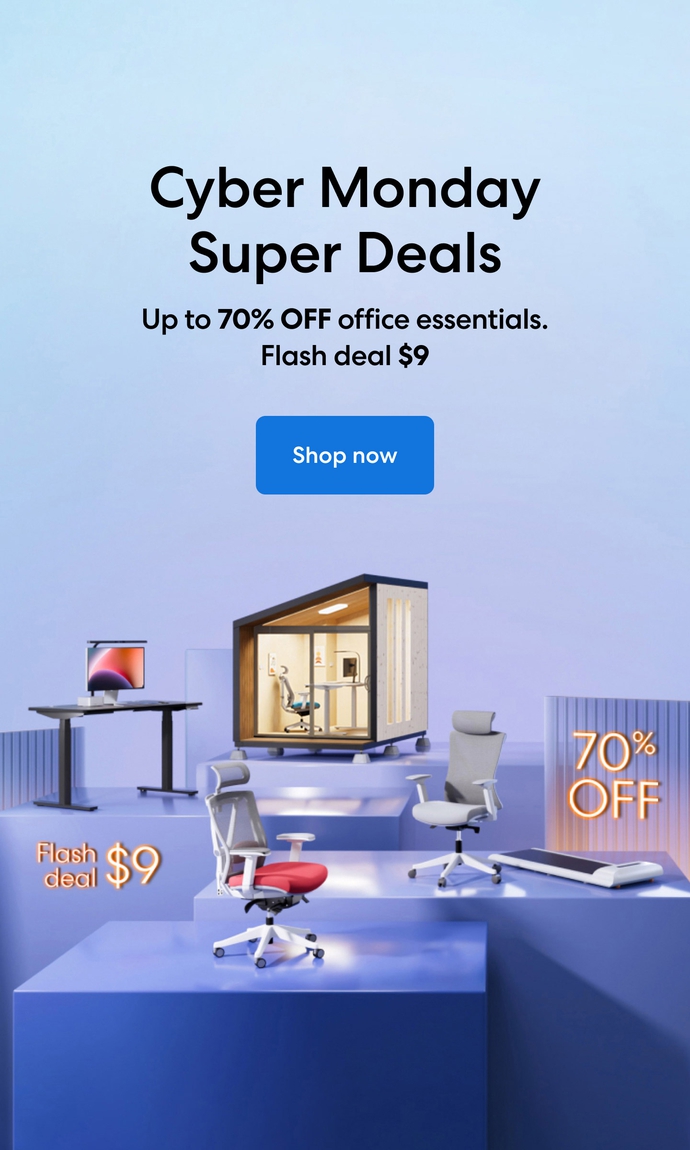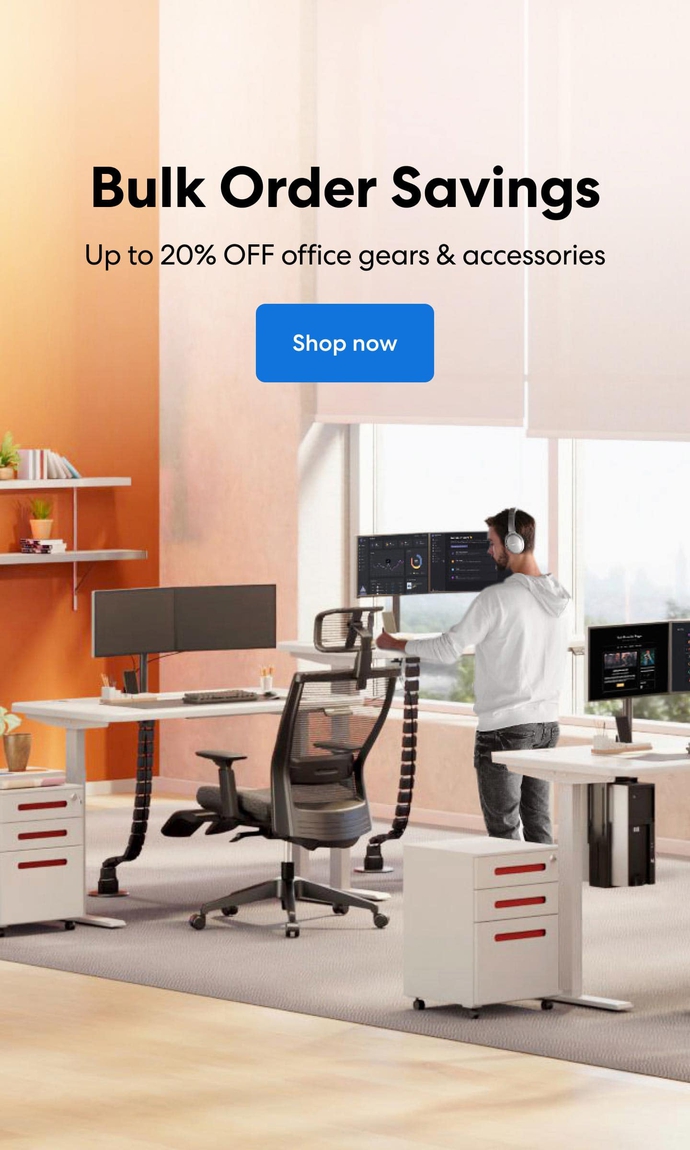 Subcribe newsletter and get $100 OFF.
Receive product updates, special offers, ergo tips, and inspiration form our team.