Workplace Inspiration
9 Tips and Pitfalls to Avoid When Redesigning the Office

Autonomous
|
Oct 15, 2022
903 Views
Are you planning to redesign your office in a much better way? If so, you must wish to avoid any pitfalls this time. Most businesses are shifting to modern office design ideas nowadays because of their sleek look. However, some people believe that the office redesign procedure is quite a hectic task.
The interesting fact is that redesigning office space will not be much challenging if you know the right tips.
That's why we have decided to share the best office redesign ideas today. As you read further, you will find some interesting tips that will help you plan both your on-site and home office redesign venture.
We have also shared the major pitfalls that you must avoid in order to ensure that you are getting the most out of your workspace. So, stick with us as we go through the details! 
Tips on Redesigning Your Office
Here are some of the best tips you can note down and follow to revamp your office space optimally. 
1. Reevaluate Your Office Layout
The first thing to do before redesigning your office is to reevaluate the current design and look for any bottlenecks. This might be in terms of the furniture you have or a lack of some decorative items.
You may compare your office layout with modern office layout ideas and see where your office design is lacking and make a list.
Mapping your office layout can be a good way of doing that too. Technically, you must look for things like office furniture or accessories that are slowing down your workspace's functionality and replace or eliminate them. 
2. Remove Any Sort of Distractions
The best workspace is one that does not have any distractions. These distractions can be digital or physical. You can evaluate your office layout to look for any physical distractions. Apart from this, social media can be seen as a source of digital distraction. So, you may look for such distractions and avoid them in your new layout. 
3. Make Enough Room for Movement
Overcrowded office space is not an ideal place to work. If you want to create an office space for creatives, you should redesign your office in a way that has enough space to walk around. Such an office space has become much of a necessary health measure after Covid-19.
You can optimize your office space additionally if you create a room for brainstorming too. Nevertheless, it is vital to ensure that the walking space is not compromised. The employees should have the freedom to move around to discuss the project with their colleagues and boost their productivity. 
4. Be Mindful of Acoustics
Typing sounds, chattering, and the common buzz at the workplace are quite disturbing. Usually, the sound within a 20-feet radius of any employee can distract them at work. So, you should work on the workspace acoustics during the office redesign planning procedures.
Placing acoustic panels at each workstation can be an ideal solution in this case because these panels absorb sound and help avoid distractions. 
5. Avoid Clutter
Clutter is bad for any workplace as it hinders productivity. That's why ideal office design ideas discourage clutter. If you are redesigning office space to get a more productive work experience, you must avoid it too. What you can do is evaluate your workspace and look for common clutter.
This can be cord clutter or some useless accessory lingering on your desk. You can reduce the cord clutter by using wireless accessories or placing a cable tray underneath your desk to keep the cords organized. Going minimalistic can also be a thoughtful approach here. 
6. Invest In Technologies That Can Help Automating Repetitive Tasks
There are multiple gadgets that are used these days to automate repetitive tasks at work. You can take help from these gadgets too. It is always better to prioritize your workflow. So, when you redesign your office this time, think about using technology to get the most things done. 
Pitfalls to Avoid While Redesigning
Now that you know the tips you should follow for an office redesign, you must know the common pitfalls that office workers often get trapped in. Below are the details about the things that you must avoid when you are reworking your main office or home office design. 
1. Not Incorporating Your Brand in Office Theme
People often make the mistake of not incorporating their brand in their office theme. Your brand identity must be there in your office theme so that the employees notice it subtly every day and remember their purpose of serving the company. 
2. A Workplace That Has No Rooms to Play
Office space is incomplete if it does not contain enough room for entertainment. One of the biggest mistakes that office workers often make is that they neglect the need for a playroom in their office space where the employees could socialize a bit.
You must not fall into that pitfall. A room having a few video games or board games can be an innovative addition to your office. Creating such a space will allow your employees to take a little time off and enjoy themselves with the other employees during breaks. 
3. Designing an Office Space That Does Not Feel Like Home
Lastly, people often design the office space in a way that does not feel comfortable, like home. You must be aware that comfort can help you focus on your tasks easily. A good way to add comfort while the office redesign project can be associated with using ergonomic office furniture and setting them as per the ideal decorating ideas for office spaces.
The fun part is that you can find office furniture at the Autonomous store at a discounted rate! We have recently started an employee purchase program that is designed to offer you multiple discounts on office furniture and accessories purchases. You must sign up for this program to avail its perks. The signing-up procedure, however, is quite simple. All you must do is create an account using your corporate email under this program, and you will be good to go!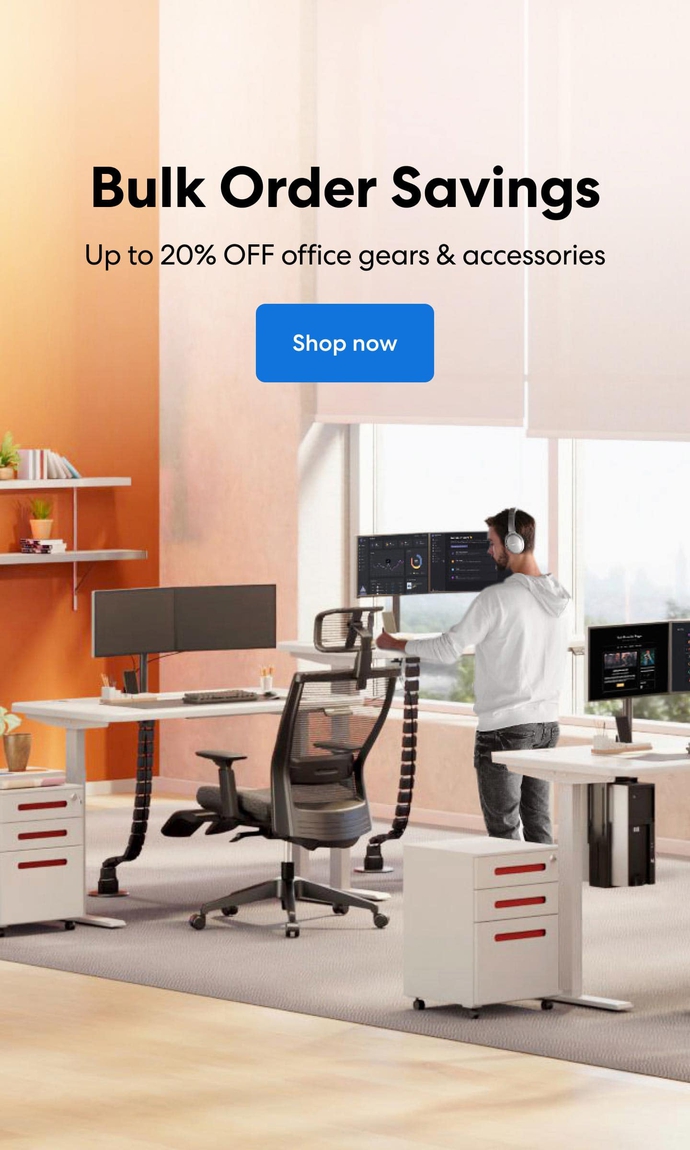 Subcribe newsletter and get $100 OFF.
Receive product updates, special offers, ergo tips, and inspiration form our team.