Do you find it difficult to roll your desk chair on a carpeted floor? Is your chair sinking down in your carpet, creating permanent dents in its pad? If that is so, you need to think of getting a permanent solution; otherwise, your desk chair's wheel will grab your carpet's fibers and rip them, destroying them completely. A viable solution is to get a DIY chair mat.
The chair mat is the best way to save your carpet and increase its life. However, everyone cannot afford the expensive chair mats that are available in the market. In that situation, a DIY chair mat for the carpet is your last resort.
When you create a chair mat on your own, you take many things into account; that's why they offer you better, durable results. If you had used the commercial chair mats earlier, you would have noticed that they turn yellow and even have cracks with time. All that makes them look more like a waste of money. So, why don't you create a DIY desk chair mat for your office and home office?
Doing so will save your carpet and give a unique look to your workspace, making it more attractive and aesthetic. Since this is a tough task and some people might find it tricky, too, we have shared a detailed guide here to help you understand how you can go about this process smoothly and get a desk chair mat for your office while staying within your budget.
So, let's first talk about the important office accessories that you will need to create a DIY desk chair mat. 
What Will You Need to Create a DIY Chair Mat?
The fundamental question that comes up in anyone's mind is about the tools and accessories that they will need to craft a DIY desk chair mat. So, here's a list.
Measuring tape

Plywood sheets for the base of the mat

Gold Carpet Gripper

Lumber for Trim (optional)

Floorings (either marble or wood)

Tile Floor Primer (for Marble flooring) or Construction Adhesive (for wood flooring)

Wood Cutting Machine

Razor Blades (for wood flooring) 
Crafting Your DIY Office Chair Mat – Step by Step
Going through the list of tools and accessories, you would have had some idea that we will be discussing two different designs of DIY chair mats for your office chair. However, both the designs are suitable for desk chairs with wheels. 
Step 1 –  Take the Measurements for the Mat
The first step to initiating your DIY desk chair mat procedures is to take the measurement of your room's area that you wish to cover with the mat. This area is typically a square or rectangular space in front of your desk. You must take its measurements using a measuring tape to ensure you get the perfect fit. 
Step 2 – Cut the Plywood Sheet as Per Size
Since you have the plywood's measurement now, cut the plywood sheet as per the size. You may need a woodcutter in this regard or get it cut by the store where you go to buy it. 
Step 3 – Place the Gold Carpet Gripper Underneath or Use a Lumbar for Trim
Once you have the plywood of your desired size, fix the gold carpet gripper underneath its surface to ensure it stays in place. You are then required to screw the gripper into your flooring to mark the final procedure of this step.
If you do not like the idea of using a gripper, you may cut a few lumbar trims and paint them the color you like. Nevertheless, you can paste these trims once your mat is ready if you think of going for this option. 
Step 4 – Apply the Construction Adhesive or Tile Floor Primer
The next step in line is the glue application to ensure the flooring stays fixed in a place. If we don't do this step, our mat will get destroyed too soon. The tile floor primer is suitable for marble flooring, while the construction adhesive can be used for wooden flooring. 
Step 5 – Paste the Flooring of Your Choice (Wooden/Marble)
Once the gluing is done, immediately place the flooring of your choice on the plywood in a way that there are no repeating patterns. Such an application makes your mat look more natural and unique. If you are going for marble, paste the marble flooring. If you like wooden flooring, go for that option. 
Step 6 – Press the Flooring Using Something Heavy
Once the pasting part is done, it is important to put something heavy on top of the flooring to ensure it fixes in the best way possible. You may even think of clamping the flooring with plywood tightly to ensure it stays in place. 
Step 7 – Leave It to Dry
Once you have placed the clamps and placed something heavy, you are supposed to leave your DIY chair mat for around twenty-four hours so that it dries.

Step 8 – Trim Out Any Extra Parts
Once this part is through, trim off any extra parts if they are coming out of the plywood surface. If you went for lumbar trims in step 3, this is the time to put those trims at your chair mat's edges. You may scrap and smoothen the lumbar to make it look better. Once you're through this part, congratulations, you have your DIY computer chair mat ready! You can use it even if you have a desk chair without wheels. 
Wrapping it Up
With this, we come to the end of today's article. We discussed here how you could create a DIY chair mat that will help you protect the floor from an office chair in the best way possible. However, if you are looking for an office chair or any other office accessories, we have great news for you.
We have introduced the Autonomous Employee Purchase Program that will help you buy the best office accessories and make your work hours more productive than ever. Thousands of top-tier firms' employees trust our purchase program as it provides authentic office accessories at the most discounted rates. All you are required to do is sign up for this program using your work email to avail the best discounts.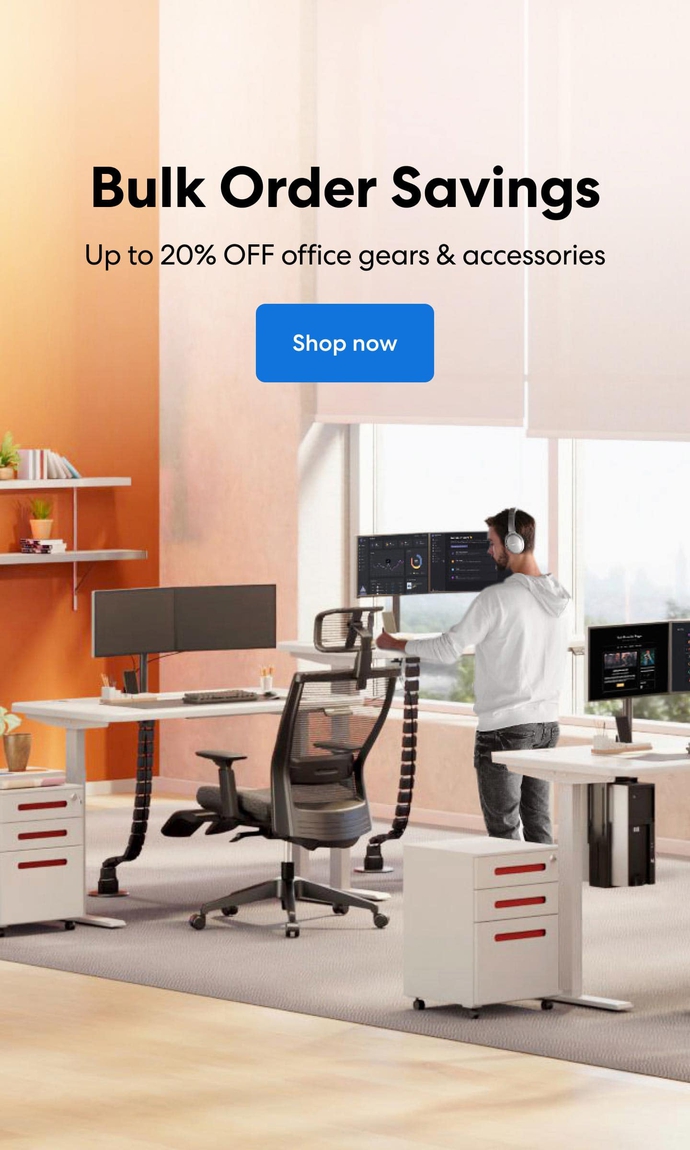 Subcribe newsletter and get $100 OFF.
Receive product updates, special offers, ergo tips, and inspiration form our team.