A spacious workstation is no less than a blessing because it allows you to work ergonomically, place all the desk accessories and provide enough space to move around the mouse freely. A large desk also prevents clutter, which could otherwise give rise to serious frustration and hindrance while working. A 60-inch standing desk is considered one of the most spacious and ideal workstations, especially when working with a multi-monitor setup.
And if your 60-inch adjustable desk is an L-shaped desk, then the chances of being productive increase even more because corner desks are great for a multi-monitor setup. Hence, this article will cover the top-rated 60-inch adjustable height desk for a spacious work desk setup.
1. SmartDesk Core
This smart office desk, named SmartDesk Core from Autonomous, provides height adjustability between the range of 25 inches to 45 inches which suffice taller to the shorter crowd. The desk comes in two sizes for users; the 60-inch electric desk has a solid steel frame for reliable strength and high-quality work performance.
The desk is controlled with the power of electric motors and has a 2 stage frame for extra durability and quick movements. You will love the easy-to-use up and down keypad control, and the desk also comes with a five-year warranty. With four programmable keypad settings, you can preset the height, and the whole family can use this desk easily. The smart desk core is also a wonderful purchase to ensure ergonomic position at the desk while working.
2. SmartDesk Corner
This 60-inch sit-stand desk from Autonomous is a corner desk; hence despite its large size, the desk can easily fit in the corner and provides extra workspace. The SmartDesk Corner is controlled by quiet triple motor operation, and it can easily lift 400 pounds of load.
It has a solid steel frame and a modular segment construction for seamless, easy movement, and the desk comes with a five-year warranty. This sit-stand desk offers height adjustability from 29 inches to 48 inches, and though this 60-inch standing desk requires assembly, it is a straightforward method to put it in place.
3. Vivo Height Adjustable Desk
Vivo height adjustable desk provides a 60-inch work surface and other wonderful features. The desk moves from sitting to standing and vice versa in one quick motion, and you can use multiple customized user settings for easy movement.
Unlike other desks, this is one single platform; hence can be used as a long shared workspace or a simple desk with multiple monitor settings. The desk has powerful electric motors and strong legs to rest and bear all the weight. It can support up to 150 pounds which is quite less than the options mentioned above, but the 60-inch standing desk is a good pick for regular-sized monitors and a few desk accessories.
4. Imlib Height Adjustable Desk
This adjustable standing desk with drawers from imlib gives the dimensions of 60 inches by 24 inches, and the desk has a fabric drawer that provides plenty of space to work and stores your multiple desk accessories. The powerful motor lift mechanism provides a speed of 1.2 inches per second, and the desk offers a height range of 28 inches to 48 inches.
Other than that, the desk has a noticeable feature: the wheel casters that support the stable placement of the desk and ensure the desk is movable from room to room without any trouble. The wheel casters can be locked to prevent the desk from moving away. It also offers a weight capacity of 220 pounds which is sufficient for regular to heavy-duty work setups.
5. S Stand Up Desk
While you're worrying about your health, this 60-inch crank adjustable standing desk offers the users one of the most ergonomic solutions for your workspace. The desk allows you to manage both platforms individually and independently, making it one of the top products in the market.  
It also has two shelves on the upper surface for your monitor screens and the lower surface for your keyboard and mouse. The "two-tiered" shelf system for solitary working space is a feature of the crank adjustable height standing desk. You no longer have to be concerned about its frames because they have been powder coated in silver grey. As a result, it may take you years to become used to it.
6. Apex Desk Elite
Apex Desk Elite is a long-standing desk that uses either shared desk space or one long workstation. The Apex deck lite has 60 by 71 inches and comes with electric height adjustable motors. The desk has a weight capacity of 225 pounds which is sufficient for daily use.
It also has preset memory settings with a memory controller that makes it easy to use. This 60-inch standing desk is highly-priced, but it meets well to the standards because the durable and extra strong metal frame ensures the workstation can lift to dual or triple monitor setups at once.
7. SmartDesk Surface
If you want to go with DIY office desk ideas, then pairing a desk surface or a desk frame with your choice of frame or platform respectively is the right way to move forward. The smart desk surface is a wooden platform with a matte finish. The smart desk platform is made up of MDF wood which means it is high in strength and resilience. The desk frame comes with a one-year warranty and is also available in various colors and top finishes.
8. Jarvis Standing Desk
The desk can be adjusted to various heights between 24 and 50 inches, making it suitable for almost everyone. Due to its strong frame, the desk is stable on surfaces, whether hard floors or carpet. The desk can hold and lift 350 pounds, and the motor is silent.
It also has a touch-programmable handset with four height presets for quick and easy height adjustments throughout the day. Two-wire management grommets are included in the desk surface, made of high-quality bamboo. Meanwhile, a seven-year warranty covers the frame and the mechanical and electrical components.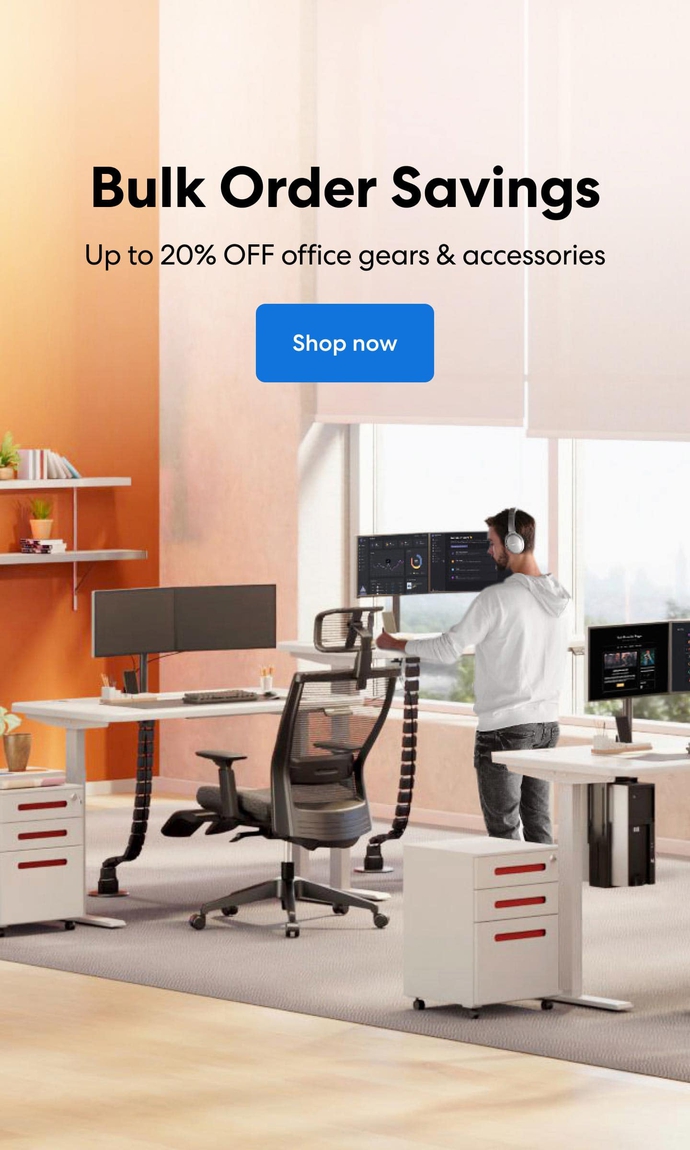 Subcribe newsletter and get $100 OFF.
Receive product updates, special offers, ergo tips, and inspiration form our team.