The pros of working from home are many (more time with the family! ), but the cons are also numerous: sore shoulders, throbbing backs, aching hips, etc. We've compiled expert advice on strengthening your core and relieving aches and pains at the workplace using simple work from home stretches.
Human beings have been designed to move. In addition to increasing circulation, decreasing inflammation, and lubricating joints, it also helps relieve pain. When we are not active, our joints become stiff.
It is important to change how you sit, as well as to move more. What should you do? Here are some stretches for lower back pain suggestions. Check out these desk stretches and recovery tips below to ease those aching, breaky muscles.
Create a Comfortable Workspace
Often, we get sore shoulders after playing tennis or baseball or after moving furniture in the living room. It is unlikely that an inactive activity like sitting at a desk can lead to a health problem as sitting at our desks every day. 
The deltoid, subclavius, and trapezius muscles of our shoulders can be strenuously strained if they are staring at our computer screens for more than eight hours a day.
Performing these repetitive movements repeatedly for hours, seated at an ergonomic desk for home at a time in a stationary position can cause long-term harm to your muscles and joints.
There should be no space between your feet and the floor. If your feet are up in the air, it may cause tension in your lower back if you place something beneath them.

About 90 degrees should be the angle between your hips and knees when seated on your 

office chair.

Make sure you use supports or cushions for your lower

Keep your elbows at a 90-degree angle as you rest your arms and elbows on an armrest. The elbows should not be higher than the wrists.

Maintain a relaxed posture.

Your eyes should be on the same line as the upper edge of the screen.
Exercise During Breaks
Armpit stretch
Perhaps you should do these work from home desk exercises when no one is watching so that you don't appear to be smelling your armpit.
Straighten your back while you sit before you start these

pre-work stretches.

Your nose should be directly above your armpit when you rotate your head sideways.

Push your nose closer to your armpit by gently holding the back of your head with your hand. Please do not overdo it.

Keep holding for 10 seconds.

Each side should be repeated twice.
Shoulder rolls
Tuck your chin in and straighten up your back.

Make a circular motion with your shoulders, rolling them forward, back, and down.

Then reverse the process ten times.
Upper trapezius stretch
Your head should be tilted sideways toward your shoulder while sitting with your back straight.

You can also drop your shoulder blades on the other side toward the floor.

Keep holding for 10 seconds.

Each side should be repeated twice.
Desk angels
Place your elbows at 90 degrees while sitting straight in your chair and an

adjustable standing desk for home office with good posture.

Your torso and head should remain stationary as you slowly raise your arms overhead. As you move up to the ceiling, make sure your arms align with your ears. Slowly return to your starting position.

A pulling sensation in your mid-back helps to relax your spine.

Count to ten.
Take Breaks When Possible
When workers fail to take enough breaks, they may suffer from lower back pain, headaches, and tension in their shoulders and necks. The following work from home stretches tips can help you prevent aches and pains:
Make sure your sitting position is ergonomic. Use cushions, books, or boxes to adjust the height of your monitor and chair.

A break should be taken every 30 to 45 minutes (no more than 60 minutes). Grab a drink of water and move around a little bit (Tip: leave your jug of water outside if you need to refill it).

Setting the alarm or downloading an app can help you stay on track if you are afraid you will forget to move.

A comfortable chair should be available in your home office whenever possible.

You do not have to sit all the time correctly. Slouching and slumping are okay. The only thing you must keep in mind is not staying in the same position for hours at a time. Keep moving around and changing positions whenever possible.

If possible, natural light should be used. The eyes are less stressed.
Introducing Autonomous EPP Specials
Employee Purchase Program

Our employees now have access to a special employee purchase program. We also offer a wide range of accessories to complement our SmartDesk and ErgoChair collections. Employees can buy products at lower prices, benefit from huge discounts, and access new products and special promotions when they join the Autonomous employee purchase program.
EPP for Developer/ Programmer
If you are equipped with the right equipment, you can code comfortably. Many discounts are available for programmers, such as ergonomic chairs with footrests and standing desks. Groups and large orders qualify for corporate discounts.
EPP for Government
As a result, our site offers carefully curated selections of products, handpicked to support better work processes without spending time sourcing them. Furthermore, we offer discounts on store-wide orders and further discounts on office chairs with adjustable lumbar support volume purchases to keep your company within budget.
EPP for Educator/ Teacher
Would you like a more effective way of planning and grading assignments? Learn more about our teacher promotions. Save on products you need & want without worrying about your budget. Maybe a colleague would appreciate an ergonomic workstation? Share the Autonomous employee purchase program with them! Up to $1500 can be earned for every Autonomous purchase you refer.
Student Discounts
Automatic offers a variety of educational products at educational prices and discounts for bulk purchases. Did you know that? Autonomous Student Ambassadors can earn up to $1500 for each successful referral they make.
EPP for Gamer/Streamer
Through the Gamer Purchase Program, you can get incredible discounts on new gaming/streaming desks and chairs. Customers can earn bonus points with this game by receiving store-wide discounts, games, and accessories!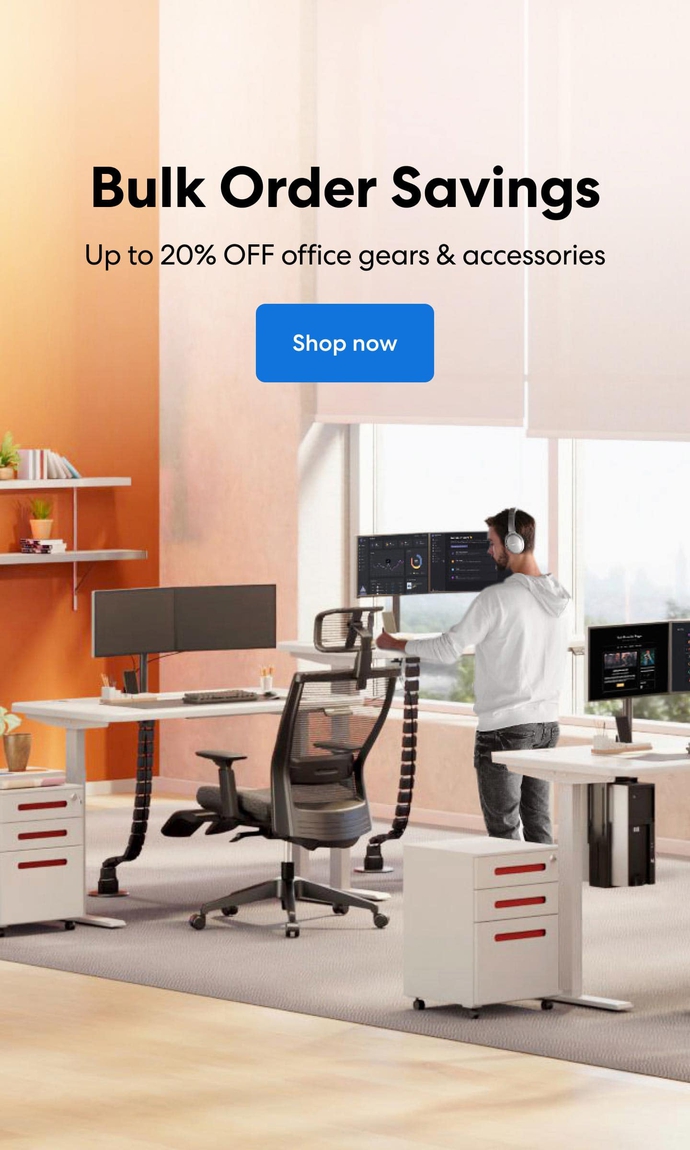 Subcribe newsletter and get $100 OFF.
Receive product updates, special offers, ergo tips, and inspiration form our team.